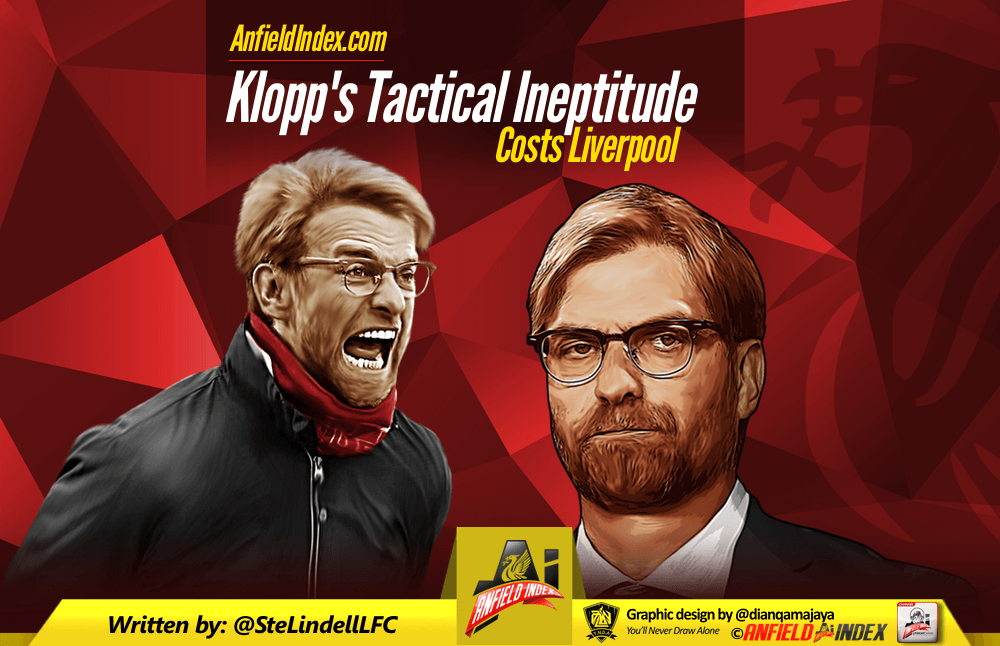 Klopp's Tactical Ineptitude Costs Liverpool
Liverpool were presented with the opportunity to consolidate their stranglehold on top 4 when Southampton came to Anfield – a win would've taken the Reds ahead of Manchester City in 3rd, but instead Liverpool produced a dire performance which saw a blow in their hopes for Champions League football next term.
Before kick off, a lot of supporters were saying how a win here would be a huge statement of intent as it would be a mental and tactical block cleared by Jurgen Klopp's side. Some pundits were tipping us to win comfortably – but I don't think they saw the bigger picture when it came to tactics and personnel.
Liverpool made a slow start – there were no clear cut opportunities in what was a poor, sleep-inducing first 45 minutes at Anfield. The second half did at least see a bit more urgency and attacking impetus from the home side. And when Jack Stephens was adjudged to have hand-balled inside the box, James Milner missed the chance to put the Reds ahead from the spot, as Fraser Forster pushed his low drive wide.

The Anfield crowd became increasingly restless – Marko Grujic tested Forster late on with a header, but in truth, Liverpool did nowhere near enough to get the points. The curse this year against Southampton continues.
I do feel that Klopp should not be immune to criticism. He is a very likeable manager, with his fervid personality. That said, it's time for him to start taking responsibility for his team's failings. Whether you like it or not, you have to admit that Jurgen Klopp got it wrong on several fronts today – whichever way you dress it up.
Disappointing Personnel
To be fair, it is, to a degree, understandable to see why Klopp wouldn't want to change a winning side from the week before. However, I believe that ruthlessness is a trait that the German must acquire in the near future with his side. There have been several occasions where he has treated his under-performing squad players with too much respect. Take Emre Can in January, or Divock Origi right now as examples.
It is very easy to forget who underperforms or fails to impress when you win a game, but I believe there were certain players who shouldn't have made it on the teamsheet.
The decision to start Divock Origi up top was a very questionable decision, especially considering the Belgian has failed to find his shooting boots of late. Despite some decent hold up play, he hasn't really been able to engineer any clear cut opportunities or get behind defences. Hasn't found the back of the net since last month – I was disappointed not to see fellow striker Daniel Sturridge given a start.
Roberto Firmino started on the right-wing, as he has done since Sadio Mane's injury in the Merseyside Derby last month. However, this proved to be a waste of his ability – as he was unable to impact the game as much as he would've liked. He's a player who thrives on excellent central runs and drifting infield, but was nullified out wide. It's been the case for the past few games. Moving him central in a front two may have been the solution.
Georigino Wijnaldum has steadily improved since the turn of the year; especially impressing when called upon in big games. However, his performances against smaller outfits still leaves quite a lot to be desired.
He is simply far too conservative in possession, and doesn't seem to be willing to impact the game going forward or make runs off the ball. I feel that Adam Lallana's energetic work rate is what was needed to break Southampton down.
James Milner was another who I feel hasn't done enough to justify his inclusions of late. Given the task ahead of him to fill the void at left-back, he's done relatively well. However, he has dropped significantly since the turn of the year – his pace and end product has exposed the frailties in Klopp's 4-3-3 system.
Klopp needs to be more bold with his team selection. We have seen glimpses of this (Stoke away, example), but I feel he needs to be more like Rafa Benitez in the same vein that he needs to be ruthless with his personnel week in, week out.
Wrong Choice of Formation
Southampton have been renowned for being Liverpool's bogey team this campaign – they have met on four occasions this season; winning twice and drawing twice. On each of these encounters, the Reds have failed to score.
I spoke about how the 4-3-3 system could bring back the same problems we've encountered against the Saints before the game; unfortunately I was proven right.
Whilst the 4-3-3 has proved effective against a number of sides with quick, physical outlets of late, it was fruitless on Sunday,
It became apparent how well-drilled Southampton were – they didn't allow any of Liverpool's key players a moment's peace on the ball, and set up with a low block system.
Shane Long – the goalscorer of the Saints' win at Liverpool in January in the League Cup, spoke how their defence restricted Liverpool's customary preferred central game – by forcing them out wide regularly.
"Keeping a clean sheet against Liverpool is no mean feat. I think it came from the whole team trying to force them out wide and not letting them make passes through the middle to get one-on-ones with the keeper.", he said.
This comes as no surprise and speaks volumes as to how poor the likes of James Milner and Nathaniel Clyne are offensively. That's one massive flaw with the 4-3-3 and our personnel.
The 3-5-2 formation would've suited our mix of interchanging attacking players against Southampton more than the 4-3-3 did. It offers the much-coveted width, gives Coutinho and Adam Lallana the license to wreak havoc plus pace and balance out wide. Whilst I don't advocate how poor Alberto Moreno is defensively, he could be the missing puzzle in the jigsaw here. In the 3-5-2 formation, he would've have to track back 24/7 and could consequently show the pace, balance and much coveted width that was non-existent in Liverpool's play.
I feel Klopp has been far too stubborn when it comes to tactics – and until he swallows his pride and realises this isn't the answer to our problems against the Saints, the Reds will continue to suffer from the same problems.
Reactive Substitutions
This has been mentioned time, and time again. Do we see any change in this? No.
This has been Klopp's achilles' heel in management, even recognisable in his tenure at Borussia Dortmund. On too many occasions this season, he has been too conservative/reactive with substitutions.
Everyone could see how the Reds were lacking any kind of desire or urgency in the middle of the park or the final third. In need of a goal at half-time, Klopp bizarrely chose to wait until the 69th minute to bring on Adam Lallana and Daniel Sturridge. They both offered more than their counterparts Wijnaldum and Origi did all game respectively. Marko Grujic was introduced to the fray in the 87th minute.
The German must be more proactive with substitutions. It's simple as that. Had they been given 45 minutes to prove themselves, it may have well been different.
Conclusion
The draw isn't a disaster for Liverpool's Champions League hopes, but it has to be seen as a missed opportunity to pull further clear from the rest of the pack. Given that results did go the Reds' way today (with Arsenal beating Man United 2-0), it makes it even more frustrating, as Liverpool could'e pulled 7 points clear of the latter. However, they do head into the final two games of the season with the upper hand.