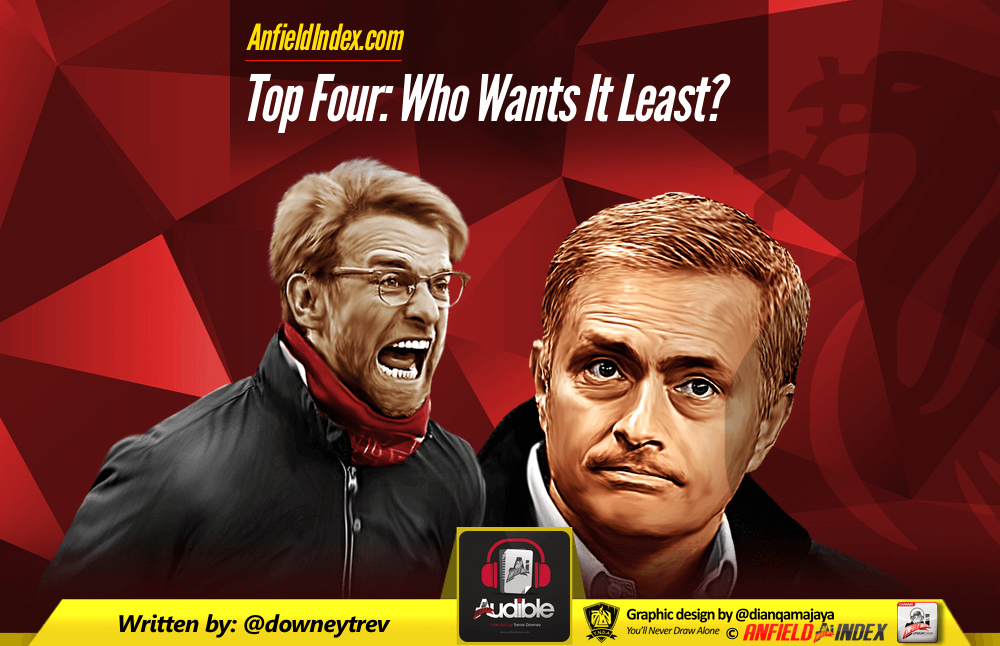 Top Four: Who Wants It Least?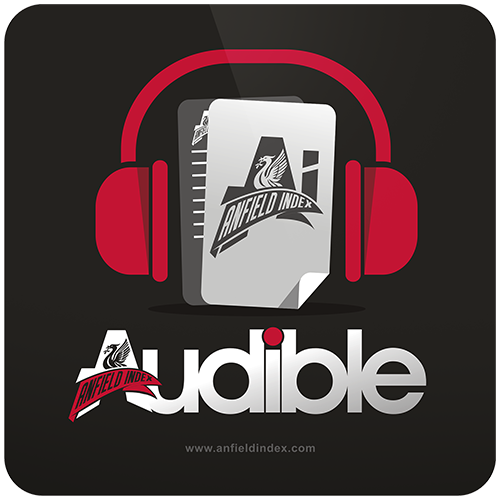 Listen to this article via @AIAudible !
Initially, as I grimaced in recollection of the season's third-last serving of delicious Barclay's goodness, it was tempting to liken Liverpool's struggles to make any progress to the myth of Sisyphus – you know, the unfortunate chap punished by the gods of the Greeks for his offences against them. His sentence was to push a huge boulder to the top of a hill, only to see it roll back down every time and know he must start over. For eternity. Something about the presumed Sisyphean exasperation whilst watching that heavy burden return to the bottom, having painfully scaled the heights, really resonates with us Liverpool fans.
Then, as I contemplated the even more lamentable efforts of Jose Mourinho's Manchester United against Arsenal, an altogether more prosaic analogy seemed more apposite. In their increasingly ragged attempts to seize the initiative, the two giants of English football are more akin to a pair of drunken old-timers having a brawl outside a pub. Breathy, heavy-limbed, unsure of foot and lacking the power to deliver a killer blow, the two are hesitantly circling each other in a semi-stupor, whilst in the background, a sober Frenchman in an unsettlingly long padded coat nips in and steals their chips and wallets.
Even more distressingly, the Portuguese manager's habit of post-match paranoid posturing seemed to have spread to Anfield after the incredibly frustrating stalemate with Southampton. At least, so one would believe were one to trust the typically agenda-driven presentation of Jürgen Klopp's quotes in some quarters. As I trawled the news sites for content, the headlines were screaming about how the Liverpool manager was blaming the dryness of the pitch and the referee for Liverpool's attacking bluntness. One site went further and claimed Liverpool fans were 'embarrassed' by the manager's weak excuses.

Klopp, of course, is not noted for his whining. In fact, he has always taken responsibility for losses and protected his players in a way that does not separate himself from them. The idea of a less-than-ideal surface being an issue for a possession-based game is valid, but obviously it's not what fans want to hear after dropped points. Klopp acknowledges this but points it out anyway, despite knowing that it will mean some will dub Liverpool "bad losers." It's not exactly Mourinho levels of monomania, but it doesn't sit well with some.
"It is not what I want," he said of the home draw to Saints. "To be successful you have to have a fortress at home. That is very important. We had that here for a long period. Now we have had a few results which are not that good. I know nobody wants to hear it but I am brave enough to say it. The pitch was really dry today. We gave it all the water we had but after 15 minutes it was really dry again with the wind. It was difficult. You could see it … a lot of passes you thought 'why are they playing this?' But it was difficult. In a possession game you need to have the best circumstances, if possible, in a home game especially, but today we couldn't have this. That is nobody's fault; it is only a description."
When you factor in some references to Bobby Madeley's rather idiosyncratic performance and Fraser Forster's "sportsmanship," it gives detractors all the ammunition they need to write unbalanced critiques. Forster's efforts at psyching James Milner out were of the most Neanderthal variety and I have to say that I was really disappointed not to see Emre Can, say, or Joel Matip step in to separate the Saints' outsized custodian from his direct opponent – Milner can't exactly grow a foot to meet the 'keeper's stare and Madeley had his back to proceedings for about 3 hours.
Personally, your columnist has no issues with what Klopp said. It was measured and yet partisan. No problem. There is, however, something I really can't face a whole lot more of. I'm not a religious man, but if I were I would ask my preferred deity to strike mute any representative of the club who witters on about fighting until the end or how the last pair of fixtures are two cup finals. Firstly, of bloody course you'll fight until the end, it's kind of your job, and secondly,we had two cup finals last season – that didn't work out so well. Of course, I understand the sentiment and players have to say something, but I never thought I'd lament the days of people talking about taking one game at a time and how every game in the top flight is difficult. In a media saturated world, the cliché is the friend of the man who wishes to avoid controversy and pressure-inducing headlines.
As Alberto Moreno played flip-the-bottle and Liverpool's two best goal threats sat on the bench beside him, discontent built around Anfield and amongst Reds-watchers worldwide. The manager was on the end of the most vitriolic attacks I've seen to date and his reluctance to change an ineffectual side certainly had this observer confused. Balance, however, is a vital thing for one's sanity. The armchair analysis of how Forster had gotten into Milner's head was echoed by the ex-pro gobs-for-hire and the usual cycle of 24/7, media-driven, boom and bust reactions lurched into a downward cycle. It was over. The idiots had blown it. Again. Top four was gone. Until United lost. And it was back on. Maybe.