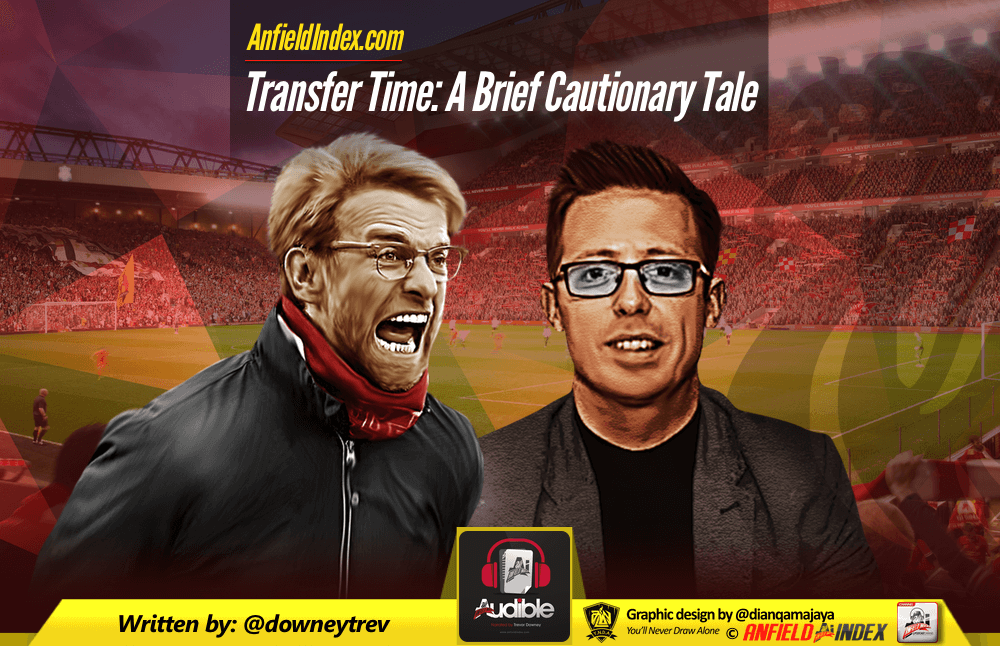 Transfer Time: A Brief Cautionary Tale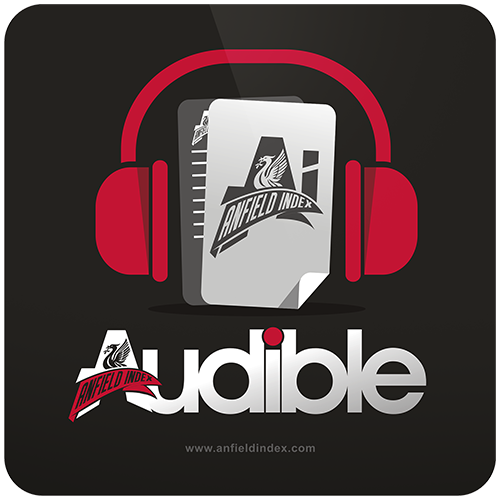 Listen to this article via @AIAudible !
It's really far more than anyone should be expected to bear, you know. There is no way to manoeuvre the minefield that is transfer speculation and retain one's mental equilibrium. I like to think I'm a comparatively calm man, having had my stoicism tested by the slings and arrows over the years, but there's something about the unique cocktail of Liverpool's uncertain fate, the huge investment we have all placed in the importance of Champions League football and the attendant tales of who may or may not join the Redmen, that has reduced me to a gibbering loon today.
Honestly. I've been a basket-case since logging on to my computer – unproductive, irritable and despondent. All my real problems have been replaced by an impotent fury about something I have zero control over. They really got me today, the guff-merchants. Lured me in. Made me play the game. The old (click) bait and switch. Bastards. Never again. Let me explain the mistakes I made in the hope that you, dear reader, may avoid a similar fate tomorrow. It started with resigned realism but it spiralled from there.
Obviously, we all understand that being part of the premier club competition on the continent is going to appeal to the best footballers and that, for those very top performers, it may be a make or break condition in any potential move. We can also accept that, with the money and prestige of the world's greatest clubs to factor-in, Liverpool's comparative attractiveness as a hopeful suitor may pale slightly. This is not the 1980s and LFC, despite a powerful muscle memory of success amongst us fans, is not the dominant behemoth of the past.
Therefore, when the stories linking the club strongly to Virgil Van Dijk, one of the Barclay's Premier League's most sought-after talents, began to wane, it was not a soul-crushing blow. It stings, of course, but we have, after all, been here before. We have become inured to the concept that pastures are often greener away from L4. It was particularly annoying in this case because of the slew of stories about how the powerful centre-half was favouring Anfield and his signing was only dependent on Champions League qualification. This, of course, was just a story and no more worthy of my absolute belief than the bogus 'EXCLUSIVES ' claimed by websites every day, but I had allowed myself to hope. Maybe the Klopp factor could swing it….
Still, though, it wasn't until the revelations from certain quarters this morning that, in fact, it wasn't Van Dijk at all who was top of Klopp's summer target list, but rather, Burnley's Michael Keane, that the twitch started in my left eye and the vein in my forehead started to throb. I knew it was a stupid reaction but I wasn't sure, given the club's less-than-stellar decade in the transfer market, that it was a stupid story. That is how grim reality has leaked to the fans in the past. The monitoring and linking with the exciting superstars proves to be utter hokum and the money is spent on far more prosaic talent.
The upshot was that I entertained it as real. I allowed myself to assume the speculation was fact and the resultant, entirely baseless, disdain I felt for our recruitment department was more than I could cope with. I knew better. I know better. It didn't matter. The contagion had spread to my limbic system. I was feeling this irrational panic and irritation right in the old amygdala. Thankfully, the necessity of not being a gibbering buffoon whilst putting this column together snapped me out of it and I calmed down. The same cannot be said for some of the remarkably cranky folk I left behind in the land of cyber indignation.
I was counselled today, by a dear friend of mine, to invest nothing in any transfer speculation until the object of those rumours is being photographed leaning awkwardly against something in Melwood. This is sage advice. It necessitates almost complete detachment from the process leading up to that touchingly gauche portrait of a new Red. You should follow that advice, I'm going to. I have learned the error of my ways. Keane, Van Dijk or Charlie Adam, I will not express reaction until they are donning the Liverbird.