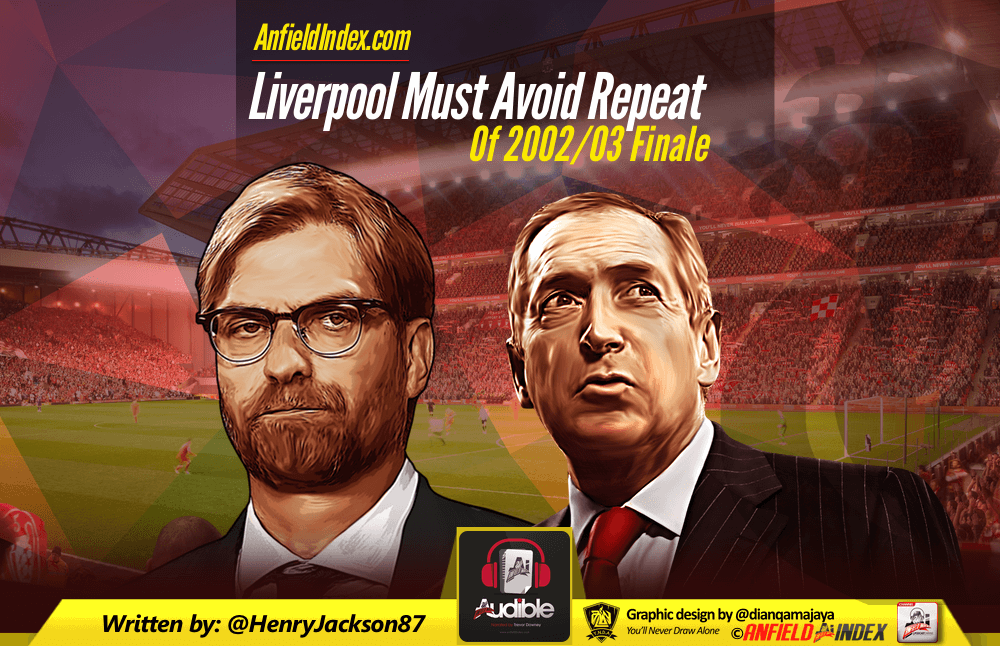 Liverpool Must Avoid Repeat Of 2002/03 Finale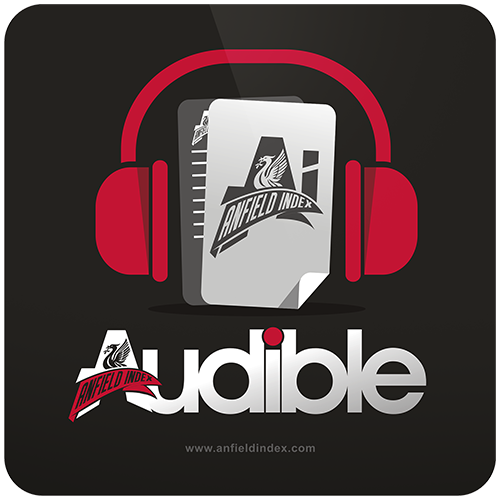 Listen to this article via @AIAudible !

Liverpool have been famed for some fairly spectacular disappointments over the years, especially since the Premier League era got underway.
The end of the 2002/03 season was one of the Reds' most disastrous conclusions to a campaign, and it actually altered English football forever in the process.
With two matches remaining, Liverpool remained right in the mix for a top-four finish, sitting level on points with fourth-place Chelsea – a team improving under Claudio Ranieri, but a far cry from what they gone on to become.
With the Blues facing a tricky trip to West Ham and Gerard Houllier's men hosting a pre-rich Man City on the penultimate weekend, it was a real chance for the Reds to gain the advantage.
West Ham did their bit to help out Liverpool, winning 1-0 at Upton Park, but in typical Reds fashion, the Merseysiders slumped to a shocking 2-1 defeat at Anfield.
The fact that Nicolas Anelka's late double won it for City made it all the harder to stomach, following Houllier's inexplicable decision not to keep him, signing El Hadji Diouf instead.
We all know what then occurred on the final day of that fateful 02/03 campaign, as Liverpool travelled to Stamford Bridge in a genuinely enormous game for both sides.
The money on offer for reaching the Champions League, as well as calibre of player you could attract, made it a must-not-lose match, and the way in which Houllier's players kicked Gianfranco Zola in the dying seconds epitomised how the afternoon had panned out.
Liverpool, in fact, had to win, due to Chelsea's superior goal difference, and when Sami Hyypia opened the scoring, it looked like a special end to the season was on the cards.
The rest is history, though, as goals from Marcel Desailly and Jesper Gronkjaer earned the hosts the most precious of 2-1 wins in their history.
What followed, with Roman Abramovich buying the club and shaping a while new era of wealth, success and arrogance, could have been prevented if it wasn't for Liverpool's spineless final two games.
Gronkjaer's winner has since been dubbed "the £1billion goal", which sums up its level of importance. 
Parallels can certainly be drawn with this season, as Jurgen Klopp's men turn into the final straight, crawling towards Champions League qualification.
Liverpool are making life extremely difficult for themselves, but they know that two victories, away to West Ham and at home to Middlesbrough, will be enough to reach Europe's promised land for only the second time since 2009/10.
This next fortnight is just too important for the Reds to make a mess of, with the aforementioned money on offer and players available helping take the club to the next level.
A top-four finish was the natural stepping stone this season, even though we all still crave that maiden Premier League title, and it should be seen as a success if it is achieved.
This Liverpool side is currently very different to the one that ripped teams to shreds earlier in the season, however, with the last month or so about as attritional as football can be.
It is clear that the players have very little left in the tank, and that key men such as Sadio Mane and Jordan Henderson are huge losses, but there can be no feeling sorry for themselves now.
The trip to the London Stadium has potential banana skin written all over it, especially after West Ham's victory over Tottenham last Friday.
They are a team that, if you score first, are likely to roll over and think about their summer holidays, but if they take the lead, they will come alive both on and off the pitch.
Liverpool have to show all the grit and determination that they did in the recent wins at Stoke, West Brom and Watford, and simply grind out another three points.
The final day meeting with relegated Middlesbrough should then be relatively straightforward, even by the Reds' standards.
Frankly, if they cannot beat Boro in order to secure Champions League football, they don't deserve to be dining with the likes of Barcelona, Real Madrid and Bayern Munich next season.
That horrid ending to 2002/03 showed just how crucial not finishing in the top-four can be, and this time around it feels just as pivotal, if not more so.
The Premier League now has six genuinely strong teams in it, and we are at a stage when falling behind the pack could be fatal. Arsenal will be feeling equally nervy, in that respect.
Liverpool should be able to see off the Hammers and Boro without too much fuss, but everybody knows that doing things the easy way is not in their DNA.
Having been in the top-four for almost the whole season, drifting out of it at the final hurdle would be a very bitter pill to swallow.
Let's just hope Andy Carroll and Stewart Downing don't both decide to 'do an Anelka' and haunt their former club.