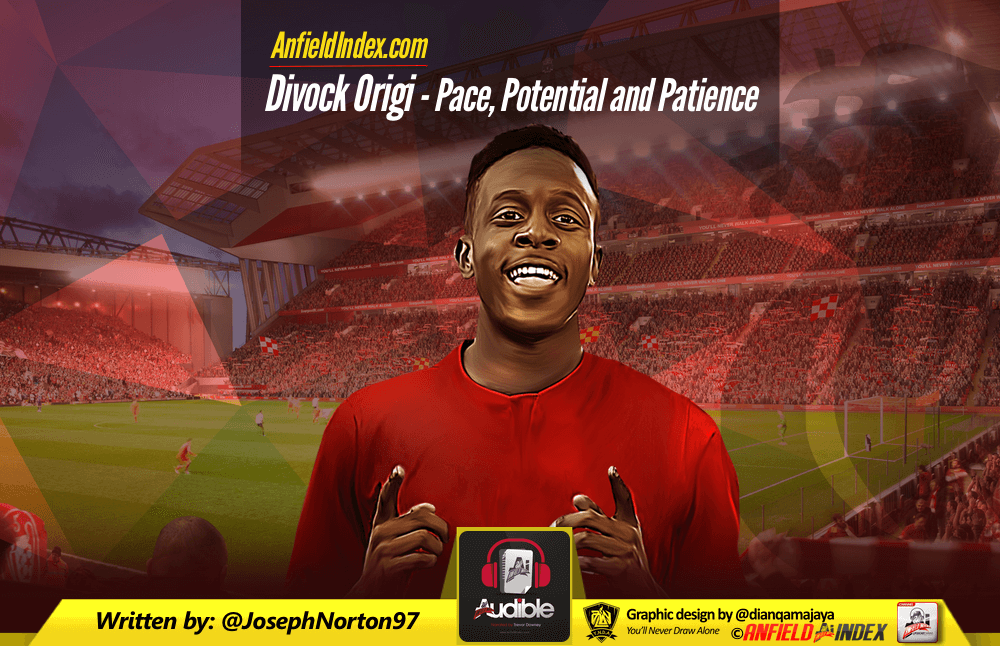 Divock Origi - Pace, Potential and Patience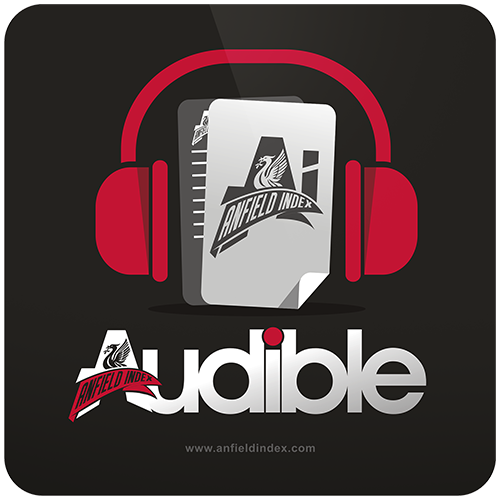 Listen to this article via @AIAudible !
After yet another draw at home on Sunday, there was one man who took the brunt of criticism after his laboured and abject performance leading the line for Liverpool… it's time to talk about Divock Origi.
One of the main reasons for the Belgian international receiving so much scrutiny was down to many fans clambering for the return of  Daniel Sturridge. While I would've liked Sturridge to start, it is clear that Klopp doesn't trust him to play from the off and follow his orders, therefore, while I might not agree with it we'll have to accept it.
In all honesty, Origi's performances all season haven't been good enough and although he's chipped in with some important goals, 10 in all competitions, his all round play has left a lot to be desired. His hold up play has been inconsistent, his movement is too predictable and he's not prolific enough, so what does next year hold for Divock Origi?

There are three standout performances that stick in my mind when it comes to Origi: the first is his hat-trick away at Southampton in the League Cup last season, where playing alongside Sturridge he tormented the Saints' backline as a rampant Liverpool side ran out 6-1 winners. The second is his performance at home against Leicester where he ran a solid and well organised Foxes' back four ragged and although he came off injured before half-time in that game, he left a lasting impression on their defence. And finally, probably the most impressive for me was his performance away at Dortmund in the Europa league quarter-final last season. A big game where you need your lone striker to be strong, link the play and provide an outlet; Origi did all of these and to cap his performance he grabbed the Reds an all important away goal. That night Origi was up against Mats Hummels, a world class centre-back so it's fair to say he's got quality; but he's got a lot to improve on.
A Liverpool striker should be one of the best players on the pitch, the man the team turns to when things aren't going well and says "I'll win you the game". Not an average player who does okay but nothing memorable. Far too often this season that's what Origi's been like. Most startling for me were his two performances against Plymouth in the FA Cup where you'd expect a Liverpool striker to show his quality and single handedly drag his team through into the next round of the competition. Instead, Origi looked liked a man who belonged in League Two.
Origi's strengths are there for all to see: his pace, power and dynamism are enough to cause any defence problems, especially those who get into a physical battle with him. In games against teams who leave space in behind, Origi can be devastating as very few defenders can deal with his physical attributes. However, when the Reds come up against sides who sit in a low block and offer very little space for him to run in behind, his strengths are nullified and his weaknesses magnified. We've seen this over the last few weeks against the likes of West Brom, Watford and Southampton. When surrounded by numerous defenders, Origi's hold up play isn't good enough, his link up play lacks quality and his movement isn't clever enough and in all honesty I think he lacks a bit of football intelligence. There is an argument that Liverpool haven't played enough to Origi's strengths; questions can be asked why we haven't tried the early ball over the top more often in order to try and stretch the opposition defence. Part of the fault may lie with his teammates but Origi has got to make these runs more often even if he is to receive the ball on only a handful of occasions. The majority of the skills talked about can be improved on but they are attributes he hasn't seemed to have developed since last year so he must learn quicker.
Not for one minute am I suggesting Klopp should sell the Belgian international and although questions will be asked next season if he doesn't take his game to the next level I think he'll have an important role to play. If – and it's a big if – Liverpool do qualify for the Champions League then Origi will be the perfect man to bring on from the bench as the game becomes stretched and the opposition begins to leave more space in behind. This is the sort of scenario Origi loves and will no doubt thrive in. Having said that, Origi will be needed more frequently against teams who sit in a low block whether that be in the league or domestic competitions, so how does Klopp use him?
Although I do think he will improve on the areas of his game I have talked about I don't think Origi will ever be suited to playing up front on his own against teams who sit back and starve the Liverpool attack of any space to run into. The reason for this is he seems to lack a bit of football intelligence, he doesn't anticipate scenarios like a striker should and he doesn't get into little pockets to link the play like a Daniel Sturridge would for example. Therefore, Klopp should use him in a way that gets the best out of his physical strengths, the answer… by playing two up front. When Origi is playing with a strike partner such as Sturridge, as we saw away at Southampton last year or looking into the future let's say Firmino, they can be the ones who link the play and do all the technical work. This allows Origi to concentrate on stretching the defence – providing his strike partner with more room to play, getting into dangerous positions and most importantly scoring goals. With practice Origi will no doubt become more prolific and his ability to run in behind because of his pace can't be argued with, therefore, tasking him with fewer jobs will help to get the best out of him benefiting both himself and the team.
Having Origi isolated up front, much of which has been down to the Belgian's lack of quality, has been one of Liverpool's biggest problems over the last month and Klopp must learn from this as we head into the final two games and look ahead to next season. We all know his strengths, so let's start playing in a way that gets the best out of him. One way or another next season will be a defining one for Origi.