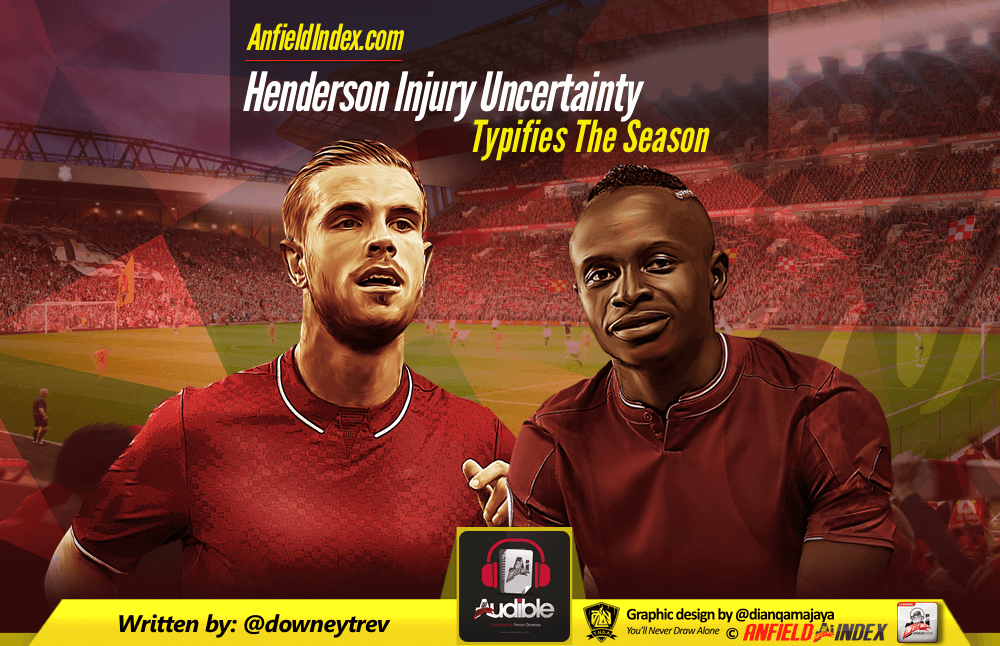 Henderson Injury Uncertainty Typifies The Season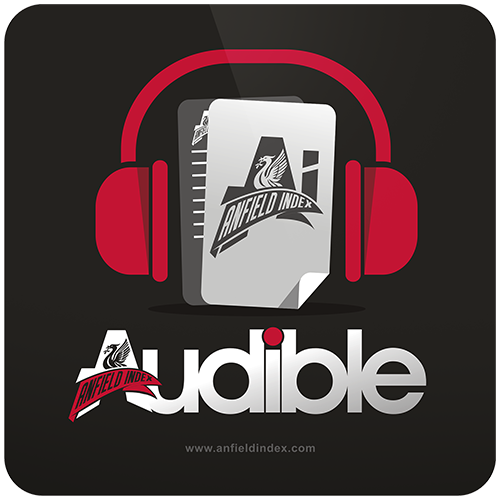 Listen to this article via @AIAudible !
Yesterday, I shared my own foolishness with you all in an altruistic attempt to spare the lovely readers and listeners of this column the needless torment I had inflicted on myself by engaging earnestly with the relentless tales of players in and players out at Anfield. It was a lamentable episode in your columnist's recent history and one I'd have been happy to keep quiet, but there's a greater good here, damn it. This is public-service broadcasting and the moral of the tale was as simple as it was priceless. To paraphrase Tyler Durden, the first rule of Transfer Season is, YOU DO NOT TALK ABOUT TRANSFER SEASON. The second rule….well, you know the drill.
Now, I realise that this policy of mine may actually alienate some of you, who gleefully revel in and shamelessly add to the speculation, but never fear, there are many others in AI Towers who are, as my Scottish pal says, of a firmer bollock, when it comes to that type of thing. Should you have the constitution for it, you will be well catered for in the realm of transfer market tales. Karl Coppack loves all that stuff, for example.
If you really are that reckless with your sanity, you will LOVE today's tales of the seemingly inevitable departure of Philippe Coutinho to any one of a host of suitors and the multiple stars that will only come to Liverpool if the Redmen can guarantee Champions League football, giants of the game…like Michael Keane. In the wake of Arsenal's win against Southampton, it really is a riot. Have fun. I, by contrast, in the interests of my mental well-being and so that I can focus on the daft and offbeat stuff this column specialises in, will be studiously avoiding the topic of recruitment until awkward Melwood leaning is being photographed.

In other news, less likely to result in you gouging out your own eyes with a spoon, it is extremely encouraging and somehow oddly galling to hear of the speed with which newly crowned Player of the Season, Sadio Mané, seems to be recovering from his serious injury on April 1st. The Senegalese has 13 goals in his 29 appearances for the Reds this season and in those games has already proved himself to be the key man in Jürgen Klopp's squad. The news of his speedy recovery is tremendous and bodes well for the season to come but the rapid rate of it means he will be tantalisingly close to a return just as the season ends and just after two final games in which Liverpool need to secure 6 points. At any rate, the player himself is pleased by his progress and it is probably churlish to want more.
"I am getting better and I want to thank all of the physios for doing a great job – not just with me, they're always doing a great job," insisted the flying forward. "Hopefully next week I will start running, jogging, so I am happy and looking forward to it." He added, "this league is a very hard league, but we have a great team and great players. We are capable of beating every team in the league. We have two important games. We must not make big pressure for ourselves, but we can beat them."
Whatever about the chances of Liverpool lurching over the line in their Champions League race, they were winning no awards last night for sartorial elegance. Bedecked in club suits that looked as though they's been borrowed from their tubbier brothers, the normally dapper Reds pitched up for the annual club awards, with the gaffer looking especially ropey. The open necked louche Rat Pack look is one thing but poor Kloppo looked like a fellow who'd come straight from a particularly gruelling training course for Tesco middle management in Slough.
It's probably needlessly cruel to poke fun at a man who must, despite his normally chirpy demeanour, be just about as ready for this sentence of a season to be over as the rest of us. What had looked to be starting out as a thrilling top of the table duel with Chelsea has long since descended into a messy and unedifying scrap for the last seats at the top table. Klopp has been dogged by a wretched run of injuries this campaign and it is arguable that none has been as costly to the Reds efforts at success as the loss of their captain, Jordan Henderson, for a goodly portion of the campaign.
The worst part of the Henderson injury has been the mystery surrounding it. The very mention of the player causes his manager to assume a very vague tone. He clearly admires the Sunderland native immensely and dearly wants him on the pitch, but there is something odd about how the details of what specifically afflicts the skipper, and just how long it may continue to do so, are always so sparse. When asked if there was any chance fans might see Henderson before the campaign's end, the German attempted positivity but left us, again, no wiser.
"Next season is the latest moment of course but anything can happen," he offered vaguely. "We stay positive because he is strong. The moment someone gives him the green light he will be back in a second because of his attitude and character. I am not thinking about the start of pre-season but that would be the latest moment he is back. Like it is always, you wish a ligament was snapped. Then you know if you fix it or wait for it, it will be six weeks, eight weeks or whatever. This is the kind of issue where you have to wait. That is how the body is sometimes. Jordan can manage really well. It was the medical department that said he has to rest. We still have to."
Well then, there you have it. I'm literally further on in my understanding, despite the gaffer's best efforts. Still, mustn't grumble, eh? At least I didn't get a rock thrown through the window of my Porsche, like poor old Phil Coutinho did last night. It was a relief to hear the magical unicorn speak about how he wanted to stay at the club, despite such vandalism, but perhaps that had more to do with the £400M buy-out clause his manager had unilaterally slapped on him. Klopp may not know what's up with his captain but he wont let his Brazilian superstar go without a fight.