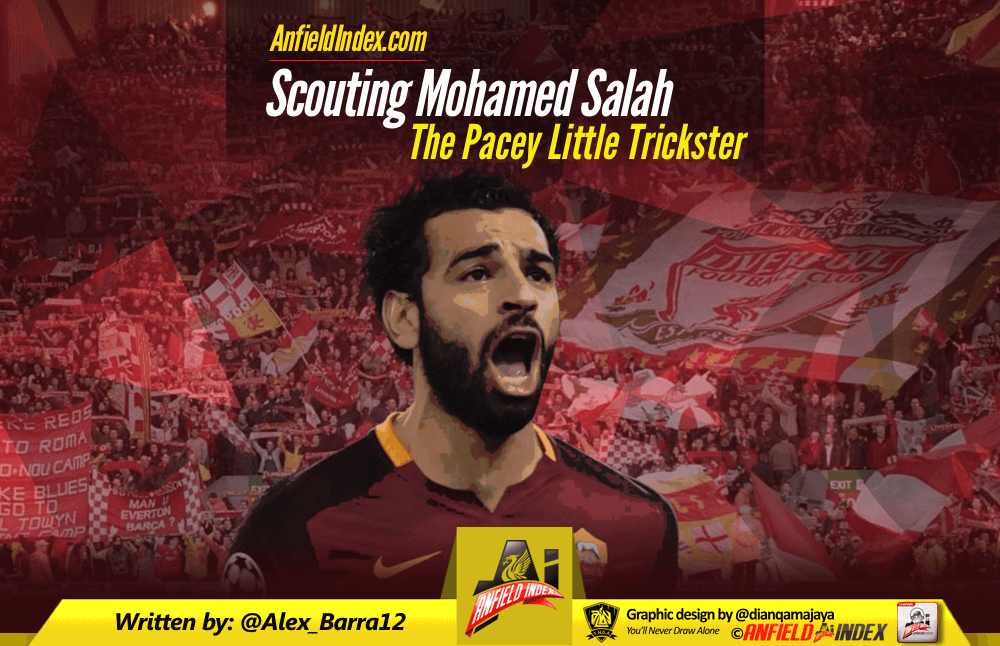 Scouting Mohamed Salah - The Pacey Little Trickster
The one that got away is always the hardest to look back on.
In the winter of 2014, amidst Liverpool's most thrilling – not to mention closest run – title challenge in recent memory, many fans called for reinforcements. The spine of the team was functioning well enough, but the team was well and truly carried by a dynamic front three. Mohamed Salah was the man to come in, bolster the ranks and carry Liverpool over the line.
"I was waiting for Liverpool because I really like Liverpool. I was eager to join them. But then I received a phone call from Mourinho and that changed everything."
That stings. But, if recent reports per Melissa Reddy (Goal) are to be believed, Mo Salah is on the Reds' radar again.

So, without further ado.
Style
Fiendishly capable of tearing through gaps in the defence. Equipped with searing pace and a vicious strike. Most potent when deployed as far wide as possible, allowing him to wreak havoc.
Sounds familiar, doesn't it? To Liverpool fans, Mohamed Salah's traits are aligned with the recently-recognised player of the season at Anfield – Sadio Mané. In fact, during his season of prominence at FC Basel, many lazily classified Salah as being "The Egyptian Messi", mostly due to his left foot, ability to dribble past full-backs, and superior ability when compared to the rest of his compatriots. In reality, Mohamed Salah is simply another fantastic winger with all the traits to succeed at a top club, as he's done at AS Roma in the Serie A.
In fact, if you're in the business of typing Mohamed Salah in relation to another high profile winger, it'd probably be his former teammate; Eden Hazard.
Strengths
Taking that comparison the full way then; Salah's trademark is similar enough to Hazard's trademark – cut inside, dribble past both full-back and centre-back, play an early ball and create chaos in the opponent's box. Most of his goals, however, have indeed come when he's given space in the box; a commodity which Liverpool players have had little of in the second half of the season.
That very problem would immediately be addressed by the pace and trickery that the Egyptian brings to the table. To start off with, the 24 year-old has more Serie A goal involvements this season (23) than Mané (18), Raheem Sterling (13) and Eden Hazard (20) in the Premier League, having started seven games less than Chelsea's Belgium dynamo (in a league widely considered to place more onus on defending).
He has experience playing with a pacy opposite number – with one of Stephan El-Shaarawy (who has come across something of a revitalisation at Roma) or Diego Perotti operating on the opposite flank, and Edin Dzeko in the middle.
Add in the fact that he takes 2.6 shots per game – again more than his three Premier League counterparts – and makes 2.5 key passes per game – substantially more than those other three – and suddenly the lacking output from Jürgen Klopp's men in the latter stages of the season is addressed, while the 13 goals and 10 assists Salah has produced this season looks less and less like a form trend, and more so the numbers of an superbly impactful winger.
Curiously, his dribbles per game is lower than all three measuring sticks he's being compared against, yet that comes from a tendency to find the early pass and seek a one-two than a tendency to lose the ball. In fact, he trumps the other three in poor touches per game as well (with 1.6 bad controls per game the best of the bunch). In essence, he enjoys running at players when getting on the ball, but will look to a pass-and-move rather than a direct one vs. one more often than not.
Finally is his passing; he almost always opts for the shorter route, in the hope that the quick pass-and-move style can bamboozle defenders and create space. And most importantly, he is always pushing to apply pressure on a defence. For a side that's looked creatively starved recently, the presence of Salah would be a godsend.
Weaknesses
Many will call to the fact that Salah seemingly "flopped" at Chelsea – and yet he was hardly given a chance by Mourinho; who prefers to stick with a core squad of fourteen or fifteen players in a season. Salah had his moments, yet stuck out as a wasted opportunity. He'll be looking for redemption.
Unfortunately, Liverpool would be without him for the African Cup of Nations, which takes place in January of 2019. Being without both pacy assets for a month would be a considerable downside, yet it makes the prospective signing of Alex Oxlade-Chamberlain even more enticing, should he arrive alongside Salah.
In fact, the only real weakness is not anything to do with technical ability, but rather his physical stature: something which Sadio Mané's been able to improve since his days at Red Bull Salzburg. If Salah can become that tenacious, gritty winger, unafraid to bolt past a fullback, then he'd be in excellent stead.
Where would he fit in?
It would take Salah some adapting time to become well-suited to the opposition Liverpool come up against. That being said; his tenure at Chelsea means he's more than aware of Premier League defences, and is more than capable of combating the physicality of the league as Hazard does; with silky skills and a smooth grace.
He could be deployed on either wing, and when playing against the top teams, would cause havoc in that front three.
He'd be an excellent signing for Liverpool, two years on from failing to sign him from Basel. In that time, the one that got away has only become even more appealing.