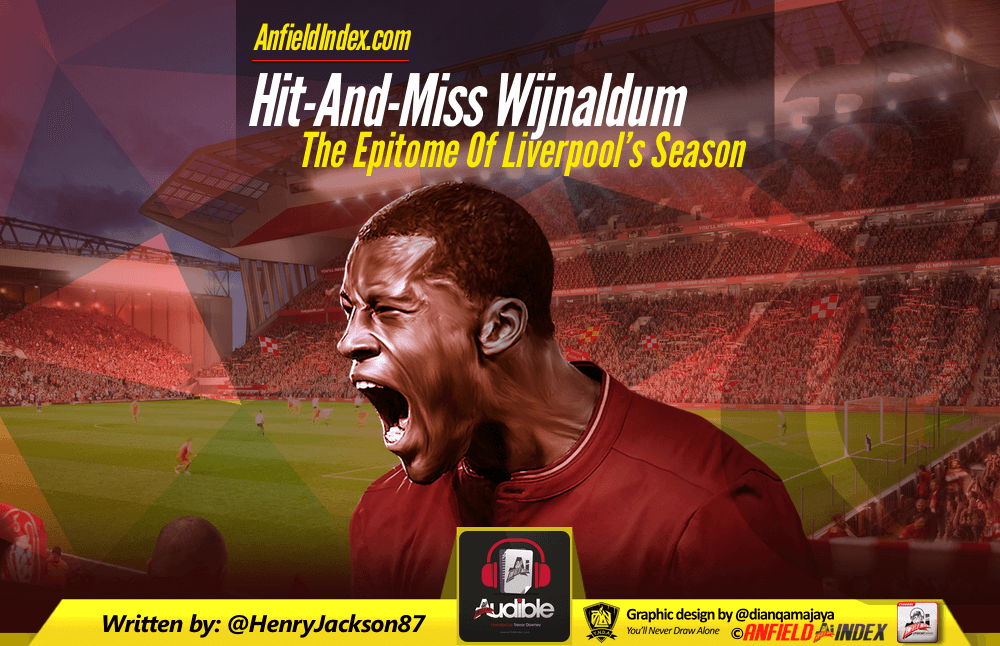 Hit-And-Miss Wijnaldum The Epitome Of Liverpool's Season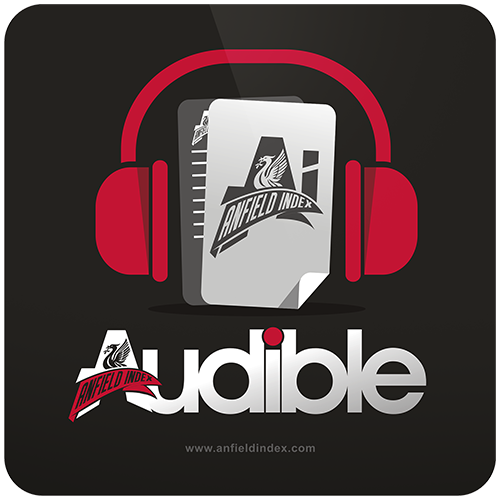 Listen to this article via @AIAudible !
It's impossible not to like Gini Wijnaldum as a person. If you dislike him, I am firmly of the opinion that there is something fundamentally wrong with you. 
That cheeky smile, fantastic team ethic and winning mentality all make him one of the most popular figures at Anfield, and rightly so.
Whether he's taking on nine-year-olds with Philippe Coutinho, nutmegging strangers in the middle of Liverpool city centre or showcasing his fantastic tactical awareness, he's a class act.

There can be no denying that Wijnaldum has been a success story since Jurgen Klopp stumped up  £25million to sign him from Newcastle last summer, with the Dutchman slotting into the Reds' midfield with consummate ease.
While many were initially left bemused at the signing, due to there being no need for another attacking player, Klopp always planned to use him in the deeper midfield role that he thrived in during his PSV Eindhoven days.
As per usual, the Reds manager was one step ahead of the 'experts'.
There is one problem with Wijnaldum, however. More than any other current player, he has summed up the frustrating nature of Liverpool's 2016/17 season, flittering between sublime and toothless far too often.
Like the team as a whole, the 26-year-old has come alive in the big matches, which should not be sniffed at.
His muscle, intelligence and slick use of the ball have all been an integral part of the Reds staying unbeaten against their top-six rivals, with some potential Man of the Match displays thrown in.
Wijnaldum's towering header earned his side a New Year's Eve win over Man City, back when the title was very much on the cards, while another aerial strike, against Chelsea, just about kept them in the hunt.
Then there was the wonderful finish against Arsenal in the dying seconds, with his lung-busting run prior to scoring indicative of his box-to-box brilliance.
There were plaudits being sent in Wijnaldum's direction left, right and centre, and deservedly so. Forget the influence of Jordan Henderson, the blood-and-guts style of Emre Can and the effortless class of Adam Lallana – he was the man making Liverpool tick when top class opponents stood before them.
Unfortunately, though, this version of Wijnaldum has not been on display every week.
The reason Liverpool have fallen short in their quest for the Premier League title, and are stuttering in their attempts to qualify for the Champions League, is because of endless poor showings against weaker sides.
While many, if not every, Reds player should be shouldering some of the blame for this, few squad members have shown more of a contrast than Wijnaldum, when it comes to performances in big matches compared to smaller ones.
With a lack of space allowed by defence-minded opponents, Liverpool have been crying out for some guile and risk in the middle of the park, but Wijnaldum has invariably shirked the limelight.
Rather than stand up and be counted, as was the case against the heavyweight clubs, Wijnaldum has invariably gone into his shell.
There has been the odd glimpse, most notably the equaliser at home to a stubborn Burnley outfit, but then glimpses have been all too sporadic.
Wijnaldum has been far too happy to play the easy ball and allow someone else to attempt some magic, and his general demeanour has been that of someone lacking confidence.
Admittedly, he is a subtle footballer who will do things that go under the radar, but anyone excusing such ineffective displays is clearly a little too biased in favour of the likeable Netherlands international.
Sunday's drab 0-0 draw with Southampton was the latest example of the former Newcastle man being close to anonymous, and his lifeless performance was a big reason for Liverpool falling short.
He had just 38 touches in the entire game, with only 14 coming in the second-half, when Klopp's men were desperately searching for a priceless winner.
There is being a subtle influence, and then there is simply being no influence at all. Wijnaldum was the latter against Saints, and has been against a host of other sides.
Where were those well-timed runs into the box? Where was that confidence and inventiveness on the ball? Where was the strut and physical presence that came to the fore at Goodison Park back in December?
Maybe it is a mental issue, with Wijnaldum more revved-up against stronger sides, and with more space to express himself. More likely, however, is that he is someone who shines most as a key cog in the wheel, not as the main man.
When he is asked to be a match-winner, he shrinks – when he isn't, it comes more naturally to him, as we have seen against City, Arsenal and others this season. He is the perfect supporting actor.
Wijnaldum is a brilliant player – it is no surprise to see him loved by so many supporters – and he will go on to be a fabulous signing as the months and years pass on Merseyside.
His debut season has unquestionably been a good one, with the positives outweighing the negatives, but he has let himself down when less glamorous opponents have come to town.
We all know that Liverpool must start conquering these sides if they are to reach that next level under Klopp – exactly the same applies to Wijnaldum.