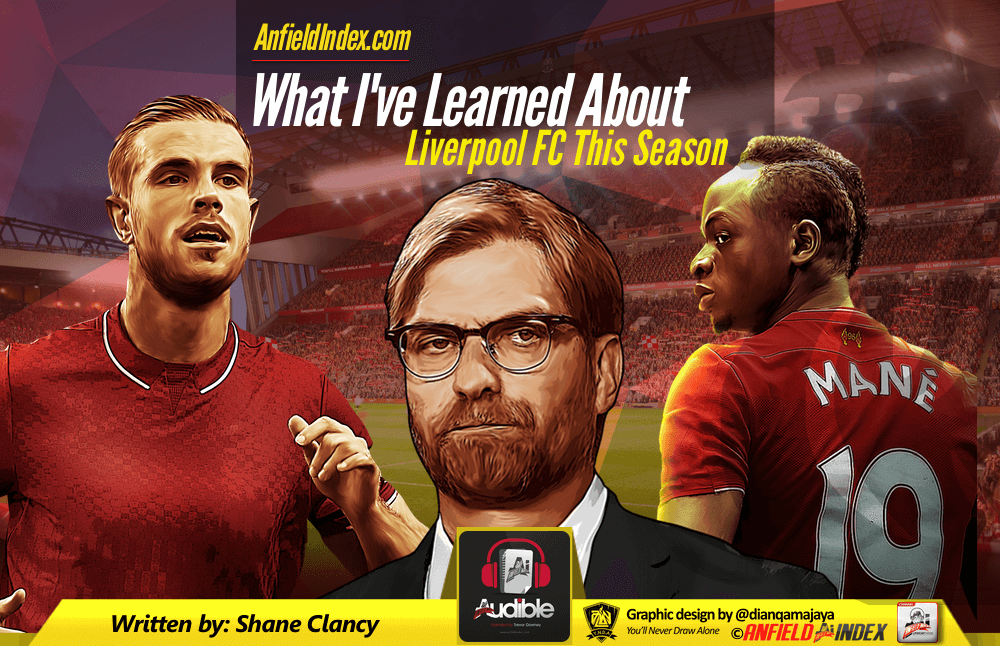 What I've Learned About Liverpool FC This Season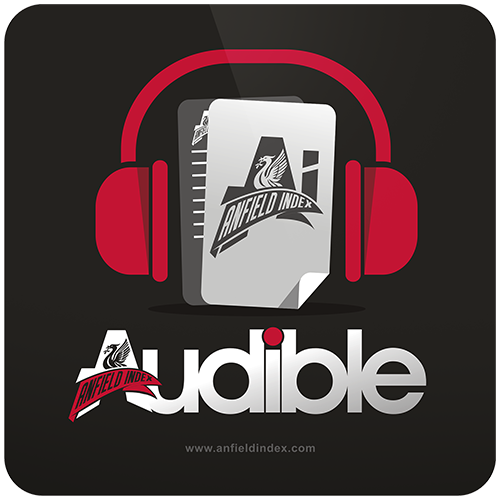 Listen to this article via @AIAudible !
Once again, I've found myself schooled in football fandom over the last nine months. Some lessons I've been educated in for the first time, others I've shamefully realised should have been taken on board many years ago.
That shame stemmed from the age-old occurrence of once again counting my chickens before the eggs were even laid. I got carried away, sucked in by the gathering speed of that train called 'Momentum'. Yes, at Christmas I allowed myself to believe that we were going to win the league. I think it was Mané's late winner at Goodison Park that did it.
For a 36-year-old, that's not easy to admit. I've been here before, after all. We willed Rafa and his army on in their challenge of '09. The Rodgers team of 2014 looked like it was going to do it, at last. Now we had Klopp's unstoppable attacking force. Third time's a charm, isn't it? I could not escape the feeling that there may well be an element of fate involved.

Unfortunately, as we know all too well, just like with Benitez and Brendan, it didn't continue that way.
But this isn't a depressing reflection on what might have been. Rather, I want to take a step back and give an honest assessment of the LFC situation now, in comparison to last summer. Believe me, it's mostly positive.
The Head Honcho
This season, I'll remember Klopp showing just how authoritative he really can be, but 'SakhoGate' broke my heart. Did he really have to lay down his law with arguably our best centre-half? I can't pretend to be privy to any more than you about what caused the rift to form between Herr Klopp and Monsieur Sakho, but it's there, and it doesn't seem to be healing.
Most managers seem to possess an insanely stubborn streak, maybe it's required for the role, but surely our 49-year-old boss wouldn't let some petty personal feud interfere with the bigger picture at Liverpool? I doubt it. There has to be more to that whole situation than we know.
Confidence in Youth
We've seen Klopp give opportunities to some youngsters as the season progressed. Woodburn, Ejaria, and Alexander-Arnold will have gained invaluable experience from the game time they have been afforded, with the latter now being considered a regular member of the first-team squad.
This is what Klopp loves. He wants to mould and create. Helping a developing talent to fully realise their potential gets Klopp going, far more it seems, than the possibilities of what he can get from a 'marquee' signing.
Inactive January
Such characteristics were much of the reason why I was so happy when Liverpool acquired the German's services. I was struggling to remind myself of that in January, however. With Sadio Mané leaving for the AFCON early in the year we turned to Klopp to see his plan B. It was a case of what do we do now, Jurgen? We've had at least four months to plan for this period. But Klopp did not delve into the transfer market. There would be no "quick fix", as he put it. The bad news was Mané's absence deprived us of any chance of a realistic title challenge. On the other hand, however, how likely was it that any Mané "replacement" would have hit the ground running and been as effective as Mané himself? Not very.
Talking Tactics
Tactically, Klopp has stuck with his offensive style of a fluently integrated front three. Even when fit, Sturridge has fallen victim to the system. Klopp doesn't seem interested in having an out-and-out striker as the focal point for his team. Firmino has been favoured there due to his ability to perform the most relevant duties for Klopp's pressing style.
The goals have been coming but defence is still the main area of concern, as it has been for years now. For periods, Klopp experimented with a three-man central defence with wing-backs pushing on. For the most part, however, it's been the standard four at the back, with the DM dropping to split the centre-backs when the Reds are in possession. We've seen this in place since the Rodgers era. It used to be Gerrard dropping back, now it's Henderson, Lucas or Can.
From Klopp's team selections, I would be very surprised if Moreno and Sturridge were still at Anfield next season. Moreno has been a very small bit-part presence since his poor second half of the 15/16 season.
Behind the Scenes Development
The backroom team is one area where Klopp and co have managed to make some big signings. Two staff members poached from Bayern Munich were Mona Nemmer, the club's new Head of Nutrition, and Andreas Kornmayer (yes, the guy who looks like Klopp's double) as the Head of Fitness and Conditioning.
With Liverpool's ultra-intense style now in full effect, it's great to see the club is able to get the backroom team members necessary to keep the squad's condition at the optimum level.
On the Pitch
First things first – the squad still does not have enough strength in depth. That needs to be remedied, either via more successful transfers, or flexibility in the coaching methods and the players' styles so they can play to the strong points of those on the pitch at any given time. So, if we don't have a like-for-like pacy attacker to replace Mané, then the team, as a group, needs to be able to accentuate the strong points of Mané's understudy as well as any other attackers on the pitch. This is where a fully-fit Daniel Sturridge could play a part, but therein lies the problem – when is Daniel Sturridge ever fully fit?
Goalkeepers
Surprisingly, or maybe not so, Loris Karius was not the answer to all of our prayers. The 23-year-old arrived from Klopp's old club, Mainz, last summer. However, he arrived with what may have been an unfair weight of expectation on his young shoulders. We had struggled to accept Mignolet as our number one in recent years, but Karius looked just as shaky in his first few months at the club. In my opinion, Klopp made the right choice in taking Karius back out of the spotlight and getting Mignolet back in the first team. I do think that Klopp still considers Karius as his long-term number one but the pressure of replacing Mignolet may have all come a year or two too soon for him.
As for Mignolet, there has been a noted improvement in his performances over recent months, particularly in his command of the penalty area and claiming crosses that need to be claimed. He may have burned his bridges with many fans but if he continues to improve the way he has been lately then I would be glad to see him hold onto the number one spot for the immediate future.
The Defence
Klavan and Matip were brought in to bolster the defence. Klavan, generally, has looked sluggish after a decent start. For now, he just seems like he can fill a hole when needed in the 'easier' games. Many times over the season we have seen Klavan so obviously targeted as a weak spot by the opposition. On the wrong side of 30 now, Klavan may not get much more playing time for the Reds after this summer.
Matip has been excellent. He seems to ooze that class and calmness that we've missed at the back since Sami Hyypia was in his prime. He helps those around him. See how well Lovren plays alongside Matip, and how his performance levels drop so low without him? Lovren has just signed a new long-term deal so Klopp must have some confidence in him. It will be interesting to see this summer if Liverpool attempt to bring in another centre-half.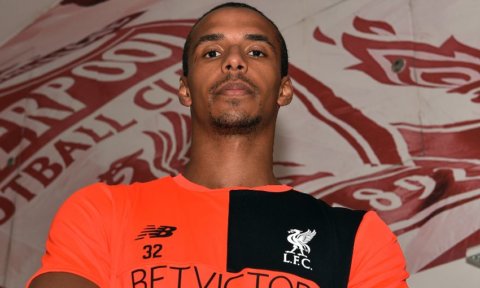 Moreno is surely leaving, as mentioned earlier. Milner has spent the season at left-back. If that is still the case in August or September then the transfer committee and Klopp will need to have a serious discussion.
Clyne has been average. Defensively, more often than not, he is okay. Offensively, his delivery is shocking. He should by no means be considered a 100% starter for Liverpool if we are looking to mount a title challenge.
I'm excited at the prospect of Joe Gomez getting some more playing time next season. With his injuries hopefully behind him, he could learn a lot from a central defender of Matip's quality.
The Middle of the Park
On the Anfield Index Writers' Podcast last July I commented that I didn't think Henderson had the mentality to be the club captain. I have eaten my words. I always felt Henderson's professional attitude was 100% but I didn't know if he would be strong enough to lead others. Then, he went and had his most impressive season yet at the club, until injury cruelly cut it short against Spurs in February.
Henderson has settled into his on-the-pitch and off-the-pitch captain's duties with ease. Maybe it's because the shadow of Gerrard is no longer hanging over the first-team squad? Not only has he shown his mental strength, but also his tactical know-how, by adjusting to the deeper role Klopp has asked him to fill this season. Up until his injury in February, Henderson was doing it and doing it very, very well.
Elsewhere, in midfield, there have been other success stories. Lallana has been excellent, in a slightly more central position than what he's used to. Gini Wijnaldum has had a very good debut season and, along with Mané and Matip, would have to be considered as a transfer success story. Wijnaldum has also begun to develop a very pleasing habit of popping up with a goal in the big games.
Emre Can has been impressive in Henderson's absence and scored Liverpool's goal of the season recently at Watford. Can has noticeably improved his shooting, of late, and we may well see a higher contribution of goals from the big man in the coming years.
Lucas has also played his part this season. When called upon, he has played at centre-half, and in his more natural position as our defensive midfielder. As always, Lucas has come in for a lot of stick. Yes, he's slow and can commit clumsy fouls but for the most part, he can be considered an average squad player. It all depends if 'average' is good enough to play a part next season.
With an improving Emre Can, a fit Jordan Henderson, an evolving Lallana, and an impressive Wijnaldum, I feel the midfield is of a good standard for next season. An established DM may be an option to improve the midfield as a whole, but other than that I see no obvious changes that need to be made.
Up Front
Mané, Firmino, and Coutinho – that is Klopp's first-choice attacking three. Origi is the first to come in when any of those three are missing. Sturridge seems to be a reluctant fourth-choice for Klopp.
I don't know how that happened for Sturridge. I consider him to be one of the best finishers I've seen since Robbie Fowler's time. But in the modern game, more and more tasks are being assigned to players all over the park – and forwards are no different. Klopp's holistic approach to sourcing the goals for his team means that a natural striker/poacher is not a necessity. Bad news for Sturridge.
Bobby Firmino may offer fewer goals than Sturridge, but he does get involved in more interlinked play with the other attackers. He also hassles and harries defenders more than any other player I've ever seen. Since Firmino's arrival in 2015, many of Liverpool's goals have been created through his tireless effort, forcing defenders into pressurised mistakes.
Mané has been a storming success – a brilliant debut season from the wide attacker. His pace and movement ensure space is created for the others in Liverpool's attack.
Coutinho was in fantastic form earlier in the season. An injury before Christmas took the wind out of his sail and he has only recently looked like getting back to his early-season level of performance. An injury-free summer break should see Coutinho back to top form come August.
Origi still has potential but this season has been disappointing from his viewpoint. Everton's Funes Mori inflicted a serious 'twisted ligament' ankle injury on Origi towards the end of last season. Previous to that, the young Belgian international had been in the best form of his relatively short Liverpool career. Maybe next season he can hit those heights again.
In Summary
As we seem to say every summer, it's the squad depth, or lack thereof, which is the biggest issue. When players like Matip or Mané are missing, the difference in performance is too obvious. This summer is going to be huge.
Klopp's project is well underway now. There can be no more talk from fans of this not being 'his team'. I think he's the right man for the job and there was definite progress made in the last year. He seems to be here to stay, and that makes me happy. Can he bring us the title we've been craving for 27 years now? I know he believes he can, and right now, that's enough for me.
The triumph of the Main Stand development is there for us all to see. The Liverpool fanbase has shown that it will be packed every week. This means good news for any further expansion plans that are rumoured to be in their infancy. The Kop will have 470 seats added to it this summer.
Anfield is nicely set up for Champions League nights. We're so close to bringing those nights back. Let's see it through now.
If this time next year, I am writing after a more serious and sustained title challenge, along with a good showing in the Champions League (quarter-finals, at least?) then I'll be a happy man.