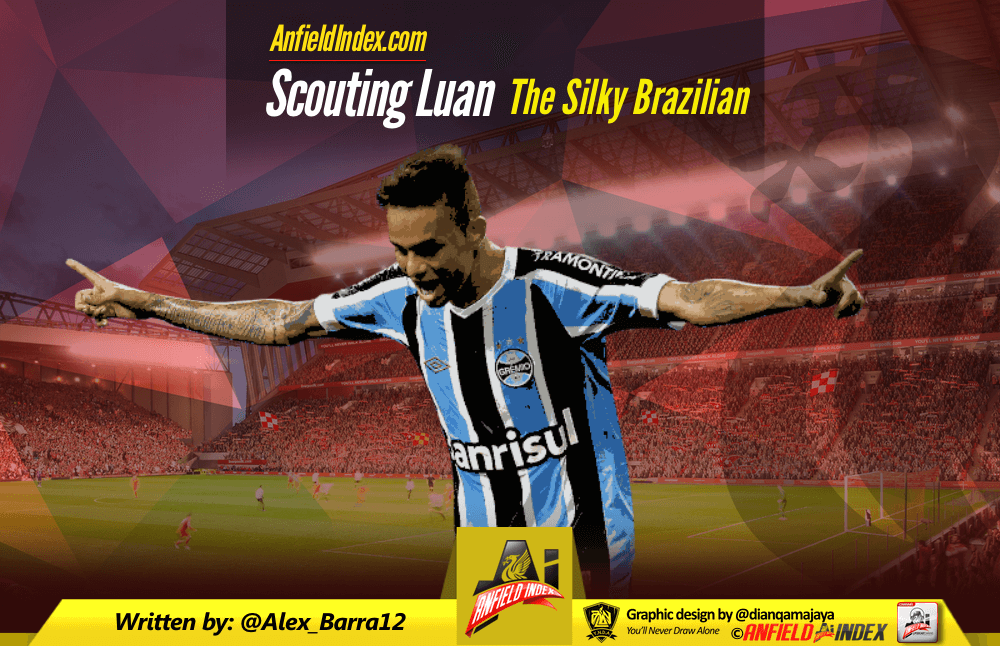 Scouting Luan - The Silky Brazilian
The rumours are coming thick and fast, and while Liverpool stumbles their way towards one form of European football – preferably the Champions League – Jürgen Klopp has spoken of his resolve to improve his team significantly in the summer. Included in that improvement would be a backup attacker, who's able to fill in when the likes of Firmino, Mané and Origi are unable to maintain the demanding schedule of a team making strides in Europe.
Much will be made of Jürgen Klopp's lack of transfer activity in January, and whether that cost Liverpool the chance of making what could be a relatively successful season a truly great season. One player being touted is someone many won't know, but who's national alignment falls into favour with a few of Liverpool's current incumbents. The Brazilian boys could be getting reinforcements – in the form of Gremio's Luan.
A report from Luis Felipe Amorin, a Brazilian journalist based in Gremio, claims Liverpool have had a £23 million pound bid accepted for the man who made his name all the more prominent during Brazil's Olympic Gold winning endeavours in Rio, where he starred in a star-studded Brazilians U-23 side.

Style
Luan Guilherme de Jesus Vieira, currently playing for Gremio in Brazil, is a 24-year old forward capable of playing multiple positions across a front three. He's favoured either out left or up front, and despite not possessing the raw pace or sheer intelligence to standout of a pack, he is most certainly underrated for his age.
In fact, many comparisons can be made to Roberto Firmino, someone who Liverpool have become reliant on for their high tempo, high intensity game to work.. But watch Luan, and you'll realise those comparisons are actually rather lazy.
Strengths
Where Firmino relies on superbly intelligent movement and quick, intricate moves to get around a centre back, Luan's futsal upbringing means he's more likely to get on the ball and bamboozle his defender, using a teammate to play a quick, silky one-two and bypass the rest of the defensive line. The term "False 9" gets bandied around too much these days, but Luan possesses one of the key traits that's suddenly become vogue in world football in today's day and age; being able to operate from deep and still be a goalscoring threat. He contributed 9 goal involvements in 25 appearances last season (6 goals and 3 assists) and fires off 3.2 shots per game, which is substantial but unsurprising given his presence around the opposition box.
He likes to get the ball ahead of the opposition centre backs, use his wingers and superior foot and dribbling skills to get past players. But from this writer's perspective, his future lies in the left side of a front three.
With a lethal long-shot, a potency to feign a cut inside and then burn a fullback with a quick burst on the outside and a clever footballing brain to take defenders out of the game (often using inventive chip passes and crosses) Luan quite epitomises the traditional Brazilian "Samba" football – which often looks more like futsal than the gritty British ideal. His best trait is likely his ability to move with the ball seemingly glued to his feet at a high speed. His close control is extraordinary, and he's able to find a pass too (2.6 key passes per game, more than Coutinho, Firmino and Mané.)
His agent has deemed him "The next Kaka", Brazilians journalists continually compare him to Ronaldinho and he's been hailed as a key part of the "New Golden generation" of younger talent in Brazilian football coming through the ranks: and while he may be blooming late (much of that is due to only switching from futsal to professional football at the age of 18), at 24 he's entering the realm of his best years and he's guaranteed to make something of that potential sooner or later.
Weaknesses
Often too eager to take players on, he's dispossessed more than any of Liverpool's front three (4.6 times per ninety, an irresponsible amount), and the lack of proper pace – something Liverpool have lacked in the latter stages of this season – means Luan would have to be a secondary signing to someone who would add that pacey dimension to the attack.
The other standout weakness is his lack of proper goalscoring impact in a relatively poor Gremio side, which finished 9th in the Brazilian Serie A – somewhat due to a lack of goals coming from the front three. The coach that got the most out of him; Roger Machado, was sacked after a poor run of form, and Luan hasn't looked the consistent starlet that raises eyebrows in the same way that Firmino did while at Hoffenheim.
If he were to come in, Luan would be a rotation option off the bench, and could well thrive in that role. But as of right now, there's no guarantee he'd bring an instant goal threat in the same way that Daniel Sturridge does when brought on from the bench.
Where would he fit in?
Off the bench, Luan would be an ideal weapon – if he can find his consistency and bulk up a bit. His technicality and dribbling skills would frighten most Premier League fullbacks, and with Phil Coutinho playing the #8, this writer could definitely see a prosperous environment for Luan to thrive in.
As a secondary attacking signing, Luan fits the bill. There's plenty of work to be done, but as is the way with these Brazilians, there's just something about him that's so incredibly fun.