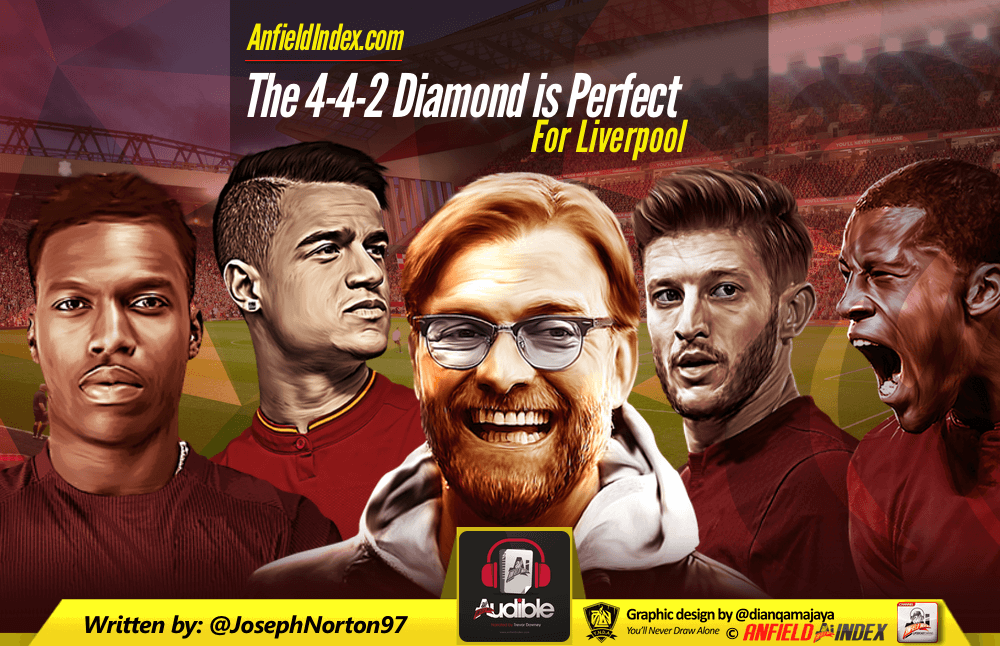 The 4-4-2 Diamond is Perfect for Liverpool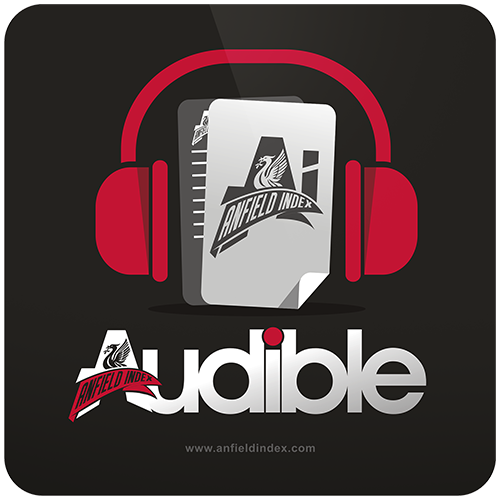 Listen to this article via @AIAudible !
Liverpool travelled to the London stadium for the first time in a game which had a cup final feel about it, win and the Reds would be three points away from Champions League football, lose and Liverpool would be reliant on either Man City or Arsenal dropping points. Fans were understandably extremely cautious after a number of inconsistent results and poor performances over the last month. However, with Lallana and Sturridge returning to the starting line up and the prospect of Klopp using the 4-4-2 Diamond for the first team in a long while, the travelling Kop's optimism started to grow. The diamond formation has been a favourite with many Reds after it was used so effectively in the 13/14 season and although Klopp has used it on only a handful of occasions – mainly in cup competitions – many have called for it to be implemented much earlier on in the season. It seemed a perfect solution to the absence of Sadio Mane's width and pace so it begs the question why the boss hasn't used it earlier in the season. After a dominant performance that in patches saw Liverpool return to somewhere near to their devastating best it's a formation I hope Klopp will look to use more often in the future to compliment his favoured 4-3-3/4-2-3-1 formation.
The 4-4-2 diamond or as Klopp likes to call it the 4 diamond 2, is perfectly suited to this Liverpool side that lacks pace and width. It essentially allows all of Liverpool's best players to play in their favoured positions. One of the main strengths of the formation is the control it gives you in midfield, you've essentially got a four man midfield which completely outnumbers the oppositions midfield. This allows the team to dominate possession giving the Reds a strong base to build on which we saw Liverpool capitalise on numerous occasions in the 13/14 season. The main benefit of the diamond however, has to be the impact it has on both Coutinho and Lallana allowing them to operate in central positions. Both players have had standout seasons and are most effective in central positions where they can dictate play and have a direct route to goal, making them much more of a threat compared to when they're forced to play in wide positions. As we saw on Sunday, Lallana and Coutinho are capable of either playing in the number 8 or 10 position, therefore, whichever central position Klopp decides to play them in we know they'll be effective. Lallana's key strengths are his technical ability in tight spaces, combination play, pressing and his runs from deep. Operating in this central position whether it be the eight or ten means we see these attributes regularly used which can only benefit the team. Coutinho's key strengths are his technical quality, ability to play through the lines and his quality in one v one situations. On numerous occasions we saw the little magician pick the ball up in deep areas as he looked to dictate the play and deliver that early through ball to either Sturridge or Origi. The Phil, Studge combination is one we saw work on a regular basis during the 13/14 season. This is exactly how Liverpool scored their first goal on Sunday, Coutinho picking the ball up deep in midfield and Sturridge using some clever movement, to run in behind and finish clinically.
Another positive aspect of the diamond is the presence we have up front, on too many occasions this season especially when Origi has been the lone striker we've seen him become isolated and his weaknesses exposed. Playing two up top means that both the opposition centre backs are occupied not only causing them a different type of problem but allowing the attacking midfielders more space to create chances in. Although West Ham started with a back three the impact it had on the Hammers back line shouldn't be underestimated. The Origi, Sturridge partnership is almost perfect as they compliment each other wonderfully. Due to Sturridge's loss of pace he has adapted his game and is brilliant at dropping in-between the lines, linking play whilst occasionally playing on the shoulder. On the other hand, Origi looks to stretch the opposition defence with the added pace he has, providing Sturridge with more pace. Origi can also drop deep and hold the ball up, however, his weaknesses technically are exposed when he's forced to do this in a lone striker role. When he plays with a partner he can concentrate on stretching the defence and getting into goalscoring positions whilst having a man close to him when he needs support. If Klopp is to get the best out of Origi he needs to play with a strike partner.
Despite many positives, the 4-4-2 diamond has one significant weakness….its lack of width, something which can cause problems both offensively and defensively. If a team is to move the ball quickly from side to side as West Ham looked to do early on, the midfield and back four becomes stretched as the the two number eights are forced to do a lot of running in oder to cover the ground that would usually be occupied by the wingers tracking back. Both Wijnaldum and Coutinho are athletic and can cover the ground very quickly, therefore, although the problem still exists it is helped by the work these two can get through. A lack of width going forward can also be problematic with the initiative on the two full backs to provide this. Both Liverpool full backs aren't particularly effective going forward and as a result, offer very little in wide areas. In order to combat this it is up to the two number eights, the ten and strikers to make runs into the channels and produce neat combination plays in the half spaces to stretch the opposition back line making it difficult for them to defend. Wijnaldum, Coutinho and Lallana's combination play is pretty good and all are effective at playing in the half spaces which makes up for this lack of width to an extent. Furthermore, Sturridge and Origi are both happy to run into the channels to either provide an outlet or link the play, again allowing the formation to work so effectively.
Although I don't think the diamond is suitable to play in the big games, mainly due to the lack of protection it offers in wide areas, I would like to see Klopp use it on a more regular basis going forward to compliment his favoured formation. When everyone is fit and Liverpool are at their fluid, dynamic and scintillating best 4-3-3 is the perfect formation for the Reds but take Sadio Mane or even Adam Lallana out of the system and the team looks completely different. It therefore provides Klopp with a perfect alternative to break down teams who sit in a low block and look to frustrate Liverpool when the 4-3-3 doesn't work. With the diamond formation working so effectively against West Ham, Klopp must stick with it for the final game of the season against Middlesborough to ensure we get the crucial three points and more importantly see Champions League nights return to Anfield.