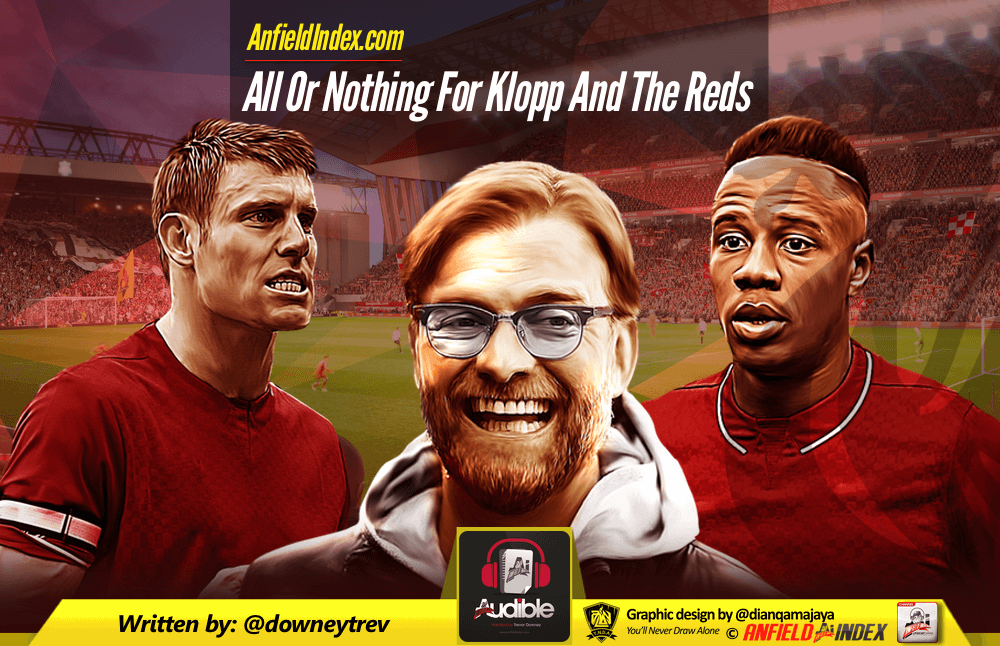 All Or Nothing For Klopp And The Reds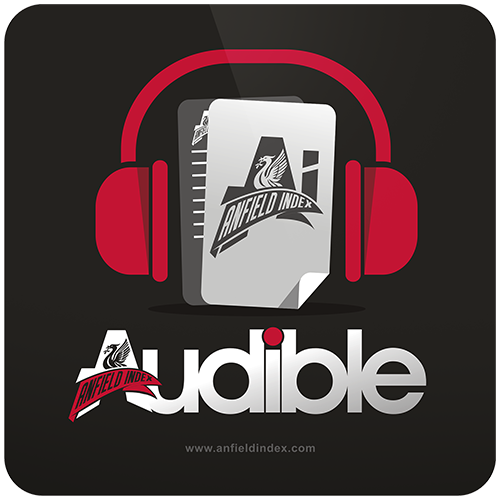 Listen to this article via @AIAudible !
"A war of attrition, competition, competition, competition," he said. "This means a fight for everything week in, week out," he elaborated, but it turned out that Jürgen Klopp was not describing the ferocious rivalry between the members of the Liverpool squad to get cast in the latest Nivea television ad, a B-Movie fever dream which features Nathaniel Clyne lasciviously soaping himself and James Milner being crushed under the foot of some sort of monster. I'm not even joking, click the link.
Rather, the German schemer was endeavouring to communicate the formidable "intensity" of the Barclay's Premier League to his compatriots at kicker magazine. He was suggesting that, in a famously results-driven business, the drive seems to be turbo charged in England. Klopp has been critically panned for his tactical inflexibility and over-reliance on a single system. Fans have bemoaned the lack of a Plan B when the Redmen are stifled by rigid defensive systems and bodies behind the ball, but Liverpool's gaffer, whilst denying he is "the football Pope," does hold firm to his Fußball "doctrine."
"The result stands above everything else," insisted the bearded Swabian. "We got used to how most opponents play against us. That's not a problem. But this doesn't mean that because of it, we've changed our style that much. We still believe it's right what we do. It worked out often enough. We can't change this. [It] also means an image which was already there in Germany [that Klopp does not have a Plan B] is transported to England. It just doesn't affect us a bit because we have a thousand plans. We just need to live with it.

"Let's look at the goals. We scored 75 and conceded 42. Alongside Manchester City, we've scored the second-most goals but sadly conceded a lot. You can add another stat: We are rarely outplayed before goals. As a classic possession-based team, we concede goals after classic counters when losing the ball or from set pieces or, what is even worse, from second balls after set pieces. We are working on it. If it were that easy, it would have happened by now."
This is particularly relevant stuff as we move inexorably towards the last day of the season and the attendant drama that Liverpool's haphazard 2017 form has resulted in concentrating on a fixture against an already relegated Middlesborough side in the process of seeking a manager. The effort to learn how to be defensively solid has been ongoing as long as Klopp has been in charge and has its origins in the years before he arrived.
Simon Mignolet may have been atypically solid in recent weeks and Dejan Lovren and Joel Matip may well prove to be a successful ongoing partnership, given their excellent record together to date, but everybody reading this knows the feeling of creeping dread that sneaks into the heart of a Reds fan the longer a game goes scoreless. We have all felt the sickening certainty that it will take only one counter attack, one lofted ball or one set-piece to quite undo Klopp's men. This is the reason that summer defensive recruitment is psychologically vital and it is also why Sunday's match will be torturous in the event of the Redmen's attack faltering.
True to form, the players have not failed to exacerbate the pressure with a load of the usual cobblers about cup finals and fighting to the end and having it all in our own hands – all eminently true things that it really doesn't help to say out loud. Thank your chosen deity, then, for more words from the gaffer, this time on that very topic of how he and his charges view the last game of the campaign.
"I don't think we need different kinds of descriptions for this game, so it's a 'cup final' or a 'World Cup final' or that it's the most important game of however many years and everything," he said, casually ignoring the fact that it is, indeed, the most important game of however many years. "It is a football game. If we really—and I know we do—expected from ourselves that in each game we win the game, what is the difference? We always have this kind of pressure; that we want to win the game, that we have to do the right things. We have to defend well, we have to be good organisationally, we have to create chances and we have to score goals. So that is not a big difference and I don't think that anybody needs this special motivation or whatever. In the end, we have to play football and I am really happy I have a team able to do this."
Bless him, he's trying to save our boys from themselves and despite the fact that this is entirely disingenuous guff from Klopp, I, like a well known cynical FBI agent, want to believe. He's doing his part to lessen what could be an almost crippling pressure and, as the man himself insists, "if you only feel the pressure, it makes no sense. You cannot run, you cannot breathe, you're not free and that's what football needs so you really can perform." Having shown some decent acting chops in several television ads himself, it is regrettable that the manager was not on hand to give some Method coaching to Nathaniel Clyne, Roberto Firmino and James Milner, who, following their cataclysmically awful hamming in the aforementioned television spot, frankly owe us all a respectable performance. Champions League qualification would be a start.