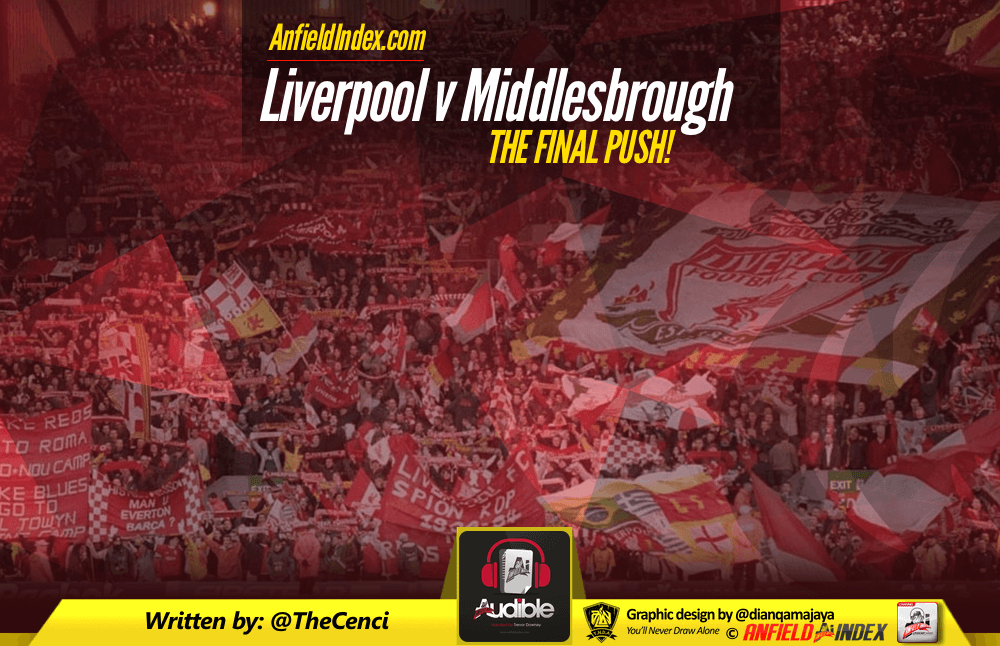 Liverpool v Middlesbrough - The Final Push!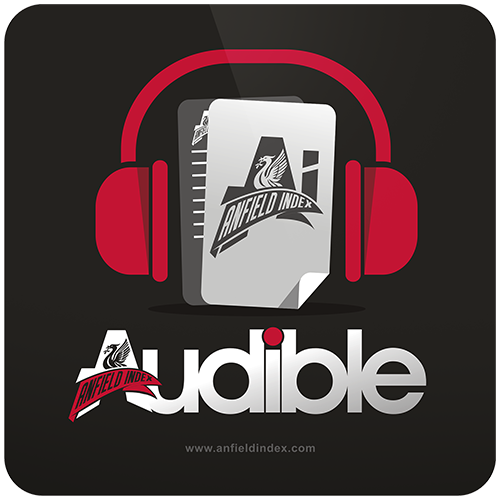 Listen to this article via @AIAudible !
Well, here we are. Game 38. All or nothing (and the Europa League is nothing as far as I'm concerned. It's a fine, a tax on not being good enough for the Big Lads Cup). It all comes down to this.
Firstly, I'm fairly sure that that 3-4 game at the Emirates which started this whole shebang was at most three months ago. Where the hell has this year gone?
At this stage, we still don't know what this season is. Will it be judged as the campaign where we sneaked into the top four before dominating Europe for the next fifty years or so or 'that year we started well but faded'? We won't find out till Sunday night.

At least it's in our own hands. Much as they love us, I can't see Everton offering a city wide gesture to their red brethren – not after our bench angered them by asking that their players not kick us in the air quite so hard and often at the Anfield derby. I've heard Tim Howard is coming back to the School of Science to think about diving for a shot one last time.
Not that Arsenal will need too much help. Credit where it's due, they've picked up their spare points and drove us all the way to the final game, but, well credit to us too. The West Ham game could not have been planned and played out any better. A brief onslaught and then the goal which ended everything for them. What followed was glorious. Not content with finishing the game at 2-0 we came for more and pushed for extras. Had Divock squared the ball it might have been five.
And yet there are those with doubts.
It's part of our psyche to build up the opposition before we play them. Last Saturday night people were talking about the Hammers as if they were the 50s Real Madrid side rather than a team who had won just eleven league games. I suppose it's natural to fear a dreadful disappointment and prepare yourself for the worst, but, the magnificent Andre Ayew aside (proving that he's a Red once and for all. Cheer s mate), they wilted like a hothouse flower.
It's part of our make-up to grumble despite the opportunity.
It reminds me of the man who stood next to my mate at Anfield a year after we'd reached two Champions League finals in three seasons. The Reds were drawing 0-0 when he turned to him and said 'You know what, lad? Thirty years I've been watching this shite.'
I loved that. He's seen us win everything in thirty years! Everything! 'This shite.'
That, in turn reminds me of the joke in Annie Hall where Woody Allen's character (who, coincidentally was not unlike the actor himself in both character and outlook) tells a joke about two women complaining about the quality of the food in a restaurant.
"… and one of them says, "Boy, the food at this place is really terrible." The other one says, "Yeah, I know; and such small portions."
He goes on to say:
"Well, that's essentially how I feel about life – full of loneliness, and misery, and suffering, and unhappiness, and it's all over much too quickly."
While the lad at the match has conveniently forgotten the triumphs and joy the Reds have assembled over that time, I sort of hear where he's coming from. People like moaning. It points to their indefatigability in the face of an endless sense of disappointments. Maybe that's a Scouse thing. Alexei Sayle once said that we're the most contrary set of people on the island. Tell a Scouser that everything is great and you'll often as not be rewarded with a sneer and a tut. Tell one that things are dreadful and you'll hear that things aren't' that bad.'
Liverpool fans – Scouse or no – are famed for this. We're either the best team in the world and sit high above the world looking down on those with the temerity to even show up at our games never mind beat us or we're a doomed relegation side with nothing to play for other than the most Pyrrhic of victories but even that would be a disgrace really.
Speaking of doomed relegations sides…
See, I understand that. Football sweeps us across the divide of joy and bitterness and back again, but I can't be doing with it BEFORE a game. Boro are down with the lowest goal tally in the division – yes, Sunderland have scored more goals! – and there's talk of 'be typical if we can't beat them.'
I'm not a man for 'energy' and 'positive mental attitude' unless you're in the ground itself but this is not the time for doubts and 'just be like us to fuck this up.' This is one game and, as much as I deplore celebrating being the fourth best in the league, it's a pretty big one
My mate Richie asked me earlier how he thinks we should approach the game. I think there's only one strategy. Foot on the throat. Score. Keep foot on throat. Score more. Continue until the referee pleads for mercy on their behalf.
In 2001, Liverpool crawled off the pitch in Dortmund with the third trophy of the campaign and set out for the slightly less salubrious setting of The Valley, Charlton. They needed a win to edge out Leeds United and take third spot and the final Champions League place. It was my firm belief, though I daren't state it aloud, that, following a punishing schedule where we'd played every possible game we could (i.e. we were in every competition to the very end); we'd barely have enough energy to make it out of the tunnel never mind take the points. We won 0-4.
Tiredness is not a factor here. The only element Boro can cling to is the 'let's go out with a bang' and 'let's do this for the fans' – which suggests that they weren't too keen on that approach for those trifling first 37 games. We'll be up for it too and if it's a Francis Begbie 'square go' we have more artillery.
So, let's have no naysaying for this one. No frowns if it's 0-0 after an hour. No, 'Sturridge/Origi/Emre are useless' according to taste (it's Moreno, anyway). None of that. It's the final 90 minutes of the season and this could be the game which leads us on to something else. When Gerard Houllier's team fell over the line in 2004 thanks to Newcastle's failure to beat Southampton we walked away feeling we'd got away with a top four finish and, unless something major happened, we'd be out of the Champions League six games after we'd just got in. Know what? Something massive happened.
Foot on the throat, Liverpool. Foot on the throat throughout.
This may lead us to somewhere bigger.
One game.
Three points.
Because life can be full of loneliness, and misery, and suffering, and unhappiness.
And it's all over much too quickly.