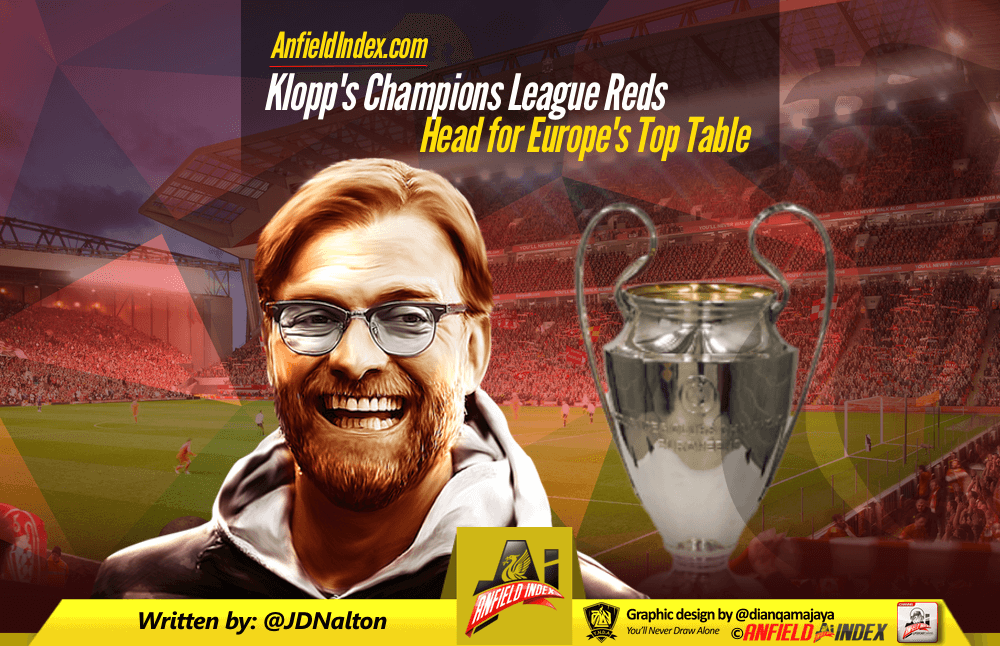 Klopp's Champions League Reds Head for Europe's Top Table
Liverpool earned the chance to play Champions League football next season after putting thee goals past Middlesbrough.
After a tense season of almost mounting a title challenge and almost reaching the League Cup final, the relief around Anfield was palpable when the team finally achieved one of its goals.
The celebrations after Georginio Wijnaldum's opener in first half injury time were joyous and intense, but were followed by a collective exhale of breath around the old stadium at half-time.

Those fans who'd begun to lose faith in Jurgen Klopp's Reds were already in the foyer ordering their half time drinks when the Dutchman blasted past Brad Guzan in front of the Kop.
These supporters missed one of the moments of the season, and in some ways it serves them right for losing faith too early, but given the first half they'd witnessed few would have expected Liverpool to go in at half time a goal to the good.
The opening 45-minutes had been one of familiar failings against a side who'd come to Liverpool determined not to lose.
Nervous extra touches on the ball, slow build up play, and loose ball control gave that the impression that this could be one of those disappointing days for Liverpool FC.
Gini in a Bottle
But one moment went against everything which had happened before it.
Even Nathaniel Clyne, Mr Safe himself, left his comfort zone to play a forward pass into the feet of Roberto Firmino, who then nudged the ball into the path of the onrushing Wijnaldum, just.
The pass was slightly behind him but the No 5 was able to reach back with his left foot at the last moment, the ball rolled ahead leaving him with the perfect chance to open the scoring, a chance which he took with aplomb.
The midfielder has become the go-to player for big goals, and his tally this season also includes strikes against Chelsea, Manchester City, and Arsenal.
Gini Wijnaldum scoring yet another important goal this season. Not against a big side, but still a big game for #LFC.

— Leroy | LFC Impulse (@LFCImpulse) May 21, 2017
This moment was perhaps the biggest yet and means the club go into the off season with more power in the transfer market, more prestige, more money, and perhaps most importantly, more belief.
The Importance of Top Four Finish
Missing out on the top four didn't bear thinking about, especially with the prospect of Manchester United winning the Europa League and qualifying for next season's Champions League as a result.
It would have meant Liverpool were the only team in the current "big six" without a place at Europe's top table, but after today's results that miserable status falls to an Arsenal side whose problems are now magnified tenfold.
The Reds' points tally of 76 is 16 more than last season, and is their best return since they finished runners up in 2013/14. You have to go back to 2009 to find another points haul of more than 70 points.
Bearing in mind that this is Klopp's first full season in charge, a fourth placed finish thanks to a goal from a signing made under the German's watch isn't a bad season's work.
"Everything is good in this club at the moment, it feels good, but of course we have to deliver results," said Klopp in his post match press conference.
"Feeling in a good way is one thing, but showing it is another. We showed it today. We deserve this position and 76 points is an outstanding number."
Last summer's transfer window was the manager's first real recruitment drive since he joined the club, and as well as Wijnaldum, Sadio Mane and Joel Matip have become important parts of the new-look red machine.
Other players such as Adam Lallana, Emre Can, Roberto Firmino, and Philippe Coutinho have improved under his tutelage, and it was Coutinho who really made sure of things against Middlesbrough with a typically excellent free kick.
Lallana added the third as Liverpool dominated the second half, and even if new signings are made next summer the Englishman's skillset will be important in a squad which will have more midweek games to contend with.
An Awkward Qualifier
Thanks to today's heroics, the Reds have the chance to make sure that these games are on a Tuesday or Wednesday rather than a Thursday, but first they'll have to get through the qualifying playoff.
This is an awkward two-legged affair which take place after the opening weekend of the new Premier League season in mid to late August.
Finishing 4th and losing the qualifier would be the most Liverpool thing ever! #lfc

— mainstand red (@mainstandred) April 11, 2017
Sporting Lisbon, Viktoria Plzen, CSKA Moscow, Club Brugge, Steaua Bucharest, Young Boys, Hoffenheim, Nice, Istanbul Basaksehir or Besiktas are all potential opponents depending on the outcome of earlier qualifying matches.
Liverpool will be seeded alongside Sevilla, Dynamo Kiev, Ajax and either Napoli or Roma.
"We will be really strong and we will fight for it. We want to be there," Klopp said of the qualifier.
"We want to be around the best teams in the world because we are one of the best clubs in the world."
The fans will hope that this summer's business strengthens the team enough to see them through the qualifier with ease.
The prospect of Champions League football, which they were able to achieve here in the final game of the season, will only strengthen their hand in the negotiations which Klopp says are already underway.