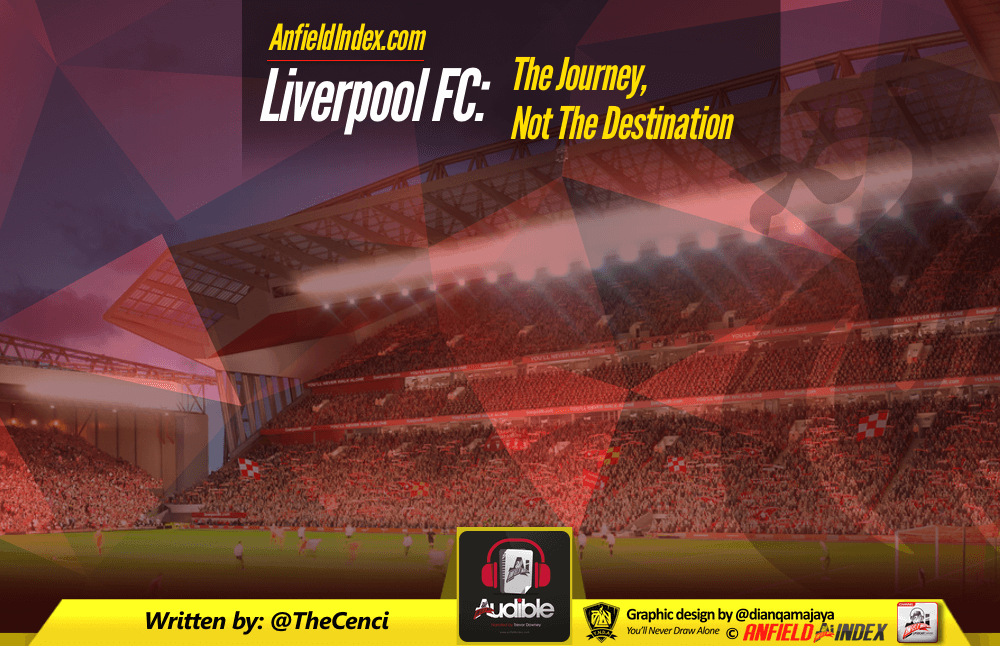 Liverpool FC: The Journey, Not The Destination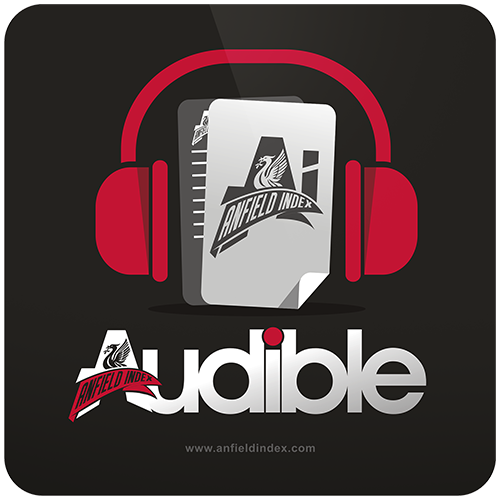 Listen to this article via @AIAudible !
A few years ago I made a promise to myself.
I'd become increasingly more fascinated with Arsenal and their level of ambition. In the early part of this century they were simply imperious with consecutive FA Cups, league titles and the greatest strikers in their history in Henry and Bergkamp, but as Roman Abramovich's petro-dollars took hold and Chelsea replaced them at the summit of the English game, their desires lessened. In May 2005, as Liverpool prepared to head out to Istanbul, the Gooners defeated Man Utd on penalties in the FA Cup final. They were not to win another trophy for eight long seasons.
There's a fervent 'Arsene Out' campaign within their fan base but it's unlikely – up until 5pm on the final day of the league campaign – that the board would take any rash steps. After all, Wenger puts them in the top four every single year and, as Louie Anderson says in Coming to America, that's where the big bucks come in. Arsenal's board like that even though the fans want a little more from what can be a genuinely entertaining side.

So when the dream of a Liverpool League title evaporated for yet another season I looked across over London towards the Emirates and told myself that no matter how poor Liverpool were and how disappointing May was, I'd never celebrate being the fourth best side in the country. Never. First is first and second is nowhere, never mind fourth.
That all changed today when Gini Wijnaldum broke down the right in the 46th minute this afternoon and pulled his foot back.
Then I saw his face. Now I'm a believer.
When the big Dutchman belted it in at the Brad Guzan's near post, I, like you, found myself fourteen feet in the air as Liverpool looked odds on to take the final Champions League spot. I forgot about my standards from that moment onwards.
Yes, I'll take fourth place today. Just as well, really.
The return of Champions League is important, of course, but my overriding feeling was one of relief for the players and management team. Liverpool are good enough to be a Champions League side and, had things gone wrong today, I don't think I could have contemplated a hat-trick of lost 'finals.'
Well, they won this one and though fourth place seems lowly to me at least, it's about right when compared to the other teams. Chelsea and Tottenham are streets ahead of the Reds at the moment while City just – just! – have the edge on us. Arsenal and United are imploding slowly in terms of the league, though both could end up with trophies before the month is out.
I say 'implode' but my friend Gary Farnan points out that both Arsenal and United increased their points total this season. Arsenal by four points – runners up last season, let's not forget – and United by three. When that's taken into consideration, the level of progress under Jurgen Klopp has been phenomenal.
It's the German's first full season in charge and he's dragged us into Europe's elite competition at the first attempt. This is great, of course, but it's equally heartening that he sees this as simply the next step in our development and regeneration rather than the destination. Liverpool have not arrived yet. We're just on our way following numerous seasons of wandering around lost. Jurgen Klopp has turned the light on and pointed at the pathway. The real work starts in the coming weeks.
Travelling Reds will be looking at leagues to see who we can get in the qualifier and planning elaborate trips across the continent. Come the groups stages we'll inhabit that rare world of wanting a big side but also some minnows so we can safely reach the knockout stages for the interesting part of the competition.
It's great to be back. Liverpool should be in Europe. Liverpool belong in Europe. As Roy Evans once observed 'Liverpool without European football is like a banquet without wine.'
Well, we've made it and, what's more, we're capable of a run at both the League and European competitions providing we buy well in the summer. I doubt we'll see any player we recognise in the League Cup next season. In fact, if you plan to attend an EFL Cup fixture, bring your boots. You never know.
It's time for the summer and months of people telling you that they know things about transfers,
There will no doubt be numerous articles on highlights of the year etc., and I'll get to mine at some point but while I've got you for a minute I want to talk about Coutinho.
When Gini slapped in the opener I wondered if he may be our Player of the Year, given that Mane has been out for months and Coutinho missed much of the winter. He'd certainly be a candidate if Philippe Coutinho was taken out of the runners and riders, but… well… our Number 10 wins it again, doesn't he?
We all have our favourites but it's safe to say that the Brazilian is the man who makes Liverpool tick and three goals in our last two games underline his importance to the side. I think there are times when we take him for granted or sniff as we point out when he's not quite on his game, but I wouldn't swap him for any other player in that position. The free kick was vital to the day but his execution of it was almost arrogant. He can do that now. He's added consistency to his game now and finally he's scoring regularly.   What's more he's scoring doubles such as the one at West Ham.
But the final word should be about today's most likely departure – another Brazilian. I realise he's not for everyone but I love footballers who play with a smile on their faces. Lucas Leiva LOVES football. I'm not criticising footballers who don't grin all the time but it's heartening to see a player who realises how great it is to just BE on that pitch in front of our fans and not be all cool and insouciant about it. Football is a laugh and no one enjoys himself more than him out there.
He's had numerous final matches, of course, but I think that may finally be it. He won't be easy to replace and I don't mean as a footballer, but as a man in the dressing room. He strikes me as a lad to whom any squad member can turn. Mates with everyone.   That sort of person.
So that's the end of the season. 2016-17 has been unsuccessful in the strict sense of the word as there's no silverware, but it's been a landmark in others. It's a step towards an ideal, a journey and the next stage comes now.
Enjoy the summer and angst free weekends. Enjoy being in the Champions League. Enjoy yourselves.
Liverpool are back.