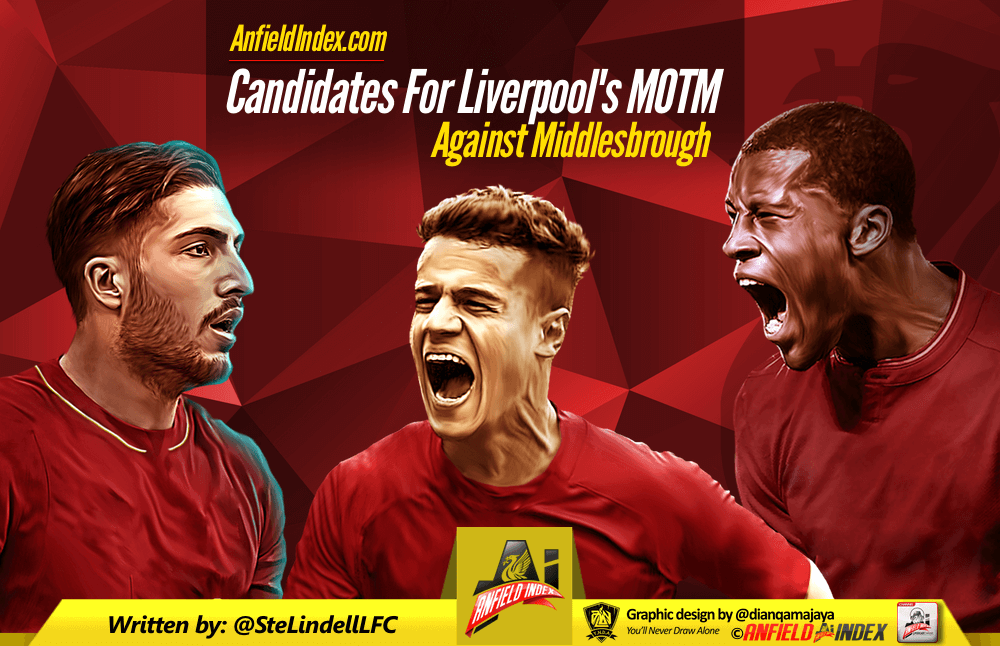 Candidates for Liverpool's MOTM vs Middlesbrough
Liverpool capped off a successful campaign with a 3-0 home win over relegated Middlesbrough, confirming Liverpool's place in the Champions League qualifiers.
Before kick-off, Reds fans greeted the team bus with a voiceforous welcome – it brought back memories of last season when flares billowed through Anfield's Shankly Gate. The atmosphere was deafening inside Anfield too, as the hosts took to the pitch in their slick and contemporary new kit.
Nerves were jangling at Anfield though inside the first 40 minutes, with the omens not looking good. Arsenal went 2-0 up against our local rivals Everton at the Emirates inside the first 30 minutes (despite being reduced to 10 men) as Jurgen Klopp's side huffed and puffed to find an elusive opener with the crowd getting increasingly restless.

There was a negative aura about the stadium as the frustration increased – but at that very moment, Wijnaldum opened the scoring with a fine effort into the corner.
Philippe Coutinho's free kick and Adam Lallana's finish capped off a fine second half display from the Reds, which means Liverpool will be seeded for the Champions League qualifiers in August.
1 – Philippe Coutinho 
With Coutinho spending much of the season in a playmaker wide role in Jurgen Klopp's 4-3-3 system, he started off like a house on fire.
However, after suffering injury which coincided with Liverpool's slump in form, he never looked the same player. He wasn't influencing games as he liked, making only one assist and scoring one goal in twelve games. His finishing did improve in the front three, but he has looked more effective in the diamond deeper.
Following Klopp reverting to the 4-4-2 diamond in the Reds' 4-0 win away at West Ham last Sunday though, he's never been closer to the peak of his powers since 2013/14.
Brendan Rodgers often deployed him in a 4-4-2 diamond during Liverpool's 2013/14 season  – offering a creative influence from deep with the guile that Liverpool have been lacking in midfield this season as well as his passing.
Although he didn't have the same influence from midfield that he did have against the Hammers, he still pulled the strings through midfield and his free-kick in the second half went a long way to winning the game.
19 Goals this season for the little Brazilian magician. Eden Hazard 20 goals, with Coutinho having missed 1 month. I'm not comparing the two, but if that doesn't show progress, nothing will.
2 – Georginio Wijnaldum
Wijnaldum signed for an eye-watering £25m – many rival supporters poked fun at Liverpool signing a Championship player at a seemingly extortionate fee, instead of opting for marquee signings such as Paul Pogba or Granit Xhaka.
At first, it looked like another expensive mistake in the transfer market for the Reds, especially after some insipid and virtually anonymous performances early on in the season.
However, as the season wore on, the Dutchman is slowly beginning to prove his worth in big games – contributing goals against the likes of Man City and Arsenal this season along with an impressive nine assists.
Wijnaldum is still a long way away from nurturing into the kind of player Klopp needs in the diamond, though; and he was infuriating in the first half. I do feel that he can still offer more drive going forward in games against 'smaller' outfits, as he has a tendency to be too conservative with his passing and movement off the ball.
It looked like another of these performances of anonymity against Middlesbrough; but just when he was beginning to bear the brunt of supporters anger, he chipped in with a fantastic strike in the corner past Brad Guzan. He offered a lot more drive in the second half – which just shows how he can nurture into a terrific box to box midfielder next season.
On the whole, a good performance which caps a positive and encouraging first season for Georginio Wijnaldum in a Liverpool shirt. A season of progression.
3 – Emre Can
Can started the season in a more advanced role in the midfield three – but after struggling with several injuries this season, he struggled for form after the turn of the year.
That isn't giving excuses for his turgid performances in midfield – but with the precious commodity of time, Can has developed into a very mature No. 6 who is doing an excellent job at anchoring the midfield.
In Klopp's 4-4-2 diamond, Can operates at the base, offering good protection for CBs and FBs when they venture forward. He was very tidy with the ball generally, and kept balance ticking over in the first half. Whichever midfielder signs next season, he will have to be one of them. Also offered some good versatility in the middle of the park. Definitely going to be a part of the German's vision for 2017/18.
Conclusion
All in all, a successful season. Jurgen Klopp has done well with the injuries and limited squad he's had, in achieving the preliminary target of Champions League qualification. His job is now to build on it – and strengthen the depth of his side. He cannot afford to make similar errors to his predecessors and take his foot off the gas after a good season.
Champions League isn't fully sealed yet; the Reds will have to go through a qualifying round before they are seeded for the group stages. No excuses – this summer will have to be a busy one in the transfer window.
As for the game, I felt that we were trying too hard on occasions – which told in the restlessness of the crowd. Once Liverpool got the breakthrough, Klopp managed to motivate the players to go on and put the game out of sight against a relegated Middlesbrough.
Roll on August!