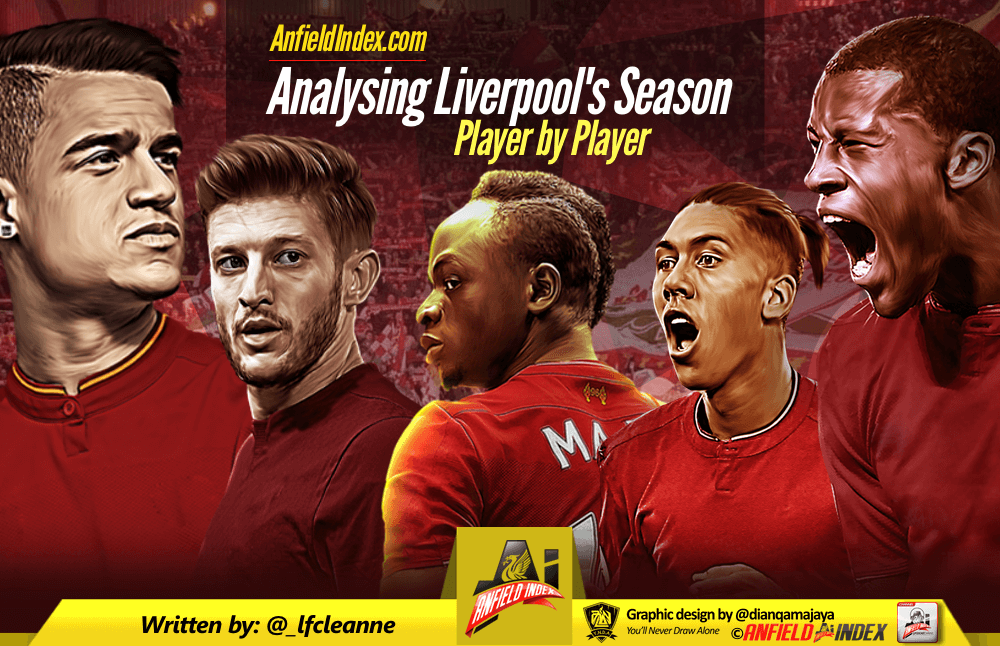 Analysing Liverpool's Season Player By Player
And breathe…
A confident and composed 3-0 victory at home to Middlesbrough confirmed Liverpool's spot in the top-four. A clear sign of progression for Jurgen Klopp's first full season in charge at the club, and a platform from which summer transfer dealings will likely stem.
With the season now drawn to a close, it's time to take a look at Liverpool's players and assess their campaigns as a whole.

Goalkeepers
Simon Mignolet – 7
Mignolet has gone from strength to strength since losing his place to Loris Karius in September. Making a string of crucial saves – Stoke and West Brom being just two examples – Mignolet has really come on this season. Showing authority in his six-yard box to deal with aerial challenges, the Belgian has reignited his Liverpool career and now represents a much more dependable figure for Jurgen Klopp. Long may it continue.
Loris Karius – 6
It's been a hard-old season for Karius. Firstly injuring his hand in pre-season allowed Mignolet to start the season as number 1. His luck was confounded with a poor display against Bournemouth – with a very costly error causing the Reds to drop points on the road.
In contrast, two terrific displays against Southampton in the EFL Cup show just what Karius is capable of. Overly criticised by the fanbase having come with a lot of expectation on his shoulders, I'm still confident Karius has a strong future at Anfield. He'll have to work hard for it, though.
Defence
Nathaniel Clyne – 7
Clyne is probably one of the most reliable and consistent players within this current crop of players. Questionable in terms of end product when venturing forward, but the England international has done a solid job defensively, adding extra security to an often shaky back-line.
When Sadio Mane picked up an untimely injury, a lot of the flack in terms of width fell Clyne's way. He was often the out ball for Liverpool and with teams coming to Anfield and sitting deep, his role became increasingly important. Going into next season, that's got to be his area of priority. He's offered and assured figure at the back, but going forward there is work to be done.
Trent Alexander-Arnold – 7
It's been a terrific season for the youngster, making 12 first-team appearances and impressing at the Under-23's level. Alexander-Arnold has made use of every chance that's come his way and certainly has a bright future ahead of him.
With Clyne's qualities going forward under question, Trent has shown he has the capabilities to not only provide a calming and confident figure at the back, but cannon forward and produce the goods. Look at his goal against Everton for the Under-23's as an example.
Joel Matip – 7
Centre back has always been a position of weakness for Liverpool since Daniel Agger left, but Matip has come in and done a pretty commendable job. Authoritative in the air and comfortable in possession, the Cameroonian is the best centre-back at the club and has given plenty of evidence to suggest he can have a successful career at Anfield.
The biggest concern will be his injury record. A stable basis is absolutely crucial for Jurgen Klopp going forward and it will be hard to do so should his injuries persist into next season.
Dejan Lovren – 6
Often the scapegoat, Dejan Lovren has enjoyed a pretty steady season for the Reds. He's got all the trademarks to be a good centre-back but a tendency to make the wrong decision and bring unneeded trouble onto the side do raise some questions about his future in the first team.
By all accounts, Liverpool are in the market for a centre-back this summer and should they secure one Lovren will more than likely be demoted to the bench.
Ragnar Klavan – 6
Impressed on some occasions when called into action due to Lovren and Matip's respective injuries. A pretty sturdy figure at the back, Klavan has been an okay defensive option, but with a new centre-back set to come into the club and Lovren to drop to third choice, he'll likely see fewer opportunities next season.
James Milner – 6
Credit where credit is due. Operating in an unfamiliar left-back role, Milner's performances have been pretty commendable over the course of the season. Reliable as ever, he'd never been a standout performer but you could usually count of him to do a job.
However, there were times where he looked a weak-link in the side. Going forward and cutting into on his right foot became far too predictable and stifled Liverpool's attacking play while defensively he was suspect when faced with pacey opposition.
It's been a mixed bag in truth, with Milner struggling as the season wore on. An admirable effort none the less.
Alberto Moreno – 5
Ah, Albie. He's had very little chances to impress this season, but that's of little surprise with decision making like what he showed at The Hawthorns.
He had Emre Can and Danny Sturridge running alongside him, but he went for glory and completely cocked it up. It wasn't his finest moment in a Liverpool shirt, but it could be his last.
Midfield
Lucas Leiva – 6
10 years at Liverpool Football Club. That's some achievement, isn't it?
Despite being in a squad role for the majority of the season, Lucas has certainly played his part with Henderson's injury. Helping to grind out results and shield the back-four, his experience came into good effect for Jurgen Klopp.
In all likelihood, Lucas will be heading for pastures new this season but he's been an incredible servant for this football club. That deserves some recognition.
Jordan Henderson – 7
Prior to that season-ending injury, Henderson was enjoying a very good campaign. In the deep-lying role, Liverpool's captain showed good composure on the ball, switching the play wherever possible to keep us ticking over in search of a goal.
His curler into the top corner at Stamford Bridge was one of the highlights of his season. On and off the field, Hendo's was instrumental before the turn of the year.
A season-ending injury will raise questions going into the summer, however. It's an increasingly consistent issue with the midfielder now, and Alex Ferguson's comments of 2013 seem more and more poignant.
Hopefully he can run them off ahead of next season – if you pardon the pun.
Emre Can – 7
Ah, it's been a hard-fought season for Emre Can. Before the turn of the year, the German produced a series of sub-par performances partially due to an ongoing injury. That saw question marks raised over his future at the club, but Can has responded in terrific fashion.
Stepping up when Jordan Henderson's season was prematurely drawn to a close, Can has put in some real shifts to propel Liverpool into the top-four. His steeliness and physicality add something to the midfield that no-one else can offer and he's got an abundance of potential in his locker.
Get him to sign a new contract and let Jurgen harness his talent for years to come.
Georginio Wijnaldum – 8
Joining from Newcastle, many questioned just where Wijnaldum would fit into the side. However, approaching the summer transfer window he's now seen as a guiding light for future deals.
Goals against Manchester City, Chelsea, Arsenal and a pivotal goal on the stroke of half-time against Middlesbrough indicate just how important Gini has been for Liverpool.
Many of his performances will fly under the radar due to the skill and flair of his teammates, but he's become a vital cog in the midfield and will no-doubt have another big part to play next season. A signing that gives me a lot of hope for Jurgen's summer dealings.
Adam Lallana – 8
Lallana has progressed a lot this season, becoming one of his club and country's most important players. An untimely injury on international duty stifled his form but adding goals and assists to his name, Lallana's improvement in end product has been a joy to watch.
Philippe Coutinho – 8.5
Prior to his injury in November, Coutinho was enjoying arguably his best season at the club. A blip after returning to the starting eleven stunted his form but in the final few weeks of the season, when it really counted, he stood up tall.
14 goals evidence of his progression going forward, not to mention a stunning display against West Ham. Operating in a number eight role, Coutinho pulled all the strings at the base of the midfield, ticking things over nicely. Perhaps we'll be seeing the Brazilian there on a more frequent basis.
Forwards
Sadio Mane – 9
What a signing. All the people who initially raised eyebrows about such an outlay were proved wrong in the biggest magnitude. A debut goal at The Emirates set the tone for Mane's first season, scoring 13 goals in total.
An injury in the Merseyside Derby hurt Liverpool a lot, but that's testament to just how crucial a player he has become in such a short space of time. Player of the Year for The Reds, and thoroughly deserved.
Roberto Firmino – 8.5
Energetic from the front line, leading by example, Roberto Firmino has done a brilliant job as Liverpool's false nine. His movement and intellect to bring other people into the play is what makes the attack so threatening.
An outrageous strike against Stoke showcase the talent he has to offer and while his finishing was at other times much more suspect, he embodies Jurgen Klopp's style of play.
Daniel Sturridge – 6
Injuries tell the tale of Sturridge's season once again for Liverpool. However, the Englishman still had a crucial part to play in the race for a top-four finish. Starting against West Ham in a diamond alongside Divock Origi, Sturridge showed exactly what The Reds were missing. His movement was instrumental in breaking them down, and his eye for goal isn't comparable to anyone in the current crop of players – when fit.
That's very much the issue for Liverpool and Sturridge. When fit and firing, he is one of the top strikers in the Premier League and that star quality is far too good to sell on this summer. Klopp needs squad depth heading into the new season and with quality strikers hard to come by, Sturridge could still have a future here.
Divock Origi – 6
Producing some good performances on occasion, showing strength and determination to hold the ball up and bring his teammates into play, Origi has certainly made his contribution this season. However, his decision making needs some serious work. Take that West Ham game for example. Regardless of the score-line, with Sturridge to his right and through on goal, it was an obvious choice.
At the age of just 22, Origi still has a lot of years left in him and the best of those lie ahead rather than behind him. 11 goals in 21 starts is a promising record and if he can just work on his movement and decision-making, he'll have a bright future.