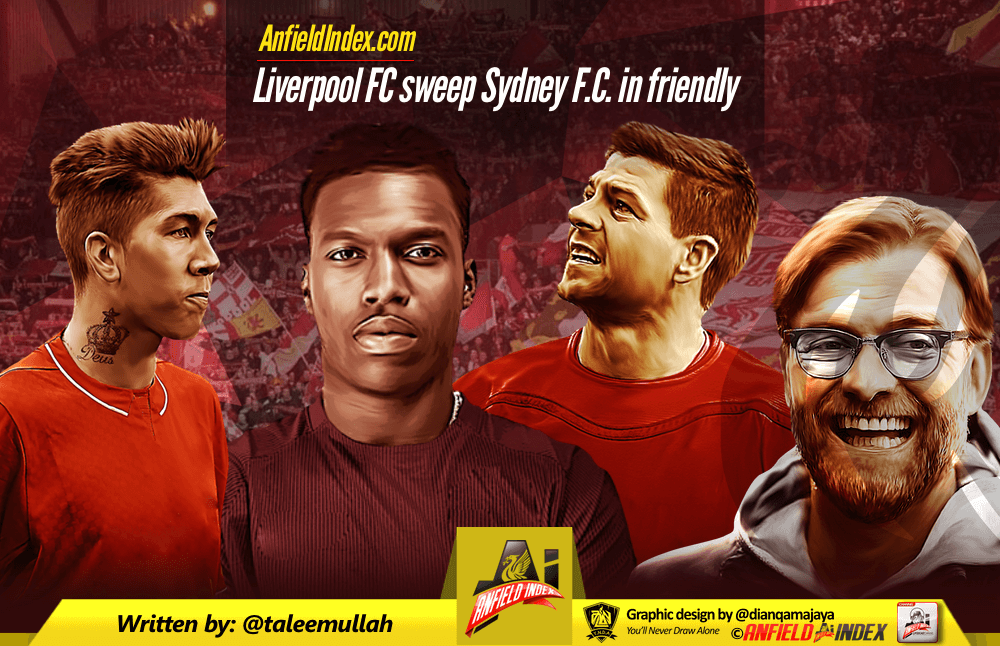 Liverpool FC sweep Sydney FC in Australia friendly
Pre-Match Preamble
"We have three pundits in the team…but we are here to play football." – Jurgen Klopp
Cheery as ever, that was the message from Liverpool's manager before the game.
After navigating through the exciting turbulence of a top 4 chase, Liverpool Football Club faced the turbulence of the two-legged journey from Heathrow to Sydney. With a celebratory stopover in South East Asia, you would have to wonder which of the two Klopp and his men really prefer after a gruelling season. But a financially handsome, last-minute deal for this post-season friendly meant the club would mark its 125th anniversary with an inaugural visit to Sydney.

With their League finish signalling the return of Champion's League football, the on-pitch success of Klopp's first full season in charge mirrors the work of the club's revamped senior management structure, who organised this exhibition match against Sydney F.C. – a structure featuring Billy Hogan (Managing Director & CCO), Peter Moore (CEO), Michael Edwards (Sporting Director) and Markus Breglec (Marketing Director).
Arriving in Sydney a mere 11 hours before kick-off, Liverpool's entertaining team of talented youth, Champion's League-bound first teamers and legends of the past, were set to face off against one of the better club teams in Australia's young A-League history.
With 72,892 fans near selling out ANZ Stadium, New South Wales' Premier, Gladys Berejiklian, spoke of the millions of tourism dollars this game would bring to Sydney. All we could talk about was catching a glimpse of the gorgeous jersey fitted onto the young guns of Lijnders' development squad and Liverpool's historic legends.
The background lull from Liverpool fans on social media was revelling in the potential high-quality transfers that the offer of Champion's League brought. Liverpool fans of Sydney enjoyed meet-and-greets with Craig Johnston, Jason McAteer and Gary McAllister in the lead-up to the game. Today, these same fans were eager to display their pride for the A-League, hoping to see Sydney FC challenge with their electric football but even more so, hoping for an entertaining showing from their number one bird.
The Opposition
"It's a great opportunity for the individual to showcase themselves…for the Australian players coming through, brushing shoulders with these players will show what they need to do to get to this level."
Sydney FC broke a litany of A-League records this season; among them were most competition points (66 points in 27 games) with the biggest winning margin (17 points ahead of 2nd placed Melbourne Victory), longest undefeated streak (19 games), fewest goals conceded (12) and most clean sheets (16).
To the eye, they built a creative pass-and-move style of rapid transition football, utilising their creative players out wide and high-risk passing from central midfielders. Aiming to destabilise opposing defences by moving possession forward as quickly as possible, they would serve to utilise their most nimble ball carriers to create gravity in the wide channels, before switching to free 3rd men or dribbling towards the box to execute a lethal cross to their Brazilian marquee, Bobo.
Against one of Europe's best teams, Sydney F.C. were determined not to be pushed over on their own turf and Bobo, having played against Liverpool for Besiktas in the Champion's League, was determined to score tonight.
 The Match
Sydney FC were missing some of their star attacking and defensive players which would have worried some of their fans. Liverpool opened with a strong and balanced line-up, with Carragher and Gerrard adding a nice novelty to the team.
A fast-paced start to the game saw Liverpool place the controlling and distributive roles under Lucas and Gerrard. Both alternated in dropping deep between Lovren and Carragher to seize build-up opportunities and break midfield lines with their vertical and diagonal passing. They aimed to bring into play Moreno, Alexander-Arnold and one of Firmino or Woodburn dropping deep, to quickly move the possession forward. Cute interplay with quick passing out of triangles in the middle third and jinking dribbles, saw Sydney F.C. lose many one-on-one duels in transition.
Our first goal came after a tenacious counter-press from young Ben Woodburn. Wrangling the ball from opposing defensive midfielder Josh Brillante, he sent an adept pass to Daniel Sturridge making a run into the box from the right halfspace. Using his acceleration on the ball to cut in and out, he turned Sydney FC's left back inside out before clinically placing the ball just beyond the reach of Vukovic and nestling it into the bottom left-hand corner. 1-0 to Liverpool.
A recurring theme stood out from this point on – Sydney FC had no answer to Liverpool's famed and aggressive counter-pressing style. Even in an exhibition game, Klopp's men were incisive and mechanical as ever as a team, knowing no other way to play.
Soon after, a counter-attacking opportunity saw Sydney F.C. utilise target man Bobo. Playing a wall pass from the right half-space with inverted forward, David Carney, Sydney sent a decent cross back to Bobo who had quickly moved into the box, but to no avail. From what came to be one of Sydney's few attacking moments in the first half, Liverpool were able to capitalise. Slow to recover in defensive transition, a maladaptive shape saw Firmino move easily between Sydney's static midfield lines. In a display of exquisite vision, he delivered a precisely dinked cross over their last defensive line from the CAM zone, where an explosive Moreno burst beyond into the box – he took one touch with his right-foot to control it before rifling in a left-footed shot that left Vukovic hopelessly floundering. 2-0 to Liverpool.
Sturridge was the MVP in the first half, playing like a man possessed and set to stay at Liverpool for many seasons to come. He was everywhere – dropping deep to receive possession to release Firmino and Alexander Arnold making runs down the wings, taking on defenders one-on-one with his sublime dribbling and being focal to all of Liverpool's penetrative moves into the box.
It wasn't long before he replicated his move from Liverpool's 4-0 win against West Ham. Shimmying in and out from the right hand side of the box, where Michael Zullo regretted leaving Sturridge that much space. He created the third goal for Firmino, who broke timely from between the Sydney centre-backs, to snatch at a perfectly placed cut-back pass. 3-0 to Liverpool.
The atmosphere at this point was beyond electric. Chants of "When The Reds Go Marching In" and "Ste Gerrard, Gerrard" rang around ANZ Stadium, revelling in a rampant Liverpool team and the masterclass that their adored former midfielder was putting on display. A physical engine and creative as ever with his expansive passing and first touch, Steven Gerrard gave a taste of permanent talent that did not patronise this post-season friendly in the slightest. The first half closed with the fans' appetite well whet.
---
The 2nd half saw McManaman and Agger replace Gerrard and Carragher.
Sydney FC started quick, creating space for their fullbacks in typical fashion. Using their creative wingers to fabricate gravity on the left hand side of Liverpool's defence, a quick pass and move sequence saw them switch to their vacant third man on the opposite wing. But Alexander-Arnold defended excellently and quashed any chance of a lethal cross to Bobo.
Very quickly, the 2nd half settled into an affair of each team probing against each other's defence, trying to fashion any shot on goal through very end-to-end attacking. Young Rhian Brewster was the most exciting of Liverpool's attackers, capitalising on several through-balls to have the Sydney defenders backing towards their goal before threatening a shot on target or bringing Woodburn and Klavan (playing at left back) into the box.
McManaman and Stewart played some nice passes in central midfield but were slightly off the pace versus a Sydney team determined to save face and fashion a goal. Woodburn was heavily involved towards the end of the half, interplaying with Lallana in midfield to escape Sydney's zonal press, before making darting runs down the left wing to stretch the opposition. He even made a blistering solo run into the box but couldn't quite connect onto a shot, fluffing a soft hit against Vukovic's trailing left glove.
Sydney FC's greatest threat came through Chris Zuvela, who forced a lightning save from Mignolet at his near post before stumbling upon an open chance in the centre of the box, kicking the ball against his own foot and sending it away from goal. It seemed to sum up Sydney FC's performance – threatening at times but missing their star creators and defenders which ultimately saw them a further cut below one of Europe's elite teams.
The game finished 3-0 with Woodburn and Brewster sharing the MVP tag for the second half. Special mention to Daniel Agger's trademark half-pitch run down the pitch and a silky turn and pass from McManaman.
Conclusion
In the post-match press conference, an objective but humble Klopp spoke about Liverpool being a significantly talented team above Sydney FC, who themselves finished their season two weeks prior and were missing key foreign marquees. Hence, they were not the most football ready. However, Klopp spoke proudly of Liverpool as a team and footballing institution, being able to provide an exciting showing for Reds fans down under. With three goals from Sturridge, Moreno and Firmino, the Liverpool squad can leave Sydney with their heads held high and enjoy a well-deserved break before coming back to exciting transfers, a conditioning preseason and a huge Champion's League qualifier very soon.