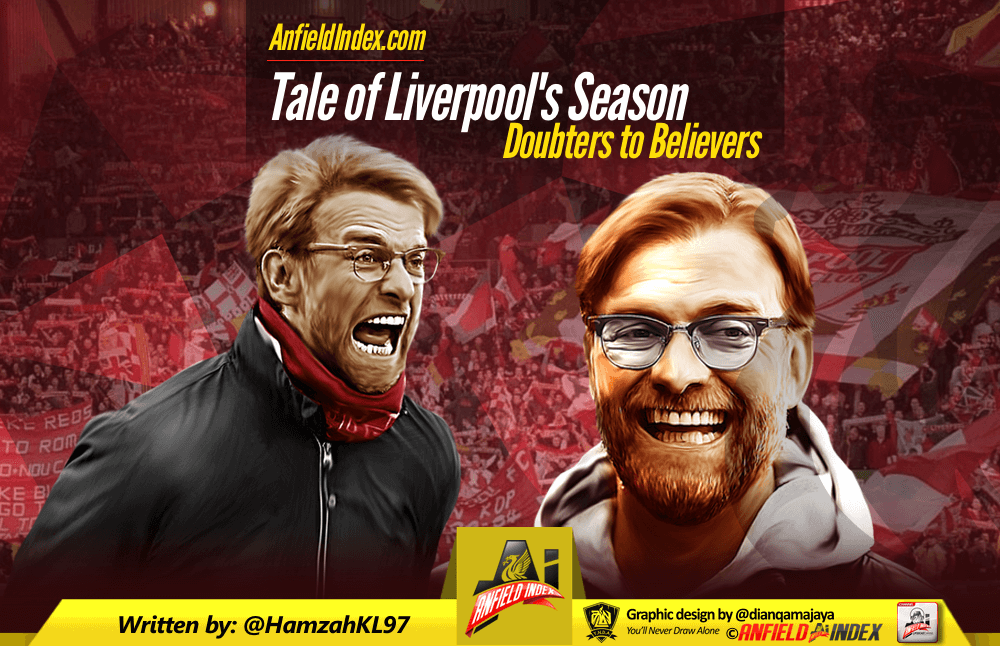 Tale of Liverpool's Season: Doubters to Believers
Jürgen Klopp had one true ambition this season. Turning doubters into believers.
An impressive pre-season, capped off with a 4-0 demolition of Barcelona at a sold-out Wembley Stadium had expectations running high already. But it was the 4-3 victory over Arsenal in the very first game of the season that really got people talking.
Sadio Mané was the replacement for Raheem Sterling that Liverpool FC had so desperately needed. Roberto Firmino was well and truly into his groove, Gini Wijnaldum's arrival would add dynamism and depth to the midfield, whilst the arrivals of Matip and Karius were set to shore up a shaky defence. A 2-0 loss to Burnley following the victory over Arsenal cooled immediate expectations, and was to prove a sign of struggles to come. Doubters still questioned Liverpool's transfer business, and the depth of the squad in particular – questions that certainly would prove worth asking when it came to January.
Regardless, September saw early title talk emerging. A 4-1 victory over Leicester was followed by a 1-2 away win over Chelsea, before Liverpool dispatched Derby 0-3, and demolished Hull 5-1 at home.
In October, a 2-1 victory over Spurs, and a 2-4 away win at bogey-team Crystal Palace had fans and pundits alike raving about Liverpool, Klopp and the aggressively brilliant style of play.
Three wins and a draw in November had Liverpool fans assured of an eventual spot in the Champions League, but now expectation was rising. Winning a trophy was the new fan-created objective, and at that point, anything seemed possible. However the first two games of December proved to be a sharp jolt for Liverpool fans and expectations, a 4-3 defeat to Bournemouth, followed up by a 2-2 draw with West Ham. Where had the mojo gone?
The return of star man Daniel Sturridge appeared perfectly timed to keep momentum going. A small cameo against Southampton did not afford him enough time to make an impact, but for the following game against Everton, all it took was one shot, upon which Sadio Mané burst through to knock home the rebound. Liverpool were back on track, and Klopp seemed to have absolutely everyone behind him, as attention turned to the showdown against City.
Looking retrospectively at the match report, it's quite strange seeing how high expectations were at that point: Sky Sports's headline read that Liverpool had closed the gap down on Chelsea to six points, as did the BBC report. 19 games into the season, and Liverpool sat second, six off the top, four clear of City in third and seven ahead of 2016/17 runners-up Spurs.
Liverpool were not just ahead of their target set at the start of the season, the club was well and truly defying all expectations. Considering only this and Liverpool clinching Champions League on the final day of the season – surely this is a season of disappointment and failure?
In a sense yes. But only in a purely positive one – Liverpool and the expectations regarding the club and its performance have developed immensely over Jürgen Klopp's first full-season. Liverpool now appear a team with the capability to win trophies, and also with a clear sense of direction, and a great deal of attractiveness to prospective players. The doubters that believed Liverpool would not have made the Champions League spots, with only three players to the starting XI signed at the start of the season, were proved wrong. Instead, a belief and expectation that Liverpool would qualify fostered, and grew. This season is tinged with disappointment, but only because of how well the team played, and how impressive Liverpool were. For at the start of the season, if fans were offered a Champions League spot and to finish two points behind City, the offer would likely have been seized upon. Very much in this sense, there is a disappointment, but a disappointment only brought about because of how good Liverpool were.
But back to the question above; considering Liverpool's record halfway into the season: was this a season of disappointment and failure?
Here we must be fair; when we look at the unavailability/injuries to key players such as Coutinho, Henderson and Mané, and consider the size of Liverpool's squad relative to competitors, the final position of Liverpool should hardly be arraigned.
January was jam-packed, with nine fixtures; not only was Mané unavailable because of the African Cup of Nations, but Liverpool were struck with an offensive crisis, as the only other player who had been as impactful as Mané, Coutinho, was injured in the first game of the month. With two of the three components of Liverpool's attacking triumvirate unavailable, and considering how important the attacking side of the game was to Liverpool's success in the first half of the season, expectations should have subsided. Yet they still remained high.
Perhaps this is a testament to the work of Jürgen Klopp, he had not just revitalised the team, but the club and the fanbase. We must remember this is a side that has qualified once for the Champions League (excluding this season) since 2008/09. Yet expectations now demanded that Liverpool reach the Champions League qualification spots.
A strange February followed, Liverpool lost 2-0 to Hull, with a performance that was becoming all-too-familiar, before Mané returned to dispatch two goals past Hugo Lloris' Spurs at Anfield. Mané was back, and Liverpool were back, weren't they? Apparently not, as the team slumped to a 3-1 away defeat to a Leicester side that appeared in trouble, and had just sacked legendary manager Claudio Ranieri.
Liverpool had now dropped out of the top four and were a point behind Arsenal, having played a game more. The fans' anxiety had begun to turn into something slightly more malevolent. The same doubt that was symptomatic of the seasons 2011 onwards (excluding 2013/14) was back. Liverpool were going to throw it away again was the assumption, and assertion, by many.
Regardless, Klopp stayed his course and repeated his message. His methods may not have been working at their best, but he noted injuries to key players, fatigue and a tough fixture list as contributing factors. Truth be told, Klopp actually lacked the personnel to carry out his orders or tactical ambitions. As good as players such as Adam Lallana or Emre Can are, they were asked to perform tasks that were outside of their comfort zone, Lallana's incredible form over the first half of the season dissipated, as he was asked to fulfil Coutinho's role, out wide, whilst Can struggled playing as the holding midfielder – we have seen through recent performances that it appears his best role is as one of the more mobile central midfielders. Lucas was brought in at centre back, and the team appeared in a mire, Klopp had limited options, and Coutinho's rushed return had not achieved the results desired.
But Klopp believed. He persisted through the tough period, and when the real crunch time came, with his leadership the team stepped up. A 3-1 victory over Arsenal when it counted most, followed by a 2-1 victory against Burnley, and a 1-1 draw against City in one of the most manic and exciting games of the season had belief running high again. The doubters shrunk away, and in the Merseyside Derby, Coutinho produced a Derby performance reminiscent and comparable to that of Steven Gerrard. Utterly brilliant, and totally dominant.
The roller-coaster of emotions that every Liverpool fan is subjected to spiralled away again though, Mané was ruled out for the remainder of the season. Liverpool managed to snatch a draw from the jaws of victory, conceding late on to Bournemouth. By this point Liverpool had played four league games without Mané, without winning once, scoring, on average, one goal less per game. Compounding an already tough situation was the news that Coutinho and Firmino were struggling with fitness.
A goal just before halftime for Stoke in the following game had Liverpool fans fearing the worst. Doubt seeped into the minds of the supporters once more, like a cold that would not be shaken away. Enter Coutinho and Firmino – and lest we forget the contribution of the fit-again Daniel Sturridge – two goals in quick succession, and one of the saves of the season from the human embodiment of the transition from doubt to belief – Simon Mignolet – rescued Liverpool, and set the team on course for Champions League qualification.
It's important to have a look at Simon Mignolet in particular. At the start of the season, many expected him to be usurped by new signing Loris Karius. But after being dropped, and then recalled, talk regarding Mignolet subsided for a while. A brief (and arguably insignificant anyway) lapse in concentration against Chelsea and then a poor piece of handling against Hull saw Mignolet forced into the spotlight once again, for all the wrong reasons. He was apparently the reason for Liverpool's poor defensive record, the doubt and apprehension in his mind allegedly spread throughout the team. How then, from that, did Mignolet turn doubters into believers?
Through persistence, commitment and confidence in himself, Mignolet transformed himself from one of the weak links within the team, to a valuable asset, not just saving points, but earning them too. Fine saves against West Brom and Stoke come to mind, but even more importantly his aerial dominance in those games, and the Watford fixture in particular had ardent critics of Mignolet re-evaluating their stance.
It's quite amazing the progression he has made, and how he is now received by fans. At the start of the season, and in seasons gone by, a opposition corner would fill Liverpool fans with dread – 'We can't defend set pieces' is the usual phrase recited. However, during May, the anxiety that was usually tangible when opponents lined-up for a direct set piece had vanished. Without realising it at all, fans had now become believers in Mignolet. Almost every ball that came around the six-yard box was gobbled up by Mignolet; no spills, no nervy jump or sizing up – Mignolet was the personification of calmness, composure and cool. Who would have thought it, fans asserting that Mignolet deserves to keep the #1 spot next season…
Emre Can was also now a player with the fans behind him. Having struggled with injuries, and forced into playing an uncomfortable position, he was unshackled and had already produced a key goal against Burnley back in March. But there aren't many goals that will stick longer in the memory than Can's goal against Watford. A goal so good, that all my reserves of superlatives cannot do justice to it. Not only was it spectacular, but it came when the team needed it most – having struggled to make multiple clear goal-scoring chances since the Everton match, the team was scraping and crawling through fixtures against bottom-half sides. Yet Can stood up, and seized the moment. Belying this was a confidence, a belief – Can believed in himself, and the fans now believed in Can – gone were the doubts about his contract, 'Give him whatever he wants!' fans tweeted gleefully. The belief was finally becoming a reality.
A 0-0 draw against a robust Southampton side was to be the tactical turning point for Klopp. Top four was in the balance, and at the most vital moment Liverpool did not perform, with fans exiting Anfield well over ten minutes before the final whistle. However, the doubters were to be proven wrong once again.
Klopp finally turned to Daniel Sturridge, a player utterly brilliant and unbelievably talented, but equally injury prone. There had been calls to sell him over the previous summer, and now an expectation had developed that Sturridge was set to leave, despite his undeniable lethal finishing prowess. Liverpool could not afford to rely on a striker who simply wasn't fit enough. That was the narrative.
Four Liverpool goals later, and Daniel Sturridge had made his mark. A classic goal for him, whilst Coutinho both ran and stole the show. Through playing with two strikers, Klopp had finally found a solution to breaking down a resolute opposition, albeit one that crumbled entirely in the second-half.
Very quickly fans realised the value of Daniel Sturridge to the club. His extremely brief cameo against Southampton provided a goalscoring opportunity developed from nothing – finally, the fans understood what Sturridge added. A sparkle of magic, which developed into hope. If Sturridge was on the pitch, anything was possible. Klopp soon made it clear that there is a future for Daniel Sturridge for Liverpool if he chooses so.
The celebrations as the Liverpool goals went in against West Ham were truly remarkable. I was sat in the away end, watching the Travelling Kop from around 50m away. Upon scoring the first goal, the outpouring of relief amongst the fans was unbelievable. The realisation that Liverpool may well be in the Champions League once again hit home. That doubt and frustration that simmered away for near 30 minutes was finally gone. The fans were liberated, so too the team. The old school chants from the Champions League days came out. I couldn't help myself joining in with the Luis Garcia song, despite being seated with West Ham fans, for it had been too long.
As the players came over to thank the fans at the end of the game, the chants got louder, but when Klopp stirred the crowd up with a few punches to the air the crowd roared with the deepness of the ocean. I felt chills run through me. I was well and truly converted. All doubts cast aside. Without regard to the game against Middlesborough, I knew deep inside, that Liverpool were back in Europe. In that moment, and ever since, I entirely believed in Klopp with every fibre of my being. I believed in the team. Liverpool was heading to where it should be.
Arsenal piled on the pressure, and cracks appeared in people's faith. An uneasiness that was tangible at Anfield for around 15 minutes before halftime. The crowd quietened, but Klopp roused them again – he was consumed by belief, and it spread, like a wildfire, as Wijnaldum ran into the box. 'Pass!' was the scream. Instead, he lashed home at the near post with the ferocity of Riise. That was it. Perhaps the biggest cheer at Anfield since Coutinho's goal against Manchester City back in 2013/14. Coutinho and Lallana added the finishing touches to a wondrous day. Tears flowed down my face. Liverpool had finally done it.
That ambition of Champions League qualification at the start of the season was met, but alongside that was a greater realisation. This was only the first step of many more from Jürgen Klopp's Liverpool.
From a side that was eighth, scoring 63, conceding 50 and only achieving 60 points, to becoming a side that were undefeated against all our rivals, scored 78 goals, conceded 42, and were 16 points better off, the enormity of the achievement is clear.
In my eyes, Jürgen, you now have the right to free rein, you have my unwavering support, and my unquestionable belief. You may yet have to convert the sceptics; but if this season is anything to go by, considering the pressures, injuries and competition that Liverpool has faced, you've turned me into a believer, and it's certainly catching on.
To another season of believing!