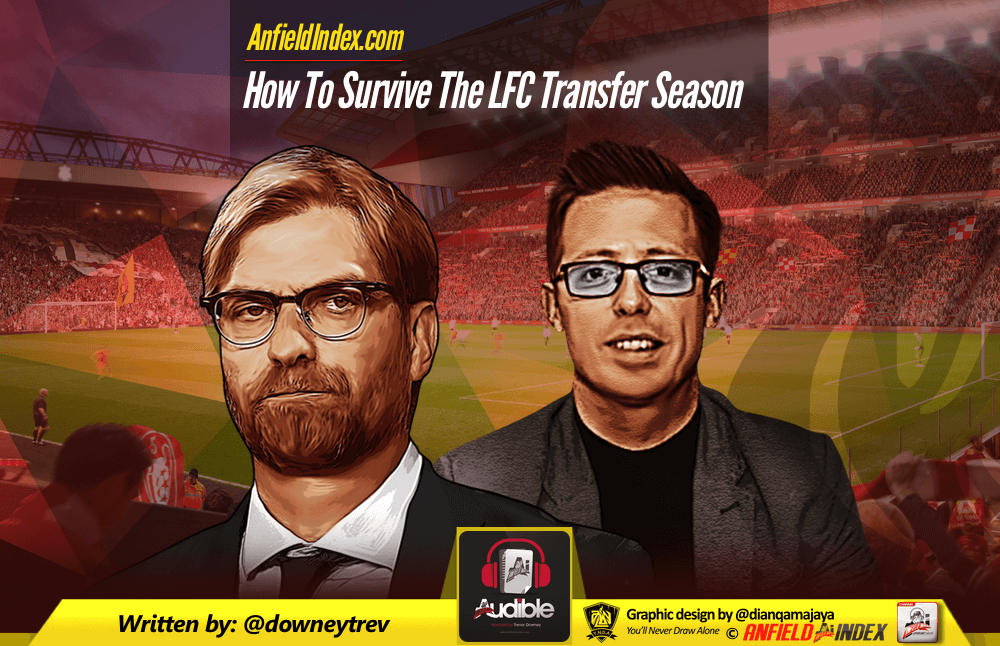 How To Survive The Liverpool FC Transfer Season
Jürgen Klopp Looking To Get Business Done Early screamed one newspaper headline. Klopp Strikes Pessimistic Note On Early Signings, squawked another. Welcome, officially, to Silly Season at it's most histrionic, idiotic and clueless. Between now and the close of the summer transfer window, you will be exposed to such a barrage of contradictory, attention-seeking lunacy, that you would be wise to have a plan for the retention of your mental health – something into which you can completely invest yourself and your Reds-based enthusiasm which will not chew you up roughly and spit you out the window of a moving car. Onto a bed of glass shards. Which are on fire.
Now that there are no more games for the Redmen and the need to scour the media with the same intensity is greatly reduced, your columnist's cunning ruse is to mostly pretend to ignore the spinning wheel of rumour-based drivel that can so bedazzle the less cautious amongst us. However, obsessives like us, gentle reader, cannot simply put all our enthusiasm and fanaticism into cold storage for the summer. It must be redeployed, so instead of losing the will to go on by fixating on the transfer market, I will focus all of my energy on my guilty pleasure of conspiracy theory podcasts, which, now that I think of it, are essentially a barrage of contradictory, attention-seeking lunacy, but at least it's not football, alright?
Thankfully, today's news has the pleasing distraction of being all about the gratuitous commercial escapade, sorry, the vital connection with the global fanbase, that was Liverpool's whistle-stop trip to Sydney. Playing and comfortably beating Sydney FC by three goals to nil in the ANZ Stadium, some 11 hours after a 24-hour flight, the Redmen were very quickly back on another flight home. Now, there is no way to view the round-trip except through a prism of cynicism – this was a commercial exercise – but if there was the collateral benefit of allowing a huge audience to see the team they lose so much sleep to loyally follow, then that must also be acknowledged as a hugely worthwhile outcome, alongside, y'know, selling shed-loads of the new replica kit.

In this part of the world work prevented most of us from partaking in the delights of watching an imperious first half Daniel Sturridge performance and a rare and possibly final Alberto Moreno goal, but we were, at least, spared the unedifying sight of Jamie Carragher, lumbering puce-faced about the pitch. The vision of Steven Gerrard looking the part in the latest jersey will have given many a warm and pleasant glow, but similarly, after years of enduring his perpetually surprised BT Sports gibbering, I, for one, am pleased to have missed Steve McManaman's contribution.
As I write this, Manchester United are celebrating their Europa League victory over what was, apparently, a stunningly underwhelming Ajax side. I only know this because of my Twitter feed and my Mancunian friend's vainglorious texts. I simply cannot abide watching Liverpool's rivals in finals, competing for trophies the Reds cannot win. In Ireland, on a Saturday evening, many tens of thousands of my compatriots tune into the national television station and watch a kind of game show for Lotto scratch-card winners. The contestants compete for potentially huge amounts of cash. People love it. I would rather gouge out my own eyes with a spatula than watch other people winning money. What the hell is the appeal? And why are Liverpool fans watching the most inevitable moment of Mourinho smugness ever? These people wouldn't last a minute in a zombie apocalypse = they have no self-preservation instinct.
Speaking of which, allow me to finish today's short offering with an illustration of the wisdom earlier presented. When questioned about Liverpool's potential recruitment in the wake of the friendly victory, Jürgen Klopp seemed to contradict his previous assertion that most of the work was done.
"I wish tomorrow," he said, referring to when fans might expect new arrivals, "but unfortunately that's not really likely. The best scenario is that you have them for the start of pre-season but I'm not sure if it will happen this time. It's different with all different players so we will see. That's not a big problem because we all know if they are fit and healthy we have a really strong squad and that means we could start with this squad. But that doesn't mean that I would prefer this, I would love to have them in as soon as possible but we will see."
Now, if I was to analyse those words in depth, the upshot would be a feeling of creeping unease and helpless angst about whether or not the club will spend big and aggressively pursue and secure the very best players, but I'm not going to do that, friends. I'm going to listen to an old mafia fellow tell me his theory on who was responsible for the assassination of JFK. My money is on him not incriminating any gangsters. The point is, I have another hobby now. One that does not bring be on a daily nauseating rollercoaster of Reds-related uncertainty. Take my advice and find yourself one too because the alternative is patently unhealthy.