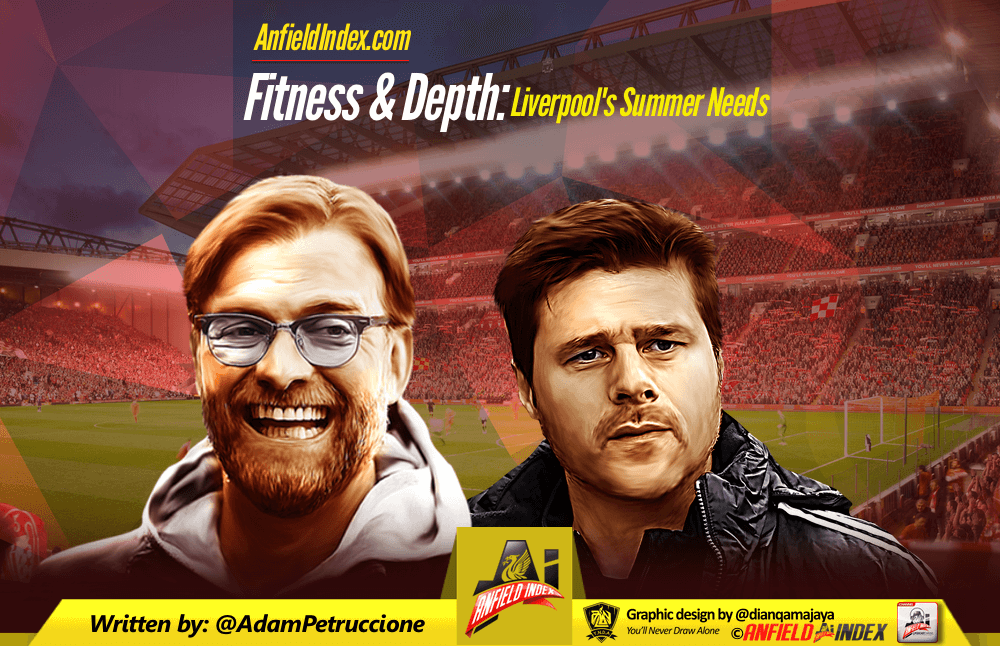 Fitness & Depth: Liverpool's Summer Needs
With silly season upon us, every radio host, back page editor and ITK Twitter expert will be theorizing on who Liverpool might be bringing in as the Reds prepare to make their return to the Champions League. Of course with Liverpool supporters there's always the added dimension of Fenway Sports Group. Are you #FSGIN or #FSGOUT?
Are FSG spending enough?
Are they allowing Jurgen Klopp to build a big enough squad?

Do they have enough "ambition?"
Rarely in any of the back-and-forth does either side reference any actual facts. Here are some handy numbers to help you either win some Twitter arguments or just keep your sanity throughout the summer transfer window.
Below is a breakdown of Liverpool's squad versus Spurs' from the season past in order to get an idea of how much added depth LFC need to make it through a successful season in Europe and all of the domestic competitions. Why Spurs? Tottenham have a similar playing style, target similar players and had a season in which they competed in the Champions League, the Europa League and the domestic cups while challenging for the Premier League title for most of the season. Their squad depth should provide the best metric for Liverpool to measure how much they need to add going into August.
CENTRE-BACKS
When you look at Spurs' squad versus Liverpool's side by side, the first thing that jumps out to you is that Klopp certainly came into the 16/17 season with plenty of squad depth. The issue for the reds has been fitness in all areas of the team.
Of 47 possible starts Matip made 68% (32) of them whereas Vertongen was able to ring the bell 79% of the time. Matip, Lovren and even Klavan were unable to start consistently, leaving Klopp to insert Lucas into back-line for multiple games.
Projecting for a 54 game season Liverpool has a Virgil van Dijk sized hole in their defense, though he himself has ended the season early, making 30 appearances for Southampton across all competitions. Klopp may want to consider signing a more durable CB or else Lovren, Klavan and Gomez will be called upon to fill the gap and Lucas may not be around as an emergency fill-in. Whoever is brought in to be the leader at the back needs to be able to answer the bell week after week for LFC to avoid problematic months like they had in January. Is VvD that man? Can Klavan and Gomez be relied upon to fill in?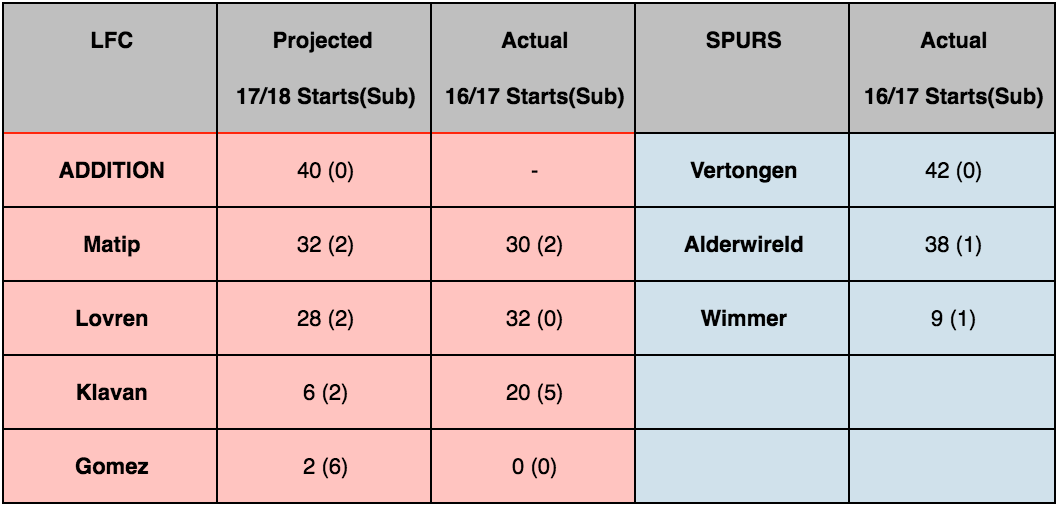 FULL-BACKS:
On the flanks, Liverpool have not had the durability issues that plagued them elsewhere. Milner (32 in April) and Clyne made the vast majority of starts but both faded as the year went on. The Reds may be wise to spread their starts out as Spurs did last year while transitioning to new blood in the form of Trent Alexander-Arnold and a rumoured new signing to deputize on the left.
If Liverpool are to reduce Milner's appearances they'll need a significant addition with names like Sessegnon and Mendy on the back pages as of late. Mendy made 32 appearances for Monaco last season and going forward may provide the physical presence on the left that would compliment the attacking strengths of Alexander-Arnold on the right in years to come. The 17 year old Sessegnon had 30 appearances (20 starts) for Fulham and is an underrated defender. Most Liverpool fans would welcome almost any addition on the left.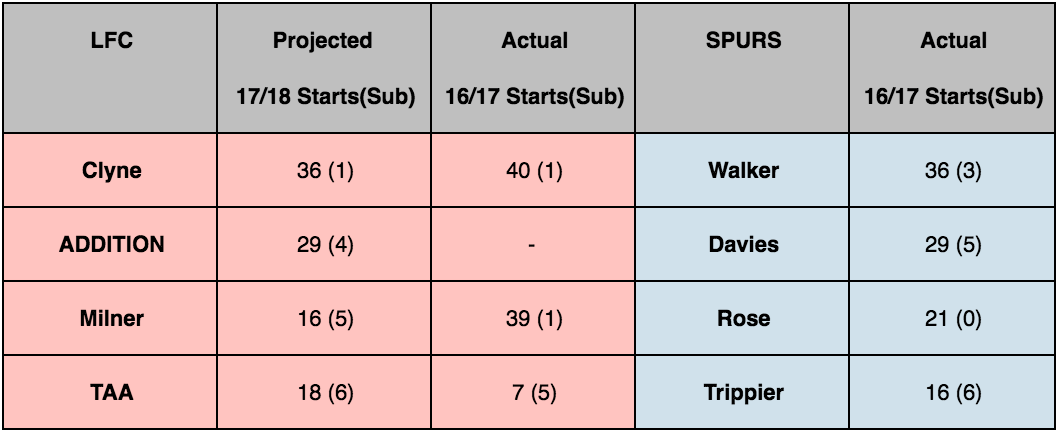 MIDFIELDERS:
This writer is assuming that the end of the road has finally arrived for Lucas after 10 years at the club. He filled many valuable minutes (19 starts, 12 subs) both at the back and in midfield in 16/17 and without him Liverpool will need to make adjustments or hope for better health from Henderson and Grujic and a boost from a possible move to midfield for Coutinho.
Coutinho, Can, Lallana, Henderson and Grujic all missed major stretches of the 16/17 campaign. As with their center-back problems, Liverpool need a durable force in central midfield to push ahead in Europe next year. Dier and Wanyama made 48 and 47 appearances for Spurs respectively, while Can was LFC's top contributor at 34 matches.
Naby Keita is widely reported to be Liverpool's top midfield target, but he would be making a rather large jump from 32 appearances in 16/17 to get into the same range as the Spurs' duo.
Coutinho's move from the attacking left to a more central role may crowd out some of the recognized names if he plays there consistently. A conservative number of starts from a big-time signing as well as Coutinho would leave Can, Lallana, Wijnaldum, Hendo and Grujic fighting for leftovers.
If Keita or another major midfielder is added, would Can extend his contract? And if it is Keita, a box-to-box player, would Can and Hendo be able to counted upon to cover the DM role? The ruthless move would be for LFC to replace their captain with a more durable DM.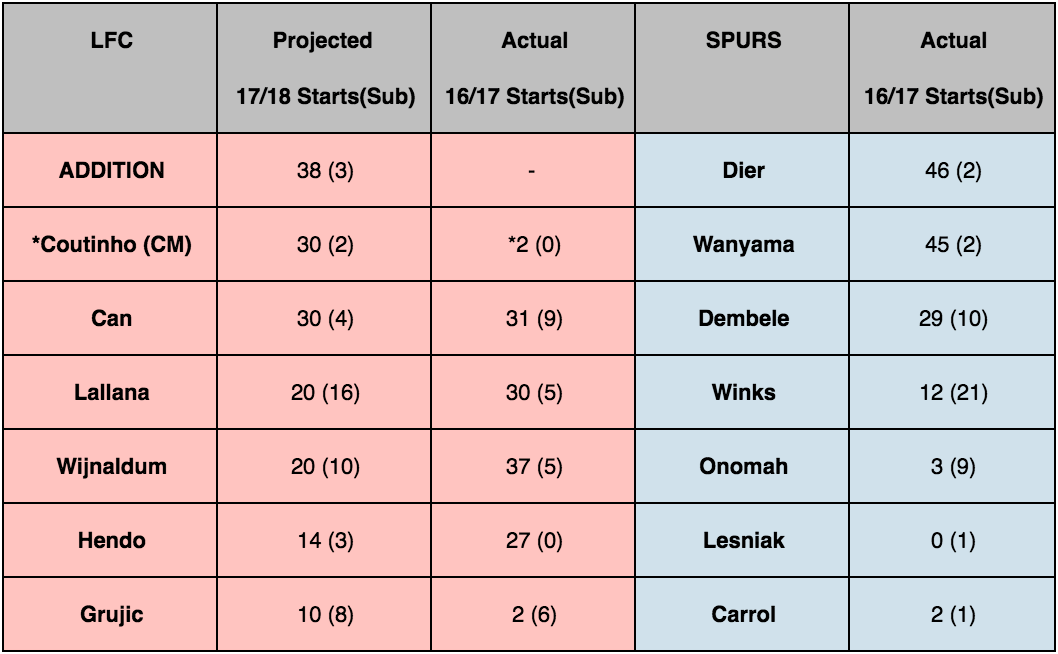 FORWARDS:
Liverpool's vaunted attack was setting the pace for all of the top teams in Europe until Mane's departure for the African Cup of Nations coincided with injuries across the front, leaving the Reds a broken team through January and February.
Alli and Eriksen were talismanic figures for Spurs over the past year, with 50 and 48 appearances between them, while Firmino was the only red close to those numbers at 41. As with the defense and the midfield you just can't project a full season's worth of appearances from the big names in Liverpool's attack.
If, as rumoured, Liverpool bring in a big name on the attacking left to accommodate Coutinho's deeper role such as Lucas Moura or Douglas Costa they'll need a major contribution to settle a talented but chaotic rotation of forwards.
Mane will need to be eased back into the team coming off his season ending knee injury against Everton. Will youngsters like Ojo, Woodburn and Harry Wilson get the call-up to fill in on the wings or do LFC need to bring in a starter and a rotation player like Demari Gray? (41 appearances in 16/17) Given our resistance to loan or sell Wilson to Celtic, it isn't clear how prominent his role will be next year.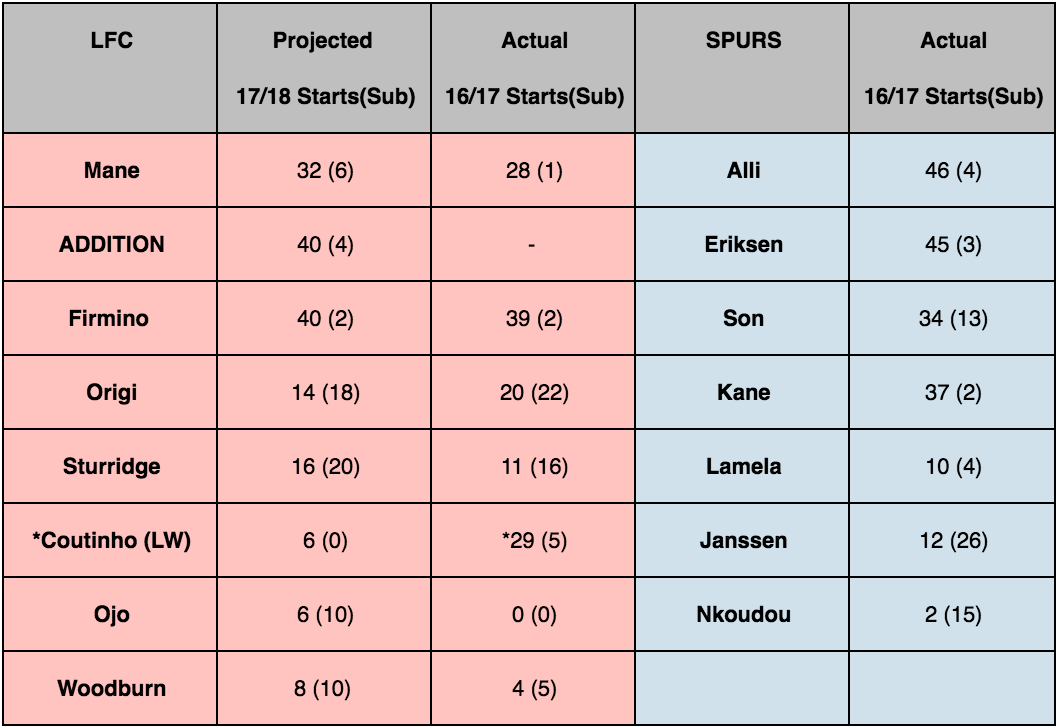 Everyone from TV analysts to your local bartender will tell you that Liverpool need to add six to eight players to a squad that was clearly far too small coming into last season. Looking at the numbers, that most certainly isn't the case. Include likely outgoing squad players like Moreno, Ings and Lucas to the lists above and Liverpool surely had a bigger squad than Spurs even without being in Europe.
The issue in all areas of the team is fitness. If key names like Sturridge, Ings, Henderson and Lallana were more reliable few additions would be required. Since Sturridge, Ings and Henderson especially have what seem to be chronic ailments, should they be retained? As top earners at the club, is it sufficient to have them in and out on the fringes of the squad?
It is clear looking at the numbers that Liverpool will have to bring in a center-back, a left-back and a left sided attacker or a striker who can also play on the left to be able to get through 54 matches, but that isn't because the squad isn't big enough. It's largely because it isn't healthy enough. Where that leaves FSG in your mind is up to you.