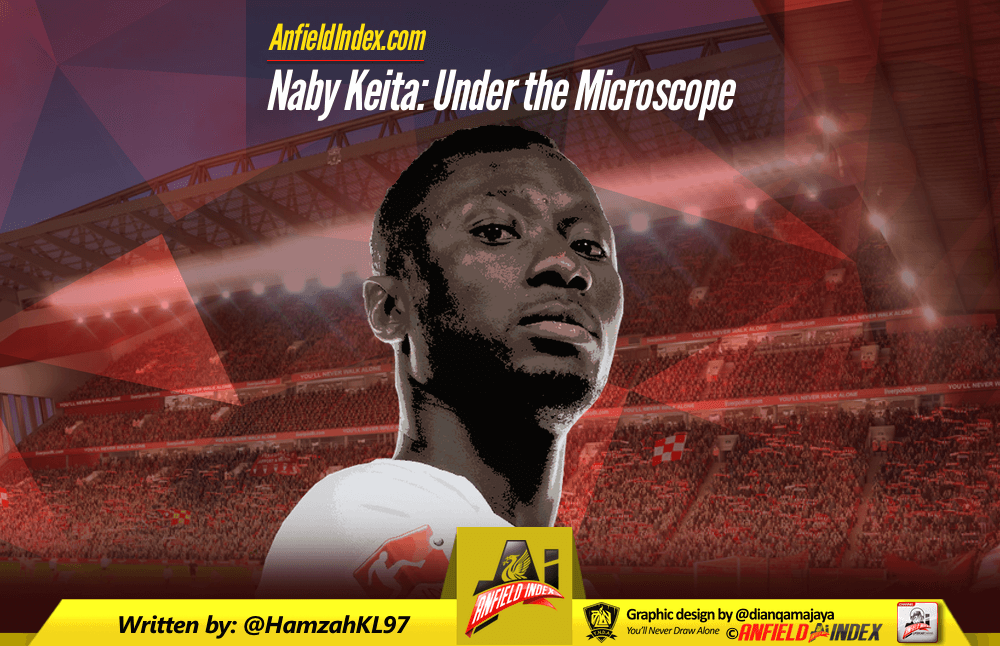 Naby Keita: Under the Microscope
Over the course of the 2016/17 season, Red Bull Leipzig established themselves as club that was no longer up-and-coming, instead as a serious force in the Bundesliga. Key to their success were players such as Emil Forsberg, Timo Werner, and Naby Keita.
Keita's performances this season earned him a spot in the Bundesliga Team of the Season, alongside Thiago, Forsberg and Dembele. But why is Keita so highly rated, and would he suit and improve Liverpool FC?
Keita, at the age of 22 is still very young, but is a well-rounded centre-midfielder. He excels in a box-to-box role, flourishing driving forward, and making runs from deep into the box. In 29 starts, and two substitute appearances this season in the Bundesliga, Keita has directly contributed to 15 goals (8 goals, 7 assists). He averages 45.9 passes per game, at a success rate of 81.8pc, whilst contributing on average 1.3 key passes per 90.
Should Liverpool purchase Keita, it would appear that he would play in a box-to-box role, as part of the midfield three. This midfield is widely anticipated to definitely include Philippe Coutinho, and Jordan Henderson (once fully fit) – so Keita would be fulfilling the same role that Gini Wijnaldum has dutifully performed this season.
Thus comparing figures with Wijnaldum may prove enlightening: in 33 Premier League starts, and 3 substitute appearances this season, Wijnaldum has scored 6 goals, provided 9 assists, and made a slightly lower than average of 45.1 passes per game, at a success rate of 87.3pc – 5.5pc higher than that of Keita. Additionally, Wijnaldum's key passes rate is marginally lower too, at 1.2 per game, 0.1 less than Keita.
Whilst Wijnadlum is still yet to score an away goal, this season he did score in crucial games against Arsenal, Manchester City and Chelsea – a return at Anfield which is higher than that of Roberto Firmino against top six rivals. But whereas Wijnaldum may provide the key in big games against top six rivals, the majority of Liverpool's issues this season, that cost the club in the League Cup and Premier League, was against sides that employed a low block. In these games Wijnaldum arguably struggled, and his activity on the ball was drastically different compared to home games against the top six. For instance, even in the West Ham game, which Liverpool won 0-4, by half time, he'd had only 20 touches. That was less than Can (50), Coutinho (46), and Lallana (34). This was a game in which Liverpool dominated the ball, yet curiously, Wijnaldum was not to be found.
Against the low block it's not just Wijnaldum that struggles, generally speaking the team has too (apart from when Daniel Sturridge has started in the West Ham and Middlesbrough games). Characteristics of these games in which the team struggles are high possession, but a lack of penetration, static movement and vulnerability on the counter-attack – as we saw when Crystal Palace won 1-2 at Anfield.
One of Keita's most attractive and impressive aspects of his play is his aggressive, direct, attacking runs. He enjoys picking the ball up in midfield, and driving forward; when facing sides that employ a low-block this direct running can provide the key to breaking them down, as a player bearing down towards goal draws and commits opposition defenders, creating space in behind, for a forward to exploit. Keita averages 2.7 dribbles per game, compared to the rather low 0.8 of Wijnaldum.
According to Michael Caley of SB Nation:
'Keita averages just under two progressive passes or runs through the central zone per match [passes that take the attacking move at least 10-15 yards toward goal compared to where the ball had been over the last three actions, and runs on the ball that beat an opponent and progress the ball a similar distance], the most in the Bundesliga by a good margin. Next in line with 1.2 to 1.5 central progressions per match are Dortmund's Ousmane Dembele, Schalke's Nabil Bentaleb, Bayern's Franck Ribery and Xabi Alonso, and Keita's teammate Emil Forsberg.'
But before we condemn Wijnaldum, and declare Keita a de facto improvement, we must ask what is Klopp's idea of Wijnaldum's role within the team, is it to simply work quietly, keeping the ball moving, and rotating the play? Or is it instead an offensive one in which Wijnaldum breaks forward, scoring goals as he did against Chelsea, City, Arsenal, and most recently Middlesbrough? Or rather is it a defensive one, in which he provides support for the holding midfielder?
I would argue the role is dependent upon the team Liverpool are facing up against, and also who partners Wijnaldum in midfield, for he has played with Can, Henderson, Lallana, Lucas and Coutinho in midfield this season. However, if we are to expect Coutinho playing in midfield next season, it is clear the defensive onus will be with the other two central midfielders. In which case it would be appropriate to compare Keita's defensive statistics to that of Wijnaldum.
Wijnaldum averages 1.3 tackles, and 0.7 interceptions per game, Keita on the other hand averages double Wijnaldum's average tackles per game, and just under quadruple Wijnaldum's interceptions per game – both standing at 2.6 per game. Interceptions are vital to Klopp's counterpressing, and it was Kante's excellence in intercepting and dispossessing opponents that drove Chelsea's midfield success this season. For instance, in the 1-1 draw against Chelsea at Anfield, Kante made 16 tackles, compared to the 4 of Henderson, and 3 of Can, and Wijnaldum.
Their clearances per game are identical, but Keita commits 2.3 fouls per game to Wijnaldum's 0.6. The rate at which they are dribbled past is very similar too, but Wijnaldum pips Keita to it, averaging 0.9 per game, whilst Keita is dribbled past once every game.
It appears from these statistics that Keita is a better option both offensively and defensively, providing direct penetration, but also breaking up the opposition's play – crucial for a midfield of a pressing team such as Liverpool. In terms of possession, Wijnaldum appears the safer bet, with less risk taking, and a higher pass completion rate – but for Liverpool, who struggled with high possession against low-block sides this season, perhaps a riskier, more direct approach would be apt in midfield. However, Coutinho's inclusion in central midfield may negate this issue, but nonetheless, Keita's tackling and interception figures cannot be ignored, and would be a huge asset for a side that is often exposed on the counter-attack.
The Liverpool counter-attack would also provide an opportunity for Keita too; his runs into the box are more aggressive than Wijnaldum's and would draw defenders, creating space for others, and if not, Keita would be getting on the end of such chances, and scoring them instead.
Signing Keita would not correct all of Liverpool's defensive issues though; a left-back and centre-back are key to getting the best out of a midfielder such as Keita, so he would not need to be as concerned about covering at all times, or holding position. But even with a new left-back and centre-back, Liverpool still have a physical deficit and deficiency. Keita is both lighter, and slightly shorter than Wijnaldum, and if Liverpool do go and purchase a winger – the likelihood is, they will not be very tall or physical. Liverpool are already the shortest side in the Premier League, and may well struggle in more physical games, even with Keita's impressive ground game – for his aerial quality is not an aspect of his game which he is famed for.
Perhaps Keita would be better suited for Champions League, and games in which counter-pressing is key to winning – likely games against the top six. However the correlation between sides that are physical and employ a low-block (e.g. West Brom & Watford) means that whilst Keita would be a fantastic addition, it is possible that Liverpool and Klopp may still have considerable difficulties with conceding set-pieces in the coming season.
Regardless of the price of Keita, it makes perfect sense nonetheless for Liverpool to purchase him. Adding Keita to the midfield roster would add depth, competition, and provide a new dimension to Liverpool's play that can only be positive going forward. Signing him in the face of stiff competition would be a huge sign of intent, and would only bode well for the future. It is also warming to see Liverpool interested in starting XI players that would improve the performance of the team, and deal with existing problems. £50million may be a large sum, but for Liverpool, breaking the bank in the short-term may be the key to long-term success, and should Liverpool buy Naby Keita, I am sure he would be crucial in attaining that long-term success.
Keita and Wijnaldum statistics sourced from Opta