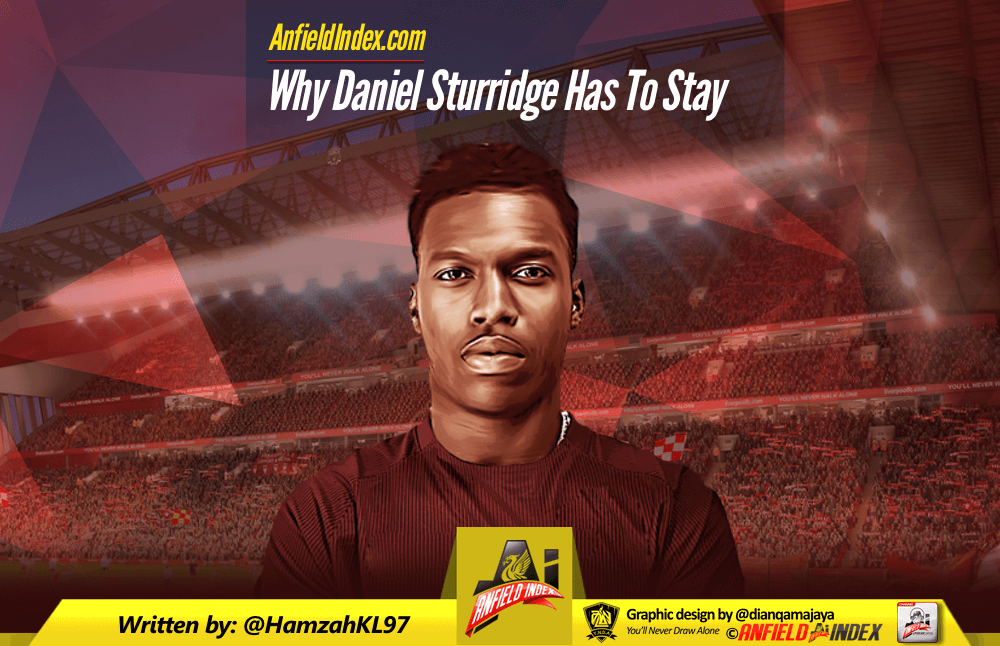 Why Daniel Sturridge Has to Stay
For Daniel Sturridge, another season has passed that he will no doubt define as a personal disappointment. This season, Sturridge made 20 league appearances, 17 of which were as a substitute; in 769 total minutes, Sturridge directly contributed to four goals, scoring three, and assisting another. For some Liverpool fans, Daniel Sturridge is perceived to be living off his performances in the second half of the 2012/13 season, and the following 2013-14 season, when he scored 21 goals and assisted 7,  from 26 starts and 3 substitute appearances.
Yet despite these criticisms from a minority of fans, for Daniel Sturridge and Liverpool, it has never been a question of quality, rather a simple one of fitness. For the past three seasons injuries have plagued him, and it's extremely hard to not feel sorry for a player that really did, and perhaps still does, have it all. Praised for his talent and finishing prowess multiple times by Jürgen Klopp, Sturridge has a record of delivering performances and goals, despite long periods of absence caused by injuries – evidenced in games such as against Aston Villa at home back in 2015, or in the Dortmund, Villareal and Sevilla Europa League matches in 2016, or most recently against West Ham in May 2017. Sturridge has always managed to produce match-deciding or winning moments. This ability is not one that is widely available in football, let alone the Liverpool team, so can and should Liverpool let him go?
First it's best to look at Sturridge's own attitude to playing for Liverpool, It's clear he wants playing time, especially so as the World Cup will proceed the upcoming season. For Sturridge this season, when fit, he has often found himself second choice to Roberto Firmino as the striker, but whilst this is true for the vast majority of the season, Klopp's shift to a 4-4-2 diamond, and selection of Sturridge as a starter indicates that perhaps this will not hold true in the future. Whilst we cannot read too much into this tactical tweak for the last two games of the season, Klopp has suggested that Coutinho will be playing in a deeper role, which may well mean Liverpool will employ a formation that will suit Daniel Sturridge. In terms of his attitude however, it is extremely hard to criticise any of his comments. Unlike other strikers with such an impressive goalscoring talent and record, Sturridge has not been outspoken, instead, openly supporting the manager's decisions and stating his appreciation and desire to play for Liverpool. At the very least, his respect for the club should earn him some leniency, without even considering that he has been unbelievably unfortunate with his injuries – something that he would find more frustrating personally, than any Liverpool fan. His wider role, as an ambassador for the club has been without any qualms – he engages with the local community, is known for his generosity towards fans and has not been in the public spotlight for negative reasons, as Sakho, Firmino, and Balotelli have been. But of course, his role on the pitch is the most important of all.

To the club and the team though, Sturridge is an asset like no other. His ability to turn games around, create chances from nothing, or to transform a team that struggled with breaking down a low-block sides to dismembering them is simply unrivalled. His goal in the crucial fixture against West Ham was the catalyst for Liverpool's second-half demolition job, whilst his intelligent positional play – stretching and occupying opposition defenders – is something that Origi and Firmino cannot execute anywhere near to his standard. Not only this, but he provides a perfect outlet for a deeper Coutinho, allowing him to create the opportunities for piercing passes and then finishing them off.
His quality is undoubtable, the goals and chances he has forged, range from the sublime – a delightfully outrageous chip against West Brom 2013 – to the downright stunning – a superb outside of the boot curler against Sevilla 2016 – why then would it make sense for Liverpool to even contemplate selling him?
His injury record may be poor, but his goal scoring rate is still phenomenal, and transcends this issue, with a league goal every 128 minutes, equal with Ruud Van Nistelrooy, and better than Robin Van Persie's rate of a goal every 139.7 games. Van Persie in particular is perfect example to realising the dangers of selling Daniel Sturridge. Arsenal put up with Van Persie's poor injury record and kept him, before he performed with seasons of 18 and 30 league goals. With Van Persie's contract coming to an end, he signed for Manchester United, and effectively won them the league – despite Arsenal fans being assured he would not be fit enough to propel United to the title. It's perfectly feasible that something similar could happen with Sturridge should Liverpool sell him – with as few as 15 games, Sturridge is still quite capable of scoring 10 goals, and having a hand in many more. Selling Sturridge would be a waste of all the time Liverpool has invested in him, and would directly hand another side – likely a Premier League one – with the qualities and attributes which Liverpool have so desperately needed in games such as Southampton, Crystal Palace, Bournemouth, Swansea and Sunderland amongst others. Sturridge is arguably the key to breaking the low-block that was the difference between Liverpool mounting a title challenge, and instead one for just Champions League qualification.
Not only would Liverpool be giving these qualities away at a relatively cheap rate – considering at his best he is worth around £50million in today's market – but Liverpool would need to go into the transfer market and find another player with his qualities or of greater quality. The likelihood of these players, such as Greizmann or Aubameyang, coming to Liverpool is low as it is, without even accounting for the astronomical transfer fees such a move would demand.
Liverpool are still yet to replace the loss of Mascherano, let alone Suarez; getting rid of Sturridge would only reduce the size of a squad that is short in the goals department and lacks real quality relative to the squads of Chelsea and Manchester City for instance. It's not as if these teams do not have injury issues too, Vincent Kompany is, like Sturridge, the best player in his position in his team, and arguably in the league. Yet Manchester City have persisted with him, despite his frustratingly fleeting number of appearances. Kompany's quality and impact was clearly on show when he returned to the City starting XI at the backend of this season though, as he led his team from a relatively sticky patch to a very comfortable 3rd place in the league.
We must also consider what selling Sturridge would mean for Liverpool FC. The club would likely get between £20-30 million, but would be with one fewer striker, and would still have to address more pressing issues, such as those at centre-back, left-back, left-wing and centre-midfield. The £20-30 million raised from selling Sturridge is simply not enough to secure a top replacement and striker in today's market. Not only this, but Liverpool would be left with two strikers, the young and inconsistent Origi, who also has had some injury issues, and Danny Ings, a player who was not considered a starting player when signed, and who has suffered two ACL injuries. Having three injury-prone strikers is by no means ideal, but it is certainly better than having only two injury-prone strikers, both of whom are inexperienced in the Champions League.
The Champions League also poses its own issue for Liverpool. Not only does the squad need to be bigger, and be of a higher quality, but players need to be rested more often. Thus, even if Firmino is Klopp's first choice forward next season, Sturridge would have a greater number of opportunities, and the squad would be stronger because of it. Having Sturridge and Firmino as forwards provides a variety of skills, adaptable to different situations; we have already seen Origi struggle when on his own, whilst Firmino is more effective against top six sides. Daniel Sturridge is perhaps the flat-track bully Liverpool need against sides outside the top six, but also good enough to make the difference in big games too. Liverpool may not be able to rely on him for 40 games, but the club can certainly make use of him when fit, especially when the alternative is not having his quality to call upon at all.
Over the course of the season, Sturridge convinced fans that were set on Liverpool being rid of him to finally understanding his value. The drab, dry insipid performances of Liverpool from January to April illustrated the team's dependence upon Sadio Mané, and the importance of a secondary plan of attack that was actually efficient. Daniel Sturridge and his magic feet appeared to be just that, as in a few minutes from being brought off the bench, against Southampton in particular, he crafted a better chance on his own than the entire team had for near 80 minutes.
For Liverpool, a team that is looking to constantly improve and push on, in a growingly intensive and competitive league, keeping players like Sturridge is key, the effect of such players on the field is unparalleled, whilst their contribution in training is unquantifiable, but pushes the rest of the team to be better and to improve.
Sturridge still has the drive to keep coming back after each setback, whereas some mentally weaker players may have regressed or retired. His attitude and determination to play should not be arraigned at all. Even in the Middlesborough match at the end of the season, he took a knock, but despite hobbling and being visibly discomforted, he took a painkiller, and played on, recognising how important the match was for both him and the club. Commitment should be rewarded, and his competitive attitude is precisely what Liverpool need to progress. Sturridge's face is often highlighted when he has been an unused substitute, but no Liverpool FC striker should ever be happy to be on the bench, they should all be wanting to score and help the team – this elite attitude is the difference between good players, and the top quality ones: the desire to do more and be better. Having players like this drives the other players to be better and follow their example – as a senior player in a young squad his experience is especially valuable, and only one more reason as to why Liverpool should keep him.
With all things considered, Sturridge may have a truly terrible injury record, but it simply does not make sense to get rid of an asset with such incredible potential, and quality when he does play. Selling him, and to another Premier League team too, is quite simply madness. Liverpool must persist with Daniel Sturridge for the risk of not persisting with him is too great, and the monetary value of such a move is marginal to the club anyway. We can only hope that he can finally catch a break, and his fitness improves, but the glimmer of hope having Daniel Sturridge in the team provides is something that is irreplaceable and priceless. In a season in which Sturridge only started three games, he managed to be the difference between dropping out of the Champions League spots and qualifying; we can only imagine what he could do with some luck in regard to his injuries – and it's precisely this potential that Liverpool cannot afford to let go.