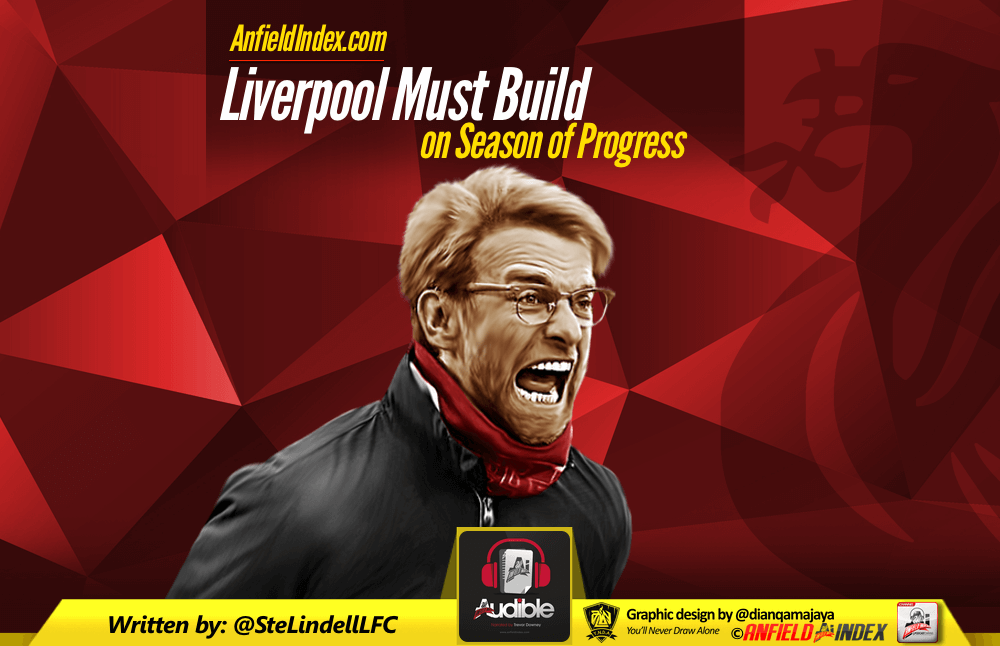 Liverpool Must Build on Season of Progress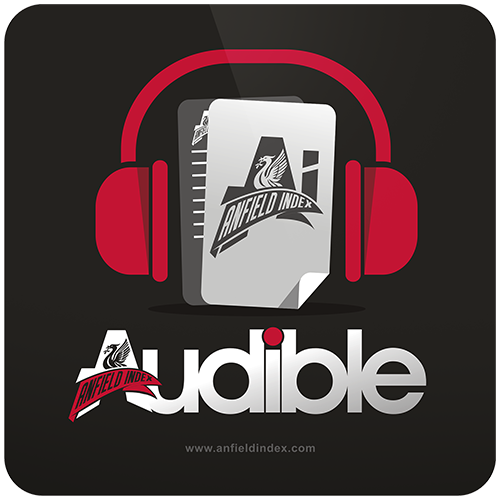 Listen to this article via @AIAudible !
It's been a season of progress at Liverpool Football Club.
Having ended the 2015/16 campaign in a disappointing 8th place, the consensus was that Jurgen Klopp had done a good job at recycling such a limited squad inherited by his predecessor, Brendan Rodgers – leading Liverpool to both the League Cup & Europa League final respectively in the space of seven months.
The real challenge for Klopp was to transform a distinctly unimpressive side into top 4, and possibly, title contenders. Fast forward 12 months later, and the German has succeeded in the preliminary target of Champions League qualification; pipping Arsenal to 4th spot on the final day of the season.

This season has been a massive step forward – it has yielded financial rewards, and has ensured that Liverpool will finally be able to attract marquee signings that can ensure the club take another step forward next season. This season, by the way, is only the third occasion we've gone through the or the Champions League since 2009. That is simply not good enough for a club of Liverpool's European pedigree.
And so, it has got Reds players asking themselves a familiar question: how do we break other teams' stranglehold on the Premier League title? 
Whilst this season can be considered a success, the next thing the club must do in the next 12 months is build on it. Klopp and the board cannot afford to rest on their laurels this summer – having transformed the Merseysiders into a top 4 side, the manager now has to transform the side into title contenders by next May. If all of Liverpool's Achilles Heels' aren't fixed over the summer, the club risk themselves in becoming the modern day Arsenal.
Background
If Klopp does fail to build on this promising season (which is unlikely) then he won't be the first Liverpool manager to do so. The likes of Gerard Houllier, Rafael Benitez and his recent predecessor, Brendan Rodgers, were guilty of failing to build on promising seasons.
After finishing 2nd in the 2001/02 season, Houllier had one big decision to make in the summer – he could opt to sign strikre Nicolas Anelka on a permanent basis, or sign El Hadji Diouf from Lens instead. The latter's stock increased after a promising World Cup with Senegal in the summer, and Houllier subsequently chose to sign Diouf in the summer for £10m. He joined fellow countryman Salif Diao for £5m, whilst the last of his transfer dealings included young striker Bruno Cheyrou for £4.5m. This proved to be a disastrous trio of signings – Diouf's temperamental attitude along with the rest flattering to deceive resulted in a meagre 5th-placed finish for Liverpool
Fast forward six years later, and something very similar happened. Having finished the 2008/09 season runners up to Sir Alex Ferguson's Manchester United, a new era was set to commence at Anfield. Club legend Sami Hyypia left the club at the end of the season, joining Bayer Leverkusen. Deep-lying midfield Xabi Alonso also left the club in favour for Real Madrid in the summer – mainly down to manger Rafa Benitez's desire to sell him for Gareth Barry the season before. He did later claim that the club scuppered his plans, but it was a very dire season for the Reds – finishing in 7th place.
In the 2013/14 season, Liverpool missed out on the Premier League title by no more than a fingertip. It was always going to be a difficult 2014/15 season with star striker Luis Suarez leaving for Barcelona in the summer, after coming close to leaving the summer before. Nevertheless, the Reds had the chance to use the money from the Suarez sale into purchasing a new GK, CB, CM, RW & ST. Instead of opting to go for marquee names such as Aubameyang or Lacazette, manager Brendan Rodgers opted to sign Mario Balotelli and Rickie Lambert, as well as recalling Sunderland misfit Fabio Borini on loan. The following season was an uninspiring 6th place, despite spending £117m on new players. This arguably cost Rodgers his job.
I'm not comparing runners-up to 4th place, but I just think perspective's important. 2002/03 and 2013/14 were invariably due to poor decisions and recruitment – so it's important Klopp learns his job this summer and cracks on to plot an assault on the title.
Transfer Business
Probably THE most important of all, a successful transfer window is imperative if Liverpool are to make big strides forward next season. Sadio Mane's departure due to the AFCON at the turn of the year invariably highlighted the lack of contingency options in the side, coupled with the general lack of depth at the back/going forward. This barren run of form which stretched from the beginning of January to the end of February ultimately cost the Reds in their title pursuit.
To be honest, a sustained title push was always going to be a big ask of Liverpool, especially when you consider how deprived their depth is at the back and going forward compared to other top 6 sides. Chelsea have the likes of Pedro, Willian etc to rely on without their conventional players, Tottenham have the likes of Heung-min Son and Man United have Anthony Martial, Jessie Lingard and Marcus Rashford.
The main positions in which the Reds need to strengthen is LB, CB, CM, (RW?) and ST. Despite earning around £100,000 a week, Dejan Lovren's defensive mistakes really aren't a hallmark of a title winning team. Virgil Van Dijk seems like an ideal candidate, as he has been regularly linked with the club since last summer. He would add a direct threat from corners and versatility at the back.
Another more obvious one is left-back. With Alberto Moreno being axed in just the second game of the season, conventional midfielder James Milner was surprisingly called to fill in the void as what seemed then, a makeshift left-back role. However, the 31-year old has been featuring as a full-back for the most of the season with Moreno being deemed too error prone at the back.
Milner's lack of pace has been regularly exposed though, and his constant tendency to cut back is proving all too prevalent. A LB with a better end product coupled with a good engine is needed, as well as versatility.
Another area which needs to be improved is central midfielder. On paper, Liverpool are probably better equipped in the middle of the park – however, with injury laden seasons to the likes of Jordan Henderson and even Adam Lallana, it has highlighted the need for another central midfielder. Keita is excellent on the ball, suits Klopp's pressing game, creates space for others and adds that elusive physicality to our midfield. The Guinean would offer plenty of balance in the midfield. His transition play from midfield to attack is also very smooth.
A final area to improve on is attack. This may sound a blasphemy considering the Reds scored a laudable 78 last season – but all you have to done is rewind back to January to see how much Liverpool missed stellar winger Sadio Mane due to his absence through the African Cup Of Nations. It showed a lack of contingency plan, and that Jurgen Klopp was left to count the cost of failing to add to his attacking options.
It all really rests on the system Klopp deploys – if it's a 4-4-2 diamond, it's likely that a proven striker would be more desirable than a playermaker/wide man. Divock Origi's alarming dip in form and Daniel Sturridge's injury record mean that a 20-goal-a-season striker is a MUST for the Merseysiders next season. Look at title winning teams. They have them. Diego Costa this season as an example, Jamie Vardy for Leicester last season, etc.
If these depth deficiencies are not solved, and desirably early, then Liverpool may struggle to even make the top 4 next season.
Mental Block
This was cited regularly as a reason for Liverpool's collapse at the beginning of 2017, which ultimately put their title hopes to bed. Klopp's predecessor Brendan Rodgers was also accused of having too much of an ego where big games were concerned – many felt he should have opted for a much cavalier, cautious approach in the 2013/14 season, as it infamously came back to haunt them at a horrible moment.
The current squad seem to have a mental block that affects their performances against the weaker outfits. Rafael Benitez's Liverpool sides were known for their strong mentality – and it is something Jurgen Klopp's side must learn from.
Before several games against weaker outfits this season, it was apparent that many individuals in the side thought the game was won before it had started. Due to other sides being turned around after laudably playing an attacking game against the Reds, many found out that the solution to these problems was to simply deploy a low block and hit Liverpool on the counterattack. The complacency of the manager to not sign a new defender or winger in the transfer window was costly, and the side showed the same mental frailties.
Whilst
Keep The 4-4-2 Diamond
Klopp's tactical naivety and stubbornness when it came to rotation was another contributing factor in Liverpool's stuttering form at the turn of the year.
The 4-3-3 formation was the German's tactical blueprint for the whole season, with an emphasis on pressing, interchanging play. This suited Liverpool's mix of attacking options, and fired at the beginning of the season mainly due to other sides (laudably) playing an attacking game against the Reds and subsequently getting overturned.
There have, though, been clear problems with the system against low block opposition. As Liverpool predominantly focus on central play (the likes of Roberto Firmino and Sadio Mane prefer to drift infield and make vertical runs, e.g Leicester), opposition simply overloaded the midfield and central areas, cutting any vertical passing angles. This forced the Reds wide on many occasions – and with the side lacking any kind of quality from out wide bar Mane, it wasn't difficult to defend set pieces.
Klopp bizarrely chose to stick with this formation, even when the side were through a poor run of form. His continued stubbornness in refusing to give Alberto Moreno a chance in the side or even tinker with the formation frustrated a lot of fans, even if there was a resurgence towards the end of the season.
To be fair to the German though, he turned things around at last and made a tweak in formation – switching to a 4-4-2 diamond. This change proved to be an inspired one; it has in fact solved Liverpool's width concerns and provided striker Daniel Sturridge with a striking partner as he isn't the most mobile of forwards. Also, moving Philippe Coutinho deeper has added guile to the midfield to break down deep block sides as well as his general creative influence.
This formation must not be tinkered with for the following season – although new personnel will go a long way towards ensuring defensive concerns regarding the 4-3-3 and 4-4-2 diamond are ironed out. The 4-4-3 can be used as a Plan B for the games against the stronger outfits in the league, as it has proved wholly effective this season.
It must be appreciated that there is much work to be done in order for the Reds to land their first title in 28 years next May – but if ambition is shown in the transfer market and Liverpool are equipped with a Plan B next season, believe!