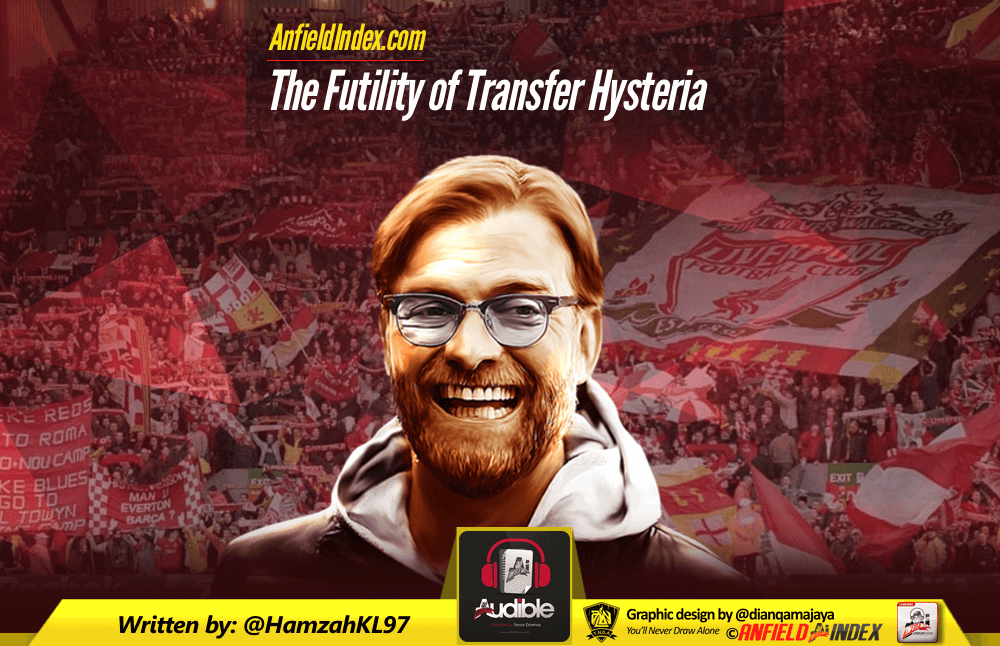 Liverpool Supporters And The Futility of Transfer Hysteria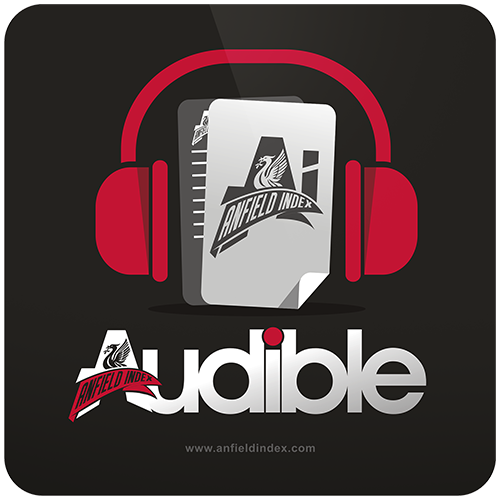 Listen to this article via @AIAudible !
The summer transfer window is yet to open, however transfer hysteria has already swept in. Liverpool fans have barely had time to rejoice in the fact that Liverpool FC will very likely be in the Champions League group stages next season, as seemingly that was not enough to satiate fans in the short-term, as now apparently is the time for transfers.
Much of the hysteria regarding transfers has developed because of Liverpool's history in relation to transfers, especially in recent years. Fans are well aware that Liverpool have not purchased a 'world class' player peaking in their career for many years, but Liverpool FC and other Premier League clubs are now in unchartered territory, for this is only the second time Liverpool have qualified for the Champions League since 2009, and the first time with a globally recognised and respected manager, whilst funds are now available which previously were inconceivable.
Liverpool FC is finally in a position of strength when it comes to transfers, and fans are eager both that the club does not squander this opportunity, but also that long-term cravings and desires for a big name can finally be satiated. This is only worsened by the huge names that swirl around regarding the old-enemy, Manchester United. Fans are obsessed with comparing performances, teams, squads, managers, trophies and signings – but unfortunately, playing this game when it comes to big-name or big-money transfers is one which Liverpool will always lose.  Despite this, and the awareness that both Manchester clubs have financial resources that would put small nations to shame, Liverpool fans still concern themselves with what other teams are doing, instead of just looking at Liverpool.

For instance, the extremely efficient signing of £43 million Monaco starlet Bernardo Silva sent shockwaves across Liverpool social media platforms. But why? We all expected Manchester City to recruit strongly, and go about their business in a professional manner. Whilst it was a story which developed spectacularly quickly, it was hardly as if all of Liverpool's rivals had sped away with immeasurable advantages – Chelsea, Spurs, Arsenal and Everton are all yet to really get going in terms of transfers. Despite this, as reports came in, Liverpool fans suddenly felt bouts of anxiety coming their way. Criticism of Klopp and FSG rapidly emerged: why were Liverpool not moving so quickly? After all, Liverpool, for several weeks, were, and still are, linked with players such as Keita, Sessegnon, Van Dijk, Werner, Lacazette, Mendy and so on.
Liverpool fans should know better; big-money panic buys, or purchases in respect to reputation have not worked in recent years: Andy Carroll's record move to Liverpool was pushed through rapidly, without consideration for how Liverpool would utilise him, so too Balotelli and Christian Benteke. Names such as Downing, Aquilani, Cole, Borini all resonate with negative connotations, but we must remember the positive contributions of Lallana, Henderson and Can in fairness. Thus demanding such, or trying to put pressure on the club to do so is both counterproductive, and a waste of time and effort.
Whilst Liverpool have had some very poor transfers in recent years, it's important to remember the successful ones too. One of FSG's first signings was Luis Suarez, and more recently they authorised the signings of Coutinho, Daniel Sturridge and Roberto Firmino. Whereas transfer strategy was not entirely clear in those years, now Liverpool have a manager with transfer autonomy, and even with a relatively small outlay, Jürgen Klopp has illustrated his nous when it comes to identifying what the club and team needs to improve, and then addressing it. The purchases of Sadio Mané and Georginio Wijnaldum in particular pay testament to this, whilst the free transfer of Joel Matip, and cheap transfer of highly rated goalkeeper Loris Karius also support this notion.
This is the first time Jürgen Klopp has been handed a de facto war-chest of funds, especially when Liverpool are in the Champions League with such funds available. The issues of yesteryear, in which the club did not look an attractive prospect for potential players are slowly fading as Klopp sets to work, but fans should be confident and optimistic to what activity the future holds – the very interest in such players whom would previously been deemed unattainable is one step in the right direction, and whilst this step needs to be followed up with decisive action, we must remember haste is not a defining aspect of decisiveness.
Liverpool going about its business in the manner which is right for the club, and not any other club is what is key here. For Liverpool, buying smart over the past season has paid greater dividends than buying players based on their name and stature has for Manchester United, thus comparing transfers, budgets and players is ultimately a redundant exercise.
Supporters should be patient and optimistic, a 16 point increase on the league total of the previous season indicates Liverpool FC is on an upward trajectory, and that transfer business so far has been fairly astute – if not for injuries to key players, at unfortunately important times within the season, Liverpool may well have finished higher in the league table. Current links already indicate Klopp has identified the areas in which Liverpool need to improve and has set up a shortlist of sorts; however, beyond this, supporters should regard all surplus information as white noise. If Klopp has a series of targets, he has more than enough time to work out the necessary deals – obsessing about the dealings of other clubs will only bring disappointment to the average Liverpool fan.
So, rejoice in Liverpool's long-awaited return to the Champions League, a place in which it truly belongs, and worry not about transfers, as with the right management, those deals will take care of themselves. Liverpool fans should be happy in the knowledge that the club is in safe hands: hands which delivered upon their primary objective this season, and no doubt will be set to work on reaching and surpassing the objectives for the coming season too. Patience and intelligent work is the new name of the game, and Liverpool are a club very much on the rise. Do not fret about the frequency or monetary value of transfers, it will do you no good, instead be confident in knowing Klopp will accept nothing less, and will not allow Liverpool to have a squad incapable of meeting LFC's objectives, whilst the owners are very much more involved than we can say of some of our rivals.
Take a breath before we go again.