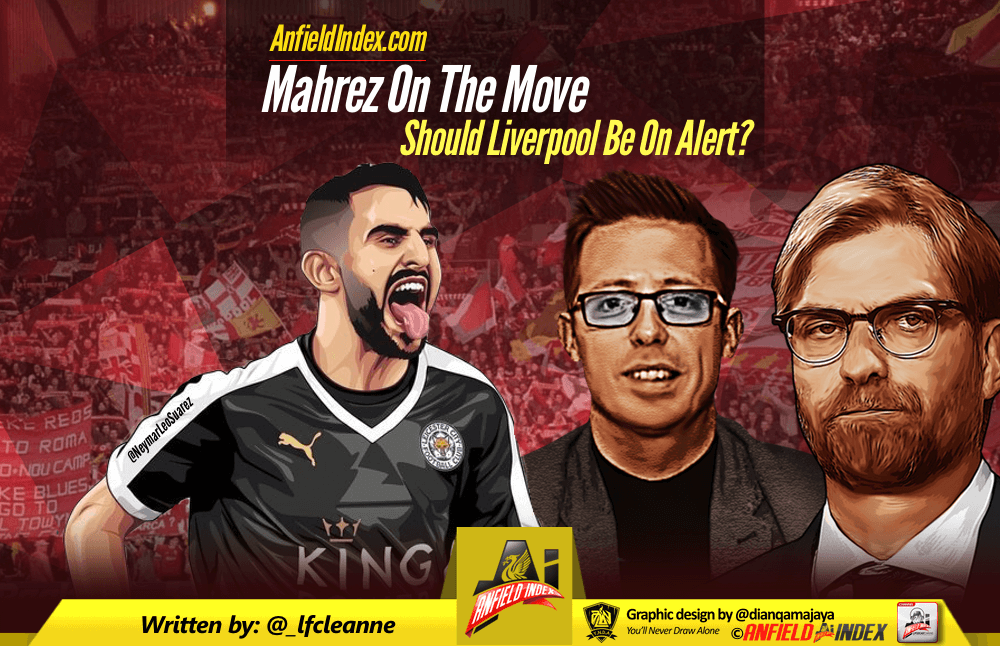 Mahrez On The Move: Should Liverpool Be On Alert?
Signing for a fee of £400,000 in 2014 from Le Havre, Riyad Mahrez played a key part in Leicester's unexpected Premier League title win in 2015/16. The 26-year-old scored a total of 15 goals in the top flight that season, with another 10 goals and seven assists to his name this season. A campaign with two very different fortunes saw The Foxes finish 12th in the league but get further than any other English team in reaching the Champions League quarter-finals.
With the season now behind us, Mahrez's recent comments are likely to have a wide berth of teams on alert this summer. In a statement, the forward said:
"Out of the huge admiration and respect I hold for Leicester I wanted to be totally honest and transparent. I have informed the club that I feel now is the time for me to move on."

"The relationship I share with the club and our amazing fans are something I will treasure forever and I truly hope they will understand and respect my decision."
Having been previously linked for a move for the 26-year-old in 2015/16, Liverpool could well be set to make another move for the winger. But would it be an avenue worth exploring?

Strong Need For Width
When Sadio Mane went off to the African Cup of Nations, Liverpool looked a completely different prospect. There was a distinct lack of pace and ingenuity in the forward line, confounding struggles against lower league opposition.
Taking the game to the opposition with lightning pace and direct movement in between the lines, Mane has been a pivotal tool for Jurgen Klopp this season. That was the case right from the first game, with a strong run from the right flank resulting in a goal.
As such, his absence from the team struck Liverpool hard. There is no-one in the current crop of players who can bring to the table what Mane does. With James Milner filling in at left-back too, the lack of width has become hugely apparent. Too many players cut inside into traffic, leaving Nathaniel Clyne as the only real out-ball. That's where Mahrez could come in.
His nimble footwork and close control provided goals and assists to steer Leicester toward the most unlikely of Premier League titles. Club Player of the Year, PFA Players' Player of the Year, PFA Fans' Player of the Year and a member of the Premier League PFA Team of the Year, Mahrez was a class act.
Liverpool need players who can make a telling contribution against lower opposition who sit back and defend deep through movement and trickery to unlock the door. The Leicester City forward is more than capable of producing such moments of magic. An established player in the Premier League already, it would likely be a smooth transition period for the Algerian.
Depth
It's an argument that's going to be made time and time again but Liverpool will need to add to their ranks this summer. Failure to do any transfers in January saw a huge drop in results and subsequent momentum and highlighted the need for further reinforcements in the wake of a new campaign.
In all likelihood Mahrez wouldn't push Sadio Mane, Philippe Coutinho or Roberto Firmino out of the starting lineup but the Algerian winger would certainly provide extra options for Jurgen Klopp ahead of a much busier fixture list.
But, what about his work ethic?
There will be concerns over the way in which Mahrez went missing for such a long period of the season. Leicester were struggling prior to Shakespeare's arrival and when the going got tough Mahrez, along with most it must be said, went amiss.
It'd be a challenge for Jurgen Klopp to get the Algerian to work hard enough to truly push those around him and offer a quality option from the bench. Liverpool are one of the most energetic teams in the league and Mahrez doesn't suit such a gegenpressing style.
Hard working at the best of times in the 2015/16 season but questionable when fortunes weren't so favouring, it doesn't necessarily strike me as a Klopp-type signing. Would he track back and work off the ball in the way Firmino, Lallana and even Coutinho do? I'm not so sure.
Suitor of the system?
Key to Mahrez's successes have Leicester's system of setting up to play on the counter-attack. However, when you make the move to a top-four, or even top-six club, there comes an expectation to dominate the ball. That's particularly evident in the current Liverpool side, with possession football a key aspect of Klopp's philosophy.
There have been times this season in the bigger games where Liverpool have shown their qualities on the counter – examples in which Mahrez would be ideally suited to. Take the opening game against Arsenal for instance, when Adam Lallana and Sadio Mane broke forward with the ball and smashed the ball into the net.
However, against the so-called 'weaker sides' in the Premier League, The Reds are often tasked with breaking down the opposition. Allowed to control the ball and dictate the tempo, it's up to Liverpool to ask questions of the defence and exploit any little gaps. As such, Mahrez would likely need to tweak his game to suit such expectations.
Other Options
Aside from Mahrez, there have been a number of names splashed about around Anfield with Jurgen Klopp keen to increase his options this summer.
Mohamed Salah is among those to be linked. Despite struggling for first-team opportunities at Chelsea, Salah has come on leaps and bounds at Roma contributing a total of 13 goals in 28 Serie A appearances.
In terms of creativity, the Egyptian has 10 assists to his name and would certainly help to break down resolute defences. Pacey and well gifted, adding Salah to the ranks would bolster Liverpool's attacking options and add an extra degree of threat for next season.
Alternatively, Douglas Costa represents a stellar signing for Klopp. Operating as a left winger in the main, the Brazilian has two quick feet and a real eye for a pass. His pace alone is enough to worry defenders and create space for those around him – just in the way Mane did this season.
At 26, Costa is the same age as Mahrez but a far, far more mouth-watering prospect to see in Liverpool red. With his playing time limited at Bayern Munich, the winger has already spoken out that his future may lie away from Germany. That should be Liverpool's queue to throw whatever they've got at Bayern and make a real statement this summer.
Consensus
Mahrez is an intriguing player in truth. Dazzling in Leicester's title winning season before a below-par campaign this time out, there are clear question marks over whether he can rise to the occasion when the going gets tough.
Jurgen Klopp needs to have undying faith in each and every one of his players to carry out the job at hand next season. Pressing from the off and getting back in support of the team, Mahrez may not be such an easy-fit.
With quality alternatives out there and vying for a move away from their respective clubs, Liverpool would do well to explore other avenues first rather than go all-out for the Algerian.