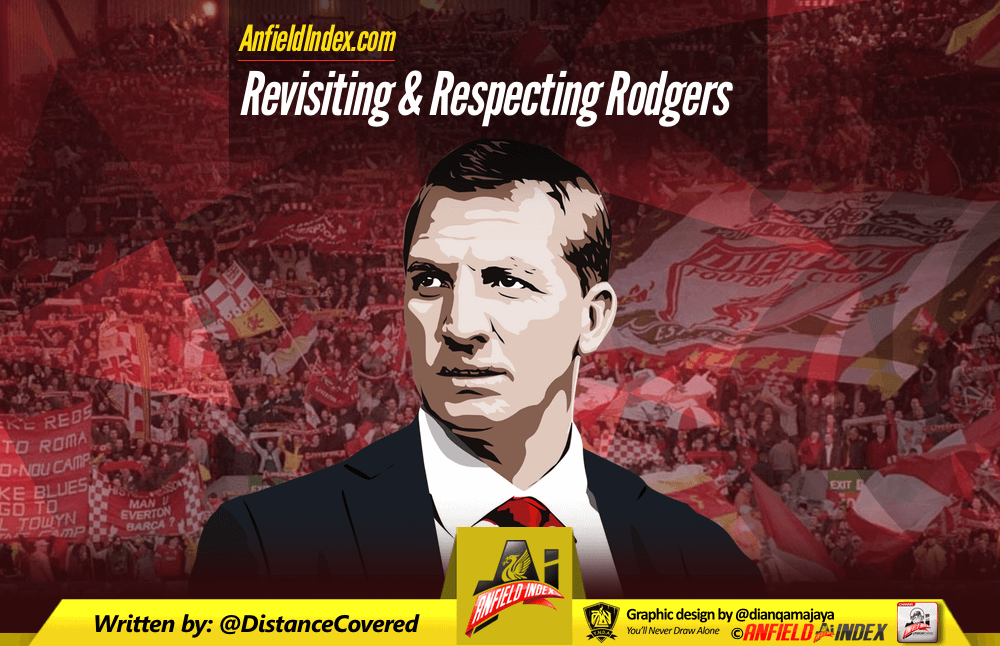 Revisiting & Respecting Rodgers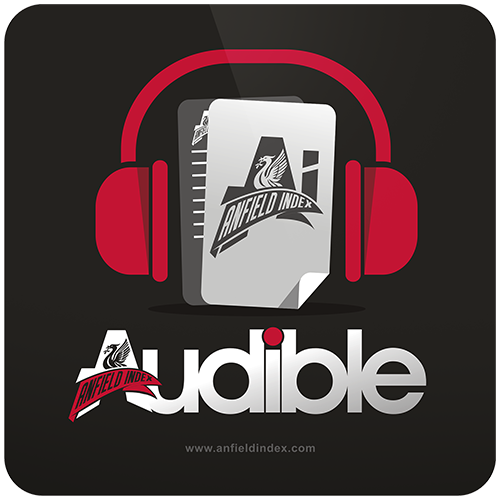 Listen to this article via @AIAudible !
In light of the treble-winning climax to his first season at Celtic, I've recognised the end of the 16/17 campaign to be a suitable time to revisit Brendan Rodgers' time at Liverpool. In Rodgers' first full season away from Anfield, he's managed to secure the Scottish Cup, the Scottish League Cup, and the Scottish Premiership via an unbeaten season. However, the reaction from a significant number of Liverpool fans towards Rodgers' success has been somewhat bitter, disrespectful and unsupportive, and it's that reaction that's resulted in my desire to write this piece.
I believe Rodgers should be respected by Liverpool fans, and remembered fondly for the positives that he brought to our club, largely during his second season in charge. I'd encourage our supporters to focus on the memories during his time, the merciless attacking football his side played, the prospects he developed and some of the unforgettable results along the way. Obviously, Rodgers has his flaws, and I'm as aware of these as any supporter; he's far from perfect but every manager has his faults.
In my opinion, it was the right time for a change when he was relieved of his duties in October 2015, and I wouldn't swap Klopp for any manager on the planet, but I'd like to make a case for Rodgers in the hope that he's respected more and recalled fondly by Liverpool's fan-base.

13/14 Attacking Football
First and foremost, I have to absolutely highlight the football that Rodgers' management produced. To this day, Liverpool under Rodgers played the best and most exciting football I've ever witnessed my team play. His XI in 13/14 had opponents quaking in their boots arriving at Anfield; overcome by the fear of being on the end of another ruthless Liverpool assault. Liverpool were scoring goals for fun with 101 notched in the league, and playing so aggressively that very few sides could handle their intensity and attacking power. At Anfield in 13/14, Liverpool's fan-base was unified as one, and regardless of the goals conceded, every Liverpool fan was enormously proud of their team and that was largely due to Brendan Rodgers.
A lot of Liverpool fans understandably honour this solely to the genius of Luis Suarez, who performed to a level that was on a completely different planet to the rest of the Premier League. Obviously, Suarez' s contribution deserves a great deal of credit, but it was Rodgers' mentoring and the conditions in which he'd created that allowed Suarez to thrive and perform to a maximum. In that same season, Rodgers was up against Pellegrini, Mourinho, Moyes, Wenger and Villas-Boas from the top-six; would any have bettered Rodgers' Suarez output? I'm not so sure.
Liverpool recorded numerous unforgettable wins in that season under Rodgers, many of which still make supporters happy to this day; 5-0 away at Spurs, 5-1 at home to Arsenal, 3-0 away at Man Utd and 4-0 at home to Everton to name but a few. These notable results coincided with a 16-game unbeaten run, including an 11-game winning streak which led supporters to believing our first official Premier League trophy was on the horizon. It's extremely simplistic to say this was all luck on Rodgers' part, or that it was all solely down to the quality of one player.
Finishing 2nd
Although I'm absolutely not going to celebrate a 2nd place finish, I think Rodgers deserves an element of admiration for getting us as close to a Premier League title as we've ever been. Club legends such as Kenny Dalglish, Rafa Benitez, Gerard Houllier and so far, Jurgen Klopp, have all attempted winning Liverpool's first Premier League; none have yet come as close as Rodgers did.
In my existence as a Liverpool fan, 13/14 is still the only time I've ever witnessed my team still with a chance of glory in the final game of the season and the final push was Steven Gerrard's first proper experience of a title run-in at the age of 33. Eventually, Liverpool lost the league by just two points, and to put into context exactly how close Rodgers' side came – if Liverpool win in that crazy 3-3 at Palace, and Sterling scores that sitter at the Etihad to make it 2-2, Liverpool are crowned champions.
Tactics
During his time at Liverpool, Rodgers proved himself to be a very shrewd tactician on numerous occasions to the benefit of his players and the team. British managers are notoriously considered to be naïve and straightforward when it comes to the tactical aspects of the game, and they often follow the lead of more proactive foreign managers and their approaches. Rodgers on the other hand, was able to escape that dinosaur mould of the traditional British manager, and utilised various systems in charge of Liverpool based on his own knowledge.
In 13/14, Rodgers' implementation of a 4-4-2 diamond allowed his players to benefit from the attacking prowess of Luis Suarez and Daniel Sturridge. Rodgers recognised the goal-scoring potential between the two and developed a system that would allow them both to play and impact matches to devastating effect; Suarez ended the season as top-scorer with 31 goals which is a record, and Sturridge finished as the league's runner-up with 21. The system allowed them to dovetail and interchange depending on who was deepest and who was more advanced; ultimately resulting in an unpredictable strike-force from an opposing defender's point of view. The diamond also allowed Rodgers to maximise the running ability of Jordan Henderson as a box-to-box, and the experience and passing ability of Steven Gerrard who was used as the team's pivot.
A season later, Rodgers implemented another tactical switch, to his own interpretation of a 3-4-3. This switch came during a difficult period, and demonstrated Rodgers' practical nature by opting to change things at the right time. The 3-4-3 resulted in an unbeaten run of 13 games, with 10 of those being wins and almost resulting in Liverpool achieving a place in the Champions League for a second consecutive season under Rodgers, which hasn't happened since 2009. The 3-4-3 was unique in relation to the rest of the league, and allowed players such as Markovic and Moreno to be utilised more effectively than they had been previously.
Player Improvement
Arguably Rodgers' most impressive trait is his ability to improve and develop players, as he's demonstrated this throughout his career. This was evident when in charge of Liverpool, as players such as Raheem Sterling, Jordan Henderson and Daniel Sturridge are testaments to his work. Rodgers often stated his preference regarding developing players to be through education rather than training, and his methods have ultimately benefitted Liverpool both short and long-term.
Firstly, Raheem Sterling, a player that Rodgers promoted from the academy and eventually sold for £50m a season and a half later. Initially, under Rodgers, Sterling looked a world-beater, and demonstrated pace, intelligence, versatility and power amongst other traits. Sterling was being upheld as England's next big thing, was playing like a young Eden Hazard, and was a driving force behind Liverpool's unbeaten streak in 13/14. Liverpool somehow managed to fetch an inflated fee of £50m for Sterling based on his showings under Rodgers, who has since shown flashes of form, but is yet to represent value for money. Since his move, Sterling has appeared somewhat one dimensional at times, with pace and acceleration being his foremost attacking tools that are often let down by his poor composure and final ball; the £50m Rodgers fetched looks to be a robbery.
Secondly, Daniel Sturridge, a player who is also discussed a bit later on in the piece. He's a player who was significantly undervalued and under-utilised by his previous managers, and Rodgers managed to get the absolute maximum from him. Sturridge reached 50 goals for the club in a shorter amount of time than the likes of Luis Suarez, Michael Owen and Robbie Fowler, and he's more than repaid the £12m Liverpool initially spent on him. This was largely due to Rodgers' utilisation of the player, such as playing him as a striker, exploiting his speed in behind, building his confidence and operating with a diamond system.
There are numerous others that Rodgers improved during his time at Liverpool, but the last I'm going to focus on is Luis Suarez. When Rodgers arrived, Suarez was inconsistent, and showed flashes of brilliance that combined with rawness and an immaturity. In the period before Rodgers' arrival, Suarez had scored 21 goals in 52 appearances; not bad, but far from spectacular. This in comparison to after Rodgers took charge, in which Suarez notched an incredible 61 goals in 81 appearances; winning the golden boot in 13/14 for a record-equalling total of 31. Under Rodgers, Suarez was and still is the best player I've witnessed play in a red shirt, and the flashes of brilliance from previous years became the norm from matchday to matchday. Obviously a lot of this is down to the player himself and his superior natural footballing ability, but as I said earlier, it was the conditions in which Rodgers created that allowed Suarez to thrive and perform to a maximum. To establish just how much Rodgers managed to get out of Suarez, he scored 61 in his first 81 games under Rodgers, compared to 66 in his first 81 under Enrique whilst playing in the company of superstars such as Lionel Messi and Neymar in perhaps the best team in the world.
Signings
Arguably Liverpool's most inconsistent aspect over the past decade has been the club's dealings in the transfer market. Regularly over the years, the club has managed to sign the odd hidden star, only to follow up such dealings with the excessive recruitment of players that simply weren't good enough.
Under Brendan Rodgers, this area was possibly the most disappointing during his time in charge, as each transfer window became a struggle for power between the manager and the infamous transfer committee operating behind the scenes. Often, the transfer committee would provide Rodgers with players that he ultimately didn't want, such as Markovic, Sakho, Firmino and Balotelli, and he'd be expected to find a place for these players. However, in some instances, Rodgers was presented with a player he actually desired, such as Adam Lallana, Joe Allen, Daniel Sturridge and Dejan Lovren.
Now obviously, some of Rodgers' desired targets weren't great signings, but as this piece is largely focused on the happiness he brought, I'd like to focus on his transfer successes. Firstly, let's talk about Daniel Sturridge, as Rodgers brought the Englishman as an under-appreciated squad-player at Chelsea, and played a key role in developing him into the country's best striker. Chelsea demanded just £12m for Sturridge; he was being played irregularly out wide and had struggled to retain a period of constancy in his career after a series of transfers, loan moves and positional switches. Rodgers recognised Sturridge's striking qualities and had been aware of the player since the age of 12; Sturridge has subsequently scored 64 goals in 139 appearances since moving to Anfield, a substantial return.
Secondly, I'd like to highlight the signing of Adam Lallana, who was publicly labelled as Rodgers no.1 target in the summer of 2014. At the time, the £25m being quoted for Lallana's services was resulting in a lot of Liverpool fans doubting the move; three years on, he's a vital XI regular. Rodgers identified Lallana as a highly technical player, with a knack for pressing and a positional versatility that allowed him to be flexible in various systems. Although Lallana didn't necessarily hit the desired heights under Rodgers, he's certainly doing that now under Jurgen Klopp. "You've no idea how important you are to this team", Klopp whispered to Lallana after winning the Merseyside Derby 4-0, and it's because of Rodgers that he's here.
Conclusion
To conclude, I'd like to encourage Liverpool fans to adopt my positive perception of Rodgers, as in my opinion he should be respected and remembered fondly by our supporters. Productively speaking, he brought wonderful attacking football at times, memorable results, and a few astute signings, as well as inspiring the power and passion of our fan-base for a short period of time to make us feel unstoppable.
I appreciate that Rodgers has his flaws, frustrations and annoyances as a manager and as a person, and obviously there can be negative spins on some of the arguments I've made, but that's not the point here. Ultimately, he's a former manager of our club who gave everything he could to bring the Premier League title home to Anfield for the first time. Although he eventually fell short, there were times along the way that he made us all believe, and he made us all dream, and for those memories I'll always be grateful.
Congratulations to Rodgers on the treble achievement at Celtic, and I hope he has sustained success in the future.