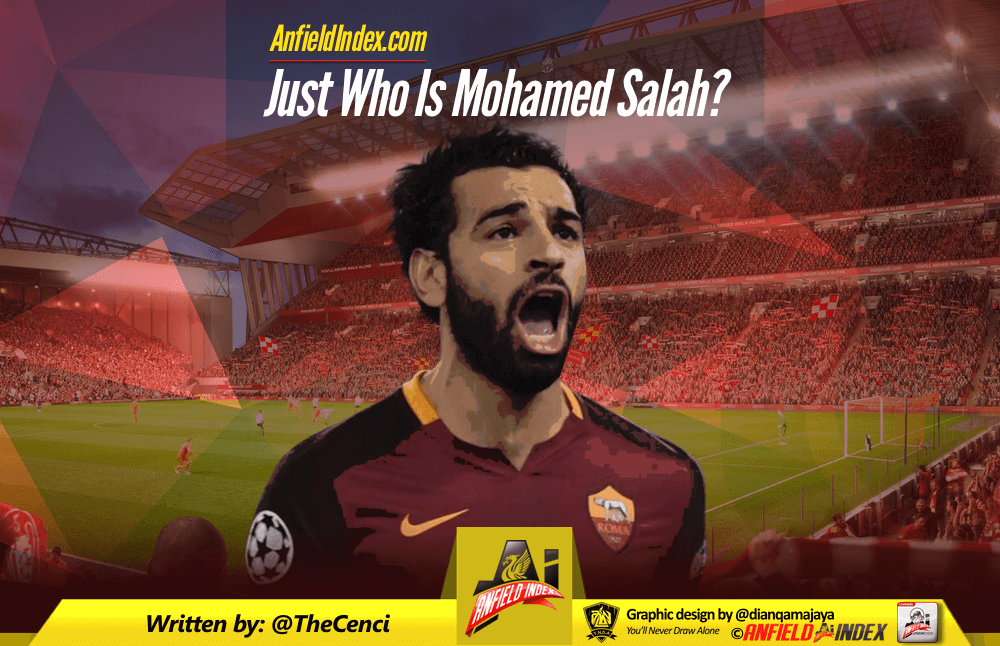 Just Who Is Mohamed Salah?

It's always struck me that the LFC footballing world knows more about obscure players than I ever could. Time and again a name will come up and there'll be sage nods around the fans of an 'Ah yes, played 40 times for Cape Coast Ebusua Dwarfs in 2015. Good player' nature while I'm left scratching my head in confusion. This could be due to a lack of curiosity on my part or, most likely, inherent laziness but, when thousands of Reds demand the signature of XYZ and tell of the unspeakable damage it will do should they sign for a rival, I'm left reeling. Who are these people?
I do, however, know that Cape Coat Ebusua Dwarfs are a proper football team though. They finished sixth in the Ghanaian Premier League last season. Have that, ITKers!
We all like a transfer and it's always interesting when a new player, bedecked in red, strolls onto the Anfield turf for the first time, but it does worry me that the Red fiefdom are onto something which has somehow been denied to me.
Case: In late December 2005 there were no fewer than 14 threads on a fan forum I used to infest, all concerning a defensive target we were trying to nail down. Posts flew in from all over the world about how he was the man to lead us to a second consecutive Champions League victory and it would be disastrous if Rafa couldn't bring this one in.
Again, I wracked my brains trying to dredge up a memory of seeing him before but nothing came. Everyone else seemed to know about him, his strengths and shoe size but I was lost. Maybe he was as good as people made out.
That player was Jan Kromkamp.
Hysterics for Jan Kromkamp.
Quite.
This summer is different though. Not only do I know of and have seen Virgil van Dijk, but I can talk with relative confidence about his bona fides. Last season I wrote a piece in May about how we should sign Sadio Mane and that Dutch lad from Newcastle who got four against Norwich. This, to date, is the greatest/luckiest I've ever been in picking players and I'll never shut up about it.
But the big news – well, big news to me at least, is that we're now linked with a European player of whom I've actually heard and know something about.
For this reason alone I quite like Mohamed Salah.
Of course, we nearly bought the Egyptian in 2014, but Chelsea stole the march on us and rewarded him with no fewer than 13 appearances for Jose Mourinho's side. 13 appearances in a 13 month Chelsea career. Not bad for £11m.
Born in Basyoun in the Gharbia Governorate of Egypt – the same as Ahmed Elnohamady of Hull City, fact fans – Mohamed will be 25 years old in a couple of weeks' time, but he's already filled his time with plenty of shiny things including a League and League Cup double (Jose was generous with the trinkets as he liked his work-rate) as well as a couple of Swiss titles and an AFCON runners-up medal last year. It's always nice to have players with experience of success to get the other, younger, lads through the tough times and Mohamed Salah can point at a pretty decent trophy cabinet.
It's strange that he went to Chelsea at all. I've always thought that he was only bought to irritate the Reds after we did our usual trick of publically monitoring a player for ages before letting other nip in and take them.
Jose put him on the bench for much of his time there while Liverpool were pointing out places he could play for us so no one won really and he soon became the forgotten man of Stamford Bridge. In fact, his time in England was nearly even cut further when he was called back home for military service and it was only a summit with the Egyptian Prime Minister, the Minister of Higher Education and the national coach that he was allowed him to stay.
Frustrated with the lack of opportunities in West London he went to Fiorentina on an 18 month loan but, despite being initially popular fans and the club wanting to make the move permanent, he refused to return at the end of the season. Instead of staying for the full 18 months he was gone in just over three.
But, of course, it's his time at his new destination – Roma – which has led Jurgen to his door. He scored 14 Serie A goals for 'I Giallorossi ' in his first season and added a further 15 in the last campaign by which time his loan was made permanent with a £12m fee.
Perhaps the most bizarre incident in Salah's career came when he was playing for Basel in the Champions League. The Swiss side drew Maccabi Tel Aviv in the third qualifying round and Salah didn't take part in the pre-match handshake even though it was compulsory under UEFA's ruling. Basel said that there was nothing in this but Salah was criticised for even so much as attending the second leg in Israel by several Egyptian figures. He played and, though he took his place in the handshake line-up, he chose to fist bump the opposition players rather than shakes their open hands.
If he does sign – and he better had now I've written all this – he's likely to play in the front three, but where exactly isn't known. At Roma he's a right sided left footed winger who likes to cut in but he's unlikely to push Sadio Mane out of the starting XI should he come. If Jurgen likes Coutinho to sit deep as the Brazilian did against West Ham, then maybe he could play on the left of the three with Firmino and Mane in the other two berths. If Jurgen plays a diamond system he could play him on the left and Coutinho as a '10'. Plenty of options, not least because we have so few left footed players these days.
As things stand, he's in talks with the club so maybe he's on his way this time. I hope so.
I've heard of him.