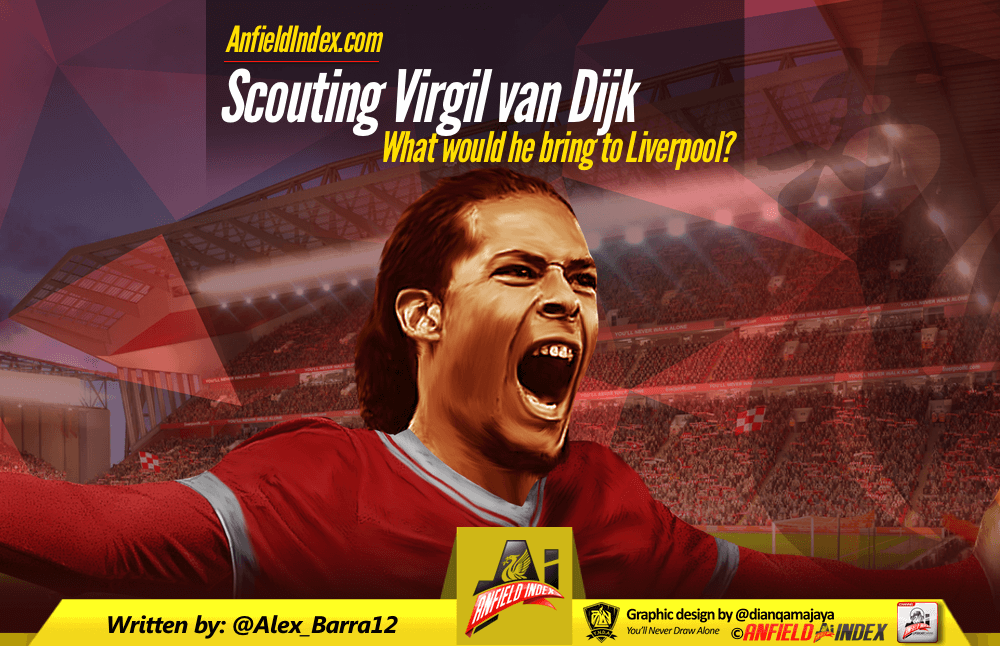 Scouting Virgil van Dijk: What would he bring to Liverpool?

If you're somehow new to supporting Liverpool Football Club and have dived into the realm of hilarity, chaos and speculation, then you're a brave soul indeed. Yet, the overriding sense of optimism coming out of the 2016/17 amongst the Reds' fanbase has manifested itself in the targets: Liverpool are aiming high, and look pretty confident in realising those hefty ambitions. One of their greatest challenges of the transfer window, however, will be prying Virgil van Dijk from the greedy hands of Oligarch-fuelled Chelsea and Sheikh-injected Manchester City.
That being said, Jürgen Klopp seems to be pretty optimistic, too.
"I'm really optimistic for our future, not because I'm crazy but only because I know what we have, and what we will get."
It sounds like Klopp is showing that cautious confidence, and if Liverpool end up handing Southampton their largest sum yet, and break their own transfer record in the process for the towering centre back, he'll have every right to carry that confidence into the season's beginning.
Style
Dominant in the air, comfortable in possession, and a measured presence in a high line; the Dutchman already looks the perfect fit from a simple first glance. He's performed expertly in big games, when Southampton sat a little deeper under Claude Puel, dealing with an array of high balls into the area and tricky forwards like Daniel Sturridge, Roberto Firmino, Diego Costa and Sergio Aguero. In fact, it was only against the last name on that list in which van Dijk was made to look a bit foolish, with Aguero getting free in the box and leaving van Dijk on his heels.
Stylistically, the 6 ft 4 centre-half is physically aggressive and domineering in the box, wanting to assert his dominance on a striker initially, being front-footed and confident in his ability to stop a quick counter-attack before it gains traction, and using his surprisingly impressive pace to recover when it goes wrong.
It all sounds delightfully suitable when it comes to Liverpool's back line. And, though there are a few caveats, it basically is.
Strengths and Weaknesses
Virgil van Dijk's imposing figure with the capability to make forward passes through an opposition midfield (similar in style to Joel Matip, who also likes to carry the ball forward and pass to Phillipe Coutinho between two opposition midfielders). He's assured too, making 6.8 clearances per game, and looks for safety first when inside his own box. It's a trait which would assist a pacey front three against teams that play high and would do wonders in stopping the panic from setting in when those pesky bus-parked teams look to exploit Liverpool on the counter-attack.
In essence, the man described by pundits as the Premier League's best centre-back would be an ideal fit for Jürgen's developing, high-octane system.
Compare him to other top centre-halves (and Dejan Lovren) in the Premier League, and one can begin to appreciate how he'd be worth upwards of £50 million. He's far more dominant aerially than Eric Bailly, Dejan Lovren and David Luiz – all pale in comparison to his 4.7 aerial duels won per game (the only one who gets close is Lovren with 3.7, whose aerial fortitude is his key strength.) He's dribbled past the least of the four defenders on show, too, only 0.3 times per game (half that of Lovren), all the while none of them possess van Dijk's recovery pace, too.
He's 25, which means he's constantly improving, and his best days are ahead of him, though he's still yet to rid himself of a few mistakes and lapses in concentration – as evidenced by Sergio Aguero making a fool of the Southampton man on more than one occasion – but if he's given a dynamic, mobile midfield (think Emre Can, Gini Wijnaldum and Adam Lallana at their peak) who are able to offer the outlet and control enough of the midfield, he'll have an outlet to play to when his concentration occasionally takes a slight turn for the worse.
All that being said – and here's the key point – Virgil van Dijk is not worth £60 million. No defender is worth £60 million, and if the deal would hamper a possible pursuit of Naby Keita (who would probably cost a fee in the region of €50 million) while someone like Stefan de Vrij or Kalidou Koulibaly would cost substantially less than the Dutchman, then those alternatives should be sought out.
What would he bring?
He fit Ronald Koeman's style and ethos and was brought in for that very reason, for £13 million. In the same way, should Liverpool win his services, he'd be a perfect fit for Klopp's defence. Considering Klopp's side has conceded 92 goals in two seasons, and panic continues to plague the back four during opposition counter-attacks, van Dijk would be the most important signing in Klopp's young Liverpool tenure.
He'd immediately provide an upgrade to Dejan Lovren – who'd be the deputy third choice centre-half that every top four side needs – and would provide a sense of calm and security, which would provide his manager (and Liverpool's fanbase) with a lot less heart-in-mouth moments, while offering a platform for the lightning attack to operate from.
Finesse, poise, strength, stature, and intelligence. Yes. Virgil van Dijk is the real deal – he's the best centre-half in the Premier League, and should Liverpool win his incredibly expensive signature, he'd be their most important signing in recent memory.