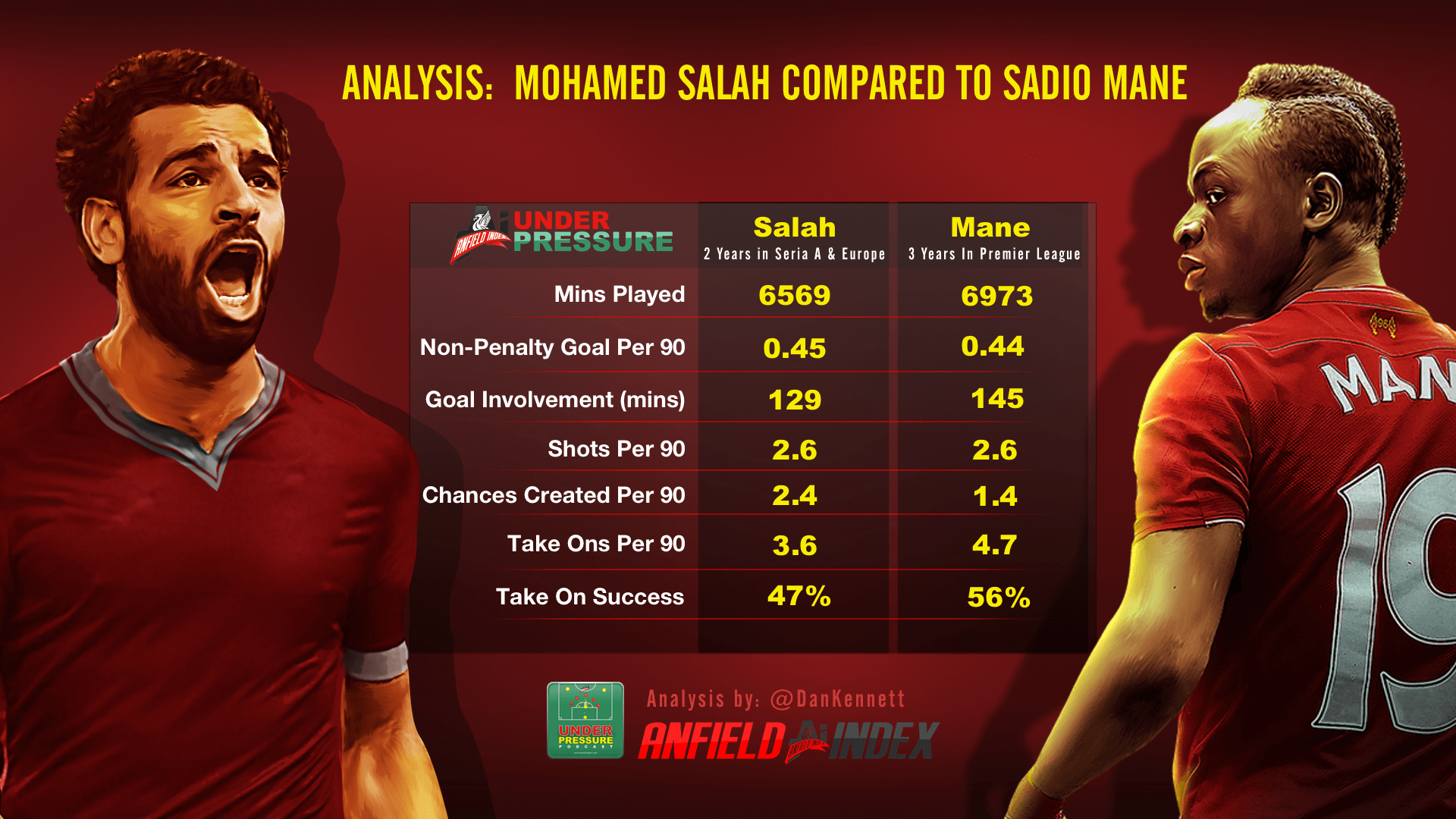 Analysis: Mohamed Salah compared to Sadio Mane

When I look back at the 2016/17 season one of the things many Liverpool fans bemoaned was the lack of a Sadio Mane back-up. When the Senegalese was missing, either due to international duty or injury, the Reds lacked pace and power in the team as well as a real goal threat. With the news breaking that Liverpool are close to signing Mohamed Salah the team at AI Under Pressure decided to look at the stats for both Mohamed Salah and Sadio Mane.
The graphic above shows just how both players compare. Salah's stats collated over the last two years of football in Serie A and Europe whilst Sadio Mane's numbers are based on his three years of Premier League football. The analysis by Dan Kennett shows that there are astounding similarities between the two players. The non-penalty goals per 90 figures and shots per 90 are pretty telling! If Liverpool were to sign the Egyptian international they'd be gaining a player with immense speed and a similar output to Sadio Mane, in fact his goal involvement at Roma was superior with him being involved in a goal every 129 minutes to Sadio's 145 mins in the Premier League, caveats can be stated about different leagues at this point.
In terms of creativity Salah is more creative by one chance per 90, that would equate to 38 more chances created over a 38 game season, however, Liverpool's number 19 attempts 1.1 more take-ons per game and has a success of 56% which is better than Mohamed Salah. So, whilst the goal output and shooting may be similar there is some difference in terms of creativity and take-ons.
The numbers show that Mohamed Salah would be an excellent signing for Liverpool and a welcome addition if he was to continue to perform at the level he has achieved at Roma. If you're not one for stats you can have a look for yourself with Mohamed Salah's goals and assists for Roma from the 2016/17 in the video below!