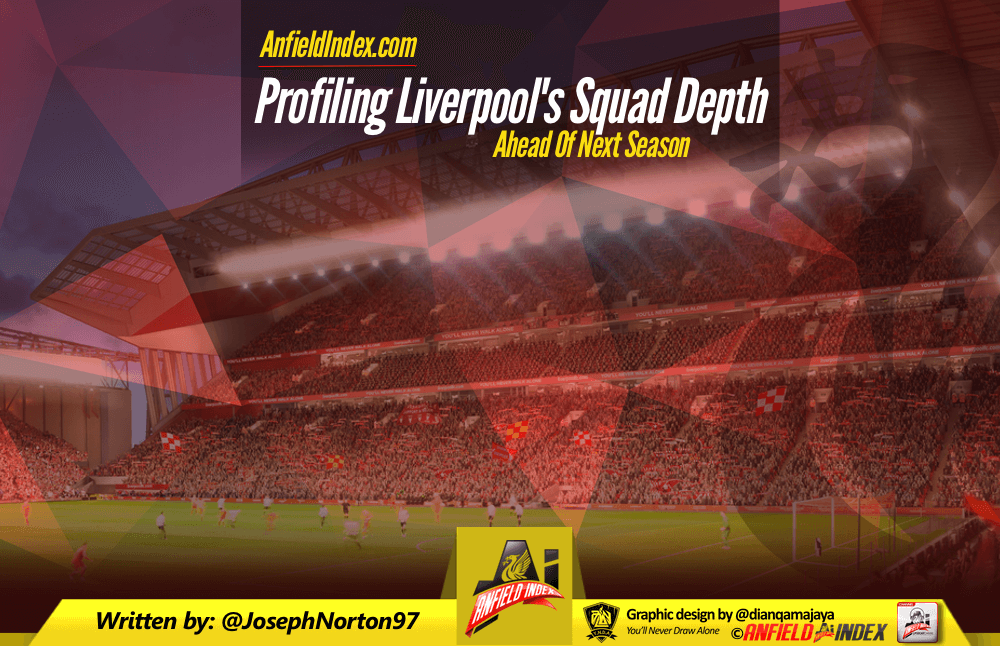 Profiling Liverpool's Squad Depth Ahead of Next Season
After Liverpool secured qualification into the Champions league for next season, attention turned to the summer transfer window and who the Reds would be signing to both improve and bolster their squad heading into next season. One of Liverpool's main weaknesses this season has been their lack of squad depth, which has been highlighted following injuries to key players such as Coutinho, Mane and Lallana. When the Reds have everyone fit they are as good as any team in the league and it's a joy to watch them play such scintillating football, but take a few key players out and this Liverpool side just isn't the same. Having a lack of depth this season hasn't been too costly due to the absence of European football but with Champions League nights returning next season (if we get through the qualifier) this is a key issue that needs to be addressed. In order for this window to be deemed a success Liverpool will need to recruit both the quality and quantity of players needed to make them competitive on all fronts next season. It would be unrealistic at this stage to suggest we could win the Champions League but we should definitely be aiming to get into the knockout stages whilst being competitive in challenging for the league title and going far in at least one of the domestic cup competitions. In order to do this Klopp must build a squad that not only has quality in it but has the capability of dealing with weekend and midweek fixtures on a regular basis. For the purpose of this article I have presumed Klopp will continue with his favoured 4-3-3/4-2-3-1 system for next season, so on that basis let's have a look at the areas of the team we need to strengthen in this window.
Goalkeeper
Although it is unknown which goalkeeper will be first choice going into next season it seems more than likely that Simon Mignolet will retain the number one jersey. Despite being replaced in goal just a couple of games into the start of the season due to Loris Karius returning from a hand injury it has been an extremely successful season for the Belgium, who has pulled off some crucial saves and seems to be improving the weaknesses he has in his game such as how he commands his area. Although Karius has had a difficult first season it seems that Klopp may view him as his long term number one, which probably means we'll see the young German used in the cup competitions in order for him to gain experience and confidence playing for Liverpool. It is clear Karius has the potential to be a very good goalkeeper it's just up to him to go and prove it. Danny Ward will also return from his loan from Huddersfield having played a pivotal role in them gaining promotion to the Premier league, which means Liverpool will have three quality goalkeepers on their books, therefore, it is highly unlikely we will sign another one despite the experienced Alex Manninger retiring when his contract expires in June. I think this would be the right decision following the upturn in form of Simon Mingnolet who has proven he can make key saves when called upon.
Right-Back
Despite his limitations going forward and the strong criticism he has received from certain sections of the fan base there is no doubting that Nathaniel Clyne is a very good right-back. He is extremely solid defensively and is rarely beaten in 1v1 situations, he also provides a constant outlet in an attacking sense on the right despite the weaknesses he has when he finds himself in attacking positions. So long as Clyne continues to work on his attacking play there is no reason why he cannot be Liverpool's right-back for many years to come. Clyne's deputy is Trent Alexander Arnold, the young 18 year old who has progressed through the academy and has made a handful of appearances in the first team this season. He provides a perfect alternative to Clyne due to his more attacking style of play, therefore, against teams who like to sit back TAA could be the perfect replacement for Clyne should he need a rest or if Klopp is looking for a more attacking option. Joe Gomez also has the capability of filling in at right-back providing a more defensive back up to Clyne and as a result I think Liverpool have enough quality and strength in depth at right back going into next season.

Centre-Back
In order to compete on all fronts next season it is likely that Liverpool will need five good centre-backs, two of which are top quality. In Joel Matip the Reds have one quality centre-back and although Dejan Lovren receives plenty of criticism he does have the attributes, work rate and quality to be a good back up option to the two first choice centre-backs. This means Liverpool need to be in the market for another quality CB to partner Matip. The Reds have been strongly linked with Virgil Van Dijk and to a lesser extent Kalidou Koulibaly. Signing either one of these would go a long way to solving our well documented defensive issues with both possessing the necessary attributes a CB playing in Klopp's system needs. Like many, I would like to see Joe Gomez given more of chance next season and the domestic cup competitions should provide him with the opportunity to gain experience and confidence playing at CB. It is still unclear how highly Klopp rates him but he certainly has all the physical attributes required to be a top player in the future. The fifth choice centre-back is likely to either be Klavan or Lucas, both of which are reasonable players who understand the way Klopp wants to play and can be relied on in a handful of games in a season, but if Liverpool are to a achieve their ambitions next year neither should be used on a regular basis. Liverpool conceded 42 goals in the league last season, the second most of any of the top 6 and as a result, it is clear that Liverpool need to recruit a top quality centre-back in order to strengthen their defence giving them a more stable base to build from.
Left-Back
Left-back is a position Liverpool have struggled with over the last couple of years and when supporters were told James Milner would be Klopp's first choice going into this season, many fans were understandably very sceptical. Although I think we need a better left-back going forward I do feel the job Milner has done this season has been a very good one and there is no doubting he would make a solid back up option. It looks as though Alberto Moreno will be sold this summer which means Liverpool will have to a sign a left-back one way or another. The question is, will the left-back be brought in to compete with Milner, which surely at a team like Liverpool must be the case or whether he will be bought to be Milner's understudy. As mentioned, I think if the team want to have a successful season by winning trophies they must sign a left-back who can compete with Milner, a solid left-back but one who rarely does anything special. In Klopp's system, the two full-backs are key players so surely we should be looking to improve this area of the pitch to take us to the next level. There were strong rumours that Liverpool were interested in Fulham's 17-year-old Ryan Sessegnon but it seems as though he will be going to Tottenham. Although he may have a lot of potential, it's difficult to see him coming into the team and taking Milner's spot for next season. The benefit of having two quality full-backs in such an expansive system has been highlighted by the success of Tottenham this season whose full-backs, Walker and Rose, really provide the team with a strong attacking base to build from as well as being pretty solid defensively. Although signing Sessegnon may be a good investment for the future and one I think we should make, a left-back who can come in and compete with Milner straight the way is a must if this Liverpool side has any ambitions of competing on all fronts next season.
Defensive Midfield
Although Liverpool don't play with an out and out holding midfielder, when fit it has been the captain Jordan Henderson who has been playing in the number 6 role. However, a persistent foot injury has meant he hasn't featured since February and after playing just 15 games in the league last season question marks remain over his injury problems. When fit there is no doubt Henderson is Klopp's first choice as the number 6, a role the captain is continuing to learn and improve in. When injured it has been Can or Lucas who have filled in for him. Emre Can is a very versatile footballer capable of playing in the 6 or 8 position and when he moves the ball quickly and understands the discipline required to play at the base of the midfield I think he is more than capable of being a very effective defensive minded midfielder. It would be right for the club to have concerns over Henderson's injury record, which may be why we have been strongly linked with RB Leipzig's Naby Keita, a player again capable of playing in the number 6 or 8 role. I think defensive midfield is an area of the team Liverpool do need to strengthen but signing a proper holding midfielder is unlikely, therefore, a player such as Keita who has the attributes to play as both a box to box and holding midfielder would be perfect. This would add real quality in this area of the pitch, complimenting the attributes of Henderson and Can allowing Liverpool to rest players in this area of the pitch whilst still challenging in all competitions. Despite his weaknesses Lucas performed admirably in this role at the end of the season but it is likely both him and Kevin Stewart will leave the club this summer.
Central Midfield
There is no doubt that Liverpool have a wealth of options in this area of the pitch, from the box to box type midfielders of Emre Can and Gini Wijnaldum to the more attacking and technical attributes of Adam Lallana and Phil Coutinho. Should Klopp view Coutinho's long term position as a central midfielder then apart from a Keita type player it is unlikely that the Reds will strengthen in this position, which I feel would be the correct decision. The quality of these four players is well documented, the strength, power and defensive attributes of both Can and Wijnaldum compliment the flair, invention and dynamism of Lallana and Coutinho wonderfully. Furthermore, the quality both Marko Grujic and Ovie Ejaria posses should not be overlooked with both likely to play important roles next season either coming off the bench or in the domestic cup competitions when key players are being rested. The importance of having strength in depth in this position takes added importance due to the injury record of Adam Lallana who always seems to miss a handful of games each season. We must be prepared for this and having such options should mean Liverpool will be more than capable of dealing with such an injury. Should Klopp want a more attacking player to operate in a number 10 role then he could always bring Firmino back into midfield to give the Reds even more creativity and attacking threat. If Klopp wants Phil to return to the left of midfield then another creative player should be bought to compliment the qualities Lallana brings to the team. Without him in midfield we miss his creativity, technical ability in tight spaces, not to mention his work rate off the ball. The Reds have been linked with Alex Oxlade-Chamberlain, which would be the sort of signing Liverpool would need should Coutinho return to the left hand-side, however, his dreadful injury record suggests signing him would be an unnecessary gamble, therefore, alternative targets should be looked at.
Wingers
Should Coutinho be viewed as a central midfielder next season then remarkably Liverpool only have one senior wide player in their squad. Sadio Mane has had a fantastic first season and there is no doubt in my mind he will be just as good if not better next. But the lack of quality and depth we have in this position was evident too often last season and was magnified during the Senegalese's spell at AFCON. Liverpool were unable to play the same way without him with no-one in the squad capable of replicating the pace and dynamism he possesses. This needs to be addressed. Should Coutinho be used in midfield next season two wingers must be purchased, one of which will play regularly on the left hand side and the other who will provide competition on both sides of the pitch. Liverpool had been strongly linked with Julian Brandt but it seems as though he had reservations about the game time he would get. As a result, Liverpool have turned their attentions to Mohamed Salah and it looks as though the transfer will be confirmed in the coming days, which I think will be a great signing. The Reds have also been linked with Demarai Gray who possesses the necessary attributes to be a good alternative to Mane, however, strong question marks remain over his attitude and work rate. Academy prospects such as Harry Wilson and Ben Woodburn should also be given a chance in wide areas next season should they prove themselves to Klopp in pre-season, which would mean Liverpool would have five to six good options going into next season allowing them to challenge in all competitions. Should Coutinho be deployed on the left next season then signing just one winger would be sensible but a midfielder who could play both centrally and out wide would need to be purchased to compensate for his absence in central midfield. It would appear Klopp has reservations about Sheyi Ojo and therefore, it is unlikely he will feature regularly around the first team next season but that is not to say he can't impress the boss in training forcing his way into the first team picture.
Strikers
Roberto Firmino has been Klopp's preferred option up front this season and the Brazilian has adapted to his new role admirably. His hold up play, movement and work rate are all key strengths of his, attributes the boss loves to see but one question mark remains over the Brazilian and that's how clinical he is in front of goal. Firmino has managed just 11 goals in 34 Premier League starts this season and although he has played a handful of games in wide positions this just isn't enough for a striker playing up front for Liverpool. Whether Firmino can improve his finishing and become a prolific striker is yet to be seen but one thing is for sure, we need a striker who can compete with him in this role next season as the Brazilian's intensity means he will be unable to play every game we need him for next season. When he is being rested we need a player of real quality to take his place without it having an adverse effect on the team. If Sturridge could be relied on to be fit when needed he would provide the perfect solution but due to his persistent injury problems the Englishman should not be viewed as a reliable option to replace the Brazilian. If the Reds can afford to keep Sturridge, then it gives them great strength in depth as they look to challenge in all four competitions, however, if it's question of signing a top quality centre forward and selling Sturridge or keeping him and signing a young striker who will need a season or two to develop his skills then a team like Liverpool who have ambitions of winning trophies must sell Sturridge. There is no doubt that the Englishman is world class when fit and firing but he just can't be relied upon, therefore, having him fit should be viewed as nothing more than a bonus. Signing a young, unproven striker would highlight everything that has been wrong with the club for the past couple of years, if Firmino's injured or needs resting then we need a top quality striker to take his place, especially if he has to come in against some of the best sides both domestically and on a European scale. Divock Origi is a young striker with all the attributes to become a top player but in order to get the best out of him he needs to be played as part of a front two due to his technical weaknesses. Origi can be a great option off the bench next season when games start to get stretched and in domestic cup competitions, but relying on him to fire us into challenging for a league title or going far in the Champions league would be wrong. Liverpool can't compete financially with some of the top clubs in Europe for players such as Antoine Griezmann but how about looking at the tier below such as Alvaro Morata, Alexander Lacazette or Timo Werner? Athletico Madrid looked like they'd won the race to sign Lacazette, however, with their transfer ban being upheld it seems increasingly unlikely he will move to Spain, as a result, he must be a player Liverpool are interested in. Danny Ings is continuing his comeback from injury and could add yet more depth to this frontline but recovering from two long term injuries is not easy and he should not be relied on heading into next season. I'm a big fan of Fimino's but there are times when you need a prolific goalscorer to step up with a moment of brilliance to win you a game when things aren't going well, not a young striker, should we sign one, who fits the system but doesn't quite have the maturity or quality to win you big games of football.
Achieving Champions League football provides the Reds with a perfect opportunity to add both quality and depth to their squad for next season. Liverpool should be aiming to compete on all four fronts next season and signing any less than 5/6 players would cause the Reds some serious problems when having to deal with weekend and midweek fixtures on a regular basis. There are two or three positions where players should be signed to go straight into the team such as at CB in particular, while another couple of players should be bought to compete with the starting 11, ensuring that Liverpool have the strength in depth to deal with the added demands of European football. The high intensity game Klopp plays means the Reds need a bigger squad than most if we are to see Liverpool become a successful team once again. It's up to FSG to dig deep and back the manager, allowing Klopp to sign some top players going into next season should Liverpool have any aspirations of challenging for multiple honours. It's time we started to learn from our previous mistakes in the transfer window and buy real quality. This is a wonderful opportunity we've earned… so let's not waste it!