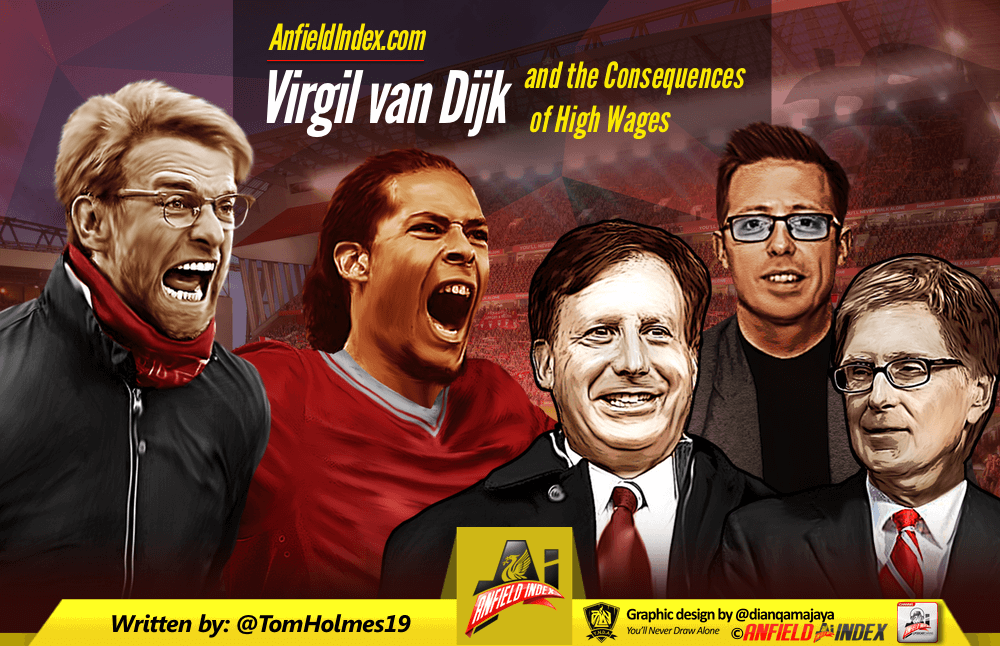 Van Dijk and the Consequences of High Wages
So the word on the street is that Liverpool will have to offer, and are offering, £200k a week in order to secure the signature of Southampton central-defender Virgil Van Dijk. And if it's true, and if the club can get the deal over the line, neither of which are 100% certain just yet, then that will be a massive statement of intent from FSG.
But whilst there are a vast number of reasons to be excited about this deal, and whilst there are even more reasons to suggest that it is absolutely worth doing, this article intends to highlight one potential problem with the move, or rather one potential downside. And that's the wages.
Now this isn't a criticism of Van Dijk's quality as a player. I'm not intending to suggest that he's not worth £200k a week, nor am I suggesting that Liverpool shouldn't pay that money either. If 200k a week is what is required to get the Van Dijk move over the line then for many reasons that is what should be done. But the problem comes when you compare what Van Dijk is earning to the club's other top earners. In other words, giving Van Dijk 200k is stretching, if not breaking, Liverpool's current wage structure.

The issue is that back in January, Liverpool made a statement as to how much their top earner was going to be earning, when they gave Phillipe Coutinho, Liverpool's most exciting talent and arguably their best player, a contract worth £150k a week. So for Van Dijk to be coming into the club just six months later and earning potentially £50k more than that could raise issues.
The numbers look even starker when contrasted to some of Liverpool's other big names. Sadio Mané, Liverpool's player of the year and his fellow big money signing last summer Georginio Wijnaldum are both earning less than half as much as Van Dijk, and the club's captain Jordan Henderson and Bobby Firmino are both on half as much too. If rumours are to be believed, Liverpool's other big target of this window: Mo Salah could be on similar numbers to these players, also leaving him earning half as much as VVD.
Now the promotion from within of new contracts for Coutinho, Lallana and Lovren amongst others has slightly increased Liverpool's top band of wages, but nobody could deny Coutinho deserves his wages, and there are plenty of players at the club earning around 100k and up to 150k a week. For a new player to come in and suddenly be earning twice as much as the majority of the squad, including big name first team players, could have a potentially unsettling effect. The likes of Mané, Henderson and Firmino could well be demanding more, and whilst it's highly unlikely any of them will, even Coutinho could be raising his eyebrows.
Moreover, there will be players in the first team squad renegotiating their contracts. Emre Can is the most prominent name and he is currently earning just over a quarter of what Van Dijk would be earning. Can could be seeing his wages almost double and still be earning almost half as much, as he enters the period of his career where he might not be expecting another wage increase for a while. Another player who might be looking at an improved deal is Simon Mignolet, on just £60k a week despite potentially becoming one of the most vital players in the side next season.
It is of course, unfair to suggest that any players in the Liverpool squad will be demanding wages of 200k a week, but the problem is that when you pay someone in the team twice as much as almost everyone else, especially when that player is a new player, it can cause issues in the dressing room. That of course is where Jürgen Klopp comes in, and whilst there's no doubt that the players have bought into Klopp's philosophy, Klopp himself could prove crucial in ensuring that the massive wage discrepancies don't cause any issues.
And of course, this might not become an issue at all. Van Dijk might not sign, he might not be earning 200k a week, and if he is then that might not be an issue at all. Liverpool might offer fresh, shiny contracts to some of their key individuals, said individuals might be happy the way things are, and there might not be any negative side effects to signing a player earning significantly more than anyone else in the team.
Regardless, it shall be interesting to see how FSG deal with the issue of wages; but if they do end up breaking their wage structure, by quite a significant margin, then an issue it might well become.