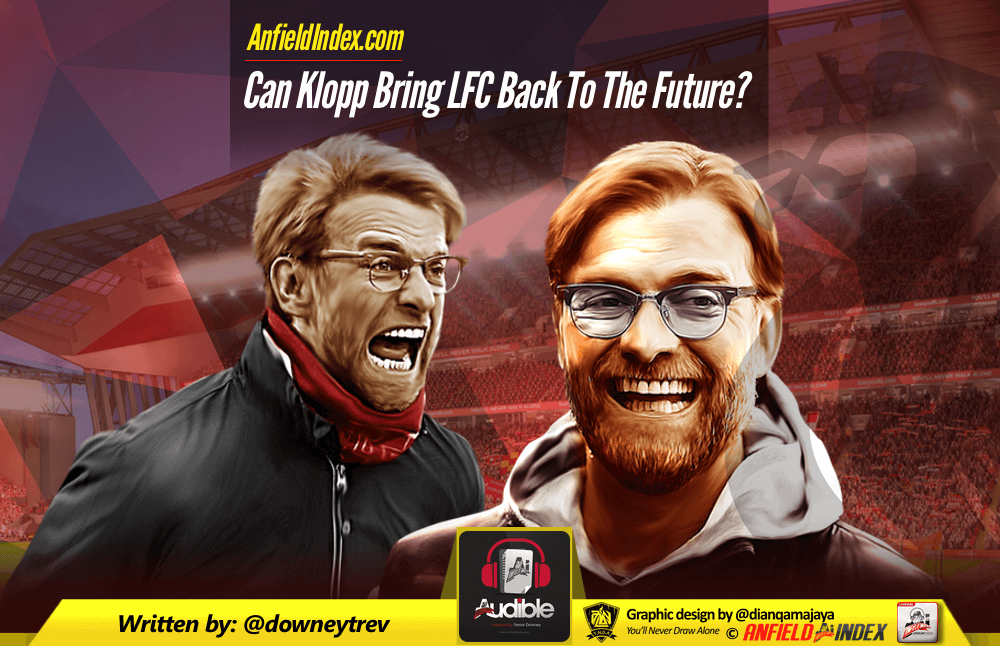 Can Klopp Bring LFC Back To The Future?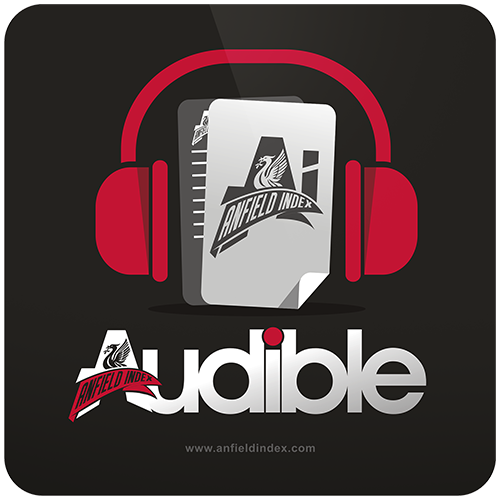 Listen to this article via @AIAudible !
As an English literature teacher, it can be a challenge to keep creating engaging writing tasks to present my students with. I've been doing the job for two decades, you see, but I try to be original in as many aspects of my life as possible and so the natural inclination is to eschew clichéd ideas and predictable decisions. This is basically why none of the young men who've graced my classroom over those years have ever been asked to write a letter to their future selves. It's a battered old chestnut of an assignment and I've never been one for playing conkers – I'm not that old. I can see you, reader, and I don't care for your sneering expression of youthful smugness.
Over at New Balance Towers and Liverpoolfc.com, the advertising and content gurus do not share my exacting standards, it would appear, for today, no lesser light than the gaffer himself, Jürgen Klopp, stars in a promotional video with that very premise. Never one to shy away from the camera's gaze, the bearded Swabian, who has flogged cars and skin products with admirable screen presence, is presented against a background of evocative images and a swell of poignant music as he voices some advice to the man he will become. A splendidly earnest looking Klopp, stares in a brooding fashion, around Anfield as his distinctive voice rumbles in concert with the images on the screen.
The essence of his missive to Jürgen The Elder is that he should recall with humility the opportunities he was afforded and take some pride in the drive, passion and single-mindedness he displayed in attaining success. There are, of course, all the hallmarks of the classic speeches about the path to victory – the "people who walk with you side by side," the mistakes that "made you stronger," and the zen awareness that, after all, "it's about more than just a game," but there is something oddly stirring about it. It is hugely alluring for Liverpool fans to imagine the German looking back on a period of sustained success at Anfield, because, well, that would mean there will be a period of sustained success at Anfield.

"Remember what this was all about," Klopp intones solemnly, "how you were given the chance to live your dream, and accept every challenge as little or great it may have been. You always believed in defeating even the very best. Remember how you prepared for those moments, painstakingly working in silence off the pitch, behind the scenes where nobody could see you. You felt the silence following defeat. You heard the voices of all those sceptics becoming louder. Mistakes made you better, they made you stronger. Now you know the sound of victory, the sound of celebration and joy. Remember where you started and where you are now. You touched all those people's hearts and they held their breath with you. Think of all the people who walk with you side by side, how strangers became a team, how a team became a band of brothers, sharing dreams. Remember, it's about more than just a game."
If the press had known Herr Klopp had the power of divination, you fancy they'd have been a tad more exacting in their inquiries about his plans for the future, especially, for example, in relation to the players who might one day pull on the red shirt. Interestingly, at no point in his note to himself does the manager mention his excruciating embarrassment at the spectacular mess his colleagues have made of his transfer plans. One can only assume that this means either today's cataclysmically mortifying apology to Southampton never happened and we're all in some kind of parallel universe or it will all be okay in the end. Yes, I know it was done before the Van Dijk farrago, but as I said IT WILL ALL BE OKAY IN THE END, OKAY?
It is not easy, in the wake of the club's most cringeworthy transfer balls-up to date, to remain defiant and ebullient, but those are traits that Jürgen Klopp possesses in spades and, as a man who has a little perspective in the area of how genuinely awful life can be, your columnist is going to refrain from the type of understandable irritation that will be the preserve of so many other paragraphs today. It may be a shameless corporate promotional video, but damn it, I'm going to watch it again and let our manager's avuncular baritone lull me back into my happy place.