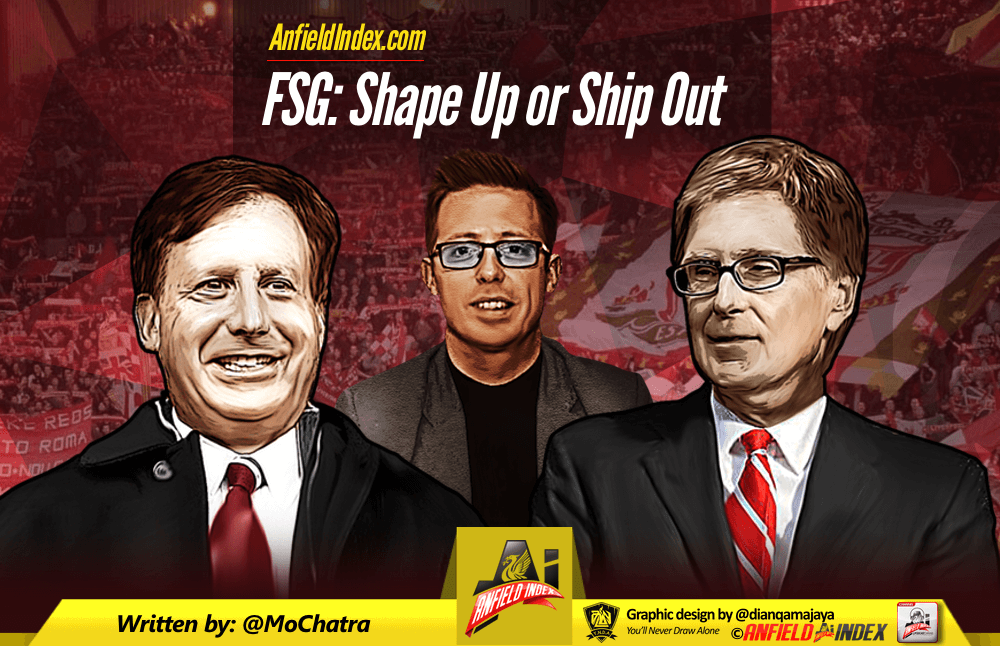 FSG: Shape Up or Ship Out
It's happened again… it's happened agai-ai-ain… Tottenham Hotspur, it's happened again!
So goes the now famous Arsenal song that was aimed at Spurs fans every season for two decades, when the day arrived each year, and it was confirmed that, yet again, their North London rivals wouldn't finish above them in the Premier League – what became known as St. Totteringham's Day. Clearly, that song was rendered irrelevant the season just gone when Spurs finished some eleven points ahead of their Islington adversaries but there's a damn good argument for rival fans of Liverpool to resurrect a variation of that chant and aim it at the Anfield club.
See, we've messed up a transfer yet again! Embarrassing. Shambolic. Amateurish. Just a few of the more milder descriptions for the events of this week that saw Liverpool fans in a state of euphoria when the mainstream press announced that Virgil Van Dijk had chosen the Redmen ahead of rival clubs as his next destination at 5pm on Monday, only for a Fenway Sports Group-directed apology to be posted on the club website 49.5 hours later aimed at Southampton that also confirmed the club had ended its interest in Jurgen Klopp's primary target. Unfortunately it has been an all too familiar tale throughout FSG's near seven year reign as the club's owners.
In their very first transfer window, with no experience, scant footballing knowledge, FSG authorised the knee-jerk signing of Andy Carroll for £35m (following the contentious £50m sale of Fernando Torres to bitter rivals Chelsea) – a largely unproven and limited striker who at best was worth £15m in the 2011 transfer market. Rival fans got much mileage out of mocking us for what was clearly an absurd transfer.

Who can forget the summer transfer window of 2012. The club had put a kibosh on the King's reign, with Kenny Dalglish sacked for delivering an eighth placed finish despite a League Cup triumph. Brendan Rodgers came in on the strength of his 180-page dossier, and following underwhelming signings in Fabio Borini, Joe Allen and Oussama Assaidi, fans hoped he and the club would surprise us with marquee signings in late-August to get everyone excited (especially given the departure of Andy Carroll which left Luis Suarez as the club's only established centre forward). Instead, transfer deadline day turned into a nightmare.
We all sat there in front of Sky Sports News hoping for news of something. We tuned in the evening of 31 August 2012 to LFC TV, which featured a live studio special with Claire Rourke and Roy Evans to talk about transfers. As the hours and minutes ticked by and we closed in on the 11pm deadline, all the hopes and expectations were replaced with fume and anger. There was nothing. Rourke and Evans sat there, awkwardly looking at one another with little idea about what to say or do. It was embarrassing, so much so that John W. Henry issued a statement to fans three days later to apologise for the lack of activity.
During the following season, we were in a title race and needed adequate back-up to the red-hot Suarez and Sturridge (their sole back-up was Iago Aspas, who's stint on Merseyside was an unmitigated disaster, though that's not all down to the player). In the January 2014 transfer window we firstly sought Mohamed Salah (who was keen to join us), an exciting prospect at Basel. Needless to say, we missed out on him due to wasting time haggling over £3m and Chelsea simply swooped in and bought him for what transpired to be little reason other than to avoid the player joining us.
We then turned our attentions to Yehven Konoplyanka. Ian Ayre even flew out to Ukraine to negotiate directly with Dnipro. Once again, fans got their hopes up. Many had even gotten so far as perfecting how to pronounce his name. It was all in vain. Once again, on transfer deadline day we couldn't get the deal over the line. Once again, Liverpool were a laughing stock.
Did we learn from all these transfer debacles and become a more slicker operator in player recruitment? Fuck no. Fast forward a few months into the summer transfer window of 2014. The inevitable departure of Luis Suarez came on 11 July. It was clearly expected after – for the third time in his career – Suarez sunk his teeth into an opponent, and at the World Cup no less with Giorgio Chiellini his latest victim.
Despite his imminent departure, we were clearly going to receive a sizeable transfer fee for him and with other player sales plus the return of Champions League football, we were going to go into the market and recruit the finest talent from around Europe, right? Course not.
We tried for Alexis Sanchez but he spurned us for the brighter lights of London and joined Arsenal instead. It was fine. We'd surely have a suitable list of alternatives if Sanchez didn't materialise. Don't be silly. We had no clue who to go for. When a journalist asked Brendan Rodgers during a US tour if we'd consider Mario Balotelli, his answer on 3 August was "I can categorically tell you that he will not be at Liverpool next season". Balotelli was wearing the Liverpool shirt after signing for the club just three weeks later.
In October 2015, Jurgen Klopp arrived at Anfield to much fanfare after Rodgers was relieved of his duties. The former Dortmund manager inherited a squad that had finished sixth the previous season and abjectly failed to build upon the success of the 2013/14 season. There were areas of the squad – defence and attack especially – that were clearly in need of bolstering. Klopp's first transfer window came in January 2016.
We made a play for Shakhtar Donetsk's wing wizard Alex Teixeira. In the end, inevitably, we couldn't get the deal done and he went to China instead. After joining Jiansu Suning, in explaining why he didn't join the Reds, he explained, "all the proposals that came from (Liverpool) were somewhat windy and did not contain anything concrete." Sound familiar?
Then let's skip to Klopp's first full summer transfer window. At the end of the 2015/16 season, there was a general consensus that Liverpool desperately needed to improve its defence. Fans knew heralded Schalke centre-back Joel Matip was on his way but many fans hoped to see two or three further additions to the back-line, especially after irreconcilable differences set in between the manager and Mamadou Sakho and four other defenders were ushered out of the club. Did we go and splash a bunch of cash on defensive reinforcements? Not quite. We brought in a barely known Ragnar Klavan from Augsberg for £4million, and for much of last season, he played like a £4million defender. Oh, and we made a tidy profit on transfer activities last summer too. Wonderful.
That brings us to this summer (we spent no money in the last January transfer window, yet again). For much of the spring months, multiple sources told us Virgil Van Dijk, Naby Keita, Julian Brandt and Ryan Sessegnon were the primary targets for summer activity along with potentially a new striker if Daniel Sturridge were to go. Figures of between £150m and £200m were touted. The manager would be backed by the owners after all but securing Champions League football for next season (winning a two-legged qualifier permitting), we were told. We're only in early June and it looks like none of the four primary targets will materialise, and in the case of Klopp's number one target, Virgil van Dijk, we've hit a new low in the way that deal has come apart at the seams.
Various parties are being blamed for this latest of many debacles, from Sporting Director Michael Edwards to Klopp to the player's agent and even Twitter ITKs. Ultimately, the buck stops with the owners.
Throughout their reign, Liverpool's recruitment and transfer strategy has been driven by FSG. Our approach to negotiations, valuations, discussions over remuneration packages and all related issues comes from them. And during their time in charge, transfer dealings have been a complete and utter failure. Sure, during their time we have secured some fine players like Daniel Sturridge, Philippe Coutinho and Sadio Mane, but for all the transfer successes we've made countless poor signings and missed out on many high-quality players because of an incoherent, unrealistic and ineffective recruitment strategy.
What's more, it was their decision to appoint Michael Edwards to the very important position of Sporting Director last November. I'm sure Edwards is a fine data analyst but being able to use performance data to identify strengths and weaknesses of players at the club, as well as to use it to identify targets for recruitment, is one thing. Being able to sit on the other side of a table from a Jorges Mendes, Mino Raiola or Volker Struth is another. Edwards has all the gravitas of Auntie Edna's slightly-cracked porcelain vase on her mantelpiece. He is simply not at the level needed for such a position at what is supposed to be a European powerhouse.
Indeed, Liverpool is one of the world's most popular teams and amongst the top ten richest football clubs across the globe. No other team around Europe of its standing has enjoyed as little success as the Anfield outfit- one trophy and two top-four finishes is frankly pathetic. This is largely down to consistently poor recruitment and the responsibility for this lays squarely with FSG.
The whole saga around Virgil Van Dijk is just the latest in a long list of embarrassments for Liverpool fans. Quite frankly, we've all had enough of it.
There is still a long time left in this transfer window for FSG and their management team to redeem themselves and deliver the quality of players their world class manager needs to bring silverware and success that the club's legions of fans have been starved of for far too long.
However, if FSG don't fix this mess and they oversee yet another summer transfer window in which they under-deliver, then quite frankly, they need to put themselves on the transfer list and look to move on.