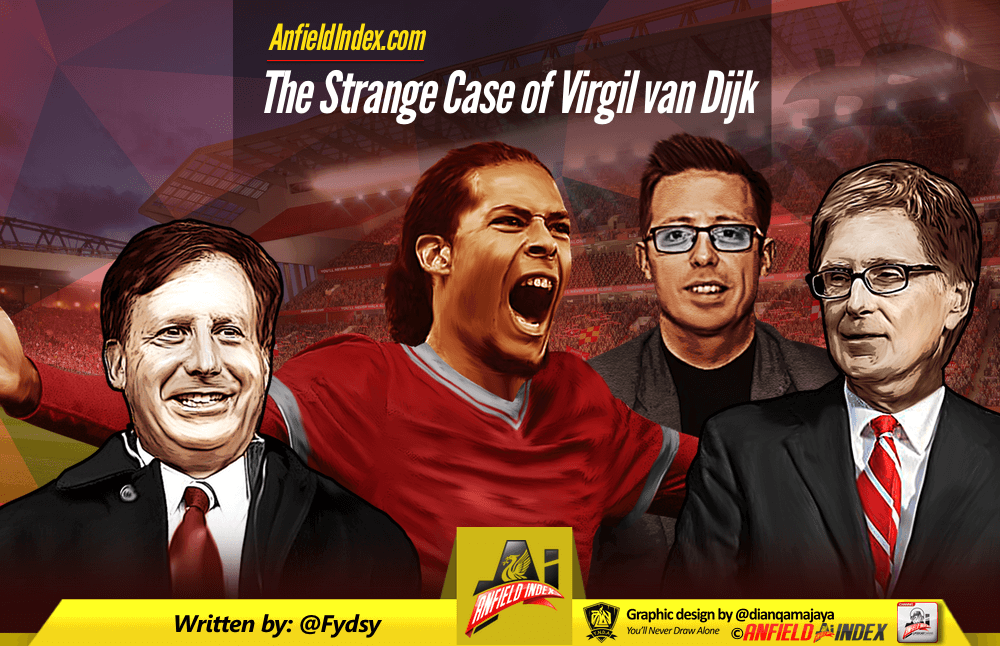 The Strange Case of Virgil van Dijk
On 7th June, 2017, Liverpool Football Club issued the following short statement:
Liverpool Football Club would like to put on record our regret over recent media speculation regarding Southampton Football Club and player transfers between the two clubs.

We apologise to the owner, board of directors and fans of Southampton for any misunderstanding regarding Virgil van Dijk.

We respect Southampton's position and can confirm we have ended any interest in the player.
Read it carefully…it talks of regret over speculation over transfers between the clubs, it apologises for 'any misunderstanding'. What it does not do is admit any clear or obvious 'wrongdoing'. This is important, as you can bet this statement was not issued before the clubs lawyers had pored over it and scrutinised the wording, as in law, wording and phrasing is everything.
So if they're not admitting to any clear guilt about something, why issue a statement at all?
Well, to try and get a handle on this, let's look at what we actually know.
Those who follow me on twitter will know I often rail against taking the speculation in the press and other media, the insights of ITK's etc., too seriously or as gospel. This business illustrates this all too clearly.
For some months now, possibly really getting momentum since January, every football pundit, media journo and ITK have been convinced that this summer Dutch international Virgil van Dijk would be leaving Southampton to further his career and make the 'next step up'. Hardly surprising, you may think, as that has tended to be the pattern with Southampton for over a decade. They buy players well, almost always from the European theatre, and they coach and develop youngsters well – but being a Premier League middling team, they can't – or don't try too hard – to hang on to them, be it Theo Walcott, Luke Shaw or most recently, Sadio Mané, Southampton tends to be a club you get your start at in the PL before moving up if you're good enough. Financially, Southampton have done very well out of it. They have a newish but small stadium, have had mixed fortunes with owners (they're about to change again unless I've missed it and it's already happened) and have a regional strong, but not huge following. Transfers, buying cheap and selling big has kept them in decent shape, and they have done well out of Liverpool in recent seasons.
With Virgil van Dijk, whom Southampton bought from Celtic for £13m two seasons ago, much the same pattern was expected. Hardly would a Southampton televised game go by without it being mentioned that van Dijk was going to surely be off to a team with title and Champion's League ambitions. Spurs, Chelsea, City, United and Liverpool were regularly mentioned to the point it became received wisdom. Interestingly, at no time do I recall Southampton officially saying he was not for sale – what we heard in fact, was that they were likely to want around £50m for him – quite the profit. Clearly, Virgil van Dijk was Southampton's most sellable asset.
In time, as ever with these things, the list narrowed – Manchester City, Liverpool and Chelsea were the main likely suitors, possibly a top European club would be sniffing at the seams – Atleti and Bayern were also mentioned now and again. All this, despite the fact van Dijk himself hadn't kicked a ball since January due to a nasty injury.
With season's end, Southampton were resolutely mid-table, had lost a cup final and van Dijk's likely suitors were all in the Champion's League and looking to reinforce for the new season, even though the official transfer window was not going to be open until July 1st.
Many believed Chelsea or City would be favourites, having apparently more disposable cash and being able to pay silly wages, even though even the richer are clubs are becoming resistant to some of the demands expected of them in this regard.
Others however, thought Liverpool stood the best chance because of three particular reasons. One – Jurgen Klopp, a hugely charismatic manager who players like to play for and who was clearly building something special at Liverpool, who despite finishing fourth, had played probably the best and most exciting football of anyone – also, their defence clearly needed reinforcements, so someone like van Dijk would certainly become a regular and not a bench warmer. Two, one of van Dijk's good friends and international colleagues, Gini Wijnaldum was at Liverpool, which is also often a help in easing recruitment – it can certainly be expected that Wijnaldum will have told van Dijk while on international duty how much he was enjoying his first season at Liverpool. Three, Liverpool and Southampton have a strong recent history of doing deals with players going from Southampton to Liverpool in regular and equitable fashion. Dejan Lovren, Adam Lallana, Nathaniel Clyne and Sadio Mané all moved in that direction of late for good money, and all established themselves as first team regulars. All this it can be assumed with some degree of safety, would look attractive to van Dijk.
It then became known, seemingly starting with an interview for the Dutch media, that van Dijk did indeed, favour Liverpool. While this on the face of it was good news for Liverpool, it cannot be said it was good news for Southampton. Chelsea and City both publicly or semi-publicly, in turn, dropped their interest, if indeed they had any – you can't be certain simply because the media says so. This meant Southampton's most sellable asset now appeared to have only one chosen destination to head to, and no auction would be taking place. You can bet they were not happy about this.
After a few days of fan and media discussion on the matter, on June 6th Southampton announced they would be complaining to the FA about Liverpool improperly 'tapping up' their player, Virgil van Dijk. The next day, they sacked their manager Claude Puel. Puel had had a mixed season, Southampton accrued fewer points than the previous season but did reach a cup final which they should have won, and also suffered a number of telling injuries, not least to van Dijk himself, and had even sold his reliable defensive partner, the Portuguese international José Fonte to West Ham. It had been thought for a while that Puel's position was insecure – 50/50 if he would stay or go. We can only speculate of course, but was part of the reason he went because perhaps he was happy to sell van Dijk to Liverpool for around the £50m mark, and invest that in new players, while the Southampton board most certainly were not? We can only guess at that, but certainly a few Southampton fans think this likely – even if they were not his biggest fans.
The implication then (we have not seen what Southampton wrote to the FA), was that Liverpool had 'tapped up' van Dijk. Rumours abounded. Klopp had spirited him to a private meeting in Blackpool (why Blackpool?), Gini had been having a word on international duty (before VvD's injury) or – most likely – van Dijk had been talking to Mané whom he had played with the season before at Southampton. In this era of mobile phones, Skype etc, when a player moves clubs, it's not uncommon for them to keep in regular contact with ex-team-mates, even meeting up for dinner, holidays etc. in a way it was less possible to do not so long ago.
So what is 'tapping up?' Officially, tapping up is defined by one club making an approach to the player of another club without getting the permission of that club first. How much it covers the agent of a player contacting other clubs is a little more opaque.
So how do you police it? Well, 99% of the time you can't – it's very difficult to prove, so much so that it seems to have been Alex Ferguson's favoured method of getting players for Manchester United, the Jaap Stam case being notorious. Does everyone do it then? Well, probably yes – intentionally or otherwise.
Did Liverpool do this with van Dijk?
We don't know, but it's likely – even though they're certainly not fully admitting it if so.
So why the apology of sorts then?
Well, as told, Southampton reported Liverpool to the FA. The FA apparently were not keen on taking further action. It's possible that the FA then asked Liverpool to draw up a carefully worded statement apologising for any 'misunderstanding' (perhaps Southampton insisted on such a course) and then the matter would be dropped. This then, seems to be what has happened, and talking to a sports Lawyer, it's also what they believe is the most likely course of events. That Liverpool cease any further interest in the player may or may not have been a part of this.
So in the final analysis, what does it all mean?
It means Liverpool most probably will now not get a player they appear to very much have wanted.
It means Southampton will most probably not get the auction they wanted and dreams of getting as much as £75m for their prize asset are also almost certainly dashed. On top of this, they may now be lumbered with an unhappy player who has had the move he wanted whipped away from him.
It could also be that no one really messed up anywhere, but that Southampton simply wanted mad money for a very good player, but expected considerably more than he was worth, and decided to complain when it became clear they were not going to get it.
There is already talk, one day later – of the deal being revived…maybe, maybe not. Football transfers are complex, often utterly puzzling things to the man on the outside looking in, and often not much less so from those on the inside looking out. I personally don't think it's all that likely that a deal will be revived quickly, if at all – but in football transfers, you can never say never. Liverpool's new CEO, Peter Moore officially takes up his new position today…maybe he will cast a fresh eye on it all.
One thing is certain, speculation and even informed guesswork can only get us so far. The business of football transfers is not dissimilar to icebergs, in that 9/10ths remain hidden from view, and precisely where the fault lies – if indeed there was any notable fault – may never become known.