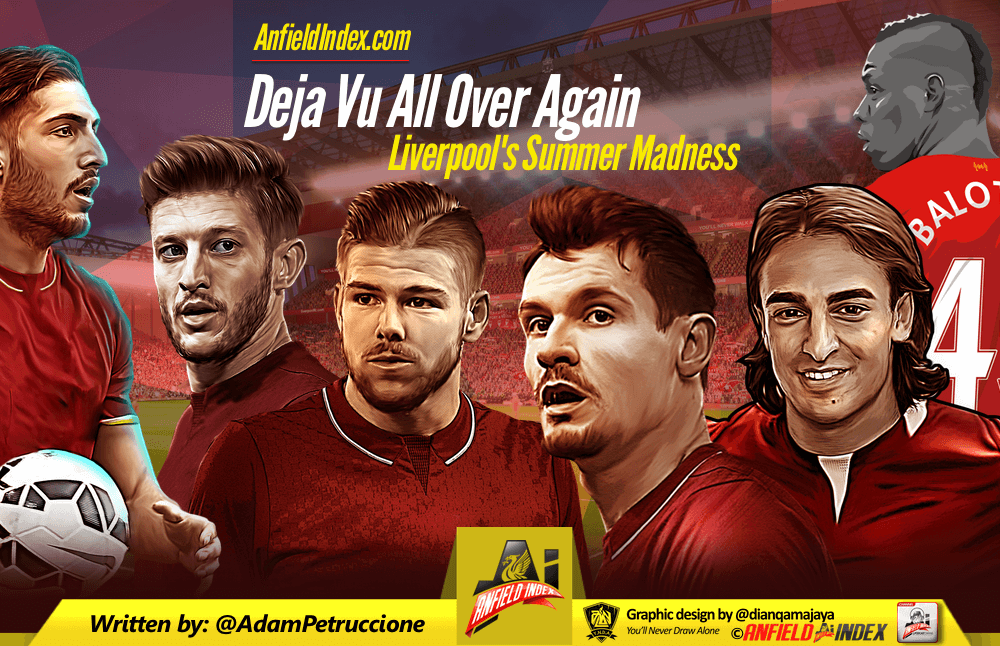 Deja Vu All Over Again: Liverpool's Summer Madness
Ah, the Summer of 2014… World Cup fans on Copa Cabana beach were lining up in front of a poster of Luis Suarez and Liverpool were lining up new signings for our return to the Champions League.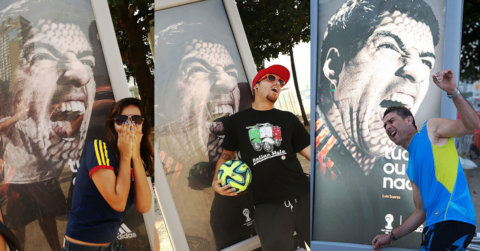 The moment Giorgio Chiellini pulled down his shirt to reveal a Suarez shaped bite mark on his shoulder we all knew El Pistolero would be among the outgoings. Though Suarez could never truly be replaced, surely the club would do whatever it took to prepare a strong squad to compete in Europe's top tournament after being absent for 5 years. Surely…

Adam Lallana – £25m
Lallana was coming off an impactful if unspectacular season at Southampton, scoring 9 with 5 assists in 38 games for the Saints playing in a support-striker role. Only six attackers or midfielders were signed for more in the Premier League that Summer.
Dejan Lovren – £20m
Dejan Lovren was a highly rated young centre-back, coming off of 3 appearances for Croatia in the World Cup and one of his best seasons before or since for Southampton. The only defenders who cost more in the EPL over the course of the window were Mangala (City) and Shaw (United).
Lazar Markovic – £20m
Lazar Markovic was almost pure upside, having made only 7 starts and 6 appearances off the bench for Benfica, scoring one and assisting another in 13/14. His speed and directness were touted in the media far before LFC ultimately decided to roll the dice.
Mario Balotelli – £16m
Super Mario… apparently a panic buy at the close of the transfer window, the mercurial Italian was another speculative pickup for the Reds. He was coming off a season for AC Milan where he had scored 16 in 37 appearances, but many of his goals came by way of penalty kick and Milan were largely looking to offload the player.
Alberto Moreno – £12m
Albie was an exciting Spanish left-back, having scored 3 for Sevilla in 28 appearances the season prior. His speed and surprisingly powerful shot from the left looked like a massive upgrade at the time on Liverpool's less than stellar options.
Divock Origi – £10m
Origi had burst onto the scene in the World Cup, scoring a goal even making 2 starts for a strong Belgian team. Liverpool bought the player and loaned him back to Lille to continue his development.
Emre Can – £10m
Purchased from Leverkusen, Can had made 37 appearances for the German club in all competitions, showing promise in a multitude of positions at the age of 20.
Rickie Lambert – £4m
Lambert was brought home to Liverpool at the age of 32 to be a tactical option off the bench after a 13 goal, 10 assist season from, you guessed it, Southampton.
2014 SUMMER SUMMARY:
Despite a return to the Champions league, Liverpool's Summer moves were largely speculative in nature. The expected starters of the group must have been Lallana, Lovren and Moreno, while Can and Markovic were developmental, Lambert was a temporary fill-in and Origi was one for the future.
The attempt to improve the defence was passable as Lovren and Moreno came in as high-profile and relatively proven signings while Can was able to learn in different positions across the back and defensive midfield.
However, Liverpool's attempts to add to our scoring threat was poor to put it mildly.
Losing Suarez must have been expected as we had fended off Arsenal the Summer prior. The injury record of Sturridge was also well known, though he was coming off of the most consistent season of his career. Ending the window with just Sturridge and Balotelli as recognised strikers on a team that found success playing 2 up-front, going into the Champions League was a purely negligent act.
Was Lallana and/or Markovic intended to play off of a lone striker? It will always be tough to know what the plan was, as the injuries we avoided in 13/14 started immediately in 14/15 with Sturridge rarely being available for any long stretch. We didn't have any player score in double-figures in the league and were bounced out of Europe without putting up much of a fight.
WHO ELSE WAS AVAILABLE?
We can speculate about players that Liverpool could have pried loose with the cash they had on hand, but the only real evidence of who was available is who actually moved that Summer. Alexis Sanchez, his wife's affinity for London and his long walks on the Brazilian beach with Arsene Wenger are well worn topics for Liverpool fans. Needless to say we came up short there, but what else was out there?
Loic Remy could have been a smart short term add while Origi developed in France, but right before completing a deal with Liverpool he reportedly failed a medical, though he would be deemed good enough for Chelsea later in the window. The Blues were in need of a replacement for Everton bound Romelu Lukaku.
On the south coast a young speedster named Sadio Mané was signed by Southampton from Red Bull Salzburg for £10m. He had scored 4 and assisted 3 for Salzburg in the Europa League alone.
In Spain Atletico picked up Mario Mandzukic from Bayern for €22m as well as Antoine Griezmann from Sociedad for €30m while Barcelona loaned Tello and Deulofeu to Porto and Sevilla respectively.
In Serie A Juan Iturbe moved from Verona to Roma for €22m, while Juve scooped up Morata for €20m with a buy back clause.
In the Portugual, Yacine Brahimi signed for Benfica for €6.5m from Malaga.
WHAT COULD LIVERPOOL HAVE DONE?
Could a Champions League bound Liverpool, with money to burn from the exit of Suarez, attracted any of these attacking talents having just completed a season where they scored goals for fun? Lukaku was coming off a loan at Everton, but shouldn't all of the other names been available? If the dreaded "transfer committee" preferred up and coming talents in other areas of the pitch, why wouldn't they have been in for Morata, Mané or Brahimi? Certainly Brahimi wasn't hidden, having scored for Algeria in the World Cup and having played the two seasons prior in La Liga. Was he too old to develop at 24?
Morata had made 23 appearances for Real the year before. Surely someone at Liverpool noticed his 8 goals, scoring 1.3 per 90.
Mané had been one of the best players in the Europa League in 13/14. Was nobody watching?
Mandzukic had come off of two strong seasons for Bayern. Was €22m deemed too much for a 28 year old forward?
Griezmann was a relatively big-ticket item at the time, having scored 16 for Sociedad, but we had the Suarez money… We bought Markovic for 2/3 the money but he wasn't anywhere near as proven in terms of his previous production or the league he played in. We actually paid more for Lallana, who was three years older and had less production for the Saints and yet we seemed to move heaven and earth to get that deal over the line.
Was Atleti as a project significantly more attractive at that time than a resurgent Liverpool? Griezmann was already playing outside his home country. Was the draw to stay in Spain that great? It is true that Lallana wanted to come to Merseyside, but it was also very difficult getting him out of Southampton. Would a Griezmann deal have been tougher to complete overall?
Griezmann and Morata should have been on the radar of LFC brass. They were not playing in some far off league, nor did they explode with their new club without impressive scoring records to suggest this was possible.
Missing out on all ten of the attacking players mentioned above when LFC had the funds and a clear need going into our last Champions League campaign does not fill one with confidence for the months to come.
WHAT WAS/IS THE STRATEGY?
Liverpool's back office seem at their best when picking up young players at a point in their contracts where they can be easily extracted or influenced. With Emre Can, Origi and now Solanke, Liverpool should be celebrated for their ability to add to the squad in an efficient way. Constantly developing that type of player should always allow us to compete domestically, especially if we employ a unique system as we did with Rodgers' diamond or Klopp's press.
However, even though the money is there, we seem to fall down when it comes to making the jump to Champions League and trying to sign top level additions that will allow us to again challenge for European silverware.
Liverpool have been absent from the Champions League since that 2014/15 season, but as we clinched a Top 4 position in the final game of the season Reds supporters were optimistic about the type of players we could attract. As the Virgil Van Dijk and Mo Salah transfers fly apart in full public view we are reminded of the last time LFC seemed to have everything set-up for a successful summer.
Losing an established player like Sanchez to the lure of London wasn't that surprising, but the lack of a "plan-B" certainly was. If the Van Dijk deal is indeed finished, will we sit and watch while teams around Europe are able to aggressively snap up Koulibaly, Christensen or Tah like we did with Griezmann and Morata in 2014?
We certainly hope that Liverpool have learned hard lessons since those days and have made corrections, but the early signs are not encouraging.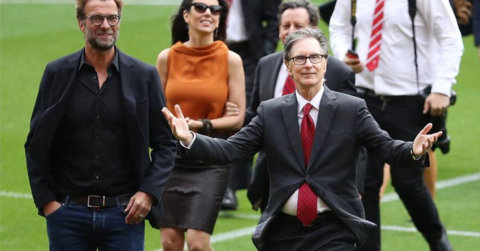 WHAT IS THE PROBLEM?
As mentioned above, Liverpool like to identify a vulnerability that they can exploit with an attractive prospect to get a deal over the line at a below market rate. When it works with young players like Can, Coutinho or Matip we all celebrate.
The problem seems to be that Liverpool aren't recognizing that the same tactics aren't possible when we're trying to jump up a level to truly compete in the Champions League. Virgil Van Dijk was the top CB prospect available and it is a position of need. He wants to come to Liverpool. Sound. Instead of seeing that situation in and of itself as the opportunity to purchase said player at whatever the asking price is, we look to exploit whatever we can to sign the player AND get that player at a cost that is below market value. Information was leaked to the press to scare off rivals and lower Southampton's leverage and we got burned.
We have an equally dire need for attacking depth and an available talent in Mo Salah, who wants to come to Liverpool, having posed with Liverpool fans recently and generally making it known that he would sanction a move. Again, sound. This by itself should be the situation that Liverpool's hierarchy exploits, not the fact that Roma need to raise €30m in three weeks to avoid Financial Fair Play penalties. If Salah can be brought to Liverpool after being one of the most productive players in Italy, the question should be "where can I sign?" not "how low can you go?"
It seems as though Liverpool refuse to pay above the odds even for proven commodities at positions of extreme need. Should they be given credit for holding their ground until the market returns to some sanity? Keep in mind that Yannick Bolasie signed for Everton for £25m after a 5 goal, 3 assist season. Salah hit for 15 and 11 in Serie A alone last year, more than triple Bolasie's production for Palace. Liverpool themselves paid £35m for Mané 12 months ago with far less production to go off of than what Salah has shown. Why only offer £28m for a statistically superior player now?
If Liverpool end up completing these deals for Salah and Van Dijk for £25m less than was originally proposed by the selling clubs, that may be one squad player we can't get and it certainly is a lot of Solanke's, but aren't the stakes higher than that when the ultimate goal is to get back on the level of Real, Barca and Bayern?
Obviously our mode of operation is going to be different and it should be. Liverpool creates superstar players from within and that should always be the aim. If Solanke was quickly followed by signings of Sessegnon, Davinson Sanches, Emre Mor, and Breel Embolo, supporters could get behind that, but the truth is that hasn't happened. Instead we've put our energy into high-priced stars to start off the summer. The argument is surrounding how high priced they should be.
Something has gone terribly wrong for our Reds but it comes down to a penchant for trying to exploit other clubs' weaknesses to extract value for money rather than aiming to exploit rare opportunities to bring in supreme talents no matter the cost. Playing financial games for players who aren't established yet is fine, maybe it's even good strategy, but they need to adjust to the big-leagues or just forget pursuing that type of player all-together.
Liverpool can of course still change course and do the business that will have Anfield in full voice come August, but the chance to acquire top players never lasts long for any club and the clock is ticking.