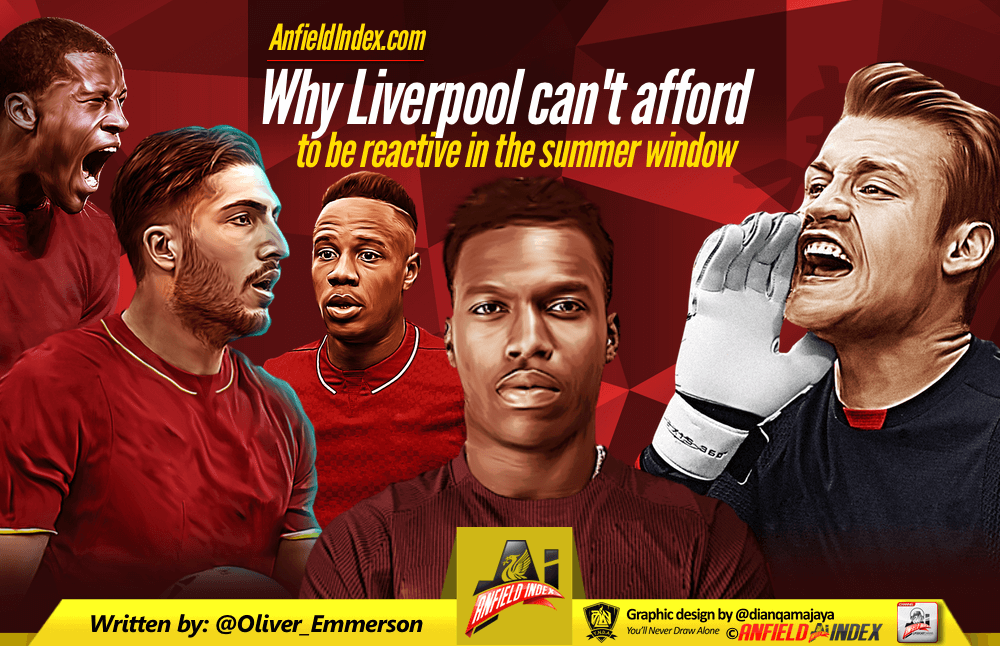 Why Liverpool can't afford to be reactive in the summer window
Ignoring the Virgil Van Dijk fume, ignoring Jordan Henderson's ever lasting bruise and ignoring the civil war over FSG's stewardship of the club, Liverpool fans can agree one one thing.
The last couple of league games were pretty damn good.
A 4-0 win in London, a 3-0 win in Anfield. Everyone was happy, even more so as the full-time blew on the season with Liverpool in the top four and back in the big time, the Champions League.

Journalists, fans and even club officials were quick to hail a successful season – and rightly so.
Also hailed, quite prominently, were the success stories of the season. However, what was striking was how opinions seemingly shifted towards who had contributed later on in the season.
'Sturridge fires Liverpool to the top four'
'Mignolet carries Liverpool through rough patch'
'Reds' defence shores up in crunch time'
These are all, to an extent, correct statements. I'm not disputing them, nor discrediting the individual players mentioned.
What is important, however, is that Liverpool don't take such an attitude into their transfer window approach.
What I'm talking about, is a reactionist approach.
Yes, the one taken by fans on Twitter nearly every day. Liverpool signing VVD? FSG are Gods. Liverpool messed up VVD? FSG are incompetent. Obviously that's something of an exaggeration, but you get my point.
The last season was a long one, and Liverpool fans' opinions changed from one extreme to the other. In January, rightly or wrongly (wrongly), many wanted Emre Can out of the club. Remember that game against Sunderland? Yikes.
Jordan Henderson was, at that point, having a magnificent season if you believed the masses. Six months later, Henderson is crocked and Can is seen as a key player in Klopp's Liverpool team. Should the rumours be true and the German be potentially on his way to Juventus, there would be riots outside the Shankly gates.
You'll see what I'm getting at, now. Daniel Sturridge was superb against West Ham and Middlesbrough, leading people to clamour for him to stay.
Not that I'm Sturridge out, but I am of the opinion that you can't rely on him a backup to Roberto Firmino, let alone a starter every week.
Therefore, you fall back on Divock Origi. The young Belgian had a mixed season with arguably more down's than up's, but did score in streaks and was a key man in Liverpool's four game winning run in December, just after the disappointment of dropped points against Bournemouth and West Ham.
Origi had a difficult end to the season, but does that mean he isn't a viable option off the bench for next year? Of course not, but the whole picture of his season does need to be considered as Liverpool debate whether or not to upgrade on their striking ensemble.
Adam Lallana is in the same boat. Fans of the Englishman will point to his blistering Autumn form and suggest that it's given him a nailed down starting place next season. Those that don't admire him in such light will make you look at his post-Christmas performances and suggest he shouldn't have a sniff of a starting spot.
In the Winter, whilst praising Lallana for his performances I did consider that the levels sustained by him did look like an anomaly spread over his Liverpool career. He reverted back to the norm, and then below it, as the season dragged on, leading to many making him the obvious man to drop out for a Salah, etc.
Whilst this may be true, it's vital that Liverpool consider his season as a whole when deciding his place next season.
Looking at his pre-Christmas form and deciding not to upgrade would be reckless, as would looking at his post-Christmas form and deciding he's obselete. Lallana started the season as a starter who would hopefully begin the next year as a squad player if not for a huge upturn in his performances. That's what should happen if Liverpool aren't reactionary.
Simon Mignolet is a slightly different case, not least as he has capable alternatives on Loris Karius and Danny Ward waiting in the wings.
I was skeptical (heck, you might say reactionary) when a cluster of pieces hailing Mignolet for 'securing his role as LFC #1' came out in the aftermath of the Stoke and West Brom away games.
However, come the end of the season, I looked at his season as a whole and was impressed, coming to the conclusion that for the first time in his Liverpool careeer, he had delivered a season that didn't see me crave a new goalkeeper as the temperature rose and the cricket started.
Perhaps part of that was due to Karius being there, and he should come into consideration too as Klopp organises his recruitment process.
Whilst Mignolet has, for the lack of a better phrase, 'done enough' for the time being, looking at him and being certain of the same level of commanding performances come August would be – you guessed it – reactionary.
Therefore, if Klopp doesn't have full confidence in either Ward or Karius as a backup, the goalkeeping situation must be looked at.
The mistakes made this season that saw Liverpool lose out at crucial moments see issues crop up elsewhere in the squad, ignoring the goalkeeping/striking/Lallana situations covered so far.
Because Liverpool scored goals at the end of the season with Milner at left-back, do we still need the width of a left-footed left-back?
Gini Wijnaldum didn't quite shine so brightly at the back end of the season, can he be upgraded on?
Nathaniel Clyne's attacking performances were getting a little annoying by April weren't they, should we dump him?
All of these are fairly valid questions, some may even be poised by those who conduct the transfer dealings that we as fans wait to keenly to hear the news of.
However, it is crucial that Klopp and his team look at the season as a whole when plotting their summer moves, in order to learn from the problems of the last 12 months.
Liverpool must not make the same mistakes. They must be proactive, not reactive.