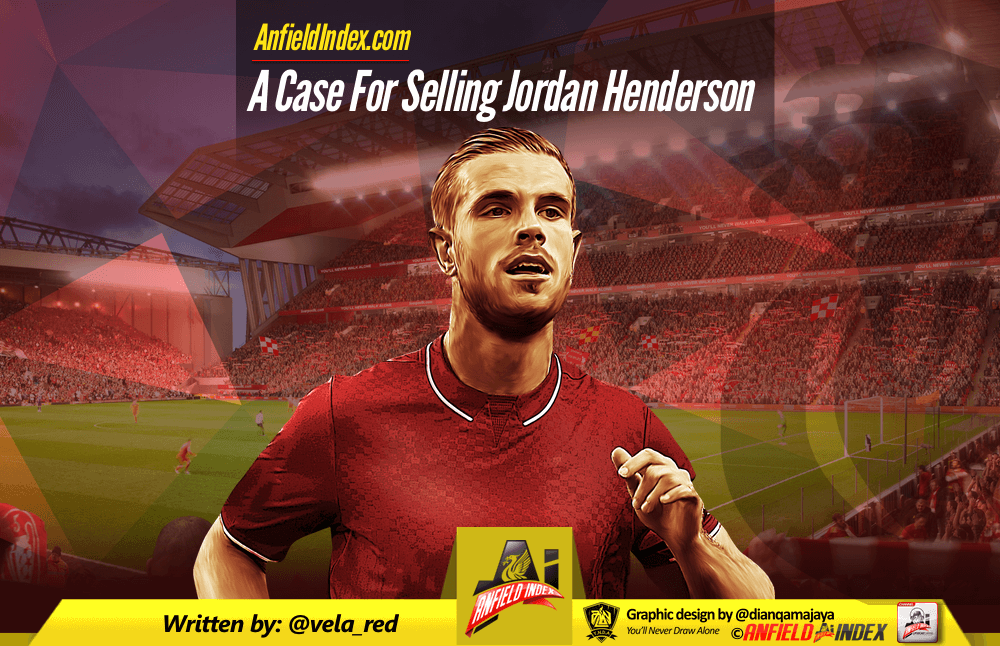 A Case For Selling Jordan Henderson
I am a Jordan Henderson fan. I do not dislike him as a player or person in any way. My argument for selling him here is purely business, and I believe would be in the best interest of both the player and club.
Jordan Henderson has been a fine player for LFC since Kenny Dalglish bought him from Sunderland in 2011 for £16 million. In Henderson's first season, Dalglish often shunted him out wide, thus squandering his talent as a central midfielder and possibly delaying his development as a player. The youthful Henderson did not complain. He got on with it and unselfishly did a job.
In today's football terms, 2011 is eons ago. I was a fan of Jordan Henderson then, and I am a fan of Jordan Henderson now. I sincerely believe that Liverpool lost the Premier League title in 2013/14 in no small part due to Henderson missing three crucial matches at the tail-end of the season. Henderson's rash challenge on Man City's Samir Nasri cost him a straight red and cost the Reds a possible Premier League title in 2013/14. At the time, the Liverpool attack was often filtered through Henderson in the midfield. Playing as a box-to-box midfielder, Henderson was also tasked with covering defensively for Steven Gerrard, as Brendan Rodgers tried desperately to prolong Gerrard's career as an LFC first team player by playing him as the deepest lying midfielder. Jordan Henderson went on to blossom in the midfield after Gerrard's retirement at the conclusion of the 2014/15 season.

Though only 27 years of age, I believe Jordan Henderson's best years as a footballer are now behind him. Henderson made 52 appearances for LFC in his first season with the club, 2011/12. In subsequent seasons his appearances remained relatively high: (47 appearances) 2012/13; (48 appearances) 2013/14; (63 appearances) 2014/15. This was an impressive run of appearances considering Henderson was also quite effective on the pitch when in full health. However, in his last two campaigns he has only managed to grace the pitch 63 times in 110 matches. With no signs that Henderson's lingering leg/foot problem is getting any better, the time to sell is now.
Jordan Henderson has not put on a Liverpool kit in earnest since his appearance in the 2-0 win against Tottenham on February 11, 2017. Missing Henderson through injury for most 2016/17, LFC still managed to finish 4th on 76 points. Granted, Henderson's absence was but one of many in 2016/17, as the club suffered an inordinate number of injuries to key players this season. In Henderson's absence Emre Can and Georginio Wijnaldum stepped up their play and offered solidity and consistency to the midfield the likes of which we have not seen since Xabi Alonso and Javier Mascherano. Now, do not get me wrong here. I am not saying that Can and Wijnaldum are equal to Mascherano and Alonso, at least not yet. I am saying, though, that with Emre Can and Wijnaldum through the midfield gave LFC a definite defensive toughness and attacking nous. Once both players hit their form, especially Emre Can, the difference from Henderson in the midfield was palpable. Henderson is tough, but Can is tougher. Henderson is a decent defender, but Can is a better defender. Henderson is football-smart, but Wijnaldum is football-smarter. Henderson is helpful in the attack, Can and Wijnaldum can be magic in the attack.
With the emergence of Emre Can and Wijnaldum, and with Klopp looking to further bolster the midfield with summer signings, can LFC afford to keep Henderson as a vital squad player? It is always preferable to have a squad filled with as much quality as possible. So, the argument to keep Henderson in the squad is strong, especially given the expanded fixture list with European football. Henderson's reported £100,000 weekly wage is not outrageous given today's market. Moreover, his first team-experience, quality play, and loyalty to the club should also be considered as positives. And lastly, Jordan Henderson has been Liverpool captain since 2015.
Have I convinced you to keep Henderson now? Perhaps give him a pay rise? Well, let's further look at the other side of this argument.
If we sell him this summer, despite the injuries, at 27 years old LFC still may be able to recoup the £16 million pound initial layout the club paid for him. In fact, with a contract that reportedly extends through 2020, we may net a profit on the sale. Henderson's wages are not extraordinary, but an extra £100,000 a week could be used to secure another top player (Van Dijk, Salah, Lacazette) or secure Emre Can's long-term future at the club.
Henderson does have extensive first-team experience for LFC. That experience includes losing big matches: EFL semi-final LFC 0-1 Southampton (2016); Europa League final LFC 1-3 Sevilla (2016); FA Cup semi-final LFC 1-2 Aston Villa (2015); Capital One Cup LFC 1-2 agg Chelsea (2015); final match of 2014/15 season LFC 1-6 Stoke City). This is not to say Henderson is fully and solely responsible for this big losses. And true, there are players currently in the squad who also participated in those big losses (Alberto Moreno, Philippe Coutinho, Lucas Leiva, Simon Mignolet), but after the Gerrard era Henderson captained some of these losses.
This leads me to my final point. Jordan Henderson has been LFC's captain since July 2015. As LFC rapidly approach the 2017/18 season, and as they work to strengthen the squad with summer transfers, can LFC now keep Henderson as a squad player? How would Henderson react to potentially losing the captaincy? He is and has been the model of professionalism, so I surmise that he would take such a demotion with grace. However, how would this affect him as a player? How would affect other players in the squad to see your former captain as healthy scratch for some matches?
I argue that it is the best interest of both Henderson and LFC to part ways this summer. Both player and club have immense respect for each other. Furthermore, except for the most cynical of supporters, the majority respect Jordan Henderson and the service he has given and continues to give the club. This is all the more reason it is the right time to sell. If it is to happen, it is best to part on good terms rather than on terms of acrimony and resentment. Liverpool and its fans have had enough bad break ups to agree with that statement (Mario Balotelli, Fernando Torres, the imminent departure of Mamadou Sakho to name a few).  It seems that a player bought under Kenny Dalglish so many years ago has run his race at the club. May Jordan Henderson continue to flourish as a footballer, albeit at a different club.
Sources: soccerbase.com, whoscored.com, worldfootball.net, anfield-online.co.uk, lfchistory.net, liverpoolfc.com