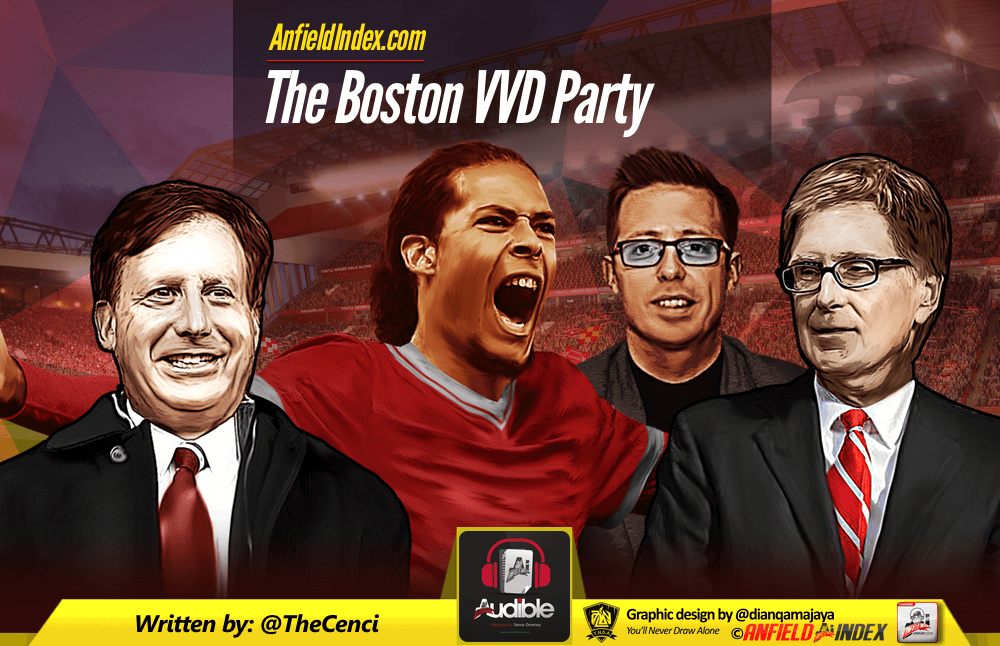 The Boston VVD Party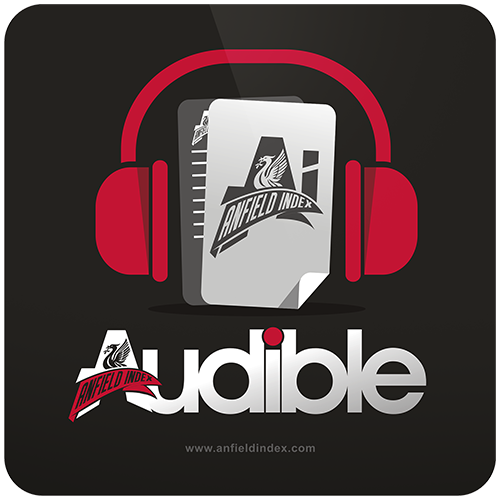 Listen to this article via @AIAudible !
A few weeks ago I wrote a piece for Anfield Index, urging the club to be step up the quality of its transfer targets. No more, I claimed, should we shop at the local grocers when we can afford to stroll the aisles at Harrods. After all, we've entered the porches of the elite now and are allowed to move away from the discount section.
Because the title involved the acronym 'FSG' the comments were crammed with people either defending them or banishing to the wilderness. As it happens, my point was neither a dig nor a celebration of all things Bostonian. I just wanted to see the Reds step up and buy someone great – absolutely great – rather than three or four 'maybes.' That was all. Even if we don't get them, go out and try.
And, of course, we did just that. We stepped in and spoke to Southampton's Virgil van Dijk and set up a transfer ahead of our Premier League rivals in Manchester and London. Well done us. Getting business done early. A statement signing. A marker.

Well, okay, not a signing as such – the transfer window isn't open yet – but at least we've gained an assurance and put a bid in.
Well, okay no. No bid to speak of. We didn't actually make one before we let it be known that his signature was likely but at least we spoke to the player and…
Actually, he's under contract and, strictly speaking, we have to get permission and we didn't bother with that stuff even though it's sort of illegal.
Ah, we've ended our interest. Hmm.
The strategy is clear. Get in quick, get in the player's ear, unsettle him a bit, make him force a move and then we can knock a fair bit off the asking price.
Except that didn't happen because Southampton, as it turns out, are no mugs. They realise that that law protects them so why not enforce it?
I told friends earlier this week that Southampton would complain as that's what clever clubs do when they fear their fans aren't going to be too happy when a big name leaves. They did something similar with Nathaniel Clyne when he left them and it saves face all round. 'Look, he wanted to go. You saw how we tried to keep hold of him and complained but…'
Tuesday's statement came as both a major let down and a shock. Firstly, I'm not entirely sure that someone at LFC wrote those words. It reads as an appeasement rather than an apology. Let me explain.
From time to time in my day job I'm asked to secure a quote from someone about something we've done. It makes for good PR on both sides if you can announce something when both sides are nice about the other. Course, often as not they won't know what to say, so I'll email them a comment, stating something along the lines of 'Karl's employers are really good at what they do and we're dead good too so I think others should give them a try' and ask them if they're happy to have it attributed to them. Everyone's happy. We all win.
That statement reads like Southampton have told the LFC equivalent of me what to say, word for word, possibly with a threat of official complaints attached if the text is unaltered. Fair enough. I'd probably do the same, to be honest.
What's shocking is that this is just a further example of the club short cutting again. The owners have a history of this. One day they wanted Clint Dempsey for a reason passing understanding. They duly announced him on the website and were all happy with themselves. Thing is, they forgot to tell Fulham so that deal died. They've wanted to 'box clever' on other transfer deals too and monitored and monitored and monitored so they could be smart and come in and steal their intended away, only to find that other clubs can sign players too and will. With their constant desire to find a quicker way to do things, they end up being slow and ponderous or they do stupid things like this. And that's the word – stupid.
Just go by the book. If he wants to sign, he will. Why do this? For the sake of a few million quid?
Of course, this brought in another fight to the Liverpool yard. Anti FSG vs 'apologists'.
The fans' position on the owners is simply extraordinary. Some are angry that there's so much as a wrinkled nose in the direction of Boston while others furious to the point that they want us to enact revenge for the Boston Tea Party and chide them for their 'no taxation without representation' nonsense or, in this case, 'no transfers and no proper bids' policy. Personally, I'm not an FSG fan for two reasons. Firstly, because they refuse to have a full time leader at the club and secondly because I'd rather our managerial appraisals weren't being covered by the people responsible for Mork and Mindy. Each to their own but I'd prefer a proper FSG delegation in situ at Anfield and some football people at the helm rather than former TV execs and hedge fund managers. Feel free to call me a disgrace or a fan boy below.
Look, let's not pull punches here. This is a 24 carat fuck up. This is General Melchett in the trenches and Rodney Trotter buying sun tan lotion in mid-January. There's no disguising this one. We've ballsed it up royally.
'Ah, but tapping up goes on all the time. Most transfers are these days and we've done it for years just like everyone else…'
True, we have BUT NOT WHEN WE'RE ALREADY UNDER A SUSPENDED SENTENCE FOR DOING IT BEFORE!
In April, Liverpool were banned from signing academy players from other English clubs when they pleaded guilty to a charge of tapping up a young Stoke City player. The second year of the ban is suspended for three years unless there are any further breaches, such as taking Virgil van Dijk to the seaside for the day.
And we knew that! And we did it anyway! The arrogance is astonishing.
And that's the reason for this apology. Someone somewhere remembered this and got very jittery. We spend all this time getting into the Champions League and there was a chance we wouldn't be allowed to buy anyone for it.
So here's a thought. Why not just bid for players we'd like and see if, y'know, Champions League football and Jurgen Klopp hugging them hourly might bring them in rather than trying to be so fucking clever all the time. Stop the shortcuts.
We've apparently dropped our interest in the Dutchman now though I'm never convinced of such things, but there's something else that bothers me other than that. It's this:
The optimism after the Boro game has been put on hold. Evaporated to nothing. Back in the big league, back in the big time and then the administration steps in and does away with all that positivity with this farce.
What a waste of a happy summer.
Ah, maybe it will come good and we'll sign four strong lads and win lots of nice things, but I can't help feeling that an ownership who have made more public apologies than they've won trophies is concerning. By trying to be clever they've been continually stupid as they've lurched from one nightmare to another.
Sorry, Virgil. It was not to be – or at least not yet. If anyone asks, you've not seen us. Right?