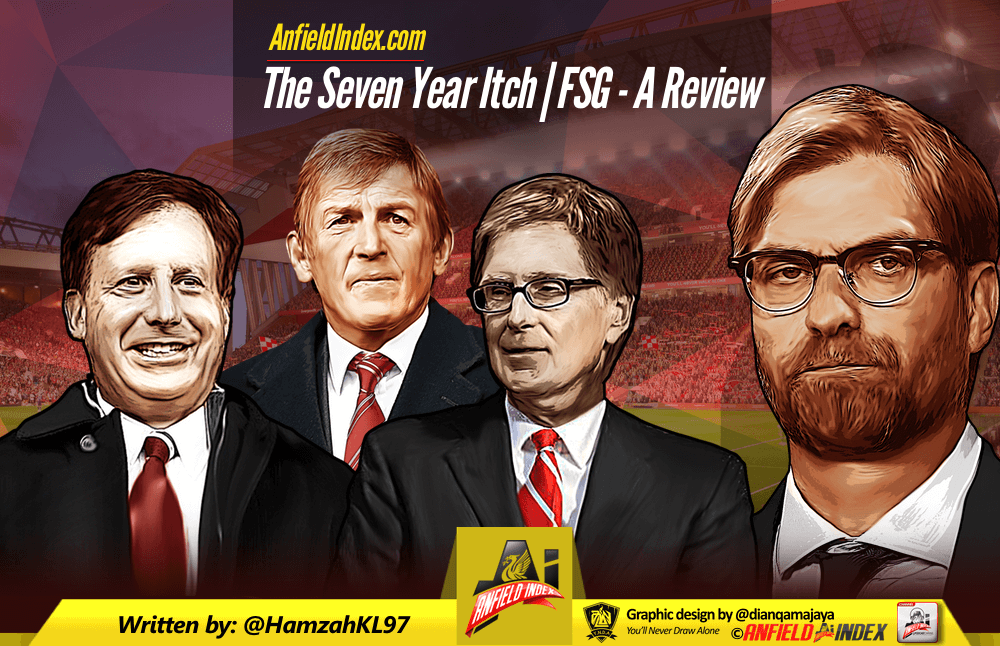 The Seven Year Itch | FSG - A Review
In October of 2010, Fenway Sports Group purchased Liverpool FC for £300 million. In his first statement as owner, John Henry claimed,
'We're here to win and we'll do whatever is necessary.'
Fast-forward almost seven years later, and fans are still divided as to whether FSG have been good owners for the club, and whether the club has progressed, regressed, or simply remained stationary for this period.
Under FSG, Liverpool FC have had four managers: Roy Hodgson (sacked January 2011), Kenny Dalglish (January 2011-May 2012), Brendan Rodgers (June 2012-October 2015) and Jürgen Klopp (October 2015-present). Under these four managers combined, Liverpool have won a solitary competition, the League Cup in 2012, under club legend Dalglish. Liverpool have reached cup finals on four occasions, the League Cup twice (2012 and 2016), the FA Cup once (2012) and the Europa League once (2016). Furthermore, the highest league position during the FSG era is second place, but the average position, to one significant figure is sixth.

For the majority of Liverpool fans, finishes of fourth, eighth, sixth, second, seventh, eighth and sixth, alongside a single League Cup are extremely disappointing returns, and this return is arguably unacceptable for the club, considering its history. In comparison, over the same period, Liverpool FC's greatest rivals, Manchester United, have won one Premier League (2012-13), one League Cup (2016-17), one FA Cup (2015-16) and one Europa League (2016-17). The way football goes, Liverpool might quite easily be boasting the same record with better performances or luck in a select few games, but the fact is that Liverpool simply do not.
That being said, as owners, FSG cannot directly win titles, so their responsibility in this regard cannot be total, rather merely partial: instead we should look at the context and backdrop to Liverpool's performances over the FSG ownership period.
When FSG took over at Liverpool FC, the club was in a dire situation; alongside the debt that had the potential to force Liverpool FC to go into administration, there was uncertainty over a promised move to Stanley Park, poor on-field performances, and discontent with the manager, Roy Hodgson. The debt amounted to circa £200 million, and the club was in a sorry state in terms of reputation and recent history, following the departure of key players, Rafael Benítez's final season, Roy Hodgson's appointment and tenure, the shoddy team and the comparative strength of Manchester United, Chelsea, and new-comers to the top four, Manchester City.
The sacking of Roy Hodgson, who had overseen Liverpool's slide to nineteenth by the eighth game of the season, was a welcome move, and Kenny Dalglish's appointment was one which immediately endeared the owners to the fans in the short-term. However, the sale of Fernando Torres shook the fanbase – documented in Simon Hughes' Ring of Fire, in which, with Torres himself, Hughes details the details of Torres' move to Chelsea. Within the chapter devoted to this episode, Torres explained how the club had come to terms with selling their prized asset, and were willing to let him go. FSG and Comolli detailed a new vision for the club, buying young players, and building for the future through smart investment. This approach was one that was ultimately unsuccessful (so too selling, rather than keeping star-players) as the club would change its approach over time, with Liverpool struggling to make permanent headway in the league.
Briefly recounting Liverpool's transfer deals under FSG may also prove helpful to this discussion:
Brought in during the January transfer window of 2010-11 were Luis Suarez and Andy Carroll. With a total of 58 points, the club finished sixth in the league.
Following on from this, the club went on to buy players such as Jordan Henderson, Stewart Downing, Charlie Adam, José Enrique and Sebastian Coates. In the 2011-12 season, the club spent £56.55 million on transfers, and recouped £20.36 million through sales, all at a net expenditure of £36.19 million. That being said, the club was setting to work on attempting to bring down the total cost of wages simultaneously. An eighth placed finish with 52 points was the league tally for Liverpool that season.
In 2012-13, the club spent £60.01 million on players such as Joe Allen, Ossauma Assaidi and Fabio Borini; but this also included two of the best deals, in terms of value, in Liverpool's Premier League history: the signings of Philippe Coutinho and Daniel Sturridge, for a combined £20.5 million. Outgoings that season totalled £8.88 million, leaving the club with a net outlay of £51.3 million. 61 points, and seventh spot was the resulting league position.
The following season saw a net spend of £21.68 million with new signings Sakho, Toure, Mignolet and Aspas, while Carroll, Downing, Shelvey and Spearing were all sold. A title tilt which saw Liverpool come closer than ever before to realising the elusive 19th league title dream had Liverpool accumulate 84 points, and finish second. 84 points would have been enough to win the league in 2010-11 and 2015-16, but the Premier League generally speaking – barring the exception of Leicester City – was (and is) growing in competitiveness, as the points required for Champions League qualification and to secure the league continues to rise season upon season.
Over the 14-15 season, familiar names such as Can, Lambert, Lallana, Markovic, Lovren, Origi, Balotelli and Moreno were brought in, whilst Suarez, Reina, Agger amongst others were sold. This totalled £44.34 million in net expenditure, with just shy of £129 million spent on new players, funded through the Suarez sale. A poor Champions League campaign saw Liverpool drop out in the group stages, and Liverpool finished the season trophyless, in sixth on 62 points.
Firmino, Benteke and Clyne were the three big incoming transfers as Rodgers attempted to rejuvenate Liverpool, but the £106.5 million spending spree – which came to a net spend of £30.64 million (primarily funded by the c.£50 million sale of Raheem Sterling) – was not enough, as the club languished to an eighth place finish, with 60 points.
Klopp's first full season saw him sign Mané, Wijnaldum, Matip, Karius and Klavan for a total of £67.9 million, but the club, through the sales of Benteke, Allen, Ibe and others, managed to turn a profit in transfers, of £4.25 million. That being said, the club scrapped and battled its way through the season, securing fourth spot on the final day, with 76 points.
In terms of transfer business, FSG have certainly had a mixed bag. Good signings are far too rare and sparse, let alone good players in relation to their fee. Suarez, Sturridge, Coutinho, Firmino and Mané really stick out as good purchases, but five top signings over 13 transfer windows is a staggeringly poor rate of success.
Henderson, Wijnaldum, Can, Lallana, Matip and Clyne all appear good, solid deals, but not quite spectacular; whilst Markovic, Balotelli, Aspas, Moreno, Downing, Aquilani, Adam and Carroll do not feel adequate when it comes to replacing Torres, Gerrard, Carragher, Suarez, Kuyt, Sterling and the like.
This barely scratches the surface of transfer dealings under FSG though: the most recent botched-up deal for Virgil Van Dijk is one of many deals Liverpool, under FSG, have failed to secure. Sanchez, Götze, Eriksen, Mkhitaryan, Willian, Diego Costa, Delle Alli, Joao Texieira, Christian Pulisic, Ousmane Dembele, Loic Remy, Konoplyanka and Salah all include on the list of failed attempts to sign players. It is a phenomenal list of targets, and one can only wonder how good Liverpool would be with these players, but it is the failure of FSG to secure key targets that is reason to question their positive impact on the club. Issues with wages, transfer fees and similar problems always seem to feature as stumbling blocks, before another club swoops in to secure the transfer with minimal fuss – insiders cite the lack of a well-known manager, or Champions League football as the reason for such failings in the past, but the farcical Van Dijk deal illustrates that the employees tasked with finding and securing transfer deals are wholly inadequate and incompetent, and have been so when previous managers have worked within a committee or under a Director of Football.
But transfers and their successfulness cannot be used to define an ownership: we must also look at the wider picture – namely the financial structure and strength of the club.
In Financial Year 2010, the same year Liverpool were purchased by FSG, the club was valued at £530 million by Forbes; the £300 million paid to secure the club now seems paltry in comparison. However, over recent years, mostly due to the rise of Premier League investment via broadcasting deals, the value of the club has rose sharply. As of June 2017 and according to Forbes, Liverpool FC is worth £1.167 billion, and for all of the positive net transfer expenditure, it certainly seems as if investment in the club is lacking in relation to its value.
Critics may argue that high short-term expenditure is short-sighted, but when we look at Premier League rivals Chelsea, who for seasons ran year-on-year deficits, the club is beginning to make profits to go alongside the trophies won over previous seasons; for Liverpool however the story could hardly be more different.
However, we must be fair in this assessment of FSG, and the truth is that they have presided over a club very much trying to rebuild and catch-up to its rivals, and FSG's success over the first five or so seasons should be judged in relation to that. FSG have also attempted to increase the profile of Liverpool FC globally and its commercial links. Kit deals with Warrior and then New Balance, alongside sponsors such as Standard Chartered, Garuda Indonesia, Dunkin' Donuts, BetVictor and Nivea have seen revenue streams increase in size and scope, setting up a stronger financial structure for the club. Pre-season matches in Indonesia, America and Australia are all attempts to broaden the profile of the club and its appeal, which is one of the reasons as to why Manchester United, or Real Madrid for instance have such financial clout.
The Main Stand's expansion at Anfield delivered on expectations that had been building since the Benítez era, yet even with this, Anfield still lacks the transport links, capacity and infrastructure to be a top-tier European stadium, capable of qualifying to host major competitions or finals. Whilst building the new Main Stand was undeniably something that FSG should be applauded for, the quietness regarding further expansion is extremely disappointing. If the owners really are serious about competing at the highest level, the stadium needs to be big enough to compete with the comparative match day revenues of rivals, all of whom have, or will have, stadiums with a minimum of 60,000 seats.
Cited as a barrier to further expansion was opposition within the fanbase towards increased ticket prices. The walk-out by supporters in February of 2016, against Sunderland, sent a message to the owners which was duly received, and to FSG's credit, ticket prices were frozen. In the short-term it is fair for FSG to claim that an inability to raise ticket prices is the reason for the halt in Anfield's expansion, however, the financial windfall from the Sky and BT Premier League deals have given Premier League clubs more than enough capital to put aside for redeveloping stadiums, and Liverpool, under FSG should seize this opportunity, as Tottenham and Chelsea are doing.
FSG, and their approach has undeniably changed over time though. From seeking the relatively low-profile and inexperienced Brendan Rodgers as a new manager, and young, cheap, promising players, the approach has evolved to seeking Jürgen Klopp and paying large sums of money, such as £34 million for star man, Sadio Mané. But even here the club's rigidity and adherence to old ways remains.
FSG reportedly favoured Jürgen Klopp over Carlo Ancelotti, a vastly more experienced and qualified manager, (the only manager, other than Bob Paisley, with three Champions League titles to his name) as Klopp was more willing to work with the current squad and less insistent on replacing players. The same can be said in terms of transfer strategy, the club is still trying to cut corners where it can – haggling over the transfer fee of Mohammed Salah, and low-balling Van Dijk's representatives with a repackaged wage offer, before the deal fell apart a few days later. Even now, with the supposed attraction of Champions League football and a top manager, the club is unwilling to commit to the same degree that rival owners of Manchester City and Chelsea are.
Finances and financial strength in the football world mean more than ever before, but despite the support of John Henry, personally valued at 2.5 billion USD, Liverpool FC lags behind its English rivals, as the fifth richest club in the league, according to Deloitte.
Manchester United sit at the top of the Deloitte Money League with total revenues of 515.3m GBP: 20pc (£102.8m) derived from matchday revenue, of which broadcasting rights make up 27pc (£140.4m), and 53pc of that total (£272.1m) comes from commercial sources.
Fifth in the world, but second in the Premier League is Manchester City, with a 2016 revenue of 392.6m GBP. A mere 13pc comes from matchdays (£52.5m), 41pc from broadcasting rights (£161.4m), but a huge 46pc is sourced from commercial deals (£178.7m).
Sitting 7th in the world and third in the PL is Arsenal. The total revenues amount to 350.4m GBP: matchday accounts for 29pc of the total (£99.9m), broadcasting 41pc (£143.6m), and commercial 30pc (£106.9m).
Just behind Arsenal are Chelsea, 8th in the world. Total revenues stand at 334.6m GBP, with matchdays contributing 21pc (£69.7m), broadcasting 43pc (£142.9m) and commercial 36pc (£122m).
Liverpool in comparison are only one spot behind Chelsea, at ninth globally. Total revenues only amount to 302m GBP, 19pc of which is from matchdays (£56.8m), 42pc from broadcasting (£125.7m) and 39pc from commercial deals (£119.5m)
Liverpool's matchday revenues outstrip Manchester City's, but are below all other competitors, stressing the need to expand Anfield. Liverpool struggled in terms of broadcasting rights, but these figures were calculated following Liverpool's first season under Klopp, and broadcasting revenues are expected to be lower considering Liverpool were not in the Champions League. In terms of commercial deals, Liverpool are in a stronger position than both Arsenal and Chelsea, but when it comes to overall revenues we must account for the historical context.
In 2012, Manchester United's revenues stood at €396m, now they stand at €689: a percentage increase of 73.9pc. Likewise Manchester City's revenue growth from €286m in 2012 to €525 in 2016 is a phenomenal increase of 83.6pc. Arsenal's growth from €290 to €469 amounts to a 61.7pc rise. Whilst Chelsea's €323 to €447 is the smallest of any of the Deloitte Top 10 English teams, at 38.4pc.
Comparatively, Liverpool's €233 in 2012 to €404 in 2016 was an increase of 73.4pc, beaten only by the two Manchester clubs, both of whom have financial and structural resources far greater than those of Liverpool FC.
In this sense, FSG can only be applauded for their efforts – achieving a percentage growth in revenues over four years comparable to both Manchester City and United, and better than that of Arsenal and Chelsea, not only illustrating how far Liverpool were behind its competitors, but also how far it has come.
Liverpool still trail in comparison to its rivals, but considering the poor on-field performances since 2012, Liverpool FC have done well to keep pace with rivals; albeit as it stands this is still not enough for Liverpool to compete financially. Perhaps in the long-term Liverpool will be in a better position, but that judgement cannot be passed yet. What can be said though, is that FSG have addressed a commercial deficit that the club has long wasted its potential in, and with record broadcasting rights this season, as well as a new stand to consider, Liverpool's revenues seem likely to continue to grow at an impressive rate.
How then to evaluate FSG's time as Liverpool owners thus far?
In terms of domestic and European success, this period is one of the worst in recent history for Liverpool FC: even though Liverpool were still pursuing a first league title since 1989 a decade ago under Benítez, there was a clear sense of purpose and direction, the club looked ready to challenge and win titles – that cannot be said of Liverpool now. And whilst FSG should be cut some slack for the lack of success in its first few years, due to the team, and the size of the job at hand, there comes a point at which the team has stopped rebuilding, and is in a position to challenge at the highest level, and even now, after almost seven years, the club is not there yet, although, it appears to be on the right path nonetheless.
Even in this regard, when we compare the win-rates of managers under FSG, all of them fall short of both Houllier (52.12pc) and Benítez (56.29). Hodgson, Dalglish, Rodgers and Klopp's win-rates stand at 41.94, 47,30, 51.20 and 50.51 respectively. But the Premier League certainly has changed since the days of Houllier and Benítez; the league has become far more competitive, and Champions League qualification, once taken as a given, is now a six-way race, with Tottenham and Manchester City the additions to the old 'Top Four'. Thus comparing win rates as an indicator of progress is limited in some respects.
Admittedly, it has been a tough period for any club to develop into consistent challengers – keeping up with the spending of Manchester City, United and Chelsea is a struggle, but the club should be providing Klopp with the best opportunity and tools to do so. Current transfer strategy suggests otherwise though.
That being said, the owners are receptive, they understood that ticket prices should not be raised, they attend games, and have made some effort to reform transfer strategy and pledged a bigger transfer budget this season. In some respects this is more than what some rival owners do – Arsenal owner Stan Kroenke for instance rarely ever watches live games, but the truth is Liverpool's owners should not need to be compared to other ones as justification for their qualities.
However, the ultimate and most revealing question is: are we seeing progress?
And the answer, on balance, would be yes. The club has progressed, and is showing signs of rapid improvement on the pitch this season, especially until January. Champions League qualification has been secured for the second time since 2009, but unlike 2013-14, the team is in a better all-round position, rather than largely reliant on one forward. The team is strong, but certainly requires reinforcements, whilst the financial situation is sound. But the follow-up question is where fans will still be divided.
Is this progress enough?
Maybe not… for now. But the fact of the matter is, FSG get a harder time than they really deserve from the fans. FSG have found a top class manager, a real coup for a club which appeared in decline, and have backed him with a large transfer kitty, have attempted to redevelop essential revenue streams and Anfield, plus over the past two seasons have seen Liverpool on-field become far more competitive.
For fans it's popular and cool to excessively criticise FSG, as it's all too easy. Liverpool can be linked with fantastic players and FSG will be accused of trying to pull the wool over the supporters' eyes. Liverpool could then be linked with a good player, but overtly critical fans assume that FSG are unwilling to meet the asking price or pay wages. And god forbid Liverpool be linked with a sub-standard player. The reaction to the signing of Under-20 World Cup star Dominic Solanke, a player who cannot be described as sub-standard by any means – summed up the excessively critical nature of Liverpool fans in this current climate, far too obsessed with comparing the club and its signings to that of competitors.
FSG's tenure as owners of Liverpool FC cannot be definitively described as a success, but neither can it be described as a failure. What there certainly is, is a great deal of room for improvement, and the growing flexibility of the owners in relation to transfers offers some hope in that regard. But for the club to reach the ambitions John Henry claims he wants, FSG must unreservedly commit and be gone with the corner-cutting approach. Only then will FSG be able to have Liverpool FC meet their own, and the fans' ambitions.