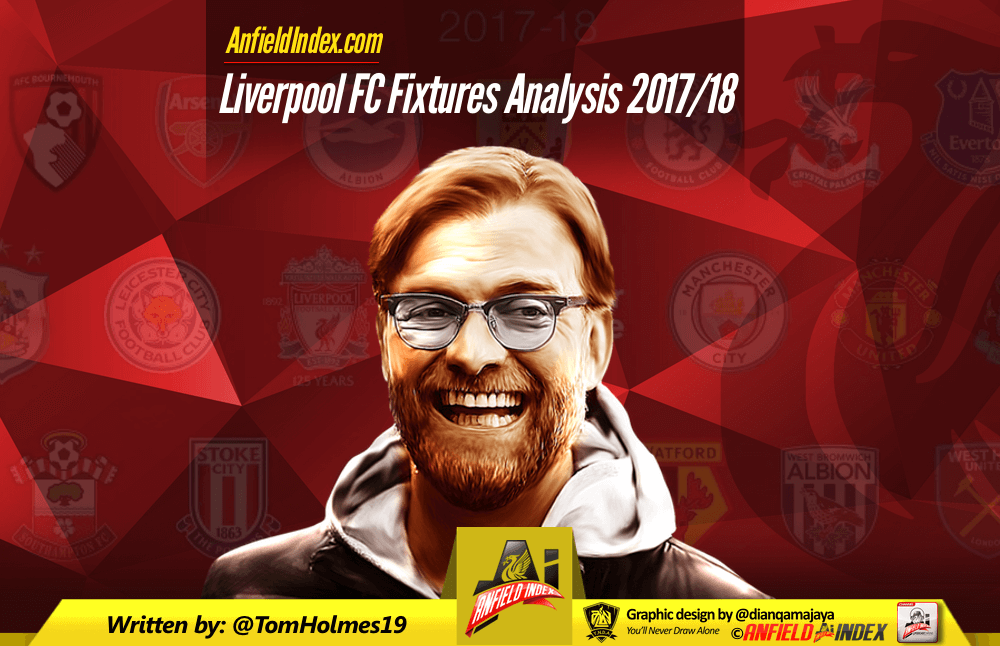 Liverpool FC Fixtures Analysis 2017/18

So, with the fixtures out for the 2017/18 season, the initial reaction from Liverpool fans would have been a quick glance to see who we play on the opening day, working out when we play Man United and Everton, and other than that, probably just a bit of a shrug. It's a reasonably uninspiring fixture list, with no incredibly nice runs but no horrendous patches either. There are, of course, some headline moments: Arsenal and Man City back to back early on, United and Spurs together in October and Chelsea away on 5th May (anyone else getting war flashbacks?).
But overall, this is a fixture list that needs to be fleshed out in order to analyse what's worth looking at in more detail. After all, the Premier League is just one competition and this year will hopefully see the Reds competing on multiple fronts, if not at the very least reaching the Champions League group stage. So how will that affect our fixtures moving forward?
The place to start is at the beginning and Liverpool's UCL playoffs. They take place on 15th August and 22nd August, which means that Liverpool's season will start with five games in two weeks, culminating in a home game against Arsenal. So in the first two weeks of the season, we can see two key factors that will be required to help the Reds moving forwards: having a big enough squad to cope with rotation and getting the job done early. Liverpool would be targeting that first leg as the game to blitz, meaning that they can afford to send a rotated squad to the second UCL play-off leg and hopefully not against Arsenal on 26th August.
But hopefully having to juggle his priorities early on will be a good taster for Jürgen Klopp, given that it's something Liverpool will have to do all season. After the Arsenal game is the first international break of the season, but things won't slow down for the Reds as they'll have to bounce straight into a trip to the Etihad after that break. Already we can see how Liverpool need to get off to a good start, which means having a fully fit and deep squad in place by mid-August, as any settling in period across August and September could see us at least four points off the pace in the league and out of the Champions League.
September is another busy month for Liverpool, but the games that they'll need to rotate in hopefully won't be as bad. Despite potentially having their first Champions League group game straight after Man City, they then play Burnley at home, and similarly after the second group game a couple of weeks later, they travel to Newcastle. No game in the Premier League calendar is easy, but some games aren't as bad as others.
The second international break follows at the start of October, and this is Klopp's next big test. They face Man United straight after the international break, which was a problem for the Reds this year as they struggled to get traction in their first game against United as that game after the international break. In fact, the United game might even be one Liverpool have to rest players for, as UCL group game three and then Spurs away follow in the next seven days.
One benefit that has to be noted about playing a top side such as Spurs after a big midweek game, and to an extent Man United before one is that they will have the same problems. And whilst Spurs are a fantastic team, their biggest issue has been depth and they really struggled after UCL games in the 16/17 season, so that could work in Liverpool's favour. It's the games such as West Ham away, who Liverpool could play after UCL Game 4 that could be particularly nasty, as the Hammers are a tough side to go to and will not have had Europe to contend with.
Once again Liverpool face a tough game following the third international break of the season, and once again it's a UCL gameweek. Southampton, UCL, Chelsea in seven days is not nice, but again, Liverpool may benefit from Chelsea playing Champions League football themselves. However, Southampton away just after an international break whilst resting players for a Champions League game is a recipe for disaster if Liverpool haven't got a deep enough squad.
Then we hit the infamous Christmas period. Liverpool could find themselves playing 16 games in December and January, depending on how the FA and Carabao Cup runs go, with 8 Premier League games between 2nd December and 1st January, plus the final round of European group games, with the Merseyside Derby a few days after that round. Again, the onus will be on Klopp's team to make that final group match irrelevant, so that the derby can be the primary focus. Fortunately, the Christmas run itself isn't too bad, with hopefully a week off before the Reds' toughest game of that period: Arsenal away, but we know how the Reds have struggled against low block teams and the fixture pile up could really hurt them. Last January was a disaster for Klopp and he'll be keen to avoid that this time out.
LFC month by month under Jurgen Klopp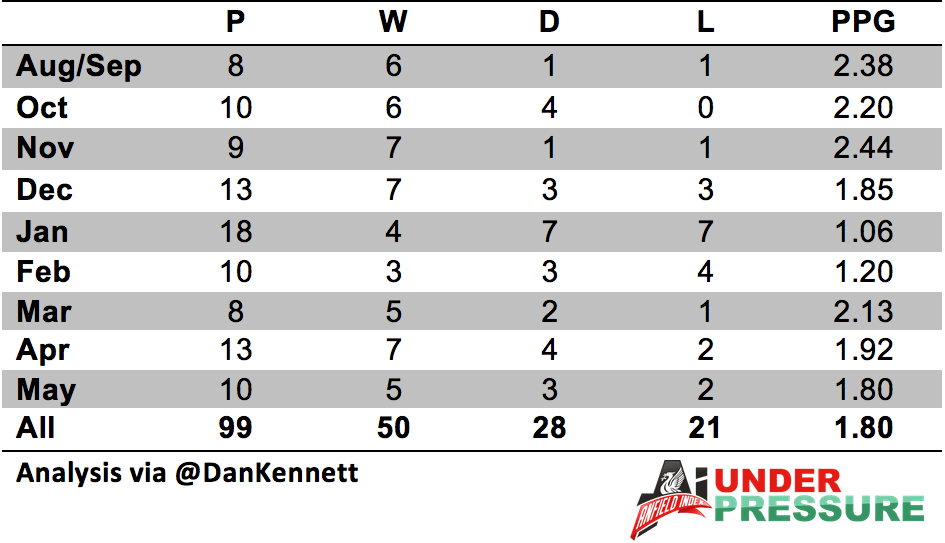 At this point, perhaps Liverpool should throw the Carabao Cup and focus on the FA Cup, as having free mid-weeks in January could be a massive boost to the Reds chances. Or at the least, perhaps it would be worth sticking with the reserves in at least one of those competitions, although fans will angrily point out what happened against Wolves when Klopp took that risk. Currently, the Reds have three free mid-weeks in January, but Carabao Cup semi-finals and an FA Cup replay would decimate those free mid-weeks, and place more pressure on Liverpool's big home game with Man City on 13th January.
Looking beyond January really enters speculation territory. It's speculation enough to suggest that Liverpool make the UCL groups but last 16? Those games are stretched over two weeks, but the one game guaranteed to line up next to a UCL game if we get that far is the trip to Old Trafford on 10th March, which will either be before or after a Last 16 game. Again though, United themselves could have just played in one or be about to play in one, but United arguably have a deeper squad than the Reds, so Klopp will have to manage this period carefully.
Whether or not Liverpool reach the Champions League quarter-finals (which is very plausible given a good draw), the game away to Palace on 31st March directly after an international break will be an alarm bell ringing game for Klopp, with a trip across Stanley Park the week after and these two games the potential bread in a Champions League quarter-final sandwich.
And that penultimate game of the season against Chelsea? It could follow a UCL/EL semi-final. Now we're really clutching at straws but who knows.
It all boils down to three crucial points:
A fast start needed. Five games in the first two weeks of the season indicate Klopp will need a deep squad functioning near top capacity early on which means he needs to get his transfer business nailed down before pre-season.
December is the new January. Whilst it's still possible Liverpool play nine games in January, that's unlikely, whereas eight league games between 2nd December and 1st January is a certainty, with the added potential for a group game too. December will be busy.
Regaining momentum will be critical. Liverpool face some tough spells after international breaks which mean that they'll need to be able to hit the ground running at big points in the season, be that in September when they face Man City and then a European game, November when it's Saints away then Europe, or Palace away and then potentially a European game in April.
So in summary, this is a fixture list that when combined with all of the potential for Champions League football, not to mention international breaks and the domestic cups, could be a lot harder than it looks.