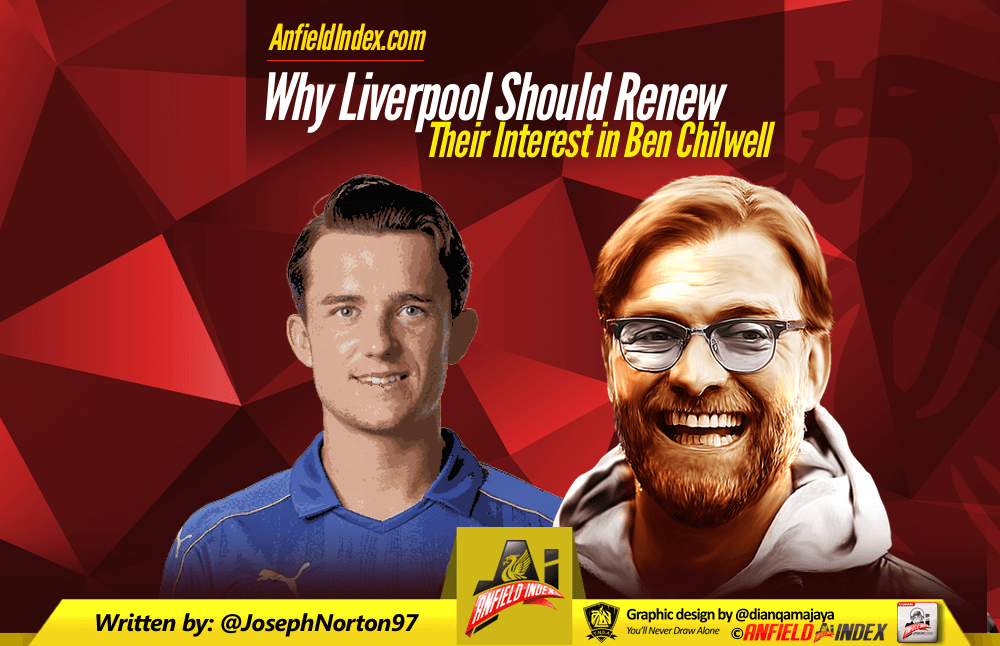 Why Liverpool Should Renew Their Interest in Ben Chilwell
Left-back has been a position that Liverpool have struggled with over the past couple of seasons and although James Milner has done an admirable job there this season the Reds are in desperate need of a specialist left-back. There was outrage amongst much of the fan base when it became clear Milner would be Liverpool's first choice going into last season with Alberto Moreno his deputy.
Personally I'm a big fan of Milner and think he is much better at left-back than in midfield, but his lack of pace, persistent cutting back on his favoured right foot and woeful crossing means he needs to be replaced as first choice going into next season. It looks as though Moreno will be sold, therefore, this has to be a position were Klopp looks to strengthen. The Reds must sign a player who can come in and compete straight the way with Milner and most probably take his place going into next season. If Liverpool have any aspirations of challenging for the title, progressing far in the Champions league and competing in domestic cup competitions the Reds must have a top quality left-back option with Milner filling in when necessary.
It seems as though Klopp's first choice is Benjamin Mendy of Monaco but if the Reds are to complete the signings of Mo Salah and Virgil Van Dijk then it is unlikely FSG and maybe even Klopp will want to spend over £40 million on a left-back as well. Therefore, the Reds should renew their interest in Leicester City's young left-back Ben Chilwell who has all the attributes to become a top class player and now unlike last year when we had a £7 million bid rejected has experience of playing in both the CL and Premier league. The 20 year old also has experience of playing for Klopp's close friend David Wagner at Huddersfield the season before last and as a result knows what's required to play in a high energy pressing team which he would be asked to do at Liverpool.

What type of player is Ben Chilwell?
With many of my friends and family being Leicester City season ticket holders I have seen and heard a lot about Ben Chilwell, however, it is fair to say some Foxes fans still hold reservations about the Englishman. Although Chilwell isn't that tall at 5ft 8, he is very good in the air due to his powerful leap and great timing. He won 68% of arial duels in the 12 games he played in the PL last season, which is comfortably higher than Milner's 44% and Nathaniel Clyne's lowly 24%. As a result he would add some much needed arial prowess to this Liverpool team. Chilwell is also very quick which means he can bomb up and down the touch line at will, although he doesn't have electric pace he is powerfully quick due to his strong build, his fitness is also very good which means he would be well suited to the high energy style Klopp demands of his players, especially the full backs who are asked to constantly bomb up and down the touchline. Chilwell is very good going forward, with him being comfortable at both dribbling and passing the ball.
Although Chilwell's pass completion rate at 68% is lower than both Milner and Clyne's at 80% and 83% respectively it is worth noting he is playing in a Leicester side which tends to be very direct, therefore, many of his passes will be longer balls over the top compared to Milner and Clyne who are use to playing in a team who keeps possession. Should Chilwell play for a side like us it is likely his pass completion rate would be a lot better. As mentioned Chilwell is a very good dribbler who has a powerful running stride which the opposition find difficult to stop, this was evident when he came on at half-time against Athletico Madrid in the 2nd leg of the CL Quarter final and played as a left wing back. He caused the Athletico defence all sorts of problems with his direct approach, delivering quality service to the Leicester attackers who squandered several opportunities for the Foxes. Chilwell has a 60% successful take on rate which is 1% higher than that of Clyne's but 3% less than Milner, however, as previously mentioned the Reds are a much more attacking team so you would expect should Chilwell play in a more attacking side his take on rate would increase dramatically surpassing the two current Liverpool full backs.
The area Chilwell has came under most scrutiny from Foxes fans is his defensive ability. There is no doubt he has all the physical attributes to become a top quality defender but his lack of experience sometimes affects his decision making and positioning which has occasionally been exploited this season. But when you look at his defensive stats it is clear to see he is still a very competent defender. The Englishman's total duel % per 90 minutes is considerably higher than both Clyne's and Milner's. Chilwell's is at 59% compared to Milner's at 42% and Clyne's at 51%. Chilwell also averages more interceptions per 90 minutes, 2.90 compared to Milner and Clyne, 1.20 and 1.16 respectively and more blocks, 0.25 compared to 0.14 and 0.08 of the two Reds full backs. Of course playing for Leicester, Chilwell is going to be tested more defensively but his performances have shown he is more than good enough in this sense. He also averages fewer defensive errors per 90 minutes at 0 compared to 0.03 of Milner and Clyne which is very impressive for a 20 year old.
I spoke to my mate who played with Ben for numerous years at youth level about what type of player he is and this is how he described him: "He has always been a left-back, very athletic and strong with an unbelievable engine. His fitness is the best I've ever seen or witnessed. He's also very good in the air as well as being quick with a great attacking threat. The main thing is his fitness, he just doesn't stop."
From this you can take that Chilwell would fit perfectly into Klopp's system with the full backs asked to do so much running, he has all the physical attributes needed and his positioning and decision making is improving all the time. He would be a perfect fit for the Reds. I am now going to compare him to two categories of defenders in the Premier League. The first, containing two players from teams that are at a similar standard to Leicester and the second three of the top left-backs in the league this season.
How does he compare to Andrew Robertson and Aaron Cresswell?
Both Robertson and Cresswell are two left-backs who many Liverpool fans would be happy if we signed this summer. Robertson has impressed in an attacking sense for Hull over the past couple of years and the Reds have been rumoured to be interested in him. Cresswell's ability going forward has also caught fans attention over the past couple of years and despite his weaknesses defensively due to him being from Merseyside it is understandable why some supporters may have a soft spot for him. West Ham and Hull are also teams that are closer in ability to Leicester than Liverpool are, therefore, comparing Chilwell against these defenders is more realistic. In a defensive sense it is Chilwell who easily comes out on top against these two defenders, as mentioned he won 68% of his aerial duels last season and won 59% of his total duels. This is considerably higher than both Robertson and Cresswell who won 48% and 52% of their arial duels respectively and just 46% of their total duels each. As a result, it is clear to see Chilwell would be a much more reliable option in a defensive sense looking at these stats. For me it is not surprising that Chilwell scores so highly in these categories as his physical attributes make it difficult for players to beat him in 1v1 situations or out jump him for a header. Chilwell also impresses against the two with his interceptions, averaging 2.90 per 90 last year compared to Robertson who averaged 1.94 and Cresswell just 1.11. The Foxes player did average slightly fewer clearances per 90 last season than the other two players at 2.90, in comparison to Robertson at 3.14 and Cresswell who tops the category at 3.70. However, his reliability is highlighted with him and Robertson averaging 0 defensive errors per 90 minutes compared to Cresswell who averages 0.13 errors which is extremely high and highlights exactly why he is not good enough for Liverpool. Although the stats suggest both Chilwell and Robertson made 0 defensive errors per 90 last season it is unrealistic to suggest they both never put a foot wrong. I have watched both players on numerous occasions and every so often both will be caught out of position or will make wrong decisions in a defensive sense but the stat does show they are both far more reliable than the West Ham man.
In an attacking sense Chilwell still scored fairly highly compared to both Cresswell and Robertson. He has a successful take on percentage of 60% which is much higher than Cresswell's at just 45% and is only just beaten by Robertson at 62%. Chilwell does finish bottom of key passes and assists per 90 when compared to the other left-backs, he averages 0.25 and 0 respectively, compared to Robertson at 0.56 and 0.07 respectively and Cresswell who averages 0.64 and 0.09. It is worth noting than both Cresswell and Robertson have played as wing backs for part of the season, therefore, this may explain why they have slightly better attacking statistics. Also, Cresswell plays in a West Ham team were the emphasis is on the full backs to play high and provide an attacking option which is not the case for Chilwell at Leicester. Overall, it is clear to see from these stats that Chilwell is remarkably better defensively than both Robertson and Cresswell and only marginally worse in a few attacking categories. Cresswell's very poor defensive stats and average scores in attacking sense highlight just why he is not a good enough left-back for Liverpool and although Robertson does seem to have the attacking quality to play in a team like Liverpool his average defensive score means he is likely to be caught out in a defensive sense against the top teams, something the Reds cannot afford to happen. I also don't think Robertson has the physical attributes to play in the high energy system that Klopp demands. He is the same height as Chilwell but is nowhere near as good in the air and although he isn't slow he is not as quick as Chilwell and certainly doesn't process anywhere near the same fitness or power that the young Englishman does. For Chilwell to rank so highly against two fairly established Premier league left-backs is very impressive considering he is three years younger than Robertson and an astonishing seven years younger than Cresswell. It is also worth noting this was his first season playing regularly in the PL.  Therefore, not only do I think Chilwell is the better option now, there is no doubt that he has the highest potential due to his age and superior physical attributes.
Comparison with Danny Rose, Marcus Alonso and Ryan Bertrand
I am now going to compare to Chilwell to three of the best left-backs in the league, to see how he ranks against them as if he is going to succeed at Liverpool it is important he is approaching close to the level of the best players in his position on a domestic scale which he can then translate to a European level next year. Most Liverpool fans would happily take either one of these three left-backs with the Reds being strongly linked with Bertrand before we signed Alberto Moreno three years ago. In the case of both Rose and Alonso and to a less extent Bertrand,  it is worth remembering they are playing in much more attacking teams than Chilwell, therefore, you would expect them to have much better attacking stats and possibly slightly worse defensive scores. Having said this, the comparison is still worthy so long as we understand the context behind it. In a defensive sense it is again Chilwell who impressively comes out on top against these three elite defenders. His arial duel percentage and total duel percentage of 68% and 59% is far greater than Bertrand's at 46% and 47%, Danny Rose's at 60% and 55% and Alonso's at 63% and 53% respectively. Again this doesn't surprise me as although these are all top quality full backs, Chilwell's physical attributes are just as good if not better than all three of these defenders, Rose is however just slightly quicker than him, therefore, to see the Foxes defender comfortably top these two categories is not too surprising for me. Chilwell also comes out favourably when we look at interceptions per 90 last season, he averaged 2.90, compared to Rose at 1.47, Alonso at 1.50 and Bertrand at 1.69. It is understandable that both Bertrand and Chilwell beat their counterparts in this category as Leicester and Southampton both have more defending to do than Tottenham and Chelsea but for Chilwell to be ahead of Bertrand by more than 1 interception per 90 is extremely impressive and demonstrates his defensive ability and impressive reading of the game. When it comes to clearances it is Danny Rose who tops the list with an incredible 3.71 clearances per 90 , however, Chilwell comes only 0.01 behind Alonso who averages 2.91. Bertrand makes the fewest clearances at just 2.30. Rose is well renown for his recovery speed and work rate which is highlighted with this stat but Chilwell again fairs well when compared with Marcus Alonso and yet again beats Ryan Bertrand. As mentioned Squawka shows Chilwell as making 0 defensive errors per 90 the same as Bertrand, with Alonso making just 0.03 and Rose 0.06. It is unsurprising that both Rose and Alonso are recorded as making a few more mistakes than Chilwell and Bertrand as they play in teams who play a riskier and more expansive type of football but it does show that Chilwell is as reliable as Bertrand who is viewed by many as a very solid left-back. There is no doubt that both Bertrand and Chilwell will have made defensive errors of some kind this season as suggested but it is good to see they are both very reliable and ahead of two top quality left-backs who make very few mistakes playing in top sides.
If we compare the four players in an attacking sense you would expect both Rose and Alonso to come out favourably, one because Alonso plays as a wing back and two because both of them play in attacking sides and have the freedom to go forward, providing an outlet outwide for their team. Having said this Chilwell is only narrowly beaten by Alonso when it comes to successful take on's per 90 , Alonso's 66% is only 6% better than Chilwell's and 8% better than Rose's at 58%. Bertrand is surprisingly comfortably beaten by all three full backs and has a successful take on percentage of just 38% which begins to highlight his weaknesses offensively. The Foxes left-back is beaten by all three players in both key passes and assists per 90, his 0.25 and 0 respectively is beaten by Rose with 1.41 and 0.12, Alonso's 0.67 and 0.10 and Bertrand's 0.83 and 0.14. As mentioned you would expect Rose and Alonso to comfortably beat Chilwell's statistics in an attacking sense with both being very good going forward and two of the best full backs in Europe. Southampton often play a 4-3-3 as well which means more emphasis is put on the full backs to get forward and provide width for the team whereas Chilwell has almost always played in a 4-4-2 where Leicester ask their full backs to play slightly narrower to protect their centre backs. There is no doubt that if Chilwell joined Liverpool he would have to improve in an attacking sense as these stats show but when he has been deployed in a wing back roll he has shown he has all the necessary attributes to be very effective in an offensive sense. I am not for one minute saying Chilwell is as good as Danny Rose or Marcus Alonso yet as they are top quality left-backs, however, I do believe the Foxes man is approaching the standard of Ryan Bertrand and over the next year or so will surpass him. It must also be remembered Chilwell is comfortably the youngest of the four at 20 years old, both Rose and Alonso are 26 while Bertrand is 27, therefore, he has got all the potential to become as good if not better than all of the above in the years to come.
As I have mentioned, Chilwell would not be my first choice option for left-back this summer, Benjamin Mendy of Monaco has far more experience both domestically and on a European scale and is starting to break through into the France national team. He has slightly better physical attributes than Chilwell, he's just over 6ft and quicker than the Englishman, he is also much better in an attacking sense and is use to playing at a top club in Monaco. As a result he knows how to play left-back in a system similar to the one Klopp would demand, having said this I do believe Chilwell is just as good if not better than Mendy in a defensive sense. The only problem with Mendy will be Monaco's asking price which is rumoured to be over £40 million, therefore, if the Reds are to sign both Salah and Van Dijk it is unlikely both FSG and Klopp will be willing to spend that much money on another player this summer. As a result, Ben Chilwell is the perfect, slightly younger and cheaper alternative. As we've seen with the comparisons, Chilwell is just as good if not better than the top left-backs in the league in a defensive sense and although he is not quite on their level when it comes to attacking I have no doubt due to his physical attributes and technical ability he can improve and adapt his game to get better going forward. The main quality defenders in particular must possess to play in Klopp's high energy system is physical attributes, yes they need to have a good football brain and be good technically but they must be quick, powerful and have great stamina to make the grade at Liverpool. Klopp demands so much from his full backs in both an attacking and defensive sense, that if they do not have these physical attributes they will be found out.
This in my opinion is why players such as Robertson and Bertrand would not suit the Reds' way of playing. The Foxes defender has still got a lot to learn especially when it comes to his positioning and decision making but under Klopp's guidance I have no doubt he would fulfil his potential and become one of the top left-backs not only in the league but in Europe. Although Leicester are a great club it's hard to see them hanging on to the talented Englishman for more than one more season, therefore, Liverpool should steal a march on their rivals and sign him now before the other top clubs realise just how special of a player he could really become. Chilwell is currently in the England U21 squad at the European Championship in Poland where he will line up alongside and against some of the brightest talents of the future. It will be interesting to see how he gets on but I have no doubt he will show glimpses of just why myself and many others think of him so highly. If Liverpool do sign Chilwell I believe the Reds would have their left-back position sorted for the next ten years, he is more than worth the considerable investment Leicester would demand.
*All statistics courtesy of Squawka