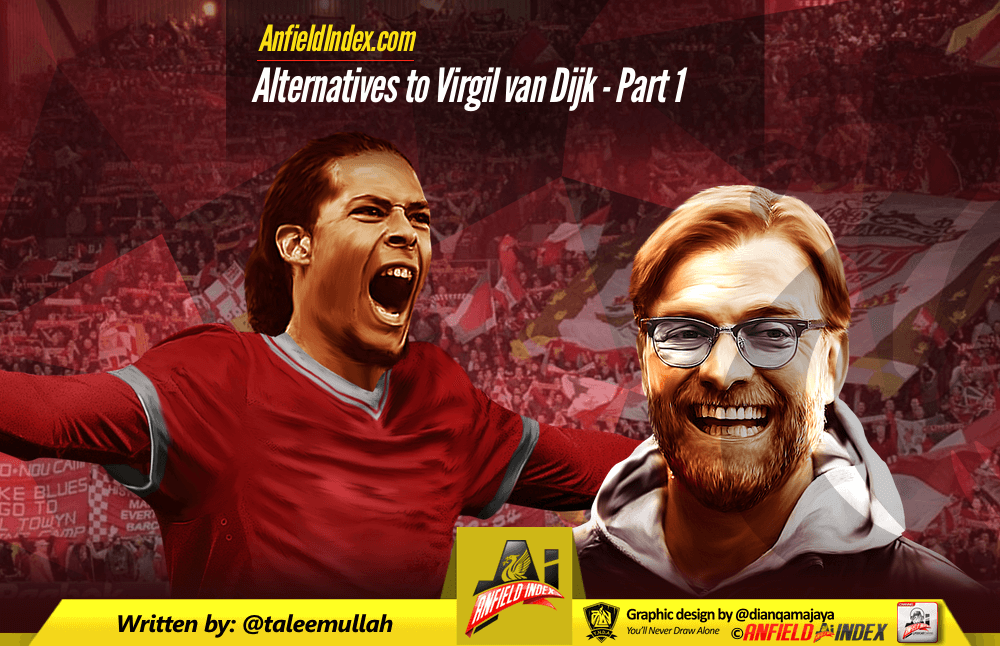 Alternatives to Virgil van Dijk - Part 1
Introduction:
From a recruitment point-of-view, a sporting director must always have a deeply scouted list of alternative transfer targets, to not only maintain the club's footballing philosophy, but to ensure that high quality talent is secured at an excellent value for whatever roles and weaknesses the coaching staff want to improve. With the controversy over Liverpool's pursuit for Virgil van Dijk, I have selected three alternative centre-backs for Liverpool's recruitment team to consider, of which my primary target will be discussed in this Part 1 article.
The Profile:
In order to scout suitable centre-back targets for Liverpool, we have to clarify the team's defensive weaknesses, their defensive goals and the role of the centre-back in Klopp's tactical style of play – a style that demands technical and off-ball fluency for transition football, where vertical attacking, counterpressing and in-game role switching hold high importance.
The ultimate defensive aim of the team is to concede less goals across an entire season, with historical averages correlating a 'goals conceded' tally of less than thirty to achieve Champion's League qualification and to challenge for the title. In order to achieve this, there are three specific defensive weaknesses that a quality centre-back can help Liverpool resolve. These include:
dominating and securing the defensive transition after the failure of a high counterpress, or, after the failure of a secondary midfield press from a zonal defensive shape,
defending our own half-spaces close to our box to prevent the opposition creating high quality chances,
improving our aerial and set-piece defending, particularly in reaction to second-ball opportunities.
The ideal centre-back profile in Klopp's current style of play uniquely demands three key elements. Firstly, strong on-ball technical ability in order to retain possession under pressure and be creative in distribution, both during initial phases of build-up and when linking into diamond overloads in the opposition's half. Secondly, athleticism in terms of aerial ability and turning agility. And thirdly, composed decision-making when defending larger areas of space with little to no auxiliary defensive support.
This profile fits a role that has become the archetype for modern centre-backs who are most influential in the defensive to middle third of the pitch, requiring players to be dynamic in possession, strong in one-on-one duels and positionally aware to cut off passing lanes to and from the halfspaces.
Although fulfilling the aforementioned criteria may very well be enough, I have personally added an additional requirement that I highly value. Centre-backs on my list must have played for established or successful coaches of total football or vertical attacking systems of high flow. Bonus points are given to those who have been influential for their team in Champion's League or Europa League competitions, in addition to successful league or international campaigns.
Based on these criteria, here is one of my primary alternatives to Virgil Van Dijk.
---
Benedikt Höwedes (29 years old, FC Schalke 04, €18 million)
Benedikt Höwedes is an extremely versatile, veteran German defender who is the reigning seven year captain of The Royal Blues. He has faithfully served as their dominant centre-back throughout successful Bundesliga campaigns, where the club have consistently qualified for the UEFA Champions League and reached the competition's Round of 16 on multiple occasions. At their peak, Höwedes was the vocal focal point of a Schalke defence that was heralded as best after Bayern Munich's, and he has consistently translated his club performances on the international stage, with 44 caps for his country so far.
He is an elite personification of the defensive intangibles required for a Liverpool centre-back, as he acts as a leader and conduit for the manager's defensive approaches. His aggressive mentality shows in his defensive contesting of isolated duels, decision making in intercepting play or orchestrating his team's defensive lines and in utilising his technical brilliance on the ball to create gravity, and hence, room for others. Höwedes does the latter by retaining possession from opposing pressers or dribbling into vacant areas to destabilise opposition defences. With his precise and urgent vertical passing, he is cognisant of relieving the on- and off-ball pressure of advancing full-backs, directly bringing them into play as they break beyond their marker – this could be the full back or winger on his side or a player on the opposite side of the pitch as he is very adept at playing long diagonal passes to free 3rd men. He also does this indirectly, by helping to pass out of diamond overloads in the middle third of the pitch – he can individually escape a press before passing to his team's midfielders roaming in-between the opponent's defensive lines, where they can then turn into space and dribble at defenders or pass to advancing fullbacks or wingers in one-on-one match-ups. His ability to direct the tempo and patterns of build-up can help nullify Liverpool's lack of a creative controller in the number six position.
From an athletic point-of-view, Höwedes stands a little under 6 feet 2 inches tall, but is a physically dominant and agile defender, who positions himself to cover the movements of even the most elusive dribblers or playmakers and he rarely makes errors on or off the ball as he now lacks the recovery pace to compensate for them. He is extremely comfortable in one-on-one match-ups against physical target men in large areas of space or against creative dribblers on counter-attacking teams, expertly anticipating and cutting out passes into wider areas in the box or towards the halfspaces, tightly pressuring players to regain the ball or even breaking to challenge the surging movements of unmarked attackers centrally. When not being so disruptive to opposition attackers outside the box, his defending in it is very similar to van Dijk – he is arguably more concentrated at defending players on the deck as opposed to in the air, as he constantly reads each movement, knowing which passing options are available and closing them down, in an attempt to force opponents into low percentage decisions, or, by tenaciously challenging them at a time when they are most vulnerable (turning in or out or when showing the ball). To complement this, he can always channel a Carragher-like bravery to execute last-ditch manoeuvres if needed.
German international coach, Joachim Löw, has spoken highly of Höwedes' tactical understanding of a variety of defensive roles, making him extremely valuable for any coach as he can play in a variety of systems. Following training camps in La Manga and Tenerife, Klopp has experimented with the 3-5 formation, first employing it as the basis for a deep defensive block to protect a lead at home, and later to improve Liverpool's attacking fluency in wider areas, when key players were out with injury or rested. Due to a combination of positional dysfunction and player selection, this system failed to bear fruit. In the former situation, the lead was not protected resulting in a draw with Bournemouth, and in the latter situation, the team went one nil down against Stoke and required two half time substitutions to change the system. However, Höwedes' individual abilities and tactical versatility, having already played right-sided in a back three for Schalke this season, may very well allow Klopp to resolve some of the existing dysfunction in the 3-5 system and allow for greater success in executing it.
With the utmost respect, Höwedes can be labelled as a reliable and elite 'glue-guy' defender given he's mentored, enhanced the performance level and covered for the weaknesses of an eclectic range of defenders at various stages of their careers – including Papadopoulos, Matip (now at Liverpool), Nastasić and Naldo. To reinforce this, he was Beckenbauer's most impressive player in the 2014 FIFA World Cup, where he was commended for having a "first rate" tournament while playing out of position at left back. Given the breadth of defensive talent, style and experience Liverpool currently have with their centre-backs, Höwedes can definitively arrive as the club's most talented and successful defender and renew and forge playing and mentoring partnerships with Matip and Karius in particular.
The major caveats and barriers to his signing are his significant history of soft tissue injuries, including a recent groin operation which he is only set to recover from in July, 2017, as well as his one-club mentality which binds him strongly to Schalke. Given the unprecedented poor season they have experienced in 2016/17, Höwedes may very well feel passionate about restoring Schalke into European competition or to at least not leave the club and its fans at one of its lowest points in recent history.
Here is a summary of the descriptive quantitative statistics for ball-related defensive actions that Höwedes made in the 2016/17 season. Be warned that these are listed without any tactical context and there are discrepancies depending on the source.
Via WhoScored.com:
71 per cent success rate of 2.8 tackles per 90 minutes
7 interceptions per 90 minutes (2

nd

 among all Bundesliga centre-backs with more than 12 appearances)
62 per cent success rate on 3.9 aerial duels contested per 90 minutes
2 fouls suffered per 90 minutes, 0.9 fouls committed per 90 minutes
Via Squawka.com:
38 per cent success rate of 3.51 tackles per 90 minutes
13 interceptions per 90 minutes (3

rd

 among all Bundesliga defenders with more than 12 appearances)
61 per cent success rate on 3.3 aerial duels contested per 90 minutes
16 fouls suffered per 90 minutes, 0.97 fouls committed per 90 minutes
71 per cent of total passes are forward per 90 minutes
Summary
Benedikt Höwedes is an elite defensive leader; in his vocal organisational skills, in his tactical and role versatility for transition football systems, and in his tangible defensive qualities. He offers tremendous playing value to Liverpool in the twilight years of his career, where he can immediately help Liverpool be successful in the Champion's League and finish in the top four for a consecutive season. He can seamlessly renew his partnership with Joël Matip to once again enhance his performance level and complement the ball-playing style of Loris Karius, to allow him to impose his attacking and recycling qualities, while building his confidence. Like Virgil van Dijk, Höwedes will arrive into this pre-season continuing his rehabilitation from injury, while his fierce loyalty for Schalke may be too strong for the allure of Klopp's Liverpool and the English Premier League. But given the limited availability of valuable talent in today's market, it is worth Michael Edwards testing the waters and ranking him highly on their list of alternatives – especially when you consider he's valued at approximately €20 million. Höwedes' athleticism and expert defensive skills allows him to fulfill all the requirements of resolving Liverpool's defensive weaknesses when it comes to defending in transition, protecting the left or right hand side halfspace and improving reactions to aerial duels. He has proven to be an intelligent decision-maker on and off the ball, understanding how to liberate other players in his team to maximise their contribution to the role they're playing. For these reasons, Höwedes ranks number one on my list of alternatives to Virgil van Dijk.
Stay tuned for Part Two!