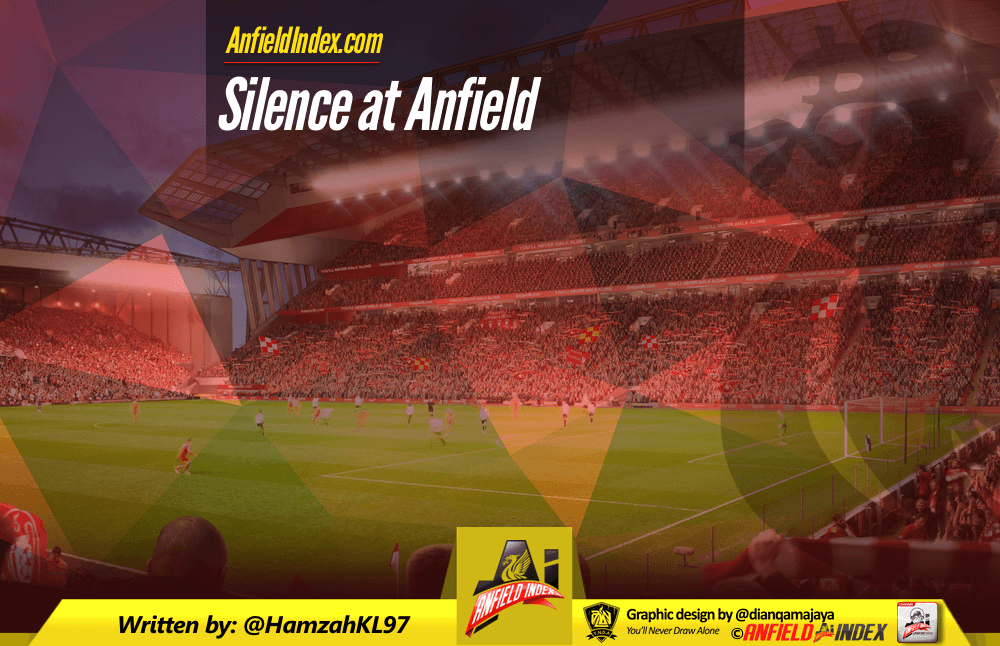 Silence at Anfield
It's all gone eerily quiet around Anfield. Not long ago the mood was euphoric; Liverpool had secured Champions League football, and were heading the race to sign Van Dijk. Rather uncharacteristically for Klopp's Liverpool, the news regarding Van Dijk was out in the open, before the player had put pen to paper, or even before Liverpool had submitted a formal offer.
After that almighty omnishambles, which played out for the entire football world to see, Liverpool have shut-up shop. In terms of transfer news, there's nothing in and nothing out.
As transfer rumours for rival clubs swarm: Ronaldo, Alex Sandro, Lukaku, Morata and so on, Liverpool are continually linked with Salah, and that's about it.

Twitter offers nothing, type in the classic 'Liverpool', 'LFC', 'Liverpool transfer' or 'Liverpool transfer rumours' and you'll be met by the same recycled material on Salah, a picture of Van Dijk, or a blatantly manufactured rumour.
The BBC Sport gossip column has given up all hope too, the only news regarding Liverpool is with respect to outgoings. And Google, the search engine with answers to almost every question, has zero to offer when asked 'who are Liverpool signing?'.
What has happened? The truth is, I don't know. You don't know. And 'ITKs' certainly don't know either.
But this uncertainty, unlike with the current political situation we Brits have, is positive. The reason the Van Dijk deal fell through was because sensitive information was leaked, to what end, we cannot be certain, but leaked information can never be considered positive. All leaked information does is build expectations and takes the initiative away from the transfer negotiating team. This is how business should be done, with minimal fuss and press coverage – efficiency is the key.
Leaked information regarding transfers, the operations within the club and the starting XI was a characteristic of Brendan Rodgers' Liverpool – and whilst leaked information never resulted in as public a disaster as the Van Dijk issue – it can hardly be spun as something positive or benign.
When Klopp established himself at Liverpool the leaks happened to stop all of a sudden. The Van Dijk news was wholly uncharacteristic, and hopefully shall only be a one-off. The tight lid on all Liverpool related news coming out of the club can only be considered a good thing, not only does it stop any issues like the Van Dijk situation arising again, it offers the normal fan a spot of respite.
Liverpool are finally out of the transfer window circus. Jim White and the rest of the team at Sky Sports have lost their grip on the Liverpool fan. No longer after missing the transfer report will I stay glued to the television, awaiting the next one.
We are free.
Of course, everyone loves a cheeky bit of transfer news here and there: after all, what's a transfer window if Liverpool aren't linked with Arda Turan again? But for the first time in years, Liverpool FC's fans are unencumbered with the baggage and drama of the transfer window. And with the weather the way it is, and the summer holidays coming soon, it's time for us all to take a breather.
Go, spend time with your family.
You, stop refreshing your Twitter feed at half past ten at night.
And you! Take some time off, the summer transfer window is long, and there's next to no chance Liverpool will do nothing, so be safe in the knowledge the business will get done, as the official window is still yet to open.
Unless, that's simply not you. If peace and tranquility isn't your thing – after all, you are a Liverpool fan, craving that high blood pressure and addicted to that inevitable post-match fume – maybe this is your time.
As Dylan Thomas put it, 'do not go gentle…, rage, rage against the dying of the light': in this instance, raging against FSG, Klopp, whichever LFC employees oversee transfers, Daniel Sturridge's instagram or whatever the craze is at the moment might be the thing for you. Demanding transfers, petitioning spending, lobbying for new ownership, go for it. With Liverpool Twitter as quiet as it has ever been, now is your moment. Your voice will be louder than ever before.
But the fact is, Liverpool FC are going to conduct their business from now on in silence: make of this what you want. And if you can, be content that you're liberated from the all-consuming transfer hysteria. Enjoy your summer, because regardless of how the transfer window goes, what we are certain of, is that Liverpool's coming season will be a rollercoaster ride, unlike any other for quite some time.