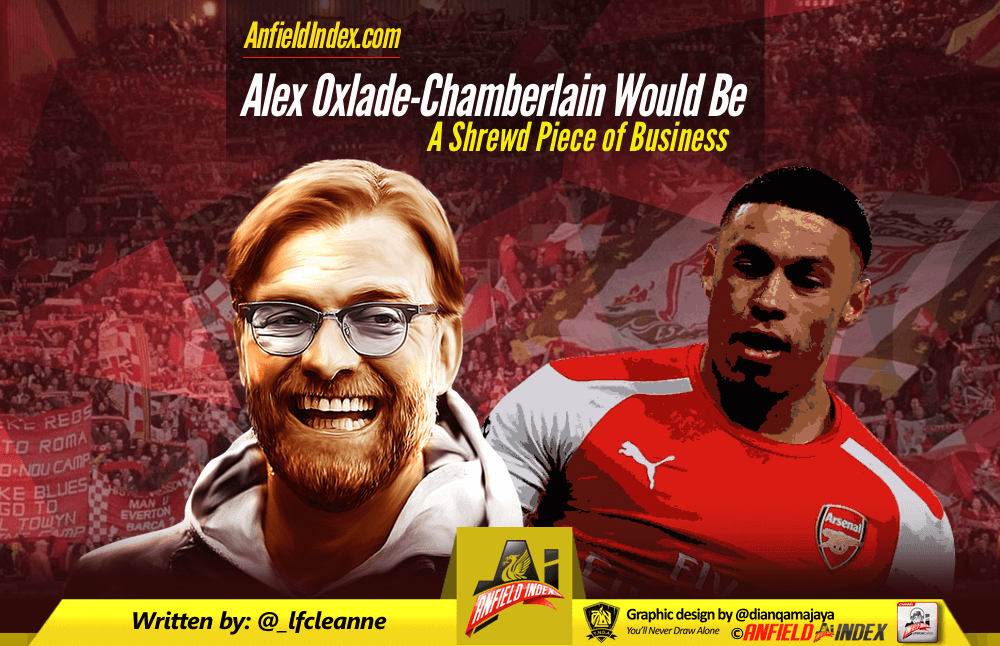 Alex Oxlade-Chamberlain Would Be A Shrewd Piece of Business
With Arsenal stalling on a new deal for Alex Oxlade-Chamberlain, Liverpool are among a number of clubs linked with a summer move. That's caused somewhat of a stir from the fan-base, with the reaction varying from apprehension to excitement. If the Ox decides to seek pastures new, Netbet have Liverpool as the favourites to land the attacker.
Joining Southampton at the age of seven, Chamberlain propelled himself into the first-team picture in 2010, making his debut at the age of 16. An impressive campaign in which he scored nine times while assisting the same number in 34 games saw him gauge a lot of interest from the Premier League big hitters.
Liverpool and Manchester United had approaches rebuffed before Arsenal managed to secure his services after a strong breakthrough season on the south coast.

The 23-year-old has gone on to establish himself as a useful cog in Arsene Wenger's side with the club keen to tie him down to a new long-term deal. His current contract expires at the end of 2018, but delays in negotiations have opened the door for Jurgen Klopp.
The German seems keen to link up with Chamberlain this summer as he looks to bolster his ranks and a deal would certainly be intriguing.
Mr Versatile
This summer Liverpool will be in the market for a player with the flexibility to play in a number of roles while bringing pace and power to the table. Intelligent and hard-working both on and off the ball, Chamberlain ticks all of Klopp's boxes.
Starting off predominantly as a winger, Chamberlain has since moved into the right wing-back role in Arsenal's new look 3-4-3 formation. Likewise, the 23-year-old then featured in central midfield for England against France. Playing in eight different positions during the 2016/17 season, his versatility, naturally, makes him a highly sought-after player.
Diligent both on and off the ball, the Englishman has a strong work ethic, making him an even more appealing prospect for Klopp. As per Squawka, Chamberlain has averaged 1.10 tackles per game this season. He's completed 83% of his passes, 1% higher than Emre Can.
Creativity
Liverpool often find themselves struggling to pick apart resolute defences with bodies behind the ball. Chamberlain's ability to unlock the door and execute incisive passes between the line of defence and midfield are therefore a welcome trait.
Operating in the wingback role, Chamberlain created three chances in four league games, registering two assists and completing 54% of his take-ons.
With a forward line of Sadio Mane, Roberto Firmino and Philippe Coutinho, Liverpool's movement made them unplayable at times during 2016/17. Take the opening game of the season, for example.
Adam Lallana won the ball back deep in his own half and motored forward, passing the ball off to Sadio Mane who ran through and rifled home. A killer counter-attacking move.
Chamberlain's movement in between the lines would only improve that fluidity. Creating pockets of space for his teammates in between the lines, he represents a nightmare for opposition defenders. Such ability would fit seamlessly into Klopp's side, who's priority next season has to be finding a way past the so-called 'weaker' teams.
Where would he fit in?
It's no secret that Naby Keita is the number one midfield target this summer. However, with RB Leipzig set to play hard ball and a potential deal costing upwards of £50million, Liverpool may be forced to look elsewhere.
While he has the pace and energy to play in a wide role, with Mohamed Salah set for a switch to Anfield and Sadio Mane on the other flank, he'd arguably be best suited in his favoured central role.
His guile and physicality would suit the demands of Liverpool's pressing game, while his ability to transition quickly into attack would offer support to the forward line. In that sense, he could fulfil a similar role to Adam Lallana, who's ingenuity and creativity on and off the ball is often a big miss for The Reds.
Chamberlain, while not as mouth-watering a prospect, would make for an interesting signing. The 23-year-old hasn't managed to hit the heights yet, but if anyone can harness his potential it's Jurgen Klopp.
He can play in three different positions across the board, thereby offering the strength in depth that Liverpool so desperately seek ahead of a new campaign. Not to mention the fact that despite his youthful age, Chamberlain has six years of Premier League experience under his belt.
While unlikely Chamberlain would fulfil a starting role under Klopp next season, he would offer a strong option from the bench and bring industry to the midfield. Tthe 23-year-old's energy and work-ethic would see him thrive in Liverpool's high energy gegenpressing system.
For £20-25 million, it could prove to be a very shrewd piece of business.