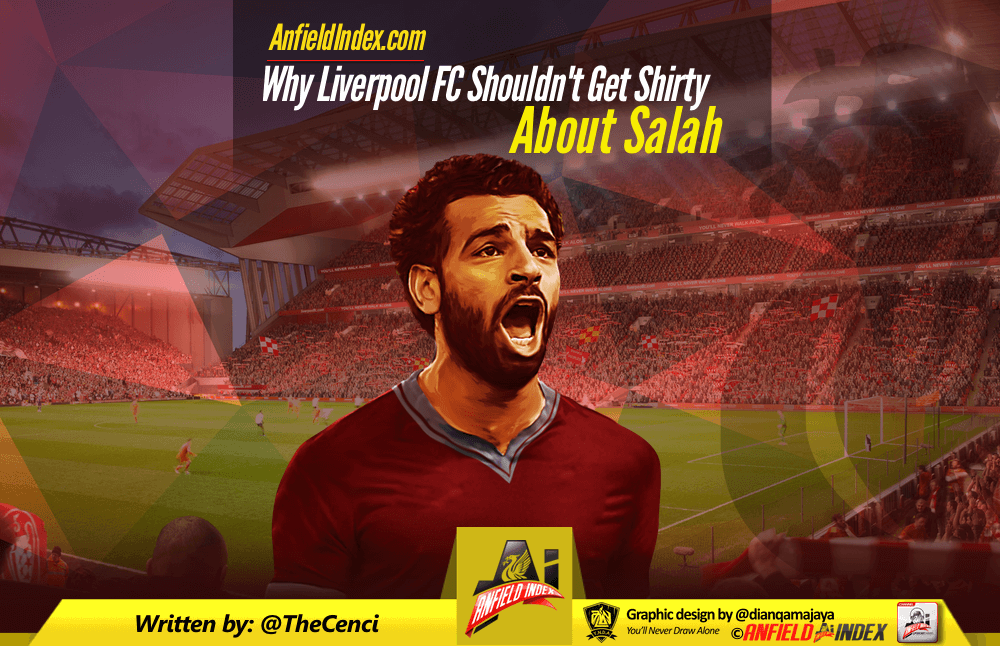 Why Liverpool FC Shouldn't Get Shirty About Salah

A very tentative welcome to Mohamed Salah then. At the time of writing the Egyptian has all-but signed a four year contract for the Reds and I know we've been here before, but this could actually be a proper signing. We've made a bid and everything. Sports betting sites such as Fortuna have been confident for some time now.
It looks like he'll cost a little more than Sadio Mane but God knows what represents a good fee these days. I'm still struggling to see how Jordan Ibe cost Bournemouth £15,000,000. Don't get me wrong, I'm grateful for the donation but that figure does have me scratching my head. Maybe that's just the new rate for a next to nothing signing these days. Years ago, the Republic of Ireland striker Tony Cascarino moved from non-league Crokenhill to Gillingham for the substantial sum of, and I quote, 'some training equipment' so maybe this is a similar thing.
So, we're all happy for once. An international with a hell of a strike rate in Italy is coming in to add to the Liverpool's forward line and will soon to be pestering the back fours of the mighty. We all win and can rest for a bit. No one can complain here.
Yeah, right.
This is Liverpool FC and someone somewhere is unhappy.
I'll admit to some hypocrisy here as I like a moan more than most, so much so that a national football journalist of grumpy disposition (not the one I once wrote the critically acclaimed We're Everywhere, Us with – a book which is still available online at a such low price that it's frankly scandalous) once called me 'a serial complainer,' little knowing that I was quite pleased with the accusation, but there's a   difference between a genuine grievance and moping for the sake of it. I'd like to think that my problems with modern football life are far from trivial but….but…
…some people aren't the least bit happy about Mo Salah's shirt number.
Not the fee, not the position he plays or the fact that he's not a centre or left back which is arguably a priority, but the shape of the figure on the back of his shirt.
I mean, really.
He's asked for that number and it looks like –as it's currently available- it's all his.
The great crux seems to be that he should swap with Firmino so Mo (I'm trying out nicknames even at this early stage) can wear 11 as a wide man while the Brazilian takes the nine, or 'false' nine. Can you be a nine and a false nine at the same time? An existential quandary in the front three. More sleepless nights.
Now I'm all for traditional values when it comes to my football and deplore this world of gaudy boots and names on the back of shirts etc. but even an old curmudgeon like me can draw the line at a number.
Gone are the days when the front two wore 9 and 10 while the left back wore a 3 on his back. Actually, as things stand our left back wears the 7 and the 3 is a centre back out on loan pending a move. In fact, if we stuck to the 1-11 numbers are first team in a 4-4-2 with a split striker would be:
Karius
Clyne -Wijnaldum –No one –Sakho
Milner-No one-Lovren-Firmino
Coutinho
Salah
I tell you what. We're very light in the middle of the park and central defence there.
Yes, but the glorious Liverpool teams in the 70s and 80s would never have moved numbers and…
But they did! Traditionally, the number 7 was a winger and I don't recall Keegan and Dalglish playing there much. Nor do I recall the great Ray Kennedy, who wore the number 5 shirt, doing much at centre back given that he was arguably (though there is no argument from me) the best left sided midfielder in our history.
Then look at Steve Nicol. He played everywhere including both full back berths and still scored a hat-trick from right midfield once. He didn't change his number much either.
And it's not as if Salah is taking a sacred number. Okay, we're lucky enough to have had some of the greatest number nines in the game in Hunt, Rush etc., but we've also given the shirt to El-Hadji Diouf, Iago Aspas and Rickie Lambert so let's not kid ourselves that it's a holy relic passed on to only the deserving. Someone at some stage someone has to wear it as we don't retire shirt numbers here, otherwise I'd campaign to have Gini wearing something else.
Of course, the bottom line is that doesn't matter what shirt they wear as long as they expend every single calorie over the term of their contracts trying to win things for Liverpool. I'd even allow one of those dreadfully wool 'I 8 Mancs' shirts if it ended in a trophy. Everything else is window shopping.
There are still plenty of things wrong with this club – lack of young Scousers in the ground, ticket prices and a non-existent Boston patron in the office – but shirt numbers are a non-issue.
Welcome, Mo. Remember what Shankly said. 'Don't overeat or lose your accent.' Oh, and be prepared that you'll be supported by a fan base that will argue about anything – literally anything. I give it a month before I personally will be on at you about tattoos and the colour of your boots.
RETIRE THE NUMBER 5 SHIRT!