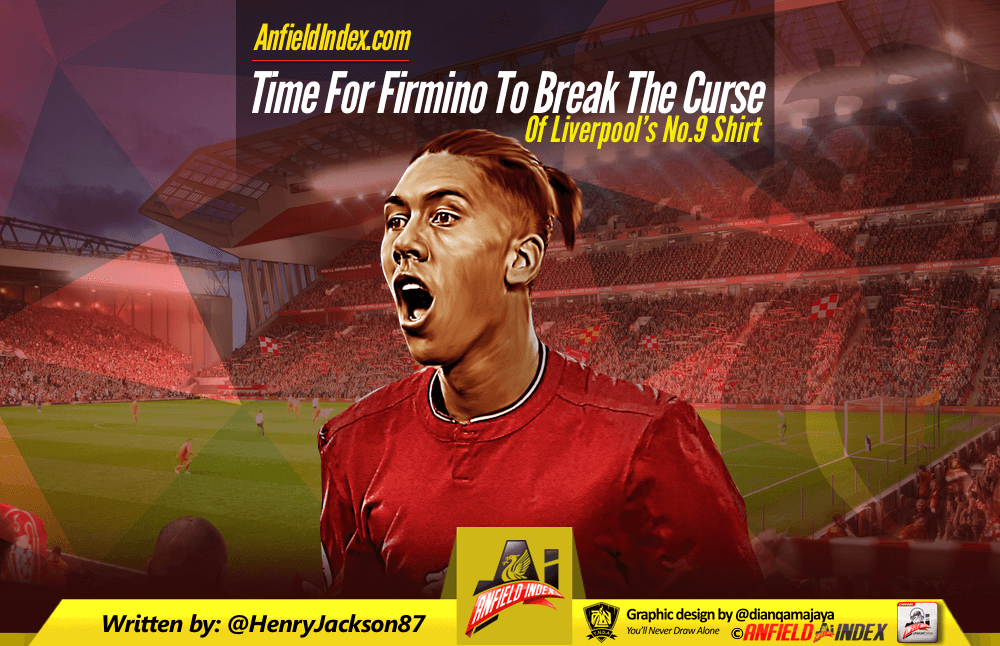 Time For Firmino To Break The Curse Of Liverpool's No.9 Shirt
There are a few iconic shirt numbers that you associate with Liverpool Football Club, with both No. 7 and No. 9 very much the standouts.
James Milner currently occupies the former once worn majestically by Kenny Dalglish and Luis Suarez, much to the dismay of many who want a more glamorous player donning it, but the latter has been vacant for a year.
That is until this week, when it was confirmed that Roberto Firmino would take the honour, with the Brazilian kindly allowing new signing Mohamed Salah to wear his No. 11 jersey.

Some true greats have been awarded that honour and thrived off it in the past, starting with Ian St John in the 1960s and Steve Heighway the following decade.
Ian Rush is unquestionably the greatest Red to have worn the No. 9, with the legendary striker netting 346 goals for the club, while Robbie Fowler was both untouchable and a hero to a generation in the mid-1990s.
The other standout No.9 who wowed the masses with his world-class brilliance was Fernando Torres, who along with Luis Suarez, is Liverpool's finest ever foreign striker.
'El Nino' was a genuine superstar during the late-2000s, and while his exit to Chelsea in 2011 left a lot of supporters baying for blood, he deserves to be regarded as a true Anfield icon.
Some pretty special names there, don't you think?
If you forget Torres, however, a number of all-time flops have also worn No.9 in the last 15 years, to the extent that it has become a 21st-century curse.
Andy Carroll has to be the best example, with the towering marksman never once coming close to justifying his laughable £35million price tag. He barely played, and whenever he did, he resembled a League One player getting the very best out of his limited ability.
Nicolas Anelka could easily have become a permanent signing in 2002, but rather than keeping hold of his ruthless compatriot, Gerard Houllier inexplicably signed El Hadji Diouf instead.
Liverpool's most detestable No.9 of all time was generally woeful on the pitch and a vile creature off it – to this day, it is hard to think of a less likeable player to have represented the Reds.
As a forward, he scored just three Premier League goals in his first two seasons at Anfield, in 55 appearances. Rush, Fowler, Torres and others had every right to feel appalled that he was wearing the same shirt that they had once excelled in so greatly.
Djibril Cisse proved to be very disappointing, having been dubbed the 'next Thierry Henry'. A broken leg in his first season certainly didn't help, but if you took pace out of his game, there was little else on show.
Another No.9, Iago Aspas, is best remembered for taking the worst corner in Liverpool's history, and then there was Rickie Lambert. With all due respect, he should never have signed for his boyhood club, with the former Southampton man looking completely overawed by the situation he found himself in.
Christian Benteke is the most recent recipient of arguably Liverpool's second-most famous shirt number, and he was another who just didn't cut the mustard. He has shown everywhere else that he will score goals regularly, but that step up in quality is something many never manage to conquer.
Since Benteke's exit to Crystal Palace a year ago, the No.9 shirt has been crying out to be taken, and it is Firmino who will fill the void. It will be fascinating to see how he fares in comparison to the legends, and flops, before him.
The biggest thing working in Firmino's favour is that he is not a new signing. Coming straight in and having the pressure of starring in the No. 9 shirt immediately is not easy, as we have seen so often, but he has been a Liverpool player for two years now.
More will now be expected of him, however, even if that does sound slightly bizarre.
It suggests he is now unquestionably Jurgen Klopp's leading man up top, and he must prove that he is someone who can score at a more rapid rate, and be the man to break down stubborn opposition regularly. 
Klopp is not necessarily expected to bring in a new big-money striker, with the likelihood being that Firmino will dovetail with Sadio Mane and Salah in a front-three next season.
In fairness, we all know that there is so much more to his game, especially in comparison to other strikers, but he needs to be edging nearer that 20-goal mark and beyond from this point on.
There will also be an extra pressure on him to recreate the brilliance of some of those heroes of past years, leading the line for the Reds in even more imposing, consistent fashion. 
There can be no doubting that Firmino has been a successful signing, but such is his talent, there is another gear that he can find. Hopefully, the No. 9 shirt acts as a positive in that respect, rather than a hindrance.
The small matter of a shirt number may feel unimportant and irrelevant to many, but it means a lot at the top clubs in Europe, and gives players an added identity. It can make or break an individual.
The latest chapter in the history of Liverpool's No.9 is set to be written, and it's been a while since someone really shone in the role. 
It's time for Firmino to change that in style, spearheading the Reds' assault on the Premier League and Champions League in 2017/18.