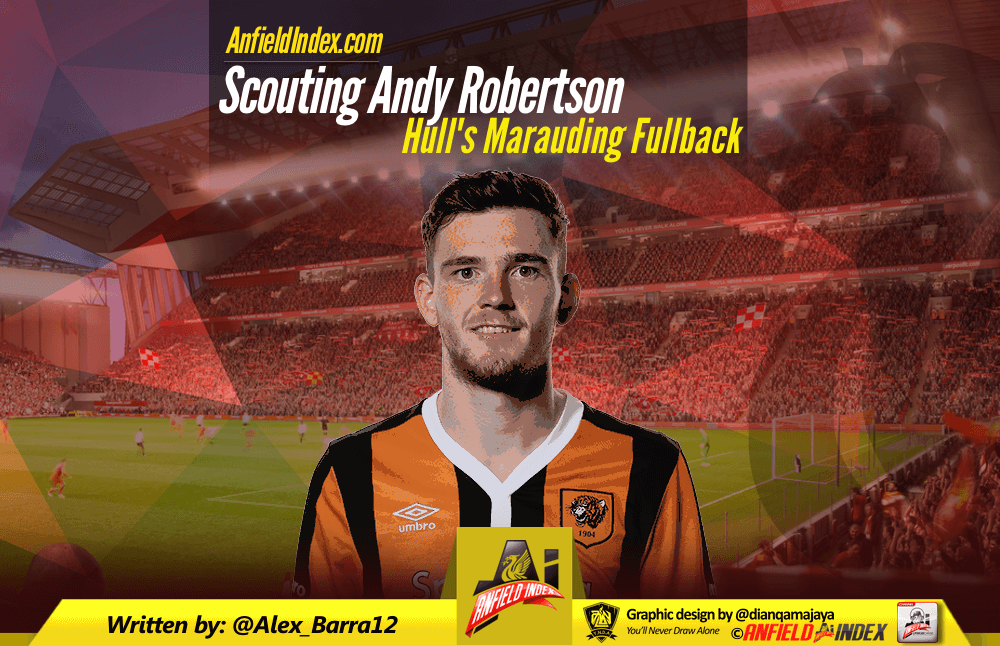 Scouting Andy Robertson - Hull's Marauding Fullback
With a vast amount of commotion and furore going on, you'd be forgiven for thinking the transfer window lasted all of two weeks. But, in fact, it does last substantially longer than the eleven days it's been open in England thus far, and as such, deals will likely materialise over the coming month from virtually out of nowhere.
One of those deals will likely involve a left-back, especially if the recent reports from The Liverpool Echo, Melissa Reddy and Paul Joyce are to be believed. And they should be – Jürgen Klopp would be frankly bonkers to venture into the new season with the same lack of balance on the left-hand side.
Mohamed Salah's imminent arrival will likely see Sadio Mane make the easy transition to the left-hand side, where he'll be encouraged to get on the ball, charge at the opposition fullback, and create space for a left-footer to run past him and provide the width. Milner doesn't possess the required speed to keep up with Manѐ's quick tempo, and doesn't provide the left-footed delivery necessary to be a threat.

But here's someone who might just be capable of that. The familiar Andy Robertson.
Style
Perhaps not the most eye-catching possibility, many see the likes of Benjamin Mendy or Faouzi Ghoulam as the ideal candidates for the vacant (for the sake of argument) full-back position. Others see the more experienced Aaron Cresswell as a better fit, whilst the most comparable promising left-back seems to be Celtic's Kieran Tierney. The names seem to vary, but they all have a few things in common.
One, they're all left-footed: a facet which is paramount to any left-back succeeding in this system in the coming season. Two, they like to dribble, are content with hugging the touchline, and have some form of attacking nous about them.
Robertson encapsulates that essence – an attacking fullback with exceptional recovery pace and feet like lightning when he gets on the ball.
Deemed too small to properly succeed early on in his career during stints at Celtic, Queen's Park and Dundee United, Robertson fought tooth and nail to prove himself as a top-flight fullback. Now, at 23 years of age, he's begun to shine at Hull City, without the constant scrutiny that comes when you're a fullback in the spotlight. It's a thankless position at times; and though he is prone to over-committing to an attack and being caught out, Robertson's ability to pick the ball up at his feet, carry it past two or three oncoming players and look for a pass is what hallmarks him as an impressive young fullback.
Strengths and Weaknesses
Playing for Marco Silva's Hull side, often at the mercy of attack after attack when coming up against top class sides, Robertson was forced to be disciplined and well-drilled. At 23 years of age, he's already taken in a plethora of experience – with 102 league appearances in the last three seasons (two of which were in the Premier League) – and is used to the combative nature of the league. In fact, it seems to suit his gung-ho approach.
Always looking for the opportunity to pick the ball from his opponent's feet and move it up quickly, one could say that Robertson would be ideal for a classical Klopp "gengenpress" – in a general kind of way – for the very reason that he's constantly trying to instigate. Where one of Milner's biggest drawbacks is his singular, one-dimensional way of operating, Robertson possesses the unpredictability to go with the experience: able to burst past the wrong side of an opposition fullback and surge through the middle, or try to go around him on the outside and whip in a cross.
With that bravery comes the potential to make mistakes, though, and he's certainly culpable of a few. That being said, the brain-fades of Alberto Moreno are well-and-truly not an issue when it comes to the Scot: he doesn't dive into tackles as if he's employing some sort of karate move, and he's not prone to errors inside the box.
There's also the matter of being beaten by a dribbling winger: something which Liverpool fans are all too familiar with, as James Milner was beaten far too often (1.4 times per game) by quick-footed wingers. Robertson was beaten half as much (0.7 times per game), and most importantly recovers when he's wrong-footed.
In terms of other statistics: Milner flatters to deceive. His classic cut inside and cross – a tactic which works exactly 0.04% of the time (that's a made-up statistic, but it certainly feels like it) means he crosses the ball a lot more than Robertson – especially given he's almost always the outlet that Liverpool look to for width.
And that there is the problem. Milner can no longer be the wide option with which Liverpool look to stretch teams. Robertson provides a great left foot, the ability to dribble, and the recovery pace to stop counter-attacks. The potential is there, waiting for a coach like Klopp to mould him into something great.
Where would he fit?
Essentially, Robertson's facets all makes for a nice combination when translated from battling relegation side to one which has regular possession and a team filled with pace. Operating with Sadio Manѐ in front of him, and hopefully Virgil van Dijk next to him, Robertson will have the space to drive at the opposition, and offer an output.
It's that boundless energy and dynamism that allows people to draw comparisons between he and Marcel Schmelzer: the winger that Jürgen Klopp transformed into a boundless, dynamic fullback. If he can do the same to Andy Robertson, Liverpool would have a key element of their back four addressed.