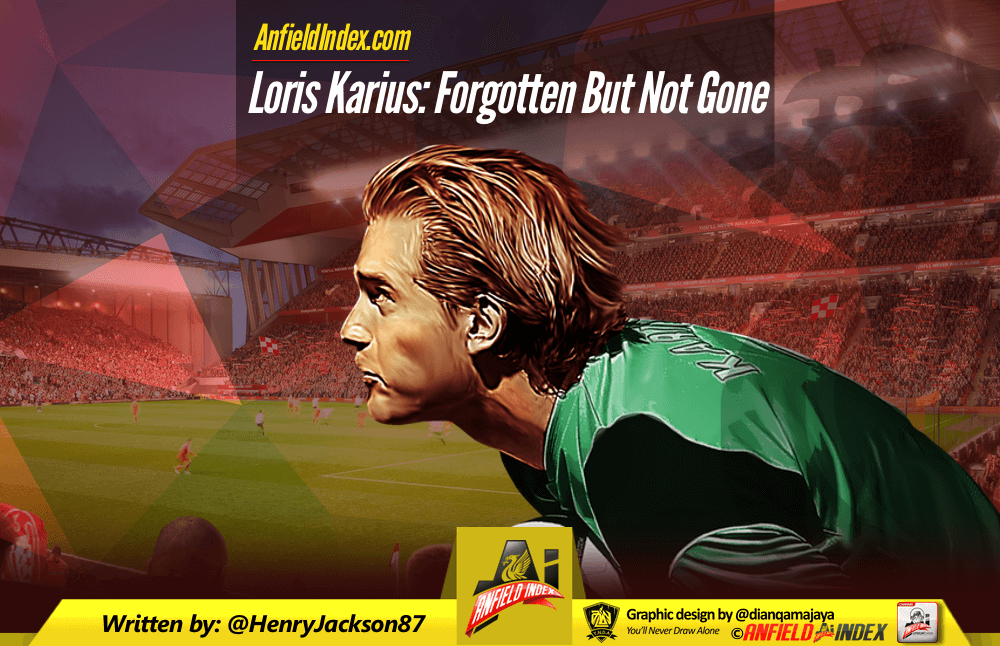 Loris Karius: Forgotten But Not Gone
Amid all the summer madness of transfer talk, as well as the constant praise for goalkeepers Simon Mignolet and Danny Ward, Loris Karius is now a player going completely under the radar.
Having arrived as a devilishly handsome, highly-rated young German, it was no surprise to see him filling column inches and gaining immediate admirers last summer. He felt like the answer to Liverpool's ongoing goalkeeping issues. 
Things didn't pan out the way the 24-year-old would have hoped for, however, and one year on, he has almost been forgotten about for the time being.
A lot of flack came Karius' way during a disappointing spell in the Liverpool goal last season – some of it was deserved, some not so – but it is easy to forget that he had a less-than-ideal start to life with the Reds.
A broken hand, suffered after a collision with Dejan Lovren in training, immediately set him back prior to the start of the season, just when Jurgen Klopp had decided he would be his first-choice 'keeper in 2016/17.
For any new signing to come straight back in and impress after that disruption was never going to be easy, and Karius was often a nervy presence in the Liverpool goal from his debut at Derby onwards. 
His much-lauded quality with the ball at his feet was often nowhere to be seen – one goal-kick at home to Sunderland famously went out for a corner – and there were shaky moments left, right and centre.
Some last-minute indecision very nearly allowed Swansea to equalise in the 2-1 victory at the Liberty Stadium back in October, but he was eventually punished for his unconvincing form, with the 4-3 defeat at Bournemouth a real low point.
His last-gasp fumble allowed Nathan Ake to tap home the winner, and prior to that, he had not done enough to keep out Ryan Fraser's strike.
Klopp had tried his best to stick by a 'keeper he thinks highly of, but it became clear that Karius needed to be taken out of the firing line, with Mignolet replacing him prior to Christmas.
The Belgian's form was the best of his Reds career in the five months that followed, and his young teammate quickly became accustomed to warming the substitutes' bench and disappearing into the background.
His last appearance came in the woeful FA Cup loss at home to Wolves in January, and with Mignolet surprising supporters with his form and Ward excelling at Huddersfield, it suddenly became fashionable not to talk about Karius.
While some have been quick to write off the German in typical knee-jerk fashion, his time at Anfield is just getting started.
Sixteen appearances for Liverpool is absolutely nothing, and there have been many Reds greats who have suffered similarly forgettable starts to life at the club. When did this lack of patience become the norm?
Klopp has shown that he is a fine judge of quality in the transfer market, and that bodes well with Karius in the long-term. He has positives working in his favour. 
For starters, he only turned 24 on Thursday, which when you consider the age 'keepers play until these days, shows how many years Karius has ahead of him.
Very few players in his position are the finished article at such a tender age, especially when you have just switched countries and dealt with an immediate injury blow.
Perhaps the key for the former Mainz hero, however, is the fact that he is now under far less pressure than before.
Admittedly, there will be nerves whenever he is next thrust into the limelight, but expectations of him have dipped and he can only really improve for Liverpool. A strong pre-season will do him wonders.
At the end of the day, to be voted the Bundesliga's second-best goalkeeper in 2015/16, behind all-time great Manuel Neuer, is proof that Karius is no mug.
You simply cannot build the reputation he has and convince someone of Klopp's stature to sign you, if you aren't extremely talented.
It remains to be seen how the Liverpool manager will approach his goalkeeping department next season, but don't rule out him starting Karius on the opening weekend at Watford. 
The 50-year-old will be monitoring all three of his 'keepers throughout the summer, and while Mignolet has every right to feel as though he has the first-choice spot nailed down, Klopp is ruthless. If he believes Karius is his go-to guy, he will not hesitate in causing a potential meltdown.
Maybe it will never work out for Karius at Liverpool, but it would be foolish to write him off this soon.
Anyone defending him to the hilt over his performances last season is being far too lenient, but on the flip side, those calling for his head need to have a long, hard look at themselves.
So many new signings struggle to adapt straight away, and just because Karius did not play like the goalkeeping solution we expected him to be does not mean he is suddenly a bad player. 
With less pressure and focus on him, he has a good opportunity to slowly winning round the doubters and eventually become a Liverpool success story. Patience is required.