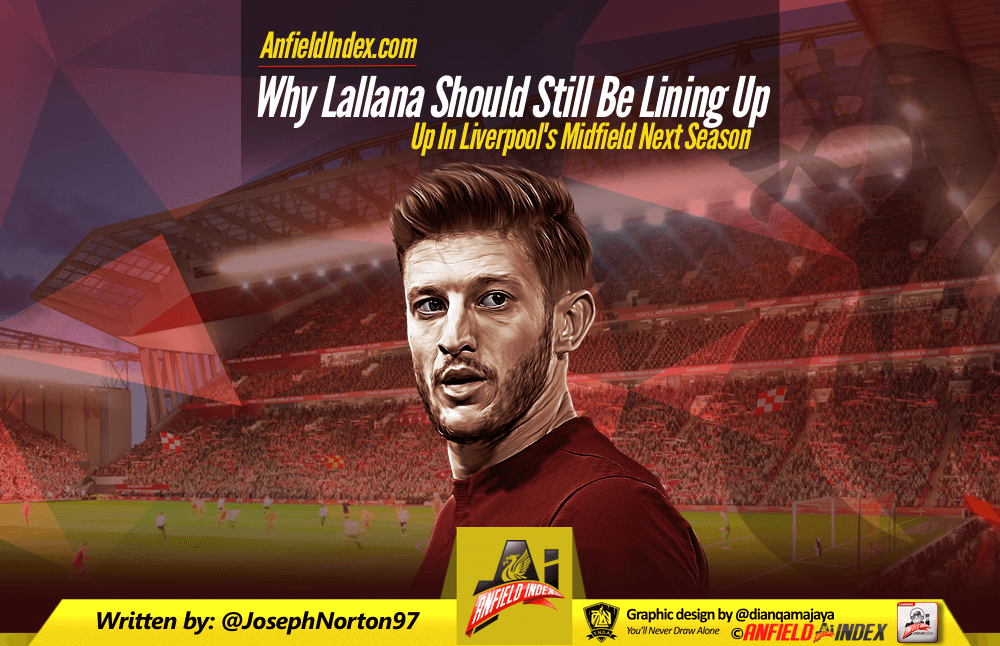 Why Lallana should still be lining up in Liverpool's midfield next season
With the imminent signing of Mo Salah it looks increasingly certain that Philippe Coutinho will be moved back into midfield next season to add some much needed creativity from deeper areas. The Reds found it hard to break down teams who played with a low block last season, therefore, having someone like Coutinho on the ball more often in central areas, dictating the play can only have a positive impact on the team. However, due to this change many fans seem to think Adam Lallana will find himself pushed out of Klopp's first choice eleven, but, I tend to disagree with this opinion. I have always been a big fan of Lallana and was confident a move to a more central position which we saw last season would see the Englishman fulfil his true potential. It is also clear that Klopp rates Lallana very highly due to his work rate and him being one of the best pressers in the team as well as his technical ability on the ball. Should Liverpool sign Naby Keita then I do believe Lallana will find himself out of the first team but if RB Leipzig refuse to sell and we end up signing one of his alternatives which are rumoured to be Lazio's Sergej Milinkovic-Savic or Schalke's Leon Goretzka then I think Lallana will start as many games if not more than last season. This is partly down to the added demands of European football but more importantly as a result of how teams outside the top seven are setting up against us.
What Lallana brings to midfield
The attributes Lallana possess are clear for all to see and highlight just why he was so crucial in midfield last season. He has great technical ability and is brilliant in tight spaces, he has two wonderful feet, his movement is very intelligent and most crucially for a player in Klopp's system his pressing is top class. Last season there was no one else in midfield who came close to matching these attributes, which is why we missed Lallana so much when he was injured. Both Can and Wijnaldum are box-to-box type players but both are more physical, defensive options, perfect when playing against the top seven, but when they were playing in midfield against sides who got ten men behind the ball and asked Liverpool to break them down they both struggled….apart from that moment of brilliance from Can against Watford. It looks as though Can will be deployed slightly deeper next season and will be challenging Henderson for the number 6 role, therefore, I will focus more closely on Wijnaldum, comparing him to Lallana. When the Englishman and Wijnaldum played in midfield together it was Lallana who was the more attacking but when he was injured, Wijnaldum was often tasked by Klopp to play in a similar role to Lallana. Although Wijnaldum played in a more advanced position for Newcastle, when playing in this role against a low block the Dutchman found it difficult to add some much needed creativity. When we compare the two it is unsurprising Lallana tops the attacking stats, he scored more goals 8 compared to Gigi's 6 in six fewer starts in the league and managed just two fewer assists compared to Wijnaldum. Lallana averaged more key passes 1.35, created more chances 1.62 and successful take ons 1.23 per 90 compared to Wijnaldum's 1.03, 1.30 and 0.85 respectively. Even though Coutinho will add more creativity to the Reds midfield, when we are playing against teams who play in a low block there is no need for Wijnaldum. When teams only leave one striker up the pitch – sometimes they don't even do this – and rely on a few players to get up the pitch and support them, Liverpool's defensive four of the two CB's, number six and one of the full backs will be more than enough to deal with the transition of teams from defensive to attack. If the Reds don't win the ball back immediately due to them having superior numbers then opposition attacks can be slowed down allowing the other fullback and both the two number eights to get back and help out. As a result, against all of the teams outside the top seven at home and the majority of teams in this category away from home Liverpool should use both Coutinho and Lallana in number 8 positions as they will have more than enough defensively to deal with opposition attacks especially with them setting up in a low block and relying on counter attacks.
Lallana compared with Naby Keita, Sergej Milinkovic-Savic and Leon Goretzka
As mentioned if Liverpool are to break their transfer record, hopefully not for the first time this summer, to sign Navy Keita then there is no doubt he will take Lallana's place in midfield. The reason Keita is so highly thought of in Europe is because he can do everything very well, in simple terms he's like s a cross between Lallana and Wijnaldum. When you watch him more closely you'll see he's not quite as good technically as Lallana but much better at carrying the ball, in simple terms he's as good defensively as Wijnaldum and as good going forward as Lallana which makes him the perfect box-to-box midfielder. For the purpose of this article and to stop us being overloaded by numbers, I will focus solely on the attacking aspect but take my word for it, his defensive stats are just as impressive as his attacking ones. Keita equalled Lallana's goal and assists tally in just two more starts with 8 and 7 respectively and made over 1.50 more take ons per 90 with 2.87 emphasising his superior ball carrying ability. Lallana does just marginally beat Keita when it comes to key passes and chances created with the Senegalese midfield averaging 1.27 and 1.53 respectively.  From this comparison it is clear to see that Keita and Lallana offer slightly different attacking qualities but both are very good in an attacking sense, Keita is also much more physical and better defensively which highlights just how complete of a midfielder he is. As the Leipzig midfielder offers a slightly better balance to midfield than Lallana does, it is understandable why Klopp would drop the Englishman for the impressive Keita, which would mean we would be more than likely to see a wonderfully balanced midfield three of Henderson, Keita and Coutinho an exciting prospect for any Liverpool fan. However, I am now going to compare Lallana to two midfielders who have been rumoured to be Keita's alternatives, to demonstrate just why the Englishman should keep his place in midfield against sides who play against us with a low block

Leon Goretzka is a slightly more defensive option when compared with both Lallana and Sergej Milinkovic-Savic who's defensive stats really stand out. As a result, the Schalke man would work perfectly in rotation with Wijnaldum for the big games against the top seven and in the Champions league, as well as providing the Reds with a great option off the bench should they need to see a game out. This is not to say for one minute Goretzka doesn't have attacking qualities, he does as he is a very good midfielder but his defensive attributes are more impressive. In contrast, the Lazio midfielder is slightly more attacking possessing some impressive offensive statistics, however, his attacking ability still isn't as good as Lallana's. Milinkovic-Savic does seem to be slightly more physical and better defensively than Lallana but when the Reds are playing against more defensive teams – something we regularly come up against outside of the top seven – the emphasis has to be on attacking rather than defence when it comes to the number 8 role. It must also be remembered Lallana is reasonable defensively and particularly good at counter pressing, therefore, he still contributes to the defensive unit.
Again it is Lallana who comes out on top when we look at the attacking statistics, he scored more goals, 8, than both Goretzka, 5, and Milinkovic-Savic, 4, in three and four fewer starts respectively. He also managed as many assists as the Serbian and made four more than the Schalke midfielder. He also tops the statistics when it comes to key passes per 90 at 1.35 compared to Goretzka and Milinkovic-Savic who both averaged 1.09 and chances created with 1.62 per 90 compared with 1.19 and 1.32 respectively. It is however the Lazio midfielder who tops both the total shots and successful take ons per 90 with 2.28 and 1.45 compared to the Englishman with 1.92 and 1.23 and Goretzka with 1.79 and 1.09 respectively. This emphasises the attacking quality Milinkovic-Savic possesses as he comfortably beats Goretzka in most of the categories and is not far behind and even beats Lallana in a few areas. Goretzka appears to be a slightly more defensive box-to-box type midfielder, in a similar ilk to Wijnaldum which is highlighted by his slightly inferior attacking stats but when you look at his defensive contribution, the German really impresses. Looking at these statistics it would appear Milinkovic-Savic would be the perfect alternative to Keita as although he isn't as good defensively he is still very physical and is competent in a defensive sense but he impresses in an attacking sense also, pushing Keita all the way. Even if Liverpool were to sign the Lazio midfielder I would still play Lallana in a midfield three against a lot of the teams outside of the top seven because of his superior attacking quality and ability in tight spaces which will be pivotal in breaking teams who sit in a low block against us down. This is not to say Milinkovic-Savic couldn't force his way into the side as he has all the attributes to improve in both a defensive and offensive sense, overtaking Lallana in the future, however, as it stands Lallana's creativity and incisiveness is too good for Klopp to ignore especially when we are seeing more and more teams park the bus and put on the handbrake at Anfield. As for Goretzka, it is not surprising he finishes bottom of these categories, one because he is a slightly more defensive option when compared with Lallana and the Lazio midfielder but also because he played in a more withdrawn role at Schalke this season. Despite this, he is a very good player and will continue to develop all aspects of his game, therefore, he would also be a top signing. Goretzka would be perfect for the big games in a role similar to Wijnaldum's, alongside Henderson and Coutinho in a midfield three, where you need that bit more physicality and defensive quality. Should the Reds need to see a game out he would also be great to bring on to sure up the midfield and close the game out.
If Liverpool can make an offer Leipzig simply can't refuse then signing Keita would be a huge statement going into next season which would mean Lallana would have to settle for a place on the bench. However, the German side have made it clear they are under no pressure to sell, therefore, an offer of £50 million still may not be enough. Should Liverpool chose to pursue alternative targets then Milinkovic-Savic and Goretzka would both be great signings, however, when the Reds come up against teams outside of the top seven who sit in a low block and ask them to break them down Klopp should trust a midfield three of Henderson, Lallana and Coutinho to provide the creativity to unlock a well organised defence at the start of the season. Both midfielders are top players but neither process the same attacking attributes of Lallana, therefore, although eventually both of these players will more than likely become better than Lallana, fans should not forget how pivotal Lallana was last season and exactly what he brings to that midfield. It must also be remembered Liverpool are likely to sign a top class centre-back to partner Matip which will further strengthen the defence. Yes dropping Coutinho into midfield will help to add more creativity but Lallana's technical ability in tight spaces and counter pressing meaning he possesses attributes even the magician can't compete with. With the right signings this Liverpool midfield has the potential to be one of the best we've seen in a long time, it might not be Mascherano, Alonso and Gerrard but a midfield three of Henderson, Keita and Coutinho or Henderson, Coutinho and Lallana has all the attributes to be just as effective if not more than that famous trio.
*Statistics courtesy of squawka.com